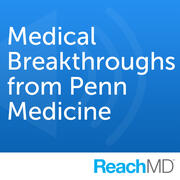 New Advances in Head & Neck Cancers at Penn Medicine

Hosted by: Lee Freedman What are the new advances in Head and Neck Cancer? What are the new trials in sparing patients' voice box? To answer these questions and more, host Dr. Lee Freedman is joined by radiation-oncologist  Alexander Lin, MD, Assistant Chief, Head and Neck Service, University of Pennsylvania Department of Radiation Oncology and Director of Clinical Proton Operations, University of Pennsylvania, Department of Radiation Oncology at the Roberts Proton Therapy Center at the University of Pennsylvania. Click here to learn more about Penn Medicine Head-and-Neck Cancer Radiation Oncology Team

Personalized Diagnostics & Targeted Therapies

Hosted by: Lee Freedman The Philadelphia Chromosome provided the first evidence that genetic abnormalities were linked to cancer. This discovery at Penn Medicine more than 50 years ago ushered in the modern period of cytogenetics. Now, the Center for Personalized Diagnostics (CPD) builds on this legacy and is set to pave the way for a new era of genomic and therapeutic pathology. The Center is a joint initiative with the Abramson Cancer Center and integrates molecular genetics, pathology informatics and genomic pathology to empower physicians and patients to truly customize their treatment options accordingly. Host Dr. Lee Freedman welcomes Dr. David Roth, Chair of the Department of Patholog...

Options in Breast Reconstructive Microsurgery

Hosted by: Lee Freedman Guest: Joseph Serletti How are the latest advances in autogenous breast reconstruction changing the landscape of options available to women after mastectomy? Dr. Joseph Serletti, the Henry Royster - William Maul Measey professor of surgery and chief of the division of plastic surgery at Penn Medicine, discusses the history and evolution of breast reconstruction surgery, as well as the various types of free flap breast reconstruction that offer better cosmetic results for patients. How can the risk of thrombosis be minimized for patients undergoing these procedures? Dr. Lee Freedman hosts. 

Pregnancy and Heart Disease: Minimizing Risks

Hosted by: Lee Freedman Guest: Nazanin Moghbeli How can physicians assess and minimize the risk for women with existing heart disease prior to pregnancy? As many women are waiting longer to become pregnant, is the spectrum of cardiovascular disease among pregnant women changing as well? Dr. Nazanin Moghbeli, founder and director of the Women's Cardiovascular Center at Penn Medicine, joins host Dr. Lee Freedman to discuss ways to optimize outcomes for pregnant women with structural heart disease, as well as how to minimize the risks of complications that can arise during pregnancy for these patients. Dr. Moghbeli specifically talks about recommendations for women with peripartum cardiomyopath...

Current Research on Preterm Birth

Hosted by: Lee Freedman Guest: Michal Elovitz The preterm birth rate in the United States is increasing, despite efforts to expand research and studies in this area. What are some of the risk factors for preterm birth, and are there any ways we can prevent preterm birth? Dr. Michal Elovitz, associate professor of obstetrics and gynecology, and director of the Maternal and Child Health Research Program, in the department of obstetrics and gynecology, at Penn Medicine, examines results of completed and ongoing trials aimed at preventing premature delivery among high-risk women with a history of prior preterm birth. What are future directions for research in this area? Tune in to hear host Dr. ...

Endoscopic Brain Surgery, In 3-D

Hosted by: Lee Freedman Guest: John Lee 3-D technology is making its way from the movies, into the operating room. How is this technology enhancing brain surgeries? Dr. John Y.K. Lee, medical director of the Penn Gamma Knife Center and assistant professor of neurosurgery at Penn Medicine, describes the advantages of using 3-D technology for removing various types of ventral skull-based tumors, and says the stereoscopic views provided by a 3-D endoscope help neurosurgeons preserve critical areas of the brain. Will 3-D endoscopes replace their 2-D predecessors? Dr. Lee Freedman hosts.

TORS for Sleep Apnea 

Hosted by: Lee Freedman Guest: Erica Thaler Sleep apnea is becoming more prevalent in the population, and there are many treatment options. Host Dr. Lee Freedman talks with Dr. Erica Thaler, director of the division of otorhinolaryngology: head and neck surgery at Penn Medicine. Many patients are not willing to be treated, or not treated adequately, with continuous positive airway pressure (CPAP). This conversation focuses on Trans-Oral Robotic Surgery (TORS) as a treatment option, including effectiveness, how to evaluate potential candidates, and when the procedure is contraindicated.

Advantages of Bloodless Medicine

Hosted by: Lee Freedman Guest: Patricia Ford Patients may choose bloodless medicine for either medical or ethical reasons. How safe and effective are bloodless procedures, compared to more traditional approaches? Dr. Patricia Ford, clinical associate professor of medicine, medical director of the Center for Bloodless Medicine and Surgery and director of the peripheral stem cell program at Penn Medicine, says that while bloodless medicine began as a way to meet the medical needs of Jehovah's Witnesses patients, the science also has broader implications. As many as 30% of blood transfusions may be unnecessary. What alternatives and strategies can healthcare providers use to ensure best patient...

Adolescent Reproductive Health Conditions and Fertility Preservation

Hosted by: Lee Freedman Guest: Suleena Kalra Primary and secondary amenorrhea can have various underlying causes among adolescents, including polycystic ovarian syndrome (or PCOS), thyroid disease, and atypical body weight. What types of behavior and lifestyle modifications should be the first steps for adolescent patients with irregular menstruation? Dr. Suleena Kalra, assistant professor in the department of obstetrics and gynecology at Penn Medicine, discusses ways to regulate periods among adolescent patients and protect their future fertility. How significant a role might stress play in amenorrhea among these patients? Dr. Lee Freedman hosts.  

An Update on Common Esophageal Disorders

Hosted by: Lee Freedman Guest: Gary Falk Millions of Americans have esophageal disorders, ranging in severity from gastroesophogeal reflux (or GERD) to eosinophilic esophagitis to esophageal cancer. A diet rich in acidic or fatty foods can be to blame, but there are a number of other factors that may contribute to the development of GI disorders. When can physicians rely on empirical use of proton pump inhibitors, and when is endoscopy warranted? Dr. Gary Falk, professor of medicine in the division of gastroenterology at Penn Medicine, discusses some of the reasons for the increasing incidence of esophageal cancer and Barrett's esophagus in the U.S. What latest developments can help physicia...

New Surgical Approaches to Treating Colorectal Cancer

Hosted by: Lee Freedman Guest: Brian Kann Cancer of the colon and rectum is the third leading cause of cancer deaths in both males and females. For these cancers, surgery continues to be the most effective treatment. Dr. Brian Kann, assistant professor of clinical medicine and program director of the residency in colon and rectal surgery at Penn Medicine, discusses new surgical techniques employed to treat this disease with host Dr. Lee Freedman. In addition to the newer single incision laparoscopy and robotic surgery techniques, Dr. Kann discusses how to asses which surgical technique is appropriate for your patient. Patterns of the disease and screening techniques are also discussed.