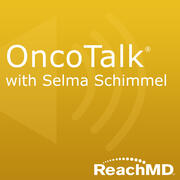 Palliative Medicine: A New Paradigm in Patient Care

Hosted by: Selma R. Schimmel Guest: Jamie H. Von Roenn On this episode of OncoTalk®, Selma Schimmel interviews Jamie H. Von Roenn, MD, Senior Director of Education, Science, and Professional Development for The American Society of Clinical Oncology (ASCO). Dr. Von Roenn is a medical oncologist and a noted expert in palliative medicine, particularly on the integration of palliative medicine skills and principles into oncology care. The discussion will focus on crucial issues surrounding palliative care and the impact on providers, patients, and their families. Palliative care is more than just end of life care - much more than hospice care and Dr. Von Roenn also discusses how the psychologica...

The Impact of the Molecular Revolution in Colorectal Cancer

Hosted by: Selma R. Schimmel Guest: Heinz-Josef Lenz On this episode of OncoTalk®, host Selma Schimmel welcomes Heinz-Josef Lenz, MD, FACP. Dr. Lenz is the Associate Director for Clinical Research and Co-Leader of the Gastrointestinal Cancers Program at the USC Norris Comprehensive Cancer Center. He is Professor of Medicine and Preventive Medicine; Section Head of GI Oncology and Co-Director of the Colorectal Center at the Keck School of Medicine at the University of Southern California. Dr. Lenz reviews the molecular revolution that is enabling personalized treatment to impact everyday practice. He provides updates from the 2013 European Society for Medical Oncology (ESMO) World Congress on...

Recognition and Management of Dermatologic Side Effects in Oncology Patients

Hosted by: Selma R. Schimmel Guest: Mario E. Lacouture On this episode of OncoTalk®, Selma Schimmel interviews Mario E. Lacouture, MD, a board-certified dermatologist at Memorial-Sloan Kettering Cancer Center, with special interest in the dermatologic conditions that result from cancer treatments. Dr. Lacouture also provides insights into his recently published book Dr. Lacouture's Skin Care Guide for People Living With Cancer. Dr. Lacouture stresses the importance of clinicians in understanding the process of anticipatory coping - or appropriately preparing patients to anticipate side effects that will come with cancer treatment. In this way, patients can understand how to manage the side e...