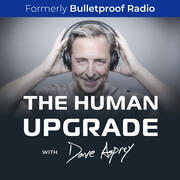 Nina Teicholz on Saturated Fats & the Soft Science of Fat - #149

Nina Teicholz is an investigative journalist and author of the New York Times Best-Selling Book, The Big Fat Surprise: Why Butter, Meat and Cheese Belong in a Healthy Diet. She is a well-respected food and nutrition writer that has contributed to publications such as the New York Times, the New Yorker, the Economist, and Men's Health Magazines, and is a former NPR reporter and associate director for the Center of Globalization and Sustainable Development at Columbia University. Why you should listen - Nina comes on Bulletproof Radio to talk about her book, The Big Fat Surprise, discussing: the truth about saturated fats and their health benefits, a story of failed science and fat, the danger...

Bulletproof Radio Q&A #148 – Podcast

On this episode of Bulletproof Radio, we have carefully selected the best questions from Facebook, Twitter, and the Bulletproof® Forums for another awesome Q&A! Thanks to you, the listener! Hear a thought-provoking conversation and gain a ton of useful knowledge in this episode about the art of biohacking, nutrition, and… well… kicking ass at life in general! Dave and Zak talk about Bulletproof personal care products, whether or not to use supplements with kids, and even demonstrate how to make Bulletproof® Coffee while you're on-the-go! Enjoy the show!

Hacking Hemp with Anndrea Hermann – Podcast #147

If there is anything you ever wanted to know about hemp, cannabis, or marijuana, Anndrea Hermann knows it. She has over 15 years of experience in the Canadian and international hemp industry, including an education in Hemp Ecolonomics, and a Masters degree in the Science of Hemp Agronomy. She owns The Ridge International Cannabis Consulting, is a partner of Hemp-Technologies, and Industry Liaison for Hemp Oil Canada Inc. She has worked in every aspect of the industry, and says that cannabis is part of her final vocabulary. She comes on Bulletproof Radio to talk about eating hemp, wearing hemp, building with hemp, and living hemp dreams. Enjoy the show!

Bulletproof Radio Short Report: 14 Steps to Eating Bulletproof – Podcast #146

The Bulletproof Radio Short Report is a highly condensed show to quickly bring you the most important ways to upgrade yourself and kick ass at life. This week is all about the Bulletproof Diet and the 14 steps to know if you want a better body, a clearer mind, and upgraded over all performance. Weather you're discovering these hacks for the first time or you want a quick refresh on what you already know, this BPR Short Report is a great way to rapidly improve performance. Enjoy! 

Slinging Superfoods & SuperHerbs with the JingSlingers – Podcast #145

BadAss Blender Biohackers Joy Coelho & Jay Denman are JingMaster Alchemical Culinary Artisans, SuperFood Specialists and Tonic Herbalists. Jay has custom-made more than 50,000 Herbal Elixirs, Tonics and SuperFood Ice Creams. Joy has conjured up thousands of dishes of Organic Superfood, Sugar-free, Gluten-free Creatively Conscious Comfort Food. This dynamic duo biohacks for Red Carpet Clients from the Oscars to the Grammys, upgrading their levels of wellness and longevity. You can have the JingSlingers Upgrade your Jing and Get Slung in person at the 2014 Bulletproof BioHacking Conference, Sept 26th-28th.

Mark Hyman on the Dangers of Fructose – Podcast #144

Dr. Mark Hyman is a family physician, eight-times New York Times Best-selling author, a columnist for the The Huffington Post, and a regular contributor to the Katie Couric Show. He is the founder and medical director of The UltraWellness Center, and has consulted with organizations such as The Clinton Foundation and the Surgeon General on diabetes prevention. Mark comes on Bulletproof Radio to talk about food addiction, the dangers of fructose, and how detoxing can change your life. Enjoy the show!

Amber Lyon on Psychedelic Healing & Reset.me – Podcast #143

Amber Lyon is a 3x Emmy Award-winning journalist and a former CNN investigative correspondent that is known as one of the premier submersion journalists in cultural, social, and environmental issues. She is a filmmaker, photographer, the founder of the news site Reset.me, and host of the show "Reset with Amber Lyon", both of which cover potential natural therapies and psychedelic medicines that address anything from depression to a lack of motivation in life. Amber comes on Bulletproof Radio to discuss superhero journalism, how she cured her PTSD with Ayahuasca, and coming out of the spiritual closet. 

Keto Clarity with Jimmy Moore – Podcast #142

Jimmy Moore is the author of Cholesterol Clarity: What the HDL Is Wrong With My Numbers, and the energetic personality behind the uber-popular Livin' La Vida Low-Carb Show and blog. Jimmy burst onto the healthy scene in 2004 after losing 180lbs, and has dedicated his life to helping people get the best information possible so they can make the right decisions about health. Jimmy interviewed over 900 of the world's top health experts in writing his newest book, Keto Clarity, and he comes on Bulletproof Radio to talk about the one-size-fits-all fallacy, why all fat is not created equal, and how to properly get into and measure ketosis. Enjoy the show!

ReWild Yourself! with Daniel Vitalis– Podcast #141

Daniel Vitalis is a nature-based philosopher, specializing in reconnecting people with their "wild" side and empowering them with both ancient and modern strategies for vigorous living. Daniel is the creator of FindASpring.com, a founder of SurThrival.com, and the editor of ReWild Yourself Magazine. He comes on Bulletproof Radio to tell us what ReWilding is, discuss Flintstone-ization and our misconceptions of cavemen, and explain why we are halting human evolution with an overabundance of domestication. Enjoy the show! 

Mastering Memory with Mattias Ribbing – Podcast #140

Mattias Ribbing is a three-time Swedish Memory Champion, and one of only 122 people in the world who have been awarded the title of Grand Master of Memory. He is a leading mnemonist, educator, and brain trainer in Sweden, and his memory is officially ranked as the 75th best in the world. Mattias comes on Bulletproof Radio to discuss why brain training is a sport, the impact of diet on memory and focus, and how to take care of both your biological software AND hardware. Don't miss this episode with one of the world's foremost memory hackers!

The Disease Delusion with Dr. Jeffrey Bland – Podcast #139

Dr. Jeffrey Bland has been an internationally recognized leader in the nutritional medicine field for over 35 years and is known for his ability to synthesize complex scientific concepts in a manner that is both personable and accessible. Jeffrey is on Bulletproof Radio discussing the disease delusion in America and his sought-after book by the same name. Discover why you get sick, the one question to ask when choosing a doctor, why Vitamin E kicks ass, and about Dr. Bland's 7 core physiological processes. Don't miss a great episode with the father of "functional medicine". 

Geoffrey Miller on Sex, Power, and Domination – Podcast #138

Geoffrey Miller is an evolutionary psychologist and a tenured professor at University of New Mexico. Miller is a Fellow of the Association for Psychological Science best known for his books: The Mating Mind and Spent. On this episode of Bulletproof Radio Geoffrey talks in length about human sexual evolution. You'll hear discussions on shamanism and sex, the male/female orgasm, STD's, using your breath to improve sexual arousal, and contraception. Also, don't miss Geoffrey's answer to the question: "Is sex good exercise?" Enjoy the show! 

Hashimoto's: The Root Cause with Dr. Izabella Wentz – Podcast #137

Dr. Izabella Wentz is a clinical pharmacist who was diagnosed with Hashimoto's in 2009.  Dr. Wentz combined emerging research with clinical expertise to identify and remove the triggers that caused her to develop Hashimoto's. On this episode of Bulletproof Radio discover new information about the auto-immune epidemic, what Hashimoto's looks like, and more about the possibilities for a cure.

Food for Consciousness with Nora Gedgaudas – Podcast #136

Nora Gedgaudas is a widely recognized expert on the Paleo diet and bestselling author of the book, Primal Body, Primal Mind. On this episode of Bulletproof Radio, discover Nora's thoughts on human consciousness and food, sugar, resistant starch, psychedelics, and of course Nora's top 3 recommendations for kicking more ass and being Bulletproof. Enjoy the show, and please share it with your family and friends!  

David Gottfried on Explosion Green and Finding Your Impact – Podcast #135

David Gottfried is best known as the father of the global green building movement. He founded both the U.S. Green Building Council and the World Green Building Council (with GBCs in 100 countries) and is on Bulletproof Radio to talk about his insightful book, Explosion Green: One Man's Journey to Green the World's Largest Industry. Tune in and hear about how buildings impact your health and performance, hacking your hotel stay, how to find your voice and stay motivated, plus a ton more! 

Steve Omohundro Talks Technology for a Better World – Podcast #134

Steve Omohundro is a scientist, professor, author, software architect, and entrepreneur doing research on natural and artificial intelligence. He has degrees in Physics and Mathematics from Stanford and a Ph.D. in Physics from U.C. Berkeley.   On this episode of Bulletproof Radio, tune in to discover the secret to Steve's weight loss breakthrough, why Dave fired his doctor, and how you should define artificial intelligence. You'll also hear about mycotoxins, transhumanism, and non-violent communication. There are a ton of resources below, be sure to check them out!

Arianna Huffington is Thriving – Podcast #133

Arianna Huffington is one of the most influential and iconic women in the world. Arianna has been named to both TIME Magazine's 100 Most Influential list and Forbes' "The World's 100 Most Powerful Women" list, and her Pulitzer Prize-winning blog, The Huffington Post, is read by more than 43 million people worldwide every month! She is the author of 14 books, including Arianna's latest book Thrive, which debuted at #1 on the New York Times Bestseller List. Arianna joins this episode of Bulletproof Radio, to discuss the inspiration behind it and: ·         The three metrics of success ·         Start-up company culture ·         Women and stress   ·         Epigenetics, and tons more! 

Gain Control of Your Biochemistry with William J. Walsh, Ph.D. – Podcast #132

Gaining control of our minds, bodies, and life is what biohackers do in order to perform our best. In this show the notable Dr. William Walsh of the Walsh Research Institute uncovers the knowledge he's gained after over 30 years of researching human biochemistry. You'll hear about: ·         Engineering the human chemistry ·         Trace metals ·         Dr. Walsh's work with ex-convicts ·         The power of nutrients ·         Depression ·         Epigenetics ·         Blood testing ·         And even Dr. Walsh's theory on school shootings.   All this and more on episode #132 of Bulletproof Radio! 

Supercharge Your Skin with Alitura Naturals #131

This episode of Bulletproof Radio features the makings behind the first ever Bulletproof® Approved skin care product available on UpgradedSelf.com: The Alitura Clay Mask. This mask is the ultimate formulation of thousand year-old skin care techniques and the latest technology. You will hear how Bulletproof Ambassador Andy Hnilo created the upgraded formula, the secret behind the ingredients, and how using it can give reveal amazing skin.     Andy Hnilo recovered from a hit-and-run car accident as a pedestrian and used Bulletproof® Diet and supplements to recover. As a professional model and actor Andy's career was on the line and this drove him to passionately create a new skin care line usi...

Bulletproof Radio Q&A #130

On this episode of Bulletproof Radio, we have carefully selected the best questions from Facebook, Twitter, and the Bulletproof® Forums for another awesome Q&A!  Thanks to you, the listener! Hear a thought-provoking conversation and gain a ton of useful knowledge in this episode about the art of biohacking, nutrition, and… well… kicking ass at life in general! Dave and Zak talk about supplements and how they affect the gut, what they feed their kids, how to be Bulletproof® on a budget, and why grass fed butter is way better for you than raw crème in your Bulletproof® Coffee (not to mention ten times cheaper too!). It's been a while since the last Q&A and we're sorry, but please enjoy the sho...

Sleeping for Performance with Neurotechnology - Podcast #129

Sleep experts Dr. Phillip Westbrook, M.D. and Clinical Professor of Medicine at UCLA, and Dan Levendowski, Co-founder of Advanced Brain Monitoring (ABM) come on Bulletproof Radio to uncover the foundation for how to hack your sleep using the latest cutting-edge technology. Levendowski shares his personal story of using this technology to confirm that he was waking up 70 times per hour because of sleep apnea. Also hear about optimal sleep positions, how obesity causes sleep problems, and why getting kicked by your spouse when you snore is a good thing.     Aside from being the co-founder of ABM, Dan Levendowski is a serial inventor who has spearheaded the development of numerous disruptive me...

#128 Andy Hnilo and Skin Care – Special Episode

Today's episode of Bulletproof Radio is short and sweet, but packed full of Andy Hnilo. Andy is a model and actor who had a life-changing car accident leading him to create a skin care line that he personally used to heal his injuries and detox his skin. You will also hear him share the science behind clay and how you can combine these age-old techniques with new ones to improve sleep and sex. Stay tuned for a full episode with Andy where he talks more in-depth with Dave about Alitura Naturals and the benefits of clay.     Andy had a life-changing event when he was run over by two SUV's that left him with his jaw wired shut and injuries all over his body. This event transformed him and drive...

#127 Tim Ferriss and The 4-Hour Podcast

Okay so it's not really a 4-hour show (this time), but it is heavy nonetheless. The 4-Hour man himself, Tim Ferriss, is on Bulletproof Radio to unleash his biohacking expertise and to share some knowledge. Tim has a new podcast called The Tim Ferriss Show and on this episode of Bulletproof Radio you hear him on the other side of the mic talking about his view on smart drugs, tea as a creative stimulant, eating insects, and how sex is better than porn for your biochemistry.     The 4-Hour Workweek, The 4-Hour Body, and The 4-Hour Chef have been #1 New York Times bestsellers and Tim Ferriss has been listed as one of the most Most Innovative Business People and a Forbes Magazine "Names You Need...

#126 Dr. Ritchie Shoemaker on Surviving Mold

On this episode of Bulletproof Radio, Dr. Ritchie Shoemaker, a practicing physician recovered from his own mold-related illness, talks the science behind the silent epidemic of mold. You will hear how genomics and testing is opening the door to understanding mold illness, and why microbes growing in water-damaged buildings make people sick. Have you ever wondered why some people can't walk into a moldy building and others don't seem to notice? Dr. Shoemaker has the answers and gives you the facts. Intimidated by the topic? Look for the Quick Reference Guide to this podcast on the Bulletproof Executive blog for terms and definitions, so you can easily be an expert too.     Dr. Ritchie Shoemak...

#125 Cows Can Save the Planet with Judith Schwartz

In this episode of Bulletproof Radio, you hear from therapist-turned-environmental economist Judith D. Schwartz. Her new book, Cows Save the Planet, is a manifesto about nature's very own gut - the soil. In this fascinating conversation learn how to reverse desertification, why cow poop is necessary for a healthy ecosystem, and why it's fundamental to the web of life.     Judith D. Schwartz is a longtime freelance writer and published author. She is an expert in Environmental Economics with an education from Brown University, Columbia University Graduate School of Journalism, and a Master's in Counseling Psychology from Northwestern. She trained as a psychoanalyst and wrote a novel based on ...

#124 Resistant Starch Revealed with Richard Nikoley and Tim Steele

Resistant starch... sounds interesting! And you've probably heard mention of it lately, but do you really know what it is? On this episode of Bulletproof Radio, hear Resistant Starch experts, Richard Nikoley and Tim Steele, talk about what it is and how to use it. The show is packed with key insights about how to figure out your own gut biome from potato starch to fecal transplants. Sound gross? It is, and fascinating! Plus you'll hear the top 3 probiotics we can all start taking right now to improve our gut flora.     Richard Nikoley is a former Navy officer, successful entrepreneur, and creator of the highly informative blog Free The Animal. He is joined by Tim Steele, aka "Tater Tot" (a n...

#123 Peter Sage on Passion and Purpose

If you haven't heard of Peter Sage, then you're in for a treat. As his name suggests, Peter is a fountain of wisdom and shares his daily practices (starting with a rebounder and meditation) on Bulletproof Radio. In this episode you will hear how to make decisions using your Heart Brain intelligence and how this can lead to happiness in a very uncomplicated way. You will also hear Peter's unique explanation of how your emotional bank account feeds your financial bank account. And we all want to know what the grand prize is at the end life, right? Listen and find out.     Peter Sage started his career early by writing his first book "Supreme Physical" at age 18. He really knew what he was writ...

#122 Donna Gates on Body Ecology

International best-selling author Donna Gates comes on Bulletproof Radio to discuss why gut ecology is vitally important to your performance, and how healing it can be beneficial even for those of us that don't have digestive problems – but chances are you probably have at least some underlying issues. On the show you'll learn three things to start doing now for better gut health along with a simple breakdown on which digestive enzymes you should be taking.     Donna Gates is the founder of The Body Ecology Diet, a sugar-free, gluten-free, casein-free, and probiotic-rich way of eating. She is the best-selling author of The Body Ecology Diet: Recovering Your Health and Rebuilding Your Immunit...

#121 Brian Rose from London Real: It's About the Journey

In this episode you'll hear Brian Rose, an American expat and founder of the wildly popular podcast, London Real, an interview series with a stated mission to provide great information, and put BBC TV out of business in the process. You won't want to miss this kickass talk about sleep hacking, Ayahuasca experiences, and Brian's favorite biohacking tools.  Plus, at the end of the show you'll hear Brian answer his own three questions he asks every guest at the end of his own show. Follow Brian on Twitter, @LondonRealTV.     Brian Rose is a former derivatives trader on Wall Street and CFO of a .com startup, with an engineering degree from MIT, and a propensity for pushing the edge. He quit his ...

#120 Dr. Terry Wahls on Mitochondria, Health, and Vegetables

On this episode of Bulletproof Radio Dr. Terry Wahls talks about the power of food as medicine and how the right nutrition feeds your mitochondria, along with a fascinating breakdown of the origin of mitochondria as bacteria adapting to toxins (oxygen!). You'll learn how to use glutathione, vegetables, and healthy fats to increase energy and slow aging.     Dr. Terry Wahls is a clinical professor of medicine at the University of Iowa Carver College of Medicine where she teaches internal medicine residents and does clinical research. She was diagnosed with Multiple Sclerosis in 2000 and went from being wheelchair-bound to running on treadmills through her use of nutrition and functional medic...

#119 Miss Hong Kong on Smart Drugs, Sex, and Singing for Dave

On this very special episode of Bulleproof Radio meet Miss Hong Kong, Erin Tjoe. Erin talks about her transition from tomboy to runway and how she discovered Bulletproof® Coffee. Also hear Erin's take on smart drugs, float tanks, bedroom dyads, and how she found bliss at Burning Man. Check out the video version on iTunes and YouTube for an extra special segment with Erin on the Bulletproof® Vibe!     Erin TJOE™, Miss Hong Kong 2014 朱愛倫, is a TV host personality. Her roles include Travel Host of the new show Green Travel Destination, Fashion Host for The LA Fashion, Co-Host of lifestyle talk show Tailor Made, and Entertainment Host/celebrity interviewer for BlacktreeTV. She is also a correspo...

#117 Tom Corley, Rich Habits of Wealthy Individuals

Not all habits are created equal, and some can even help you become rich. That's what Certified Public Accountant and Certified Financial Planner Tom Corley concluded after studying the rich for five years. On this episode of Bulletproof Radio, Tom discusses his bestselling book: Rich Habits and uncovers the most successful daily habits of wealthy individuals. Discover how to optimize your wallet with daily self-improvement, how to change poverty in 30 days, and why the rich don't gossip.     Tomas C. Corley understands the difference between being rich and poor: at age 9 his family went from being multi-millionaires to broke in just one night. For five years, Tom observed and documented the...

#117 Uncovering Resistant Starch with Dr. Grace Liu

You have an immune system, but do you know where to find it and how it works? Dr. Grace Liu is on Bulletproof Radio this week to show you how to treat your gut for optimal performance. Hear an upgraded conversation about: probiotics, butyrate, evolution, and instructions on how to begin using resistant starch to biohack.     Dr. Grace Liu, also know by her blog name Dr. BG Animal Pharm, is a medical pharmacist with scientific, nutritional, and pharmacological training. She has studied plant biology and nutritional science, has a doctorate in pharmacy, is a certified Crossfit Nutritionist by Robb Wolf, and has a certificate from the Institute for Functional Medicine. She currently spends her ...

#116 Spartan Up! with Joe De Sena

From cleaning pools for mob bosses to saving the world through extreme endurance and Spartan Racing, Joe De Sena is the CEO and co-founder of the Spartan Race, a series of high endurance and terrifying obstacle courses. On this episode of Bulletproof Radio, entrepreneur and author, Joe De Sena talks about his journey to creating the Spartan Race and: the benefits of pushing yourself to dangerous limits, how to use thermogenesis for recovery, and the effects of ego on performance.  Joe also passes along some very useful running tips! Joe is an impressive guy with quite a few incredible stories. Enjoy!     Joe De Sena is what you might call an extreme endurance racer and radical limit crusher....

#115 Take Your Power Back with Josh del Sol

Electromagnetic fields (or EMFs) are fundamental to the physical world. They occur naturally in the body, but are also man-made and have the potential to affect your performance negatively. Josh del Sol's award-winning documentary, Take Back Your Power, addresses the performance-robbing effects of certain EMFs and takes a journey into the 2013 NSA spying scandal to expose what he calls "vast programs to monitor your personal communications using 'smart' meters." Josh comes on Bulletproof Radio to discuss his feature film about EMF and radiation standards in America, smart meters, and a possible connection between autism and EMF levels. Check out the shownotes and watch the film online.     J...

#114 Marc David Hacks into the Psychology of Eating

Bestselling author and founder of the Institute for the Psychology of Eating, Marc David has made it his life's work to help people do exactly what they say they want to do. On this episode of Bulletproof Radio, Marc goes deep into the psychology of eating and explains some of the easiest ways to hack your nutrition and perform better when you eat with integrity. You'll discover why Marc says: "You cannot be a food addict," along with how to make sense out of trauma, why the obesity paradox is a black eye in the face of science, how potato chip companies are capitalizing on our dental aggression habits, and a ton more!     Marc David is the Founder of the Institute for the Psychology of Eati...

#113 Dr. Cate Shanahan and Bulletproofing the NBA

Dr. Cate Shanahan is using Bulletproof Diet principles to help pro athletes perform better. On this episode of Bulletproof Radio, physician, author, and LA Lakers Nutrition Director, Dr. Shanahan, talks how she transforms the diets of NBA stars like Dwight Howard and gets them to exchange nachos for charcuterie - one step at a time. Also hear Cate explain gluten on a molecular level and she makes a powerful argument for why consuming vegetable oil is like eating radiation. The show also includes information on: sugar addiction, milk proteins, and the benefits of eating, "meat on the bone".     In addition to her thriving Napa Valley medical practice, Cate Shanahan, MD is Nutrition Director o...

#112 AJ Jacobs on His Life as an Experiment

Bestselling author and renowned NYC journalist, AJ Jacobs is a living, breathing experiment. On this episode of Bulletproof Radio, AJ reveals his methods behind hacking into (what he calls) the three domains of self-improvement. Jacobs talks about his quest to become the smartest person, what happened when he lived (quite literally) according to the Bible, and his humble quest for bodily perfection. Also catch tips on how to act your way into a new way of thinking. Enjoy!     A.J. Jacobs is an author, journalist, lecturer and human guinea pig. He has written four New York Times bestsellers that combine memoir, science, humor and a dash of self-help. He is also editor at large at Esquire maga...

#110 CrossFit Master Shana Alverson Makes Strong The New Skinny

One of the 50 fittest women in the world comes on Bulletproof Radio to talk about how strong is the new skinny and how she became a major player in the CrossFit community. On this episode of Bulletproof Radio you'll get a look inside the mind of a real CrossFit master and she's sassy too. Alverson talks about her strict adherence to a Paleo diet, her thoughts on women and ketosis, and if she thinks it's okay to do CrossFit while pregnant. Get the show below!     Shana Alvesrson owns Crossfit East Decatur in Georgia. She is a level 1 Certified CrossFit trainer as well as a Level I CrossFit Running & Endurance Certified. Shana also trains in CrossFit Olympic lifting, movement & mobility, gymna...

#109 Steven Kotler and The Rise of Superman

Have you ever experienced a flow state? It's the superhuman state of high performance when everything is in-sync and you're kicking ass at life? Bestselling author of The Rise of Superman, Steven Kotler, will teach you how to find your flow state and stay there. In this episode of Bulletproof Radio, Kotler breaks down the 3 psychological conditions for flow state, the 4 stages of flow, and how to turn it on and off. Steven also tells a great story about his own flow state experiences as a writer, his battle with Lyme disease, and discusses, The Flow Genome Project.     Steven Kotler is a New York Times bestselling author, award-winning journalist, and co-founder and director of research for ...

#108 Dr. Sara Gottfried – The Hormone Cure

Owning your hormonal health is crucial to performance, and this goes for all the sexes. M.D. and bestselling author of "The Hormone Cure," Dr. Sara Gottfried joins Bulletproof Radio to underscore the importance of leveraging hormones and how to uncover the velvet vulva. Dr. Sara relies on results-based data and her own practice as a physician to define her theory on why women often struggle on high-fat diets and often take a dive off a hormonal cliff. On this show you'll learn about monitoring your brain chemical three-some, feeding the gut bacteria you want, and how birth control pills can affect sexual attraction.     Dr. Sara Gottfried M.D. is a Harvard-educated physician, speaker, yoga t...

#107 Pedram Shojai on Vitality and Origins – Podcast

"Follow the bread crumbs..."   Many people would say that the human race is entering an era of awakening. Whether that be in mind, body, spirit, or all three there is a good chance that if you're reading this, you'd agree – or at least you're interested. Talented physician and documentary filmmaker, Pedram Shojai, is on the show to discuss the concepts behind his two films, Vitality and Origins, and why he's in the business of waking up zombies. On the show you'll discover Pedram's take on what we should be eating, how to make everything you do count the most, and why he's trying to win the war against healthcare propaganda. Pedram is a great example of how to balance science and mysticism. ...

#106 The Powers of Vitamin K2 with Dr. Kate Rhéaume-Bleue

Knowing your individual vitamin deficiencies is a key part of hacking into high performance. With Vitamin C and D getting so much playtime, it's easy to overlook other major players like Vitamin K2. The impressive Dr. Kate Rhéaume-Bleue comes on Bulletproof Radio to talk about the powers of Vitamin K2, how you can get more of it in your diet and why you should start today. Ever wondered why you have better dental hygiene, but more cavities than a friend? It turns out that Vitamin K2 plays a major role in dental health, among many other things. This episode will also show you why you may want to start cooking your kale, what gives with the Calcium Paradox, and what exactly is Activator X? Dr....

#105 Flow State and being a Crossfit Champion with Amanda Allen

Do you own your biology or not? Crossfit Masters Champion, Amanda Allen, certainly does, but it took her a while to get there. On this episode of Bulletproof Radio Amanda talks about her 40-year journey to becoming a mega-athlete and finding her flow state in human performance. Allen talks candidly about her struggles to harness her addictive personality into something positive and what it takes to be a successful female athlete of all types including: her diet regimen, the menstruation effect, and why she has four coaches. Amanda is a true Bulletproof badass. Take a listen!     Amanda Allen is the 2013 Crossfit Games Masters Champion (40-44) and an all around mega-athlete. She found Crossfi...

#104 The Science of Smart with Dan Hurley

Is it all just a bunch of "happy talk" or is it true that with focused brain training, we can all get smarter? Science journalist and author, Dan Hurley comes on Bulletproof Radio to talk about the science of smart and fluid intelligence. Find out what that is and if/how it can be increased for individuals. Everyone wants to be smarter and science is coming up with new ways to make it possible. Hurley is an expert on what we can do to hack our brain and make it work smarter. On the show you'll hear about things like working memory, Dual-N-Back training, how IQ is different from fluid intelligence, and if pre-school actually helps make us smarter. Dual-N-Back is talked about a lot on Bulletpr...

#103 Dr. Susanne Bennett Uncovers Upgraded Skin Care

An average adult's skin spans 21 square feet, weighs nine pounds, and contains more than 11 miles of blood vessels. As the largest human organ, having abnormal skin conditions are not only socially embarrassing, but are more often than not an indication of a problem occurring inside of the body. On episode 103 of Bulletproof Radio, skin expert Dr. Susanne Bennett tells you how to hack into your skin and make it better and ultimately, how to look as great on the outside as you feel on the inside. Discover how allergic reactions to food and environmental toxins often result in unsightly skin problems, the benefits that topical supplements like collagen and glutathione can bring you, and an all...

#102 – Extreme Endurance Training and Ketosis with Ben Greenfield

The days of eating bananas and oatmeal before a race are over. Nowadays extreme endurance athletes are finishing Ironmans (and the like) in ketosis. Enter top competitor, performance trainer, and hardcore biohacker, Ben Greenfield. On this episode of Bulletproof Radio, Dave and Ben discuss many things ketosis, increasing mitochondrial density, and the fine line between moving your body for optimal performance and chronic cardio. The show will also expose Ben's upgraded protocol for staying in a state of ketosis while training for Ironman competitions. There's a ton of useful information to take note of here. Check out the show notes for links and resources!     Ben Greenfield is a coach, aut...