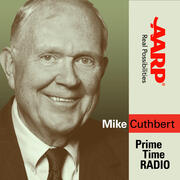 Madwoman in the Volvo / Sheryl Underwood and Depend

Part A: Not your grandmother's menopause story, Sandra Tsing Loh chronicles the everyday perils of raising preteen daughters, surviving hormone changes, and going through the ups and downs of a career and a relationship. Part B: Talk show host and comedienne Sheryl Underwood is no stranger to real talk, and now she's partnered with Kimberly-Clark's Depend brand to share her personal experience with bladder leakage, after undergoing a hysterectomy.

Avoiding Scams and Fraud / Man on the Run

Part A: AARP and the ABA are working together to prevent the financial abuse of older Americans through an extensive campaign to teach people how to spot a potential scam and what to do if they get caught in one. ABA president and former Governor Frank Keating explains his role in changing the way banks protect the financial security of older Americans, their families and their caregivers. Part B: In the early 70's as the Beatles ended, Paul McCartney was left to face a new phase of life. He ensconced himself in his farmhouse with his wife Linda as he sank into depression. It may have seemed McCartney was adrift without sail or rudder, paralyzed and intimidated by his own fame and cut loose ...

Dream More, Dolly Parton / Boomer Dating

Part A: Growing up dirt poor in the hills of Tennessee, Dolly Parton relied on her dreams to sustain her. "It was a dream that dressed me up when I was ragged, it was a dream that filled me up when I was hungry, and it was a dream that took me out of the Smoky Mountains and put me on top of the world," she says. So it's fitting that the legendary country singer and composer of more than 3,000 songs has titled her latest book Dream More: Celebrate the Dreamer in You. The 66-year-old Parton talks to host Mike Cuthbert about her long and successful career in music, TV and movies, and about the way her dreams continue to push her forward. Part B: More and more singles are going online to find r ...

Agelab / The Nixon Defense

Part A: Since the early 1900's the expected lifespan of the average American has nearly doubled. And the MIT AgeLab, part of the engineering division, was created in 1999 to translate new ideas and technologies into practical solutions to help improve people's quality of life and make a better future for all. Joseph F. Coughlin, Ph.D., Director of the AgeLab, works with many businesses, governments and non-profits worldwide, to produce unique new products, technologies and services to reach this goal. Part B: The Watergate Scandal has left an ugly scar on American politics, and it has taken on new significance in light of the recent NSA surveillance revelations. Even forty years later, no on...

Good Morning, Mr. Mandela / Ain't it Time We Said Goodbye

Part A: Nelson Mandela is universally loved around the world due to the fact that he shared so much love and so much of himself with others. He forgave those that imprisoned him and persecuted in the name of the greater good, that is, peace. Zelda la Grange started as personal secretary to Mandela and grew into a friend for some twenty years. She served with him even in his retirement, if such it can be called. In the process she moved from a conservative, racist Boer farm girl to a sophisticated spokesperson for arguably the best-known and greatest political person in the world as her mindset was transformed. She tells her story in her memoir, Good Morning, Mr. Mandela. Part B: Although the...

October, 1980 / A Life in Radio

Part A: As Iran heats up as an issue again, it's easy to look back at the CIA and hostage crisis and turmoil in the late 70's and early 80's and compare with the last time the US spent a lot of time there. George W. Cave was a station chief in Iran during the overthrow of Mossadegh through the establishment of Khomeini as the Supreme Leader in Iran. That single change in the government locked out the chances of democracy in Iran, perhaps forever, and has led to a succession of Supreme Leaders. Cave has most recently used the medium of fiction to revisit the 80s and focus on the arms-for-hostages deal that coincided with Ronald Reagan's winning of the presidency. Part B: He was best-known as ...

Living with Alzheimer's / Shouting Won't Help

Part A: Every year, about 450,000 Americans are diagnosed with Alzheimer's disease. Each diagnosis creates a ripple effect, as millions of family members are thrown into a terribly sad, confusing and time-consuming situation. Filmmaker David Shenk believes the best resource, by far, is experienced Alzheimer's families, caregivers who have already spent years learning to navigate this harrowing terrain. Shenk emphasizes that while no one is glossing over the difficulty of the disease, he did ask the filmmakers to focus on solutions, tools and strategies families employ to carve out a comfortable and meaningful life in a new series of short films. Part B: For 22 years, Katherine Bouton had a s...

Truckin' My Blues Away

This special introduces listeners to the stories and sounds of four older Southern bluesmen—and to the efforts of Tim Duffy, founder of the Music Maker Relief Foundation, to help lift these musicians from poverty and obscurity.Truckin' My Blues Away. The musicians cover a wide swath of the South: Boo Hanks from Virgilina, Va.; Captain Luke from Winston-Salem, N.C.; Eddie Tigner from Atlanta; and Little Freddie King from New Orleans. In their own words and performances, these men bring us the story of a music, an era and a culture that are uniquely American.

Dominique Wilkins: His Life, Career and Diabetes Advocacy / Seven Secrets of Summer Entertaining

Part A: He is a multiple time All-Star as a small forward for the Atlanta Hawks, and also a victim of Type II Diabetes. Dominique Wilkins is working to recruit a new team that in fighting the disease. Wilkins discusses aspects of his career, his retirement and why so many pro athletes get diabetes after they retire. Part B: Summer is the season for outdoor activities of all sorts. And there may be no outdoor activity more popular in beating the heat than the summer cook-out. Kellie Clements, HGTV's most popular presenter and owner of her own design firm, gives many tips on decorating for your next outdoor soirée that will make it visually unforgettable, practical and comfortable.

Good Hunting / Eight World Cups

Part A: Jack Devine is one of the legendary spymasters of our time. He was in Chile when Allende fell; he ran Charlie Wilson's war in Afghanistan; he had too much to do with Iran-Contra for his own taste, though he tried to stop it; he pushed the CIA's effort to run down Pablo Escobar in Colombia; he tried to warn George Tenet that there was a bullet coming from Iraq with his name on it. Devine served America's interests for more than thirty years in a wide range of covert operations, ultimately overseeing the Directorate of Operations, a CIA division that watches over thousands of American covert operatives worldwide. Part B: Blending witty travelogue with action on the field—and shady deal...

Good Talk, Dad / Life with La Toya

Part A: From rough-housing and sports watching to those difficult "coming of age" conversations, father son relationships can be unique. Journalist Willie Geist has had an especially unique relationship with his father, Bill Geist. They discuss conversations they never had, failed camping trips and many more cherished memories in their memoir, "Good Talk, Dad." Part B: The always sweet and sometimes unpredictable La Toya Jackson is facing big life changes. She is taking charge of her life as she faces marriage, self-examination and newfound confidence while she starts new business ventures and a new docu-series on the OWN [...]

A Personal Journey with My Father / Being Oscar

Part A: Although he was nicknamed Mr. Show Business, Sammy Davis Jr. was a performer who sang, danced, and acted on film, television, radio, and the stage for over six decades. His daughter, Tracey Davis, tells the entertainment legend's personal story. Part B: After thirty-five years as a lawyer defending some shady characters in Vegas, he ran for mayor, now he is married to the mayor. Oscar Goodman and his wife Carilyn tell how America's greatest Mob lawyer became the mayor of its sexiest city.

One Man's Escape / The Maya Angelou Center

Part A: Shin Dong-hyuk was born in North Korea in a brutal prison camp called, Camp 14. He grew up in the camp, where he witnessed too many inhumane horrors to list. Shin knew nothing of the outside world, had never heard of Kim Jong, or realized that food was cooked and enjoyed in other parts of the world. He was raised without love, and he regarded his mother as merely competition for food. In fact, he reported his mother to guards for talking of plans to escape. In return, the guards made Shin watch as they shot her, and then tortured him for four days. He never considered escaping until he heard stories that food was plentiful and cooked in the outside world. Eventually, he did escape, a...

A Dog Walks into a Nursing Home / Frankenstein's Cat

Part A: Being at loose ends with an empty nest and travelling husband, and sensing an excess of empathy and genius in her dog, Pransky, Sue Halpern decides to get certified as a therapy dog team. As it turns out, Pransky is not only a prolific therapist but a faithful, loving and snack loving friend. As she begins visiting the local nursing home every Tuesday with her new partner, they meet a wide range of friendly, and rather unfriendly, resident characters. In this Prime Time Radio interview, Halpern tells the story of how they plunged into a series of encounters with that revealed depths of warmth, humor, and insight Halpern hadn't expected in people or animals. She also discusses how the...

Tiger, Meet My Sister / A Cartoon Life

Part A: In Tiger, Meet My Sister, Reilly compiles the best of his columns from his last five years with ESPN, columns that will make you laugh, cry and quite a few that may make you want to throw this book across the room. Rick Reilly tends to get under people's skin like that. Part B:

It Ain't Over / There Goes Gravity

Part A: Anyone who has ever tried to make a change in life knows it can be complicated and scary. It can be especially stressful when it comes to completely reinventing one's life. In her new book, It Ain't Over… Till It's Over, Marlo Thomas not only tells the stories of sixty women who found the courage to reinvent themselves but explores the circumstances beneath the change. Part B: Then, music journalist Lisa Robinson explores the history of rock and roll in her book, There Goes Gravity. Although the title of the book is inspired by a hip-hop song lyric, Robinson gives an insider's perspective on rock and tells the first-hand stories of the Beatles, U2 and many more. [...]

Part Swan and Part Goose / Wisdom for Daughters of any Age

Part A: Covering topics from her unique name to finding roles in Hollywood and people she admires, Swoosie Kurtz charmingly shares a slew of personal and professional stories. Kurtz candidly reflects on her namesake and how on the right choices have empowered her, the mistakes that enlightened her, and the trials of caring for an aging parent. Part B: She has been an activist, a wildly popular playwright, a novelist, and a spouse during her long career. They are all experiences that gave her much wisdom and insight into life's meaning. Pearl Cleage shares some of her wisdom and gives advice for younger women on self-fulfillment.

New AARP President / Dragnet Nation

Part A: The outgoing and incoming Presidents of AARP Robert Romasco and Jeanine English discuss what is being done in the organization in recent years and its future plans. Jeannine English is the new president and she has a clear set of goals for the organization which she discusses in depth from membership to community involvement. Part B: The fact that we are under nearly constant surveillance is not only common knowledge but also proven fact. From stores and corporations to local and federal government agencies, they are tracking the ads we look at, who we call, and where we go to build stores of data. Investigative reporter J [...]

Giving "Happily Ever Afters" to Chinese Orphans / Dancing Through It All

Part A: Half the Sky Foundation is a non-profit organization that helps Chinese orphans overcome the pain of loneliness and abandonment by placing them with caring foster families all over the world. Founder and AARP Purpose Prize winner Jenny Bowen started Half the Sky when she noticed the completed transformation of her adopted daughter from frightened little girl to a happy thriving child. Bowen wanted to provide the opportunity for this same transformation to the many thousands of children in the Chinese orphanage system. She was not only successful, but she also revolutionized the Chinese system of foster care. Bowen tells her story in her book, "Wishing You Happy Forever." Part B: Ball...

Amy Grant: Caring for My Dad / Hero of Heroes

Part A: At a time when Emmy winner and singer Amy Grant was emotionally struggling with her parent's experience with dementia, she had temporarily stopped touring to take care of her ill father. Grant talks about why her newest album, How Mercy Looks from Here, is so dear to her heart and how her late mother inspired many of the lyrics. The album is a highly reflective and personal work that sums up recent events in her life from the death of her mother to care giving for her father. In this highly personal interview, Grant expresses her emotions tenderly and with amazing depth as an artist. Part B: In the 1930's, baseball was already more than a national pastime, it had grown into a cultura...

Strength Training for Women / Tax Tips for Caregivers

Part A: Strength training sculpts the body by building lean body mass, strengthens bones and increases metabolism. As a result, energy levels increase making you mentally sharper, feel more youthful and healthy. Joan Pagano explains simple ways to add strength training to your exercise regimen and achieve that flatter belly, toned arms or firmer thighs, so you'll look great in a little black dress or shorts you haven't even considered wearing in years. Pagano adds that the benefits go far beyond all of that, lower stress levels and increased mobility mean you can be more independent and self-reliant. Part B: The tax season always brings with it many questions and lots of stress for most peop...

Hollywood's Golden Era of Style / Cell

Part A: It can easily be said that Hollywood's golden age was the 40's and 50's. Legendary actors lived in almost unimaginable glamour during this time that very different to the paparazzi and agent driven modern Hollywood. Robert Wagner fondly admires the parties, estates and architecture of some of the most famous stars in his book, You Must Remember This. Wagner also reminisces about this bygone era when the rich and famous lived in incomparable style that is very different from today. Part B: A new app called iDoc can give more than medical healthcare advice. It's full application, along with some physical implants can actually give medicinal injections too and may be able to cure cancer...

The Real Damage of Secrets and Lies / Sexpression: A Pop Culture Revolution

Part A: Although secrets are a fact of life, they can have tremendous impact on people's lives. Lies on the other hand, can completely destroy lives and families. Jane Isay explores the impact of keeping secrets and the liberating power of truth. Secrets and lies can damage our sense of self and relationships. Even so, people have survived learning the most disturbing facts that have been hidden from them. Part B: There was a pop culture revolution in the years between 1968 and 1973. Movies, literature and television challenged more sexual taboos than ever before and possibly ever since. Film and theater especially broke down ba [...]

The Antidote: A New Look at Big Pharma / Mad as Hell: The Making of the Classic, Network

Part A: It's a story spanning more than two decades to provide a groundbreaking closeup of the upstart pharmaceutical company Vertex and the ferocious but indispensable world of Big Pharma that it inhabits. In 1989, the charismatic Joshua Boger left Merck, then America's most admired business, to found a drug company that would challenge industry giants and transform health care. Part B: The dramatic story of how Network made it to the screen. Such a movie rarely gets made any more—one man's vision of the world, independent of studio testing or market research. And that man was Paddy Chayefsky, the tough, driven, Oscar-winning screenwriter whose vision—outlandish for its time—is all too real...

New Technology and Aging / The New Era of Aging

Part A: As more of the world's population approaches their fifties and sixties, it may seem that our fast-changing social and cultural standards may out pacing seniors and leaving them behind, especially in the area of technology. Bill Novelli, argues that this is not the case at all, that with a little help, older Americans can adapt as fast as social change occurs. Novelli argues that older age groups are actually embracing new technologies instead of resisting these new trends. He further explains that we are entering a new era of aging, one in which being in older age groups is a new norm. Part B: The idea of age can and should be rethought and reinvented. New ways of living, working and...

Being a Modern Teen / Heart Disease and the Risk for Women

Part A: Not long after she had moved to Georgia and married Ted Turner, legendary actress Jane Fonda began working with teens in troubled situations. She subsequently founded the Jane Fonda Center to help teens foster healthy relationships and make good life choices. Fonda realized that with the enormous impact the media, including social media, and friends have on teens in their formative years, there should be an updated resource for them, their parents and grandparents. Fonda discusses her new book, Being a Teen, and how it can be a resource for teenagers, and the importance of the grandparent's relationship with a teenager. Part B: Healthy lifestyle is important to overall well-being, bu...

Mastering the Art of Quitting / Beating Job Loss Blues

Part A: In a society that perceives quitting as a last resort and urges us to hang in, Mastering the Art of Quitting teaches how to not overanalyze, hold on, and put a positive spin on goals that have outlived their usefulness. Peg Streep explains that how you exit a situation is just as important to the next beginning as how you start the next situation. Part B: Resetting thought processes to fight against the negativity, stress, and depression that naturally follows a layoff from a job is an important first step to finding a new job. Journalist Dwain Schenck recounts his experience getting laid off and explains the emotional stages of unemployment and how they undermined his morale and con...

Zydeco Nation

Part A: This special hour-long documentary traces how the Louisiana Creole music known as zydeco found a new home 2,000 miles from its birthplace. Independent producers Richard Ziglar and Barry Yeoman interviewed the people who migrated from Louisiana to California starting in World War II to escape the racial discrimination prevalent in the South and find jobs in the shipping and defense industries. Once in California, they worked hard to keep their culture alive, especially their musical traditions. Part B: This special hour-long documentary traces how the Louisiana Creole music known as zydeco found a new home 2,000 miles from its birthplace. Independent producers Richard Ziglar and Barry...

The Legacy of Medgar Evers / Keeping the Dream Alive

Part A: Slain activist Medgar Evers was heavily involved in civil rights after returning from World War II and graduating from Alcorn College in 1951. He was also instrumental in the efforts to end segregation at the University of Mississippi. His widow, Myrlie Evers-Williams talks of his legacy and impact on the civil rights movement nearly 50 years after his assassination. She also discusses her continuing work for civil rights and reflects on her opportunity to give the invocation at the second inaugural ceremony of President Barack Obama. Part B: This year in 2013, our nation celebrates many historic anniversaries in the struggle for civil rights and racial harmony including the Emancipa...

Beatles 50th Anniversary / The Big Picture

Part A: The story of the Beatles' harrowing rise to fame that focuses on that seven-year stretch from the time the boys met as teenagers to early 1964, when the Beatles made their momentous first appearance on The Ed Sullivan Show. From the boys' humble beginnings in Liverpool, and the cellars of Hamburg, When They Were Boys includes stories never before told, from journalist Larry Kane's time travelling with the most famous band of all time, before they were famous. Part B: Written with fitness guru Tony Horton's trademark humor and honesty, The Big Picture, shows you how your physical health is intricately linked to your mental, financial, and family health, [...]

The Courage to be Vulnerable / Making Habits, Breaking Habits

Part A: Theodore Roosevelt once spoke of the possibility of failing while daring greatly in a speech given in Paris. When we face any new situation in life, we are vulnerable to uncertainty, failure, and pain. Dr. Brené Brown argues the idea that vulnerability is weakness, explaining that it is the basis of both courage and fulfillment in life. In her book, "Daring Greatly," Brown challenges everyone to risk being vulnerable and change the way we live, love, lead, and parent. Part B: It seems that even making simple habits stick can sometimes be a Herculean task even after 30 days of trying and trying again. People spend endless hours and much effort trying to change their behavi [...]

Caregiving and Senior Care Safety / Keeping older Drivers Safe

Part A: Nearly 65.7 million people take on the role of family caregivers in America today. Most often, people are overwhelmed at the prospect of providing care for an elderly parent. Jody Gastfriend has many tips for the boomer generation who are now caring for elderly parents while raising a family and working, all at the same time. Part B: As your body and perception changes with age, driving gets trickier. Older drivers can be safe drivers, but they can also benefit from strategies that help them deal with age related changes. Julie Lee explains how to compensate and gives information on AARP's driver safety course for seniors. [...]

The Normal Bar / The Happiness Choice

Part A: AARP's Love and Relationships expert, Pepper Schwartz, gives the details of a survey that studied many couple's communication styles, which give insight into many aspects of the relationship. The study, titled "The Normal Bar," reveals much more than what happens to passion, as we grow older and our relationships change. Schwartz also discusses what each gender wants when it comes to sex, the factors that can ignite relational conflict, and what people really admire in their partner. Part B: In "The Happiness Choice," Marilyn Tam teaches the five basic principles and values that can lead to a happier, healthier, and more fulfilled life. Tam takes many of the lessons she learned whi [...

Getting the Best Healthcare Possible / Juggling Work and Caregiving

Part A: Choosing a healthcare plan is about cost and more importantly knowing which physicians are covered at the best hospitals. Dr. Archelle Georgiou and Dr. Paul Fronstin give advice for selecting the best personalized affordable care act plan and finding great doctors at the best hospitals. They simply explain what people need to know when selecting a plan and how free resources like Healthgrades can get them started on getting the best plan. Part B: Millions of Americans brave the challenges and enormous pressure of caring for a loved one while continuing to work fulltime. AARP Expert, Amy Goyer, provides practical resources and tips, whether you're caregiving day to day or planning for...

Medicare for Dummies / The Other Talk

Part A: The fast and easy way to get up to speed on Medicare Since the creation of Medicare in 1965, significant changes have affected the legislation. With 77 million baby boomers entering the program, questions about what Medicare is and how it affects seniors are certain to arise. Medicare For Dummies addresses this uncertain topic and helps those eligible for Medicare benefits maneuver the complicated process. Part B: The Other Talk helps you take control of your life so when the time comes, your kids can make decisions based on what you want. This groundbreaking guide provides the practical advice and inspiration you need to have open, honest discussions about subjects that can be [...]

Trip to Echo Spring / Miss Anne of Harlem

Part A: In The Trip to Echo Spring, Olivia Laing examines the link between creativity and excessive drinking through the work and lives of six writers whose literature is some of the most famous in the world. All six of these writers were well-known alcoholics, and the subject of drinking is often tackled in some of their finest work. Part B: New York City's Harlem was an cultural center in the 1920's that represented time of social freedom. White men could go uptown to see jazz and modern dance, but women who embraced black culture too enthusiastically could be ostracized. Carla Kaplan's, Miss Ann of Harlem explores the lives of six women who crossed race lines and d [...]

Preservation Hall Jazz Band Christmas Special

New Orleans and Jazz are as synonymous as the winter holidays and music. When the Preservation Hall Jazz Band joins Prime Time Radio for an hour long special and combines all four of those elements for a truly special performance. Guest hosted by Marcellus The Bassman Shepard, who has been an on-air radio personality and is well known for his distinctive deep voice, which he uses for his afternoon drive shift, In the Groove, on WEAA in Baltimore, MD and as co-host of the nationally syndicated Cool Jazz Countdown. Preservation Hall Jazz Band, this week on Prime Time Radio. [...]

The Bells of the National Cathedral

Join us for a rebroadcast of Prime Time Radio's popular holiday program—an hour-long special featuring the bells of Washington National Cathedral's carillon. Host Mike Cuthbert ascended the bell tower and sat in the "wheelhouse" with distinguished carillonneur Edward Nassor who played the beautiful bells expressly for Prime Time Radio. He and Mike also had a fascinating conversation about the history and workings of the bells. [...]

What it is to be a Man / The Good House

Part A: What is man is a question that has been asked more times than can be counted. Author Colum McCann discusses what a man is by examining a collection of essays and short stories written by today's top male writers from around the world titled, The Book of Men. Part B: Ann Leary discusses her new novel, The Good House. It is an exploration of small town life, New England culture, love and friendship. Leary reveals which characters and experiences are based closely on real life. [...]

Best Winter Vacation Destinations and Deals / Frosty the Smowman

Part A: Whether you would like to relocate in retirement or just take a vacation, many tools are available to lower the stress of winter travel travel. AARP expert, Samantha Brown, gives many tips and tools for finding great winter destinations at lower prices. Part B: Frosty the Snowman is one of the most magical winter songs. Kenny Loggins brings the classic back to life once again giving it an enchanting new interpretation that both children and adults can enjoy. He also discusses many other of his new recordings that are geared for both children and adults. [...]

The Bully Pulpit of Theodore Roosevelt and William Howard Taft / Boomers and Addiction

Part A: The early twentieth-century was a turbulent and progressive era of new technology, violence, corporate mergers, and impending reform. Journalism was also in it's golden age and being led by publisher S.S. McClure and his staff that came to known as muckrakers. At the same time, Theodore Roosevelt and William Howard Taft competed for a presidential nomination and national reform as their friendship disintegrated. Doris Kearns Goodwin explores the lives of these two historical figures and the muckraker journalists which Roosevelt used ingeniously to his political advantage in her first book in eight years titled, The Bully Pulpit. Through meticulous research and enthralling storytellin...

Advances in Knee Surgery / The Prostate Monologues

Part A: Pioneering the development in Minimally Invasive and Computer Assisted hip and knee replacement surgery, Dr.Stefan Kreuzer, is changing surgical techniques for surgeons for the better. These next generation of knee and hip implants, are helping patients recover faster and get back to the active lifestyle they are used to leading. Part B: Since being diagnosed with prostate cancer, Jack McCallum, wanted to clear up the confusion, misconceptions, and conflicting medical advice that so many men struggle with when thinking about the disease. So he promptly got to work writing The Prostate Monologues. Through his own experiences, McCallum tackles the tough questions and decisions that men...