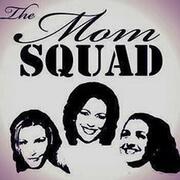 Boarders, Hoarders, and Renovations

Did Chaz take in a male boarder? Did Christine take the ALS Ice Bucket Challenge? Laundry room and kitchen redo's, and so much more.

More Back School products and tips.

Back School products and tips with guest, Richard Sherwin from Digital Family Advisor. Plus new information regarding Robin Williams, and the Ferguson Police Department releases the name of the police officer involved in the Mike Brown shooting. Christine reveals who is getting challenged next in the ALS Ice Bucket Challenge!

Back to School with Julie Cole of Mabel's Labels

Back to School with Julie Cole of Mabel's Labels. We also reflect on the lives of Robin Williams and Lauren Bacall, and Chaz challenges Christine and Kyra to take the ALS Ice Bucket Challenge.

Tomboys, Ghosts, and Atheists

Should cheerleaders wear make-up? The Moms discuss this and so much more. From cheerleaders and tomboys to ghosts and atheists, you don't want to miss this episode.

70's Commercials & Dreams

The Moms travel back in time and visit some of the best commercials from the 70's and 80's. Plus Christine whips out her dream book to interpret Kyra's dreams.

Catch up with the Moms!

Kyra updates us on her investigative reporting, and it's riveting stuff. Also riveting...Christine's boobs are growing and she finally has an answer why. Plus, Chaz renovated her kitchen with her husband and finally got something pierced.

Stories from around the world

The moms cover everything from the World Cup to what in the world is happening in Iraq.

OJ Simpson Trial 20 Years Later

Kyra has interviewed practically everyone involved in the OJ Simpson murder, and on this podcast she talks about the case, what happened, and where we are now.

Bob Plunkett gives Financial Advice & Keep your Marriage Happy

Financial advice and marriage tips. Wow - if this show doesn't improve your life, nothing will! Guest Bob Plunkett of Wall Street News.

Carageenan talk with Amy Eller & Bridal Baby Dragging

Guest Amy Eller talks carageenan, where it is used, and why you don't want it in your diet. Also the bride who had her one month old participate in her wedding in a most unusual way.

Julie Cole Speaks about Autism

Julie Cole of Mabel's Labels speaks about autism. She is an entrepeneur, mother of 6, and all around fantastic woman. This show is for everybody, not just families with autistic children. Julie's insight and humor make this show a must listen.

Cheatin' Hearts and Cheater Names

The Moms discuss algorythms and the top 20 names of men who cheat. Is your man's name on the list? Also, a pro breast feeding commercial in Mexico is causing an uproar. Is it deserved?

Maya Angelou & Tragedy in Santa Barbara

Maya Angelou died today, and the Moms share their favorite quotes and stories. Also the tragedy in Santa Barbara and what it means for parents everywhere.

David Caplan talks Hollywood gossip with the Moms and More

The Moms are back from an extended Mother's Day break, and they are talking Hollywood gossip with guest, David Caplan. Plus, a very serious topic comes up that the Moms have only started discussing.

Rich People Problems, Scam Artists & Survivors

Oh boy, having too much money can be such a pain. Plus scam artists stealing money by faking a disability and a Colorado woman survives car crash and 6 days without food or water.

Do you Ouija? Ghost stories & Psychic Rip-offs

The moms tell of their ghostly encounters, plus Kyra recalls the story of when she went undercover to catch a psychic scam.

Sterling bites the dust, a new spanking study & health benefits of tea.

Doug Sterling gets banned from the NBA for life. Do you spank? If so, how often, and is it effective? A new study sheds light on those very questions. Also, we really should be drinking tea, we cover more health benefits.

Children get old too fast, Racism in the NBA, George Clooney engaged

Children get old too fast. Christine's baby is 12! Plus the Doug Sterling story - racism in the NBA, and someone finally lands George Clooney.

Field trips and Guilt trips

Christine goes on a field trip with over 90 kids, Kyra tells us why she is in California, and Chaz is trying not to be so sarcastic to her son.

Dreams and Bucket Lists

Dreams, Burger King Baby and Bucket Lists

Scandal Special with Linda Dano!

Linda Dano joins us for some Scandal TV talk!

Overprotected kids. Is it doing more harm than good?

This show features a candid family moment you don't want to miss. Also, we talk about The Atlantic's article on over protected kids. Is it doing more harm than good?

Mom Squad Show FISTFIGHT!!

Hear all about how the Moms throw down. Yes, we're talking about fistfights. Also do you PTA? Plus, Kyra needs help choosing a preschool for her twins.

Big announcement! Prom proposals, marriage busters and sex talk.

We reveal our big announcement today!  Also, 8 ways to break up your marriage (don't do these to make your marriage work), and 5 ways to improve your sex life with your partner right away. Yes, this episode talks about sex and it's hysterical - but not appropriate for children. 

Boy saves his dad, burn 100 calories, and the real life blow up doll.

Boy saves his dad, burn 100 calories in 10, 20 or 40 minutes. Plus the real life blow up doll...umm Barbie.

Tragedy in PA, Country Music & Cheating Hearts

The Moms cover the tragedy in PA school, this stuff is happening way too often. Also country music love and cheating hearts, plus brilliant ways to get revenge.

Mickey Rooney, Breast pumps & Boob jobs, OH MY!

Christine totally dissed Mickey Rooney at Chili's, Kyra did yard work while pumping & Chaz tells us all about a weak suck (not to be confused with a sucky week).

Boomer Esiason needs a C-Section

The moms talk paternity leave & baseball, plus some they have some harsh words to a couple of radio hosts. Listen, and find out how tough they get. 

Working mom responds to Gwyneth Paltrow & James Franco screws up

A working mom responds to Gwyeneth Paltrow, and boy, do the moms chime in. Also, we take a look a a list of things women do that men don't have a clue about. Do we do the same things? And, finally, James Franco hits on a 17 year old thru Instagram. Now that's just gross. Catch up with the Mom Squad!

Guest Julianna from RantsfromMommyland.com

The moms talk all about the Gwyneth Paltrow Chris Martin breakup. They call it Conscious Uncoupling. We discuss. Kyra thinks Chaz is a loon for thinking she can get rid of cellulite by cupping, and awesome mom, from the hysterical blog RantsFromMommyland.com is on to, well, rant with us.

Home births, Exxon Valdez & living every day like it's your last

Christine has been working out like a maniac, Chaz attended a home birth, and Kyra gives us fascinating info from her CNN documentary "Oil and Water, the Wreck of the Exxon Valdez"

Guest Linda Dano talks Scandal

The moms welcome the lovely, Linda Dano to the show. She and Christine are TV obsessed, so the talk turns to Scandal, Breaking Bad and Ressurection. Somewhere in between John Wayne comes up, and a little bit of gossip. It gets a little out there. Have a listen, if you can keep up!

Kyra updates us on her travels & Duke porn star discussion.

Kyra is back and tells us all about her adventure in Monroe, LA. Plus more talk about what we eat, and we finally get to discuss the Duke porn star story.

Cleansing, eating bugs, and shocking your face.

What aren't we willing to do to lose weight and look young?  On this episode, Chaz shares pics of cows she will eat, Christine suggests house bugs have more protein, and then gives her face electric shocks. You've been warned.

Bad American Idol and really bad baby names.

Bad American Idol and bad baby names. Plus how we named our babies! 

Guest David Caplan, gossip and more.

Guest David Caplan gets us up to speed on all of the gossip, plus we politely scream at our kids.

Guest Amy Eller talks computer injuries and GMOs

Upskirting, Financial Advice and Dancing with the Stars 3/6/14

Upskirting is legal in MA, and we're starting a petition!  Plus Bob Plunkett is on to give us tax tips (and warnings), and Christines favorite show, Dancing with the Stars is back on.  Join us!

Welcome back Kyra! And...our names have been Travoltified!

Kyra is back from Alaska and the Moms have lots to catch up on.

The Moms recap Oscar night

The Moms recap Oscar night from Jared Leto's awesome acceptance speech to John Travolta's huge flub. 

Mara Davis joins the moms to talk Oscars, drinks and BINGO

Mara Davis joins the moms to talk Oscars, drinks and BINGO

The Mom Squad Show 2/27/14 with Kyra Phillips, Christine Eads & Chaz Kelly

Michael Buckley of BuckHollywood.com joins us to talk Olympic figure skating, Oscars, and Miley riding a hot dog! Plus, people do crazy stuff on Ambien.