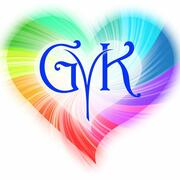 GVK Chakra Series ~ New Chakras?

A fascinating conversation with Janet Conner, who is in the middle of writing a new book about chakras. In her research for the book, she's discovered new chakras and new dimensions and meanings for our existing ones. Listen to this great conversation. . .

GVK: Low-Stress Mercury Retrograde

a wonderful podcast for those that want to learn more about astrology from mast astrologer John Wessels, who talks about the June 2014 stars, which includes a fun mercury retrograde. if you know about mercury retrograde, you'll want to listen to this podcast to hear about some great ways to minimize the stress. if you don't know about mercury retrograde, you'll want to listen to this podcast!

GVK: Chris Grosso, Indie Spiritualist

wonderful conversation with Indie Spiritualist author, Chris Grosso, which ranged from Entourage, taking psychedelic mushrooms to A Course in Miracles and those "aha!" moments. energetic and very fun conversation.

GVK Chakra Series ~ Seventh Chakra

Wow. This was an amazing session. The toning is fantastic. You'll want to listen to Kristin & GD Meg talk about the 7th chakra, but especially the far-out toning she does that will open up that chakra.

GVK: Angels Among Us w/ Emma Mitchell

Magical episode featuring a lively discussion with Emma Mitchell about her connection to Angels and how they appear and work in our lives.

GVK: Chakra Series ~ Sixth Chakra

Perhaps the most fun of the GVK: Chakra Series so far . . . get your 6th chakra toned between laughing along with Kristin and Green Diva Meg.

GVK: Zach Lichtmann, Dynamo

Yup. Zach Lichtmann is indeed a dynamo! But we are also referring to his first novel, Dynamo. We talked about what it takes to follow your dreams, which sometimes isn't so easy to do.

GVK: Chakra Series ~ Fifth Chakra

Another excellent podcast for chakra healing focused on the fifth chakra. Again, Kristin does a toning, so your chakra will be toned just by listening. Learn all about the fifth chakra and get your chakra toned too!

GVK: Astrology with John Wessels

Fascinating discussion with master astrologer John Wessels, who mentioned some of what is going on this spring, including the cardinal grand cross, and more about healing through astrology.

GVK: Chakra Series ~ Fourth Chakra

All about the heart chakra . . . nice. Kristin tells some 4th chakra stories and does an excellent 'toning'. Just by listening, your 4th chakra will get some healing! And gracie the wonder dog chimes in too ;)

GVK: Chakra Series ~ Third Chakra

If you haven't listened to the first two, go to it. It's worth it. We'll wait . . . Or maybe you just want to focus on learning about the third chakra. Either way, this is a great podcast to literally tune up your third chakra, just by listening! Enjoy!

GVK: Noelle Meade ~ Spiritual Pollinator

A wonderful conversation with Noelle M. Meade about her journey into writing a book, the "Hummingbird that Answered My Call." We talked about spiritual pollination and lots more.

GVK: Getting Sexy w/ the 2nd Chakra

The second in the GVK Chakra Series, features the attributes of the second chakra - of course. It happens to be the chakra associated with sexuality, so it was extra fun to talk about. Kristin does another excellent toning, so just by listening, your second chakra will be toned!

GVK: Chakra Series ~ First Chakra

Kristin & Green Diva Meg talk about the attributes of the first chakra and Kristin 'tones' the chakra during the podcast. So, your first chakra literally gets toned just by listening!

GVK: Inspiring talk w/ Mariel Hemingway

Kristin and Green Diva Meg have a spirited conversation with Mariel Hemingway about finding the divine in nature.