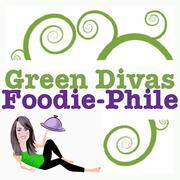 Green Divas Foodie Philes: Organic Eggs

Green Diva Giselle Achecar, of Eco Rico TV shares with us some eggsellent reasons to chose organic eggs, and she talks about some of her best recipes using organic eggs.

GD Foodie-Philes: Reduce Food Waste

Food waste is a huge problem and if we all did our best to reduce our personal household food waste, it would definitely help. Lindsay Coulter, Queen of Green for David Suzuki Foundation does a great Green Divas Foodie-Phile segment/podcast on tips to help us reduce food waste.

GD Foodie-Philes: Food Circles

A great way to support family or friends that may be struggling with illness, new baby or some type of challenge, is to create a food circle, which encourages other folks in the community to help by making meals. Great podcast with the Queen of Green, Lindsay Coulter from the David Suzuki Foundation.

Green Divas Foodie-Phile: Raw Milk

Michael Edwards founder and Editor-in-chief of Organic Lifestyle Magazine talks about why we should consider raw milk (if you do dairy) and how you can find it.

GD Foodie-Phile: Veggie Protein Sources

If you are a vegetarian or vegan, you've been asked no less than a thousand times, "but how do you get your protein?" excellent Green Divas Foodie-Phile segment with Diana Rice, registered dietician for Meatless Monday. Diana dispels the myth of 'not getting enough protein as a vegetarian, and shares some great vegetable-based protein sources. And hear GD Meg talk about making avocado brownies for Dr. Oz as an illustration of surprising sources of protein!

GD Foodie-Phile: Veggie Love

A great podcast featuring Terra Wellington, who talks about easy ways to transition to a more veggie-based diet - NO, she isn't saying you have to go vegan or even vegetarian, just eat more healthy veggies! Some great tips and ideas.

GD Foodie-Philes: Yerba Mate

Fun Green Divas Foodie-Phile segment featuring Charles Chen of Raw Youth talking about the benefits of switching from caffeine to Yerba Mate.

GD Foodie-Philes: Fair Trade Chocolate

What a great and delicious podcast featuring Green Diva Giselle from Eco Rico TV talking about fair trade chocolate. yum.

GD Foodie-Phile: Meatless Mondays

A perfect way to talk about food for Earth Day! You definitely don't have to be a vegan or a vegetarian to help momma earth with your food choices. Great GD Foodie-Phile featuring Meatless Monday's Diana Rice.

GD Foodie-Phile: Delicious Bowls

GD Becky Striepe does an excellent foodie-phile segment on the delicious simplicity of eating 'bowl' meals. It is the habit of many vegans, but omnivores can enjoy it as easily. Get creative with bowls!

GD Foodie-Phile: Juicing 101 w/ Recipe

Great to have awesome green diva Kate Bartolotta do her first GD Foodie-Phile segment about juicing. She includes a yummy green juice recipe too!

Amazing Dried Basil Seeds

Who knew? Dried basil seeds are very similar to chia seeds, only in some cases better and cheaper. GD Lisa shares some great information and a couple of recipes too!

GD Foodie-Phile: Foods that Detox

Green Diva Gina does an excellent job telling us about some common foods that help our bodies detox.