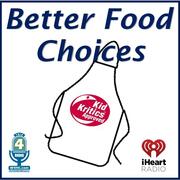 Meatless Monday Menus!

There is a new food phenomenon, Meatless Monday. Sounds like a great idea – but is it really? What do you serve without meat, especially for dinner? And, does this mean you are to fill plates with pasta or rice? Where do you find foods filled with protein needed by growing active children? To answer these questions and offer mouth-watering Meatless Monday menus and recipes is our guest, Mary Papoulias-Plates, the California Greek Girl chef and cookbook author of Cooking Techniques with Olive Oil! Along with our co-host, Carolina Jantac, RD (Kid Kritics Approved) we will fill you with some great Meatless Monday Better Food Choices, ones your family will embrace! This show is broadcast live on...

Healthy Weight for Children

What is a healthy weight for children? What is normal these days? How do you know whether you children should be losing weight? And, how can you feed your kids food they will eat so they have enough calories to be active but not too many to be fat? Are you overwhelmed and confused about this? If you are, don't feel alone. Our team of Registered Dietitians from the Kid Kritics Approved program , co-host Carolina Jantac and guest Jaimie Proctor have a handle on this issue. Together, they are going to give you food guidelines to follow, whether you have children who are picky eaters, on a restricted diet, are active or inactive – they'll cover these challenges and more. If you are busy moms but...

School Lunch Report! RECIPES

What should you do, pack school lunches for your kids or give them some lunch money? Well that depends on what is being served at your school for a few dollars a day. From public to private schools, we'll be reviewing how well schools are nourishing your kids. And, we'll remind you why, what your children eat in the middle of their school day, makes a difference in their classroom, artistic and athletic performance levels. Joining Carolina Jantac, RD is Hillary Feerick, author of the Mitch Spinach book series, full time teacher and mom. She will speak from her experience of spending years in school. She's going to tell us what kids are eating, regardless of what they are being served. We'll ...

Kids WIll Eat Healthier Food! RECIPES

Have your kids thrown freshly steamed broccoli onto the floor or spit it out? Has your son or daughter locked his or her lips when facing a glass filled with a green smoothie? Don't feel alone. And, we do have good news for you. There are two tips, two ways to engage you kids into eating healthier foods that are 99% full proof! To find out, join Carolina Jantac and me to talk about Better Food Choices, ones kids love to eat! Carolina, a Registered Dietitian and mother of two young ones, is our family food co-host. Her user friendly nutrition tips and advice makes turning your kids onto healthier foods easier! We are about to make life in your kitchen with your kids a whole lot easier! This s...

Supermarket Shopper's Guide

When you walk into a supermarket do you have a grocery list? If so, do you stick to it? Do you feel overwhelmed by your choices? Do you want the truth behind food labels? Do you struggle with your food budget? Are you tired of the buying the same foods and need a refresher guide on which healthy foods to buy your family will love? Then this is your lucky day! Kimberly Lord Steward, food journalist and author of Eating Between the Lines, has answers for you. She will walk you around the supermarket and give you great tips about which foods to buy and why. Co-host, Carolina Jantac, RDN (Kid Kritics Approved), will share how she balances nutrient-filled foods with her pocket book limitations. T...

Junk Food Spoils Dreams!

Someone in your home has a dream, a dream to be a teacher, dancer, singer, artist, princess, a super hero, nurse, doctor, lawyer, Olympian and pro athlete... the list of "wanna-be" when I grow up is long. Just the other day a young boy told me he wants to be a paleontologist. The number on pick among girls is veterinarian. Have you ever heard of a VOTL Engineer? I hadn't until another boy told me that was his dream; he wants to invent flying cars! All kids dream, though it may change from day to day. All their dreams deserve to be fed with fit food, healthy food for the young growing bodies. Unfortunately a steady diet of junk food spoils dreams thanks to the illnesses and injuries they feed...

Fuel Your Children's Dreams!

Do you have an aspiring NBA player, doctor, dancer or singer in your home? How about a child determined to be an Olympian gymnast, teacher, artist or policeman. Thousands of kids have shared their dreams with me and I simply tell them, "You have to do 3 things: learn what you need to learn, practice what you learn, eat the foods your body needs to be the best you can be!" This gets their attention. Carolina Jantac, MS, RDN, LD and I will share ways for you to motivate your children to choose to eat foods such as Broccoli Bites, Pepper Poppers and even Japchae Veggie Stir-Fry (filled with kale, spinach, and shitake mushrooms). You will have all the tools to turn your children on to feeding th...

Eating Like a Pro: Baseball

Starting at a young age, many kids dream about being pro athletes. Baseball's official MLB season just opened making this the perfect to share what these pros eat to fuel their dreams so they can be the best they can be on and off the field. Our guest, Katie Cavuto RDN is the official nutritionist for the Philadelphia Phillies team. She knows what these players need to eat before, during and after their long baseball season. You may be surprised to learn they are not living off foods often advertised by known athletes. And, you will find out why. This is your opportunity to turn your aspiring athletes to healthy fresh foods. This show is broadcast live on W4HC - Health Cafe Live Network (www...

Let's Talk About Eggs!

One week you are to avoid eggs, period. Another week, you are advised to eat just the egg whites. Then you hear you should eat the whole egg a few times a week. Do eggs increase your cholesterol? Are they partly responsible for heart disease? Do your growing children need both the egg white and the yolk? Confused? Join the crowd. Co-Host, Carolina Jantac, RDN, LD (Kid Kritics Approved) and I will tackle this controversial topic with facts. You'll learn about how much, when, and if eggs belong in your weekly food routine. Also, we'll share recipes your whole family will look forward to gobbling up because they are so good! This show is broadcast live on W4HC - Health Cafe Live Network (www.w4...

No more Fake Food! Go Fresh

Splenda, hydrogenated oils, popular chocolate sandwich cookies, fast foods chicken nuggets and more are simply junk fake food. And you ask, how can chicken nuggets served in most fast food restaurants be fake? Well, only about 20% of a nugget is chicken so what's the other 80%? You are about to find out. Wait until you hear what guest Dr. Josh Axe, who is also a Clinical Nutritionist, reveals about junk fake foods commonly consumed. Better yet, he will share fresh food alternatives for the whole family. Along with Co-Host Carolina Jantac, RDN, LD (Kid Kritics Approved), Dr. Axe will give you fresh food replacement recipes kids love so your whole family can switch up! This show is broadcast l...

Stubborn children? We've got help!

All children challenge authority, they are simply trying to grow up. How we handle these challenges from the very beginning sets the stage for what we will face as they move into the tween and teenager years. This includes the common battle over food choices. Our guest, Dr. Beth Onufrak (drbethkids.com) is a Clinical Clinical Child Psychologist specializing in early childhood. If you are a mom who is exhausted, despairing, even angry and out of answers, this is the show for you. Listen for Dr. Beth's savvy solutions to having your kids welcome bedtime, follow your instructions and eat veggies! Co-host, Carolina Jantac, RDN (Kid Kritics Approved), will add her experience as a mom to this conv...

Feed Your Kids Sports Dreams!

All kids love to run, ride their bikes, swim, jump and be active! But are we feeding them to support all that activity? We'll guide you on how to feed them for optimum health and performance. With proper nutrition we can ensure they reach their full athletic potential. Our guest, Nancy Clark, RD, CSSD is an internationally known sports nutritionist and best-selling author trusted by top athletes. She is going to give us the A, B, Cs of how to feed your aspiring athletes, tips to fuel their dreams, be it to play for the NFL, NBA, or be an Olympian! Co-host, Carolina Jantac, RDN (Kid Kritics Approved), who spent time with the University of Florida Athletic department while working on her maste...

Dairy Myths Exposed!

Should you or shouldn't you drink milk? Why do some think 2% milk is the best choice? Does it need to be organic or not? What about Lactose free, is that what you should buy for your family? Should your children drink fat-free milk and eat fat-free cheese? There used to be only plain yogurt in refrigerated section; now there are so many choices in the grocery store it's enough to make your head spin. Is it true that Greek Style is the best one to take home for your family? And then there is cottage cheese, creamed cheese, flavored cheese, goat and even sheep cheese. What is the truth about them? Thanks heavens we have dairy expert, Kelly Shriver RDN, with us to debunk dairy myths so you can ...

Easy Food Crafts for Kids!

Turning your kitchen into a food art studio is fun and delicious! It's your way to engage your children to enjoy healthy real fresh foods that will help them to become the best they can be. Guest, Catherine McCord, cookbook author, founder of weelicious.com, and mother of two is often seen on television food shows. She is known for her simple colorful kitchen crafts designed for children and moms to do together. As founder of Weelicious.com, she has carved this recipe niche into her repertoire. Along with co-host, Carolina Jantac, RDN (Kid Kritics Approved) Catherine will teach us yummy food craft ideas you will love making with your children, be it for breakfast, lunch, snacks or dinner. Wh...

Overweight Kids: Tools for better health

In 2010, more than a third of children, teens too, were overweight and obese. Since then this number has increased. Our guest, Lauren Harris-Pincus, RDN (NutritionBabes) was an obese child. You would gasp as this truth if you saw her today. (Go the www.FamilyFoodExperts .com to see for yourself!) She struggled as a child and finally, on her own she figured it out and trimmed down over time. Now her career is spent helping others. Lauren knows what if feels like to be obese while trying to grow up and fit into school and parties. She remembers. She also knows how to guide verweight children into healthy ones. Join Lauren, Carolina and me as we share how and what Better Food Choices will turn ...

One Family, One Meal! That simple.

Moms, why not simplify your day by serving just one meal for you whole family? We are here to encourage you, actually motivate you, to pick one meal for the whole family. Guest, Kathy Siegel RDN (NutritionBabes), mother of two, will help you chuck your short-order cook days out the window. She has yummy ways to deal with push-back from kids when they say they won't eat what you have served and demand to be given chicken nuggets and fries every night. Her recipes and menu solutions will gradually bring your family around to accepting and enjoying healthy meals together. Kathy and co-host, Carolina Jantac, RDN (Kid Kritics Approved), also mother of two, will revive your interest in cooking for...

Research Shows Junk Food Limits Children

Have you thought about the impact the food you give your children has on their brain development, IQ, academic performance, and their childhood, teenage and adult health? Now we know what they are fed as babies, toddlers and children does shape the rest of their lives. Find out what studies have proven. Learn what junk foods lead to diabetes (23% of teens are already pre-diabetic or diabetic), hypertension, Alzheimer's and brain shrinkage…disease. Our guest, Dr. Joel Fuhrman, author of many books, including Disease-Proof Your Child - Feeding Kids Right, presents the fascinating science that demonstrates how the current epidemic of adult cancers and other diseases is most closely linked to wh...

5 Healthy Comfort Food Kids Love!

What is comfort food? We all have our definition and favorites. Some give us mental comfort but have no physical benefits. Others give us that warm and fuzzy feeling and are positively nutrient packed. Our guest, Tracee, RDN (Real Food Moms, Chef and Author) has her list of healthy comfort foods kids love. Together with co-host, Carolina Jantac, RDN (Kid Kritics Approved) we will narrow them down to five of the best and fill you up with great recipes. If you love comfort food and want the best for your family, you will want to listen to this show! Have your iPad or iPhone ready to take notes. This show is broadcast live on W4HC - Health Cafe Live Network (www.w4hc.com) part of Talk 4 Radio (...

Better Food Choices 11/13/2013

Merry Larry and the True Spirit of Christmas! Mike Nawrocki & Larry the Cucumber (Veggie Tales) This show is broadcast live on W4HC - Health Cafe Live Network (www.w4hc.com) part of Talk 4 Radio (www.talk4radio.com) on the Talk 4 Media Network (www.talk4media.com).

Feed Your Child's Brain for Success

From the moment of conception and for the rest of their lives, children's brains are shaped by the nutrients fed to them. That means what you, mom, eat during pregnancy and what they eat from birth determines the health of their brain. If you want to know what are the best for success brain foods then listen to co-host, Carolina Jantac, RD (Kid Kritics Approved) and me as we list them for you. We'll also share great brain recipes and menus so you can get started right away – it is never too late. Wouldn't your children and you benefit from an improved memory, focus, and endurance? Don't forget, your brain controls all the functions in your body so improved health, strength and energy – skin,...

Avoid Food Addictions for Your Kids

Food Addiction is real. And, it is preventable. Unfortunately, too many children and adults are addicted to foods that are driving the increase of overweight and chronic disease. The good news it is simple to avoid food addictions all together. You can start your children on the right path, one leading to a healthy and positively productive life. Isn't this what you want for them? Also, it is possible to reverse food addictions if necessary. Our esteemed guest, Dr. Jonny Bowden, the Rogue Nutritionist and author of many books, will walk you through food addiction prevention and management. #foodaddiction #kidsaddictions #preventaddiction Food Addiction is real. And, it is preventable. Unfort...

"But, I WANT IT!" Tips for Parents

Whether it is holiday or everyday shopping time, we have all heard this irritating demand, "I WANT IT!" Even after you have said "No" at least twice, kids will persevere until they wear you down so you'll you say, "Yes." All you have to do is walk around a supermarket and witness this behavior pattern. Standing in the aisle will be a mom trying to concentrate on her shopping list and there will be at least one child reaching over for a cereal box with cartoon characters – "I want this one." Or, she is heading to the produce section which requires passing the bakery only to hear "I want a cookie." How many times have you stood in line to pay for your food and had your kids reaching over to gr...

Top 10 Nutrition related Questions!

All year long Carolina and I field questions from moms about how to feed their kids healthy foods they will eat. What to do for kids with constipation? How to feed a picky eater? Are children's vitamins recommended? When is appropriate to start a child on a diet? Whether we are in the school car line, at a grocery store or playground, at church or communicating on the internet or this radio show, moms turn to us for answers. We know you all want to feed your children healthy foods. We also know kids want to eat healthy food – it just has to taste good. This show is devoted to answering the top 10 questions we are asked. No doubt at least one of yours will be one of them. This show is broadca...

Sugar Free: When and Why for your Kids!

When you see Sugar-Free on a label, is that a good thing? Are Sugar-Free foods really sugar free? What naturally Sugar-Free foods are ones your kids will want to eat? How do you make sweets sugar-free and still have them taste good… or can you? Why even bother? The good news is we have answers for you. Our guest, Brenda Bennett, founder of the popular Sugar Free Mom blog will have you salivating over her sugar-free recipes, ones her kids and their friends love. Our Better Food Choices co-host, Carolina Jantac RD (Kid Kritics Approved) will give you the nutritional truth about Sugar Free labels as well have you salivating for some of her recipes. You are about to find out how to indulge in he...

Journey from Fake to Real Foods!

It's REAL simple. Since your kids are real, feed them REAL food. But how, you ask? Our guest, Angelle Batten, MEd, Family Wellness Coach, has the answer. After struggling with stomach aches, fatigue, depression and bad PMD, she began her real food journey by walking away from fake ones. She had to toss out her Mountain Dew and sugar habits and begin eating some vegetables. Her motivation to make it her mission to "Get Real for Kids" was launched thirteen years ago when she gave birth to her daughter and two years later, twin boys! Along with our co-host, Carolina Jantac RD (Kid Kritics Approved), we will spell out how real easy it is to feed kids real food and recipes that are real good, "on...

True Light of Christmas! By Veggie Tales

"It's going to be Big. It's going to be Bright!" These are two clues about the Veggie Tales new DVD, Merry Larry and the True Light of Christmas. Larry the Cucumber, Bob the Tomato and their friends, dressed for winter, band together to create an idea of how to make this the best Christmas ever. Our guest, the voice of Larry the Cucumber, Mike Nawrocki, will spill some beans (not too many) while giving you some hints about what our veggie friends discover. For those of you who are, or want to become fans, of the Duck Dynasty, Duck Commander, Sir Robertson is featured on the DVD, along with a super new song from Owl City. We'll see what our guest, Mike, has to say about both. Co-Host Carolina...

Sweet Treats as a Reward. Yes or No?

Sweet Treats as a Reward. Yes or No? Host: Ellen Briggs (Family Food Experts Home of Kid Kritics Approved, Author) Co-Host: Carolina Jantac, MS, RD, LD (Kid Kritics Approved) Guest: Casey Hinds (kyhealthykids.com) We train dogs with treats. Should we do the same with kids? Listen to our honest discussion about the short and long term consequences of teachers and parents rewarding kids with candy and cookies. If you haven't ever heard of the Magic Apple, you will know what it is when you listen to this show. It will become clear why even as an adult, you associate good behavior with sweet treats. The question of whether any food at all should be used to say, "Good Job" is debated. Effective r...

Super Snacks: Super Heroes: Kids!

Super Snacks for Super Heroes - Your Kids! RECIPES Host: Ellen Briggs (Family Food Experts Home of Kid Kritics Approved, Author) Co-Host: Carolina Jantac, MS,RD,LD (Kid Kritics Approved) Guest: Natalie Monson, RD (Super Healthy Kids) There is a hero in every child. Find out how to feed them so they can be the best they can be. Listen to how to feed them super healthy foods for breakfast, lunch, snacks and dinner, ones they will love to eat. Together Natalie Monson RD (Super Healthy Kids) and Carolina Jantac, RD (Kid Kritics Approved) share their hands-on experience of feeding kids fresh vegetables, fruit and other wholesome food. Both describe how to make some of their kid-friendly nutritiou...

Feed a Family of 4 on $126 a Week!

Menu: Feed a Family of 4 on $126 a Week! RECIPES Host: Ellen Briggs (Family Food Experts Home of Kid Kritics Approved, Author) Co-Host: Carolina Jantac, MS,RD,LD (Kid Kritics Approved) Guest: Stacey Antine, RD (HealthBarn USA, Author: Appetite for Life) Given this challenge, Stacey Antine RD (HealthBarn USA) spent $126 on healthier food to feed a family of 4 for a week. Find out how she organized her menus to use leftovers for next day meals, be they for breakfast, lunch, snacks or dinner. Learn how she combined food to get the most for her limited budget. She also shares what she discovered most useful for saving money among coupons, circulars and other discount offerings. Listen to her des...

Feed Your Child's Brain with Music!

Feed Your Child's Brain with Music! RECIPES Host: Ellen Briggs (Family Food Experts Home of Kid Kritics Approved, Author) Co-Host: Carolina Jantac, MS,RD,LD (Kid Kritics Approved) Guest: Graham Hepburn, Quaver Music Find out how music feeds your children's brain from their time spent in the womb to adulthood. The stimulation of brain development by the sound of music, as well as the process of learning to play and sing it, proves to be an interesting conversation with Graham Hepburn. Listen to how and why he grew up to be a concert pianist in England and is now performing as Quaver in the Marvelous World of Music on the internet. It is inspiring to learn all the ways music impacts a child's ...

I Don't Want It… Try It, You'll Like It!

I Don't Want It… Try It, You'll Like It! - RECIPES Host: Ellen Briggs (Family Food Experts Home of Kid Kritics Approved, Author) Co-Host: Carolina Jantac, MS, RD, LD (Kid Kritics Approved) Guest: Valerie Berkowitz, RD, Center for Balance Health, Author Turning "I don't want it" to "I like it" is a challenge for most moms, dads and other care-takers of children day after day. Proven ways to cope with this is shared by Valerie Berkowitz, RD, mother of four young ones. She explains that "Try it, you'll like it", a common response by parents, doesn't always work. Valerie, along with Carolina Jantac, RD (Kid Kritics Approved), discusses many alternatives which give you better odds at turning kids...