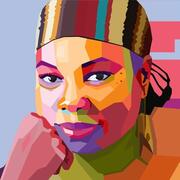 What Part of Illiteracy is Funny?

Listen to why 50 cents reading challenge reflects poorly on his character given the history of illiteracy prevalent among Black male athletes.

Underemployed-Surviving the Mental Toll

Have you been classified as overeducated, highly skilled, underpaid and underworked? Then you're a part of the underemployed. Learn how to survive and thrive in-spite of that unwanted status.

Black is the new Black

Learn why it is both historically, culturally and politically wrong to refer to the struggles for inclusion, acceptance, and liberation in the Gay community as the "New Black."

Financial Abuse

The practice of placing control over someone else's money or assets for the sole purpose exerting power and control. Learn how to identify and break the chains of this subtle and least spoken of abusive cycles.

Spiritual Sobriety

Listen as Dr. Wanda explains how she offered a deeper level of support to her alcoholic husband by taking a vow of sobriety in the spirit. The goal is to extend support via the inclusion of God by abstaining even though you don't personally have the addiction.

The New Natural

Listen as Deidra Carter, Natural Hair Stylist and Loctician explains the mad push for Black women to remove wigs, lace front weaves and other un-natural styles in favor of wearing their own hair in its natural state.

Books That Heal: Bibliotherapy

In spired by the children's story The Night Dad Went To Jail ; listen to how literature can be used to help children process, reflect and heal when traumatic incidents happen.

A Message To Jada

A thoughtful reflective commentary on Jada Pinkett Smith's video diary addressing sex trafficking whereby she's discusses her confusions about the perceptions that girls get from a misogynist driven culture.

What They're Not Telling You

FYI:Being indicted with a felony comes with some serious loses that include everything from voting to housing. Listen and learn. What you don't know can hurt you.

Protector and Provider First

Listen as I share reflections on the value, the importance and the beauty of Fathers that remember their role as protector and provider. Learn why Father's who are in alignment with God are the best fathers in the world.

Julian Williams: Young, Black and Gifted

From Posse scholarship winner to PhD candidate, Julian Williams describes the beauty of stepping into academic opportunity and the power of emerging as a Black intellectual. Excited about institution building and educational policy designs. His life proves that the "Talented Tenth" is very much alive.

Lending Club

Listen to the power of establishing your own Lending Club. Members borrow and lend from one another avoiding the cost and complexity of the banking system while benefiting from the savings.

Dad Matters-A Love Story

This is a commentary on the open letter submitted by Mike Heenan titled An Open Letter to Rap Music (For My Daughters). It reflects on the beauty of the sacrificial act of love he has chosen to give his two young daughters.

Courageous Black Elder-C. Delores Tucker

Listen as journalist, Monica Fountain revisits her memories of C. Delores Tucker; Civil Rights Activist, Politician, Community Elder. Described as "Grace Under Fire", Learn how this valiant elder led an unapologetic fight until her death against the proliferation of Gangster Rap, which is associated with sexist degrading misogynistic lyrics.

Safe House's

Listen as Patricia Williams explains the many faces and complexities of intimate partner abuse; the changes with domestic violence court and the need for more Safe House's. Serious yet informative, Patricia Williams has over twenty years experience. She is sensitive to both women and men. Whether male or female,"an abuser is an abuser."

LaThelma C.Armstrong:Gospel Remix & More

Listen to an interview with a young woman that was moved by the Spirit to reconstruct the lyrics to Beyonce's Drunk and In Love single. The re-mix is not only masterfully rewritten but it is also eloquently sang displaying both power and depth beyond her years. Her heart for people and ministry will surely cut to the heart if not you soul. The link has been provided http://www.youtube.com/watch?v=T9tzU5quHhc&feature=share&list=LLBNsZMilJV0dBK_jCIz6sSQ

Brotherly Devotion - Bill Hampton

Listen as William (Bill) Hampton share about life after the death of his brother slain Black Panther Leader, Fred Hampton. Our chat focused on the account of Fred's Life as written by Civil Rights Attorney, Jeffrey Haas in the book titled "The Assassination of Fred Hampton. It is a must read.

What Real Men Do

Listen to the interview with John Fountain, Editorialist for the Chicago Sun-Times as he discusses "The Truth About What Real Men Do." Learn why it is a fallacy to believe that men are nothing more than "trifling and dogs." Receive a message of hope for their potential to heal and love on an agape level.

God Blessed Our Love- Proverbs 31- Q & A

Can an unholy man stay united with a Virtuous woman? If God knows my heart, who decides who's unevenly yoked? Is the Proverbs 31 lifestyle the answer to a "Thirsty" woman?Listen as Apostle and Evangelist Brown sit down to answer the questions and comments sent to them as a result of their Proverbs 31 interview. May God be the Glory.

One Family Many Children

Listen to the life of Valroy Dawkins and learn how life can become one Big University and everyone we encounter are our teachers. Musician for Funkadesi; Dancer for West Indian Folk Dance Company; Licensed Practicing Massage Therapist, his journey has been enriching to say the least.

Living a "Proverbs 31" Life

Listen as Apostle Robert Brown shares the steps he took to find his Proverbs 31 wife. Additionally, Evangelist Angela Browns explains the beauty, power and responsibility that comes with embracing and living up to this Godly standard. Each is a blessing to other, but they will also be a blessing to you.

99 Problems& 4th Amendment May Be One

Listen to the discussion with Attorney Tim Grace of Gottreich & Grace, Attorneys at Law located at 200 W. Superior St., Suite 210. Our discussion centered on 4th Amendment rights while also reviewing the pro's and con's of seeking the medical cannabis card in Illinois. "What glitters isn't always gold" tune in to learn why?

The Beyond the Surface Radio Experience

Reasons to listen regularly to Beyond the Surface Radio

Medical Marijuana and Employment

Listen to LaSalle Crosby explain both employers and employee rights as it applies to the change since Medical Marijuana became legal in Illinois on January 1, of this year. While there are 42 listed ailments that are considered worthy of the Medical marijuana, the card holder however will have to follow strict rules as to where and when they cannot smoke, like near a school, in a public place, or while driving most importantly, if and where they can work.

Take Black Hair Back to Eden-Simply Loc

This is an ad for the book Simply Loc: The Basics of Maintaining Healthy Locs. Learn why your hair won't obey your styling efforts and how to get it to grow without causing further follicle damage.

The Emotionally_Absent_Father[1]

Have you questioned why your father is uninvolved, fails to display affection or only delivers a cold exterior? Then listen to the interview with Nathaniel Jackson. Our discussion centered on fathers who are present in males lives but are emotionally unavailable i.e. share very little hugs or praise. It seeks to explore the duality that develops in the male-psyche, which often leads him to seek out needy women while further hindering his development into man-hood.

Employment Application 101

LaSalle Crosby with over 15 years experience in the human resource department discusses some of the changes and many of the discriminatory practices that are often inherent in the practice of background checks. This is a vital discussion that raises the question of how can families and relationships survive without legal meaningful employment opportunities? In other words, one has to work to feed oneself therefore passing the background check is a necessary evil.

Male Focus Group Part 3

This is the third and final installment of the male focus group. I pray that you have pressed past the poor audio and listened to the engaging exchange. I learned a lot from the experience. I am still learning. I hope you took at least "one" nugget of knowledge with you as well.

Male Focus Group Part 2

If you listened to part one of the discussion, it is paramount that you listen to part two of the male focus group.

Male Focus Group Part 1

This is part one of an all male focus group held this fall centered around the questions raised in my book Surface Dirty: The Superficial Assessment of a Woman.

The Purpose Driven Life

Lebrandon Hickey discusses the launch of his spoken word internet radio station. The interview reflects the power of discovering his purpose.

In The End-Remembering Dr. King

This is a spoken word piece written in 2007 in Remembrance of Dr. Martin Luther King.

Kamal K. Rashid:Organic Farmer and More

Organic Farmer, Sociologist, and Environmentalists...Rashid is ripe with information and a plan to get us back to the basics as it applies to health, harvest and our ability to live off the land.

Langston "Washing Off the Big Apple"

Interview with my son Langston J.Kerman about transitioning from spoken word to comedy.

Gratitude

Nothing replaces the giving spirits of great guest. This is a message of graditude and respect for everyone that supported my radio station in 2013 and a promise of more enriching segments in 2014.