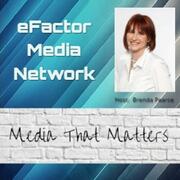 EF Sarah-Jane Farrell

Paula Guenon is my first guest as we talk about the new and emerging economy and how this global economy unites people from all over the world in a collaborative cooperation. What this can mean to the global consciousness. Sarah-Jane Farrell joins us in the second half to discuss how she steps into the question and how this can create a results by being in child like abandon and the amazing outcomes. Sarah-Jane joins us from her rural home in South Africa to share insights and amazing truths. Don't miss this very interesting hour of wisdom and from the heart sharing.

new

EF - Debbie Fumanti

Amazing intuitive readings and healings with Debbie. You will love her spark. There was just so much gosh darn good information like really think about your BHOG. What is BHOG? Well listen to the show and find out!

Athena Star - Activation & More

Visionary Athena Star joins E Factor Radio for a magnificent hour of mysticism. Athena is a healer and motivational speaker who comes from a beautiful heart space honouring the Divine Feminine. She is well respected and her clients include many famous luminaries and dignitaries from all over the world. She is a highly sought after presence on TV talk and radio shows worldwide. Join me in welcoming Athena to our Fresh Approaches To Living Life E Factor Style. You can call in for an opportunity to receive personal guidance from Athena. To connect with Athena directly: http://www.athenastar.com Check out Athena's Mega Change Telesummit special http://bpearcerai.wix.com/e-factor-specials

EF Dr. Neil Kobrin On Mindfulness

Dr. Neil Kobrin joins us from the Academy Of Mindful Psychology. He shares how to connect to the moment of now and tips on how important it is to carefully guard what we are witness to and how we spend out time. Very powerful call. Visit www.academyofmindfulpsychology.com

Kristi Rockley on E Factor Radio

Kristi Rockley is an exceptional woman. After 20 years in the world of policing, & Olympic rowing champion, her world changed suddenly. A life threatening illness could have ended it all, but it was the call of a horse named Spirit that saved her, healed her and taught her TRUST. She is now the owner of a healing center in rural Ontario, Canada that welcomes people of all walks and all over the world to seek the healing and teachings of her horse herd. She proudly calls her self the lead mare of this marvelous brood. Listen to Kristi teach from the heart and may it enrich your life!

Brenda Pearce Unplugged!

Brenda Pearce, RN is a healer speaker, author and is interviewed here with Christine Williams on the Greatest You Summit. Brenda shares the magic, miracles and hard science behind what was once thought to the Whooo Woooo ! Actually medical science is believing more and more in the combining of complementary therapies with mainstream medicine. Take advantage Brenda's special Oracle card reading and energy healing www.greatestyousummit.com/brenda

Craig Todd Unplugged - Rags To Riches-

Craig Todd is a self made man. From a lonely earnest young man wishing on a star. to self made millionaire. Find out the secrets of this journey to a life now focused on helping others achieve their dreams. Straight talk from the heart!