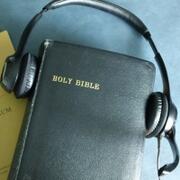 Psalm 55:19 - 23, July 11, 2014

"He shall bear both thee and thy burden. What a glorious promise to a tempted and afflicted soul! God will carry both thee and thy load. Then cast thyself and it upon him." Adam Clarke

Psalm 55:15 - 19, July 10, 2014

"My life he has preserved in perfect safety from the sword; for there were many with me: 'for in many afflictions his WORD was my support.' - Targum. Or David may refer to the supernatural assistance which was afforded him when his enemies were so completely discomfited." Adam Clarke

Psalm 55:12 - 14, July 9, 2014

The darkest moment of any life must be the moment of betrayal by a close friend. David tells us what that was like from his experience.

Psalm 55:8 - 11, July 8, 2014

Storms and tempests swirl and rage and blow against the Christian soul. This is a part of living the life of faith but when it comes from unexpected sources that makes the bite sting a little bit more.

Psalm 55:1 - 7, July 7, 2014

"No man ever described a wounded heart like David." Adam Clarke

Psalm 54:6 - 7, July 4, 2014

"The name of God is descriptive of (His) nature; full of goodness and mercy to man. And it is good to be employed in such a work: whoever worships thee in sincerity is sure to be a gainer. To him who orders his conversation aright, thou dost show thy salvation." Adam Clarke

Psalm 54:5 - 6, July 3, 2014

The name of the Lord which David made his prayer in, in verse one comes up here in verse six. David says it is good. What a perfect way to describe the Lord.

Psalm 54:3 - 4, July 2, 2014

With the strangers attaching him on one hand David chooses to seek the Lord who he calls, his helper. He could be your helper too.

Psalm 54:2 - 3, July 1, 2014

Prayer comes natural for us when the oppressor is knocking at our door. Often, he is sent by the hand of providence to remind us of our need to cry out to Him.

Psalm 54:1 - June 30, 2014

David's situation is so uncertain that he begins this psalm with his request, "Save me."

Psalm 53:6 - June 27, 2014

"I have already shown that the proper translation is, 'Who shall give from Zion salvation to Israel?' The word salvation is in the plural here, deliverances: but many MSS., with the Septuagint, Vulgate, Arabic, and Anglo-Saxon, have it in the singular." Adam Clarke

Psalm 53:4 - 5, June 26, 2014

What the workers of iniquity lack in knowledge they make up for in zeal. But the biggest thing they lack is the humility to call on God.

Father's Day 2014

This message goes right back to last week's passage in 1 Thessalonians 2:11 - 13. We look at Paul's words about how he loved the church as a father does his children.

Psalm 53:1 - 3, June 25, 2014

How does filthiness happen to us? David answers that question here in the first three verses of this psalm.

Psalm 53:1 - 2, June 24, 2014

In today's episode we will begin to look at the doctrine of the total depravity of man. This podcast may not be suitable for people who think their good deeds will propitiate the deity.

Psalm 53:1 - June 23, 2014

The parallel psalm to psalm 14. The fool says something ridiculous.

Psalm 52:9 - June 20, 2014

"I will wait on thy name," This there anything more essential to the Christian devotion?

Psalm 52:7 - 8, June 19, 2014

"The wicked man trusts in his riches: I trust in my God. He, like a bad tree, bringing forth poisonous fruit, shall be cursed, and pulled up from the roots; I, like a healthy olive in a good soil, shall, under the influence of God's mercy, bring forth fruit to his glory. As the olive is ever green, so shall I flourish in the mercy of God for ever and ever." Adam Clarke

Psalm 52:5 - 6, June 18, 2014

Just like a gardener plucks up the weeds from a garden, and that suddenly and without remedy, so God will root out the weeds of wickedness from this life.

Psalm 52:2 - 4, June 17, 2014

While the goodness of God is steadfast the tongue of the wicked love to cut and wound.

Psalm 52:1 - June 16, 2014

David is sold out by Doeg the Edomite and writes this psalm communicating his trouble.

Psalm 51:16 - 19, June 13, 2014

"As my crimes are such as admit of no legal atonement, so thou hast reserved them to be punished by exemplary acts of justice, or to be pardoned by a sovereign act of mercy: but in order to find this mercy, thou requirest that the heart and soul should deeply feel the transgression, and turn to thee with the fullest compunction and remorse." Adam Clarke

Psalm 51:13 - 15, June 12, 2014

After repentance David is ready to teach others what he has learned.

Psalm 51:9 - 12, June 11, 2014

Only God can create a clean heart!

DDRPsa51v5~8

The doctrine of total depravity is front and center in today's episode. "A genuine penitent will hide nothing of his state; he sees and bewails, not only the acts of sin which he has committed, but the disposition that led to those acts. He deplores, not only the transgression, but the carnal mind, which is enmity against God. The light that shines into his soul shows him the very source whence transgression proceeds; he sees his fallen nature, as well as his sinful life; he asks pardon for his transgressions, and he asks washing and cleansing for his inward defilement. Notwithstanding all that Grotius and others have said to the contrary, I believe David to speak here of what is commonly ca...

Psalm 51:1 - 4, June 9, 2014

After Nathan the prophet reveals David's sin, David owns it and records for us his prayer to the Lord. This psalm is very instructive on repentance and the mercy and lovingkindness of the Lord.

Psalm 50:21 - 23, June 6, 2014

Amazing!

Psalm 50:16 - 20, June 5, 2014

The Lord now turns from the saints to the wicked. What does he have to say? Find out today on DDR.

Psalm 50:7 - 15, June 4, 2014

The Lord presents His complaint to His saints. Their religious observance has not had the desired effect on their hearts. So often we turn the sacred into superstition.

Psalm 50:4 - 6, June 3, 2014

With great fanfare the heavens announce the coming of the judge of all the earth.

Psalm 50:1 - 3, June 2, 2014

We start off Psalm 50 with a new author, Asaph. Who was he and will we see him again? Enjoy his first psalm this week.

Psalm 49:16 - 20, May 30, 2014

"The rich and honourable man who has no spiritual understanding, is a beast in the sight of God. The spirit of this maxim is, A man who is in a dignified official situation, but destitute of learning and sound sense, is like a beast. The important place which he occupies reflects no honour upon him, but is disgraced by him." Adam Clarke

Psalm 49:14 - 15, May 29, 2014

A comparison awaits us today as the psalmist compares the end of the man who trusts in his riches with the man who trusts in the Lord.

Psalm 49:10 - 13, May 28, 2014

Everyone dies! The psalmist reminds us that no matter what station we find ourselves in, in this life, we all must face our own mortality.

Psalm 49:6 - 9, May 27, 2014

What do you trust in? The psalmist suggests that the rich man trusts in his riches.

Psalm 49:1 - 5, May 26, 2014

The psalmist identifies his audience and asks an important question that sets the stage for the rest of the psalm.

Psalm 48:12 - 14, May 23, 2014

Tell the towers and mark the bulwarks! We should know the city of our God, we should know the doctrines and the very word that teaches them.

Psalm 48:9 - 11, May 22, 2014

How great is His name? That's how great His praise is!

Psalm 48:8 - May 21, 2014

"God has often interposed and afforded us a most miraculous defence." Adam Clarke

Psalm 48:4 - 7, May 20, 2014

The heathen rage and what happens? Well, here in these verses they are amazed, troubled, and in fear as they see the city of the great King.

Psalm 48:1 - 3, May 19, 2014

"Great is the Lord and greatly to be praised." What else needs to be said.

Psalm 47:9 - May 16, 2014

"He is greatly exalted." The truth of this grand exclamation is greater than we can understand. It reaches higher and runs deeper than any man can plumb.

Psalm 47:7 - 8, May 15, 2014

"He is not your King only, but the King of the universe. He has no limited power, no confined dominion." Adam Clarke

Psalm 47:5 - 6, May 14, 2014

Why, if the bible tells us to sing, do we stand around with our thumbs under our arms? This is especially curious when we are standing in the sanctuary during worship.

Psalm 47:3 - 4, May 13, 2014

"This is also applied to the conversion of the Gentiles, who, on the rejection of the Jews, have become his inheritance; and whom he has chosen to inherit all those spiritual blessings typified by the sacrifices and other significant rites and ceremonies of the Jewish Church." Adam Clarke

Psalm 47:1 - 2, May 12. 2014

The Lord our God is enthroned in this wonderful psalm of praise. He is enthroned in your heart?

Psalm 46:10 - 11, May 9, 2014

While war rages God calls us to stillness. Let us pursue peace and run from violence.

Psalm 46:8 - 9, May 8, 2014

Wars rage between nations and peoples but the worse wars are those that we wage in our hearts.

Psalm 46:6 - 7, May 7, 2014

The God of Jacob is our help and refuge. What a wonderful thought and beautiful verse.

Psalm 46:4 - 5, May 6, 2014

"God will not abandon them that trust in him; he will maintain his own cause; and, if his Church should at any time be attacked, he will help her, and that right early-with the utmost speed." Adam Clarke

Psalm 46:1 - 3, May 5, 2014

"God is our refuge and strength." What wonderful words for a Monday on Daily Dose Radio.

Psalm 45:13 - 17, May 2, 2014

The bride is glorious and presented to the king.

Psalm 45:10 - 12, May 1, 2014

The bride of Christ is beautifully described in this passage.

Psalm 45:6 - 9, April 30, 2014

This passage is quoted in the New Testament by the apostle to argue for the deity of Christ Jesus. Join us today and find out more.

Psalm 45:2 - 5, April 29, 2014

The first line of verse two gives us a clue as to whom this psalm is addressed. "Thou art fairer than the children of men:"

Psalm 45:1 - April 28, 2014

"I believe it to be an epithalamium, or nuptial song," Adam Clarke.

Psalm 44:23 - 26, April 25, 2014

"That we may have that proper view of thy mercy which we should have, and that we may magnify it as we ought to do, redeem us." Adam Clarke

Psalm 44:17 - 22, April 24, 2014

"Because of our attachment to thee and to thy religion, we are exposed to continual death; and some of us fail a daily sacrifice to the persecuting spirit of our enemies, and we all carry our lives continually in our hands." Adam Clarke The apostle quotes verse 22 when dealing with the state of persecution the early church faced in Romans 8:36.

Psalm 44:9 - 16, April 23, 2014

Made a present to their enemies the people of Israel were disposed of by the Lord but not forgotten.

Psalm 44:4 - 8, April 22, 2014

"I will not trust in my bow," Why is this so hard for us? We trust in all things that are unable to save us except the one thing that is able to.

Psalm 44:1 - 3, April 21, 2014

"Neither by their valour, nor cunning, nor for their merit; yet, they were obliged to fight. But how did they conquer? By the right hand of the Lord, and by his arm; by his strength alone, and the light of his countenance-his favour most manifestly shown unto them." Adam Clarke

Psalm 43:4 - April 17, 2014

There is only one place to find true joy. Listen to the words of the Psalmist and discover it for yourself.

Psalm 43:3 - April 16, 2014

"We are in darkness and distress, O send light and prosperity; we look for the fulfilment of thy promises, O send forth thy truth. Let thy light guide me to thy holy hill, to the country of my fathers; let thy truth lead me to thy tabernacles, there to worship thee in spirit and in truth." Adam Clarke

Psalm 43:2 - April 15, 2014

"The God of my strength" is the one who gifts me with whatever is necessary for my daily need and for His glory.

Psalm 43:1 - April 14, 2014

Judge me, plead my cause, and deliver me are all prayers that we understand. "There was in a city a judge, which feared not God, neither regarded man: And there was a widow in that city; and she came unto him, saying, Avenge me of mine adversary." Luke 18:2 - 3

Psalm 42:9 - 11, April 11, 2014

"Als the Hert yernes til the welles of waters; so my saule yernes til the God." - From the Olde English Psalter.

Psalm 42:6 - 8, April 10, 2014

"The psalmist seems to represent himself as cast away at sea; and by wave impelling wave, is carried to a rock, around which the surges dash in all directions, forming hollow sounds in the creeks and caverns. At last, several waves breaking over him, tear him away from that rock to which he clung, and where he had a little before found a resting-place, and, apparently, an escape from danger." Adam Clarke

Psalm 42:3 - 5, April 9, 2014

Did you know that your tears have a voice. What do yours say to you? In the passage today we hear the Psalmist's speak.

Psalm 42:1 - 2, April 8, 2014

"The hart feels himself almost entirely spent; he is nearly hunted down; the dogs are in full pursuit; he is parched with thirst; and in a burning heat pants after the water, and when he comes to the river, plunges in as his last refuge." Adam Clarke

Psalm 42 Introduction

Written for or collected by the Sons of Korah this first Psalm of the second book of the Psalter is powerful in its beauty and simplicity.

Psalm 41:13 - April 4, 2014

"By all these circumstances and events glory shall redound to the name of God for ever; for the record of these things shall never perish, but be published from one generation to another; and it has been so." Adam Clarke

Psalm 41:10 - 12, April 3, 2014

"This also has been applied to our Lord; and Calmet says it is the greatest proof we have of the divinity of Christ, that he did not permit the malice of the Jews, nor the rage of the devil, to prevail against him. They might persecute, blaspheme, mock, insult, crucify, and slay him; but his resurrection confounded them; and by it he gained the victory over sin, death, and hell." Adam Clarke

Psalm 41:9 - April 2, 2014

Today's verse is quoted by our Lord in John 13.

Psalm 41:4 - 8, April 1, 2014

David's prayer in verse 4 gives us insight into the nature of his suffering and of ours.

Psalm 41:1 - 3, March 31, 2014

An episode perfect for opening day.

Psalm 40:16 - 17, March 28, 2014

"Seeing that my miserable state occupies thy heart, it will soon employ thy hand. Thou, who meditatest upon me, wilt deliver me." Adam Clarke

Psalm 40:13 - 15, March 27, 2014

Help and deliverance come only from the Lord.

Psalm 40:6 - 12, March 26, 2014

Another passage used by the writers of the New Testament to argue for the divinity of Christ. This one is found in the book of Hebrews.

Psalm 40:4 - 5, March 25, 2014

"The psalmist seems here astonished and confounded at the counsels, loving-kindnesses, and marvellous works of the Lord, not in nature, but in grace; for it was the mercy of God towards himself that he had now particularly in view." Adam Clarke

Psalm 40:1 - 3, March 24, 2014

Again we read the word "wait" but this time it is not an imperative directed at the reader but a recounting of the Lord's blessing David for having done so.

Daily Dose Radio 1 Year Anniversary

We've been broadcasting a daily, five minute bible study for one year.

Psalm 39:7 - 13, March 20, 2014

"When God comes to maintain the credit and authority of his law against a sinner, he "causes his beauty to consume away:" a metaphor taken from the case of a culprit, who, by the arguments of counsel, and the unimpeachable evidence of witnesses, has the facts all proved against him, grows pale, looks terrified; his fortitude forsakes him, and he faints in court." Adam Clarke

Psalm 39:4 - 6, March 19, 2014

What is the measure of my days? A powerful question that David addresses in our passage today.

Psalm 39:1 - 3, March 18, 2014

More anniversary podcasting that is fresh and delicious.

Psalm 39 Introduction - March 17, 2014

It's Monday of Daily Dose Radio's anniversary week. Listen and invite a friend.

Psalm 39:21 - 22, March 14, 2014

The last two verses of Psalm 38 David leaves us with a great prayer, "Forsake me not."

Psalm 38:19 - 20, March 13, 2014

Following the thing that good is, is always the best way.

Psalm 38:17 - 18, March 12, 2014

Adam Clarke has a great comment on verse 17, "So completely infirm is my soul, that it is impossible for me to take one right step in the way of righteousness, unless strengthened by thee."

Psalm 38:15 - 16, March 11, 2014

David's words are pure poetry, "In thee, O Lord, do I hope." He is our only helper.

Psalm 38:13 - 14, March 10, 2014

While his enemies speak mischievous things David says nothing to defend himself. This passage reminds us of Isaiah's prophecy of the suffering servant.

Psalm 38:11 - 12, March 7, 2014

The effects of sin not only deteriorate the individual but also seep into every relationship and tarnish them.

Psalm 38:9 - 10, March 6, 2014

At this point in the psalm I think we can guess what David's desire is. Adam Clarke's commentary gives us this, " I long for nothing so much as thy favour; and for this my heart is continually going out after thee."

Psalm 38:6 - 8, March 5, 2014

We saw yesterday what caused David's condition but today we read the result, "I am troubled." If you have ever been troubled follow David as he walks us through this Psalm.

Psalm 38:3 - 5, March 4, 2014

David reveals the root of his problem. His sin stands at the top of his list.

Psalm 38:1 - 3, March 3, 2014

For the first podcast of March we find a prayer in Psalm 38 that we might be likely to pray. "He was sensible that he was suffering under the displeasure of God; and he prays that the chastisement may be in mercy, and not in judgment." Adam Clarke

Psalm 37:37 - 40, February 28, 2014

Verse 37 says, "Mark the perfect man, and behold the upright:" Why? Adam Clarke gives us his wisdom. "Take notice of him: he is perfect in his soul, God having saved him from all sin, and filled him with his own love and image. And he is upright in his conduct; and his end, die when he may or where he may, is peace, quietness, and assurance for ever."

Psalm 37:30 - 36, February 27, 2014

"The law of his God is in his heart;" O, may it ever so be with us. The heart so conditioned by God's word is able to navigate the uneven steps of this life and fulfill the second half of this verse, "none of his steps shall slide."

Psalm 37:25 - 29, February 26, 2014

David shares his wisdom from a life time of experiences. He's seen somethings over the years that are important for you to know.

Psalm 37:21 - 24, February 25, 2014

I know I quote Adam Clarke a lot but this one is a beautiful commentary on the second half of verse 21. "Because he has received mercy from God, therefore he shows mercy to men. And even to his enemies he showeth mercy, and giveth; his heart being disposed to it by the influence of Divine grace, and his hand being enabled to do it by the blessing of God's providence."

Psalm 37:20 - February 24, 2014

The second half of Psalm 37 begins just like the first half with a description of the vanishing wicked.

Psalm 37:16 - 19, Feb. 21, 2014

"He is acquainted with all his circumstances, severings, and ability to bear them; and he will either shorten his trials or increase his power. The Lord also approves of the man and his concerns; and his inheritance shall be for ever. He shall have God for his portion, here and hereafter." Adam Clarke

Psalm 37:10 - 15, Feb. 20, 2014

"Thou art eternal in thy compassions, and wilt hear the prayer of a penitent soul." Adam Clarke

Psalm 37:7 - 9, Feb. 19, 2014

"Do not find fault with thy Maker; he does all things well for others, he will do all things well for thee. And, set thyself to expect him; and be determined to expect, or wait for him." Adam Clarke

Psalm 37:2 - 6, Feb. 18, 2014

Adam Clarke puts it best in his comment on verse 4, "The godly man never indulges a desire which he cannot form into a prayer to God."

Psalm 37:1 - February 17, 2014

Another acrostic psalm written by David. What might this one teach us? Let's find out as we work through this second longest psalm so far.

Psalm 36:11 - 12, February 14, 2014

Foot and hand are not enough to remove the person who trusts in the goodness of the Lord!

Psalm 36:7 - 10, February 13, 2014

"No man can illuminate his own soul; all understanding must come from above. Here the metaphor is changed, and God is compared to the sun in the firmament of heaven, that gives light to all the planets and their inhabitants. "God said, Let there be light; and there was light; "by that light the eye of man was enabled to behold the various works of God, and the beauties of creation: so, when God speaks light into the dark heart of man, he not only beholds his own deformity and need of the salvation of God, but he beholds the "light of the glory of God in the face of Jesus Christ;" "God, in Christ, reconciling the world to himself." "In thy light shall we see light." This is literally true, bo...

Psalm 36:5 - 7, February 12, 2014

After a brief description of the wicked man, David paints a beautiful picture of the Lord's excellence.

Psalm 36:2 - 4, February 11, 2014

The hatefulness of pride is on display in these verses. The wicked are deceived and on the path to destruction.

Psalm 36:1 - February 10, 2014

"It is not by example that such a person sins; the fountain that sends forth the impure streams is in his own heart. There the spirit of transgression lives and reigns; and, as he has no knowledge of God, so he has no fear of God; therefore, there is no check to his wicked propensities: all come to full effect." Adam Clarke

Psalm 35:27 - 28, February 7, 2014

"Let the Lord be magnified" what a wonderful word of praise to end this psalm and this week. Let the church say, "Let the Lord be magnified."

Psalm 35:24 - 26, February 6, 2014

David's enemies play "gotcha" just like the enemies of Christ did. The tempter will always try to invalidate the mercy of the Lord in our lives.

Psalm 35:19 - 23, February 4, 2014

David delivers his defense to the Lord who he knows has seen all. Adam Clarke puts it this way, "I have delivered my cause into thy hand, and appeal to thee as my Judge; and by thy decision I am most willing to abide."

Psalm 35:17 - 18, February 3, 2014

What a daring question David asks of the Lord. How honest and real it is! This sounds like something we might pray and teaches us that the bible is written from within the experience of every man.

Psalm 35:15 - 16, January 31, 2014

In these verses we find a shadow of the passion of Christ.

Psalm 35:11 - 14, January 30, 2014

"This might refer to the case of Absalom, who was much beloved of his father, and for whose life and prosperity he no doubt often prayed, wept, and fasted." Adam Clarke

Psalm 35:7 - 10, January 29, 2014

"God is peculiarly mindful of the poor. Where secular advantages are withheld, there is the more need for spiritual help. God considers this, and his kind providence works accordingly." Adam Clarke

Psalm 35:4 - 6, January 28, 2014

"chaff before the wind" where have we seen that phrase before? Psalm 1 just keeps popping up in David's writing.

Psalm 35:1 - 3, January 27, 2014

David prays that the Lord will dress Himself as a warrior and stand between him and his enemies.

Psalm 34:20 - 22, January 24, 2014

Another Messianic passage used by the gospel of John during the crucifixion of Christ.