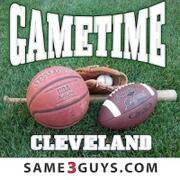 GTC203: Arena Bowl Bound

Summary: The Cleveland Gladiators are Arena Bowl Bound! The City will host the Championship Game here on August 23rd. That'll be a busy day with the Browns and Indians playing home games. And that's the day the Kevin Love deal can become official. Wow, lots to talk about. It's GameTime! Hosts: Mike Kresic, Tom Kresic Running Time: 44:28 1Q: The Gladiators will host the Arena Bowl The train keeps on rolling as the Gladiators beat Orlando 56-46. It's the 10th straight win and 19th out of 20 for the good guys. Orlando fumbled the ball away three times, missed two PATs and that was enough. We'll host the Arena Bowl on 8/23 against Arizona. Indians host Astros at 7:05. Browns host Rams at 8PM. Gl...

GTC202: Cavs Love to Deal

Summary: Hard to believe, but the first exhibition game of preseason is upon us. The Browns get ready to face Detroit and fans will get a look at the QB competition among other position battles in this new look Browns team. Meanwhile, rumors that the Kevin Love trade is all but done get stronger every day. And the Indians are making news off the field for their grandiose plans for remodeling Progressive Field. We've got all of this news, plus the Gladiators advance in the Arena League Playoffs! It's GameTime! Hosts: Mike Kresic, Tom Kresic Running Time: 29:33 1Q: Browns Start Exhibition Season Hoyer likely to start. Manziel may also see reps with 1st team. Will Pettine start Hoyer against De...

GTC201: LeBron Is Back

Summary: Lebron shocked the basketball world for a second time. Now that he's back, can the Cavs finally build a team that can hoist a championship banner at the Q? Other teams in the East are not standing still. The Browns are about to get training camp under way. The Gladiators are preparing to host a playoff game. And the Indians start the second half by taking three of four from the Tigers. Lots to talk about. And Tom is in studio this week. It's GameTime! Hosts: Mike Kresic, Tom Kresic Running Time: 39:06 1Q: LeBron Is Back What a crazy week. News was expected on Wednesday, then delayed as a courtesy to Pat Riley. By Friday morning Clevelanders were getting nervous. Would he stiff us ag...

GTC200: Our 200th Show

Summary: It's our 200th show! We're talking about NBA free agency as Decision 2.0 is holding up all signings in the NBA. What will the Cavs do if Lebron comes back? Or if he stays in South Beach? The Browns have problems of their own with their two highest-profile players. And the Indians are nearing the break. Will they fare better in the season's second half? Lots to talk about. It's GameTime! Hosts: Mike Kresic, Tom Kresic Running Time: 48:30 1Q: Lebron and Decision 2.0 Will he come back or stay in Miami? Rumors everywhere, but no one knows. Most expect announcement this week, after he meets with Pat Riley. Either way, the decision will trigger several roster moves as the Cavs try to cont...

GTC 199: Cavs Select Wiggins

Summary: The Cavs selected Kansas Freshman Guard Andrew Wiggins with the first overall pick in the NBA Draft. The Cavs hope he will play alongside Kyrie Irving for many years as the Cavs AllStar agreed to a max, five year extension with the team as free agency got underway. Team USA was ousted from the World Cup in the round of 16 against Belgium. The Gladiators remain hot beating Tampa. And the Indians offense went AWOL on their West Coast swing through Seattle and Los Angeles. It's GameTime! Hosts: Mike Kresic, Tom Kresic Running Time: 1Q: Cavs Draft Wiggins, Extend Kyrie Cavs draft Andrew Wiggins with #1 pick, this time selecting a Canadian #1 that everyone was happy to hear announced (Be...

GameTime Cleveland 198: Cavs Get Their Coach

Summary: Team USA faces a make or break match against Germany on Thursday to determine if they get to move on to the Round of 16. Meanwhile, closer to home the Cavaliers get their next Head Coach. And they had to go to Israel to find him. The NBA Draft is this week and no one seems to know what the Cavs will do with the pick. We'll know very soon. The Indians take to the road after a disappointing home stand. Can Team Streak find their winning ways out West? It's GameTime! Hosts: Mike Kresic, Tom Kresic Running Time: 29:30 1Q: Portugal scored late to earn a draw against Team USA Team USA came from behind with two second half goals to lead Portugal late on Sunday. It appeared to be an upset i...

GameTime Cleveland 197: World Cup Fever

Summary: It's the busiest sports week of the year, with the Belmont Stakes, the NBA Finals, the Stanley Cup Final, Baseball, Arena Football, the US Open and the World Cup all in action. Even our teams that aren't playing are making some news. It's good to be a sports fan. And It's GameTime! Hosts: Mike Kresic, Tom Kresic Running Time: 40:27 1Q: World Cup Kicks Off in Brazil The tables are set. ESPN's coverage, predictions of the enormity of this event Apps available to track the games Team USA in Group G with Germany, Portugal and Ghana. USA Coach Jurgen Klinsmann does not understand why USA sports franchises reward players for past performance with big contracts. He defends his decision to ...

GameTime Cleveland 196: June Boon or Swoon?

Summary: As the calendar turns to June, we find that the baseball season is one-third complete. The Indians are heating up after two consecutive sweeps. We'll take a look at the bright spots and the disappointments so far. Can they get hot like the weather? Or like the Gladiators? Plus the latest on the Cavs and Browns. It's GameTime! Hosts:Mike Kresic,Tom Kresic Running Time: 44:31 1Q: Tribe at the ⅓ Mark Hard to believe the baseball season is one-third complete. Where is the Tribe right now? Currently in 3rd place in a tightly packed AL Central Corey Kluber, Michael Brantley, Lonnie Chisenhall and Michael Bourn are the bright spots. Santana, Swisher, Cabrera, Axford, Salazar, Carrasco and ...

GameTime Cleveland 195: Johnny, Josh and Jabari?

Summary: What a whirlwind past few weeks for our Cleveland sports teams. Johnny Manziel, Miles Austin in. Josh Gordan and Greg Little out. Joe Haden gets a rich extension. The Cavs show Mike Brown the door again and are still looking for a head coach. Meanwhile, they defy the odds and land the #1 overall draft pick again. Will they take the tall center with a back problem? Or the exciting shooting guard with Waiters still around? Or do they trade the pick to add veteran talent in an attempt to speed up the rebuilding effort? So much to talk about. It's GameTime! Hosts: Mike Kresic, Tom Kresic Running Time: 47:42 1Q: Trader Ray Has a Busy First Round Traded with Buffalo (next year's 1st and 4...

GameTime Cleveland 194: What Will Farmer Do

Summary: The rumors are swirling about the Browns. Will they draft Johnny Football or won't they? If not, who are they going to take? Offensive weapons or more defense for Coach Pettine? While they are just getting started, the Indians are having a hard time closing it out lately. What's wrong with the Tribe? It's GameTime! Hosts: Mike Kresic, Tom Kresic Running Time: 46:30 1Q: Will it be Johnny Football? Tuesday night, Fox Sports' Jay Glazer reports the Browns will NOT take Manziel. Is he the guy to change the fortunes of this franchise? We haven't had a top notch QB since Bernie and that was a long time ago. Vince Young and Tyler Thigpen both signed last week. Will both or either make the ...

GameTime Cleveland 193: Getting Drafty

Summary: The NFL Draft is just a week away now. Can you believe anything you hear from team officials or League Insiders? What will the Browns do? And what SHOULD they do to make this team better for Coach Pettine? Plus, the Indians are on a slide after a terrible West Coast trip. What's wrong? It's GameTime! Hosts: Mike Kresic, Tom Kresic Running Time: 39:01 1Q: NFL Draft Getting Closer Lots of mock drafts. National guys seem to have us picking Manziel or Watkins. What will they do? Where will they go? 2Q: Even More Draft Talk What are the positions of need? Do you believe anything you are hearing from team officials now? 3Q: 2014 NFL Schedule The Browns schedule is out. No Sunday or Monday...

GameTime Cleveland 192: Mack is Back

Summary: The Browns get their AllPro Center back by matching the offer sheet from Jacksonville. The Draft Day Movie bombs at the box office. We'll have one person's review. We're hoping the real NFL Draft will be better for our Browns. And we hope the Indians have a better week than their recent series in Chicago. It's still early but they hit a rough spot. Lots to talk about this week. It's GameTime! Hosts: Mike Kresic, Tom Kresic Running Time: 46:41 1Q: Browns Match Offer to Mack That didn't take long. The team matched Jacksonville's offer sheet within a few hours on Friday. 5yr deal, which he can void after 2 yrs. Pays him $10 million, $8 million and $8 million the next three seasons -- a...

GameTime Cleveland 191: Play Ball

Summary: The Indians are back and have three series under their belt already. We'll talk about the early action. The Browns face a big decision with Alex Mack who wants to play in sunny Florida. The Cavs are about to lose the math game. What changes will we see with the Wine and Gold when the season ends? Lots to talk about. It's GameTime! Hosts: Mike Kresic, Tom Kresic Running Time: 40:11 1Q: Baseball is Back The Indians split their first week. Win 2 of 3 on the road against Oakland. Lose 2 of 3 at home to Minnesota. Win 2 of 3 at home against SD. Starting pitching was bad for much of the first week. It came around in the SD series. Offense comes alive late, often when we are in a hole. Goo...

GameTime Cleveland 190: March Madness

Summary: How are your brackets? Chances are, not too good after a wild first week of Men's Tournament play in the NCAA. We'll talk about the Sweet 16 and some Browns news. Plus the Indians get ready for the season opener. Can it possibly be time for the baseball season already? It's GameTime! Hosts: Mike Kresic, Tom Kresic Running Time: 45:05 1Q: Busted Brackets Everywhere Down to the Sweet 16 Can you call these teams 'Cinderellas' when there really isn't a dominant team in college basketball? The freshman "stars" are all home. Jabari Parker (Duke), Joel Embiid (Kansas), Andrew Wiggins (Kansas) Ohio State, Duke, Cincinnati, Oklahoma, UMass all fall in 1st round Wichita State, UNC, Villanova,...

GameTime Cleveland 189: Free Agent Frenzy

Summary: The Browns have been aggressive in making changes to the team once free agency began. Do you like the moves so far? The Cavs lose Kyrie Irving for a few weeks. The Indians rotation starts to take shape. And get your bracket ready. March Madness is upon us! It's GameTime! Hosts: Mike Kresic, Tom Kresic Running Time: 42:38 1Q: Free Agent Signings In: S Donte Whitner (from SF) LB Karlos Dansby (from ARIZ) RB Ben Tate (from HOU) WR Andrew Hawkins (Bengals did not match) TE Jim Dray (backup TE from ARIZ) Out: S TJ Ward ILB D'Qwell Jackson G Shawn Lauvao QB Brandon Weeden and Jason Campbell 2Q: Waiting on Mack C Alex Mack has not fielded offers from any teams yet. With the transition tag ...

GameTime Cleveland 188: Not a Banner Day

Summary: Who says the NFL off season is boring? The Browns made huge news again. This time, Jimmy Haslam cleaned house in the front office, firing both CEO Joe Banner and General Manager Mike Lombardi. This sent shockwaves through the NFL. We'll discuss the moves and look at what the Cavs may have in store before this week's trading deadline comes to pass. Not to be left out, the Boys of Summer are in Goodyear and the Indians made news with the signings of some of their players. It's GameTime! Hosts: Mike Kresic, Tom Kresic Running Time: 44:36 1Q: Browns Front Office Shocker Jimmy Haslam shocks us all by firing Banner AND Lombardi Banner and Lombardi were competing for power. Haslam saw this...

GameTime Cleveland 187: Grant Fired

Summary: Dan Gilbert makes a major change after an embarrassing loss to the Lakers. Was it the right move? Should he have gone farther? The Olympic Games are underway in Sochi. The city has come under scrutiny for its lack of preparedness. But how are the games so far? It's GameTime! Hosts: Mike Kresic, Tom Kresic Running Time: 43:50 1Q: Dan Gilbert Makes a Change Cavs lost embarrassing game to Lakers, with LA only able to continue play thanks to an obscure rule that let them have 5 men on court, though one had fouled out. The next day, Dan Gilbert fired GM Chris Grant but kept Coach Mike Brown. This is just another in a line of confusing statements by Gilbert since he's been owner. He rante...

GameTime Cleveland 186: Seahawks Romp

Summary: The Seahawks crush Denver in SuperBowl XLVIII. And now the Browns want to be like them. They also nab an Offensive Coordinator for Coach Pettine. The Indians equipment trucks made their way to GoodYear, so Spring Training is not that far off. And that's a good thing because the Cavs are falling apart in a big way. It's GameTime! Hosts: Mike Kresic, Tom Kresic Running Time: 45:59 1Q: SuperBowl XLVIII Recap QBs win games. Defense wins championships. This was no contest from the opening snap. Seemed like a home game for Seattle. They were all over Manning and hit his receivers HARD. Russell Wilson was mobile enough to escape from pressure and make plays when he needed to move the chain...

GameTime Cleveland 185: Bettin' on Pettine

Summary: The Browns name their latest Head Coach. He comes from the Bills. And so do many of his assistant coaches. Elsewhere in New York, the SuperBowl takes center stage on Sunday. Will Peyton get his second ring or will Beast Mode bring joy to the Pacific Northwest? We've got plenty to talk about. It's GameTime! Hosts: Mike Kresic, Tom Kresic Running Time: 38:11 1Q: Browns Select Mike Pettine as Coach 4 year contract with club option for 5th. His only head coaching experience was in High School. He's coached with the Ravens, Jets and Bills. Told Browns FO he would withdraw if they further delayed process This forced the hand of the Browns and they canceled plans to interview Dan Quinn a s...

GameTime Cleveland 184: SuperBowl Lineup Is Set

Summary: The Browns coaching search nears it's end while the teams that will play in the snow in New York in two weeks is now known. We'll recap the AFC/NFC Championship games and talk about where the Browns are in their pursuit of their 15th head coach. It's GameTime! Hosts: Mike Kresic, Tom Kresic Running Time: 47:18 1Q: AFC Championship Game AFC: Broncos 26, Patriots 16 What a difference one game makes. Peyton was getting a lot of criticism for his playoff record. Winning changes everything. Brady was off target most of the day. He's taking a lot of heat from Boston media afterwards for his post 2005 playoff record. 2Q: NFC Championship Game NFC: Seahawks 23, 49ers 17 Calen Kaepernick had...

GameTime Cleveland 183: NFL Final Four

Summary: The Browns' search for a head coach continues into its third week. Candidates are dropping like flies. The NFL gets down to it's Final Four and there are no surprises for a change. The Cavs get embarrassed in Sacramento. What can be done to fix this team? Is it time to just tank it? It's GameTime! Hosts: Mike Kresic, Tom Kresic Running Time: 38:51 1Q: Browns Coaching Search Only two coaching vacancies remain open - Cleveland and Minnesota. All of the candidates the Browns have interviewed have either withdrawn or taken a position elsewhere. Since Seattle is still alive in the playoffs, we won't know if Dan Quinn is an option (he already interviewed) or if Denver OC Gase wants to tal...

GameTime Cleveland 182: Deng It

Summary: The Cavs find a trade partner for Andrew Bynum. The Browns search for a head coach continues. The Buckeyes lose a thrilling Orange Bowl to Clemson. And the NFL Playoffs are underway. There's a lot to talk about. It's GameTime! Hosts: Mike Kresic, Tom Kresic Running Time: 43:30 1Q: Bynum traded to Bulls for Deng The trade with the Lakers did not come about because the Lakers wanted draft picks and Dion Waiters. That wasn't going to happen. We send some draft picks to Chicago: future first-round draft pick owed to the Cavs by the Sacramento Kings from a 2011 trade for J.J. Hickson. The Bulls will get the Kings' pick if it falls outside the top 12 in 2014 or outside the top 10 picks in...

GameTime Cleveland 181: Chud Out

Summary: The Browns shocked the NFL world by firing their hand-picked head coach after only one year on the job. Here we go again, Browns fans. And the Cavs are making big news with Andrew Bynum. Will he be traded or cut before his contract becomes guaranteed next week? We've got both of these big stories covered as 2014 rolls in with a bang! It's GameTime! Hosts: Mike Kresic, Tom Kresic Running Time: 42:29 1Q: Browns Shock the NFL by firing Chud A 4-12 record does not exactly scream "keep me". But he was the hand-picked choice of the new regime and is being held entirely accountable for the failures of the 2013 campaign. Mike weighed in with thoughts of the move in a blog post. 7 straight l...

GameTime Cleveland 180: Lost Weekend

Summary: The Buckeyes saw their winning streak and BCS Title chances end in Indy over the weekend as they played conservative offense. And the Browns nearly pulled off a major upset. But they just proved that every second counts. And every yard. Literally. We'll recap both disappointing losses. It's GameTime! Hosts: Mike Kresic, Tom Kresic Running Time: 42:34 1Q: Buckeyes fall to Michigan State Spartans win 34-24. OSU looked tight to start the game. Offense could not get going and the defense let MSU's first drive continue with two stupid penalties on 3rd down. Once they finally got going, you could feel the momentum shift. But why did we suddenly rip out every play from the offensive playbo...

GameTime Cleveland 179: Browns Fall Again

Summary: The Browns just can't beat Big Ben and the Steelers. The positive thoughts from just a few weeks ago seem a long ways off now. We'll recap the game and talk about the situation in Columbus, which looks much brighter for the Buckeyes. It's GameTime! Hosts: Mike Kresic, Tom Kresic Running Time: 38:02 1Q: Browns embarassed at home Browns lay an egg, losing to the Steelers at home 27-11. Big Ben continues to make us pay for not drafting him. With the exception of that Thursday night game in 2009, he's never lost a game to us. Let's not pretend the offense is the only problem on this team. Where was the pass rush? 2Q: Browns need another QB. Again. Team looking at Caleb Haney to be backu...

GameTime Cleveland 178: Momentum Shift

Summary: The Browns laid an egg in Cincinnati. How did things fall apart so quickly? What needs to be fixed and can they do it in time for the Steelers game this weekend? Things went better for the Buckeyes but Baylor is breathing down their necks in the BCS polls. Will OSU's schedule be enough to keep them in the hunt for a title shot in case Alabama or Florida State slip up? And why are the Cavs fighting with each other? Shouldn't they be using some of that energy on the court to beat up the opponents? It's GameTime! Hosts: Mike Kresic, Tom Kresic Running Time: 27:44 1Q: Browns blown out in Cincinnati Bengals crush the Browns 41-20. Cincy scored 31 POINTS in the 2nd qtr!!! Browns started g...

GameTime Cleveland 177: Back to Work

Summary: The Browns and Buckeyes both return to action after BYE weeks. And they both got a little bit of help without even playing. The Cavs are struggling early learning Mike Brown's system. This seems like 2003 all over again. Will top pick Anthony Bennett ever get out of his shooting funk? He's in a doozy to start the year. Can Ohio State run the tables this year and still be left on the outside looking in on a BCS title opportunity? The Browns go to Cincinnati to try to get a win against the suddenly struggling Bengals. Is a playoff berth actually possible for this year's squad? It's GameTime! Hosts: Mike Kresic, Tom Kresic Running Time: 29:29 1Q: Browns vs Bengals, part 2 Cincinnati lo...

GameTime Cleveland 176: Browns Sink the Ravens

Summary: The Browns get a rare win against the Ravens and snap an 11 game losing streak to the AFC North rivals. Ohio State had no trouble at all with Purdue in pitching a blowout shutout victory. That's 22 in a row for the Buckeyes. The Cavs split their first week but welcomed Andrew Bynum to the court. It's GameTime! Hosts: Mike Kresic, Tom Kresic Running Time: 42:14 1Q: Browns versus Ravens, part 2 Browns win 24-18. Campbell throws 3 TDs, plays after injuring his ribs. Davone Bess responded with his best game. 2 TDs, one on 4th and goal. Also another key catch on 4th down to keep a drive alive in the 4th. Greg Little had a great receiving game and some stupid personal fouls. He also injur...

GameTime Cleveland 175: Campbell is Mmm, Mmm, Good

Summary: The Browns fall to the undefeated Chiefs, but see a huge improvement behind Center. Urban's Buckeyes are still undefeated as they blow out Penn State. And the Cavs tip off the NBA season. It's GameTime! Hosts: Mike Kresic, Tom Kresic Running Time: 46:19 1Q: Browns lose a close one in KC Kansas City hangs on to win 23-17. The offense started with three three-and-outs and fell behind 13-0. The Jason Campbell went to work with a quick scoring drive, hitting Campbell, then Gordan. KC marched right back down the field to match our score. Quick drive closed gap to 20-10 at the half. Browns took ball and scored to start the 3rd on a nice pass from JC to Fozzy Whittaker in stride for a 17 y...

GameTime Cleveland 174: Just Call Him Flipper

Summary: The Browns were lousy on both sides of the ball as they fall to the injury-riddled Green Bay Packers. What will the Browns do with Weeden? The Buckeyes struggled to hold off Iowa but rode Carlos Hyde to a win at the Shoe. And the Cavs have a new look heading into the season. It's GameTime! [UPDATE: We recorded this on Tuesday night before the Browns announced that Jason Campbell will start against Kansas City on Sunday.] Hosts: Mike Kresic, Tom Kresic Running Time: 41:13 1Q: Browns-Packers Recap Packers thump the Browns 31-13. Green Bay had so many injuries, but the Browns were no match. Weeden stunk. Gordan stunk and looked disinterested. Reports indicate the Browns have three offe...

GameTime Cleveland 173: Tribe One and Done

Summary: The Indians make an early exit from the playoffs. We'll look back at what happened against Tampa and look ahead to what may be changing in 2014 for the team. The Browns are in a first place tie after beating Buffalo in a Thursday night affair. They lost their starting QB in the process. Meanwhile, should the Buckeyes have made a change at QB in their game against Northwestern? Yes, they walked away with a win, but this was a sloppy game from Braxton. It's GameTime! Hosts: Mike Kresic, Tom Kresic Running Time: 43:40 1Q: Tribe falls to Tampa in the Wildcard game Indians lose 4-0 to Tampa in the one game playoff. Salazar was striking out guys the first time through the lineup until a s...

GameTime Cleveland 171: Browns Get A Win

Summary: The Browns picked up their first win of the season with an unlikely starter at QB and our starting RB playing for the Colts. Ohio State crushed FAMU in their final tune-up before conference play gets underway. And the Indians are fighting for their playoff lives as the final week of the MLB season is upon us. It's GameTime! Hosts: Mike Kresic, Tom Kresic Running Time: 43:59 1Q: What a week in Browns Town The trade of Trent Richarson to the Colts was the talk of the NFL world this week. Were the Browns tanking to get a top QB next year? Have they already seen enough of Brandon Weeden? Why name Hoyer over Campbell if you're not tanking? Then the game started and the Browns looked like...