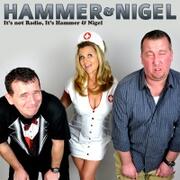 IndyCar Driver Pippa Mann & Picture Yes

IndyCar driver Pippa Mann stops by to talk her upcoming bid to be in the Indy 500. Her first time in an IndyCar, qualifying, what it's like the day of the big race. Picture Yes joins us to talk about their big tour announcement, also they play a couple of songs for us.

Indy 500 w/Laura Steele & the Producers

The Pacers are headed to Miami tied at 1 a piece, the racers are setting up for the Indy 500 and we are joined by the Indianapolis Motor Speedway Track Public Announcer Laura Steele as she discusses navigating the murky waters of live shots with drunken fans, bands and more during the Month of May. 1070 the Fan Sports producers, Tony Donahue and David Dearing stop by talking about their month of prep for the race, and Tony has stories of drinking with his dad and his dad's tips that you'll certainly want to live by.

Kelly McKay is NSFW

We take a trip down memory lane for Hammer as he and his former co-worker, the lovely Kelly McKay, talk about their time at WZPL. Nigel, former direct competitor to Kelly, commends her on a job well done throwing in several not safe for radio words when talking with Smiley live on air. We also discussed the Vegas trip, what she's up to these days and even throw in some juicy gossip (from years ago). Listen to Kelly weekdays from 10:00am – 3:00pm on 107.9 the Link in Charlotte.

The Rents

The 'Rents, a Pretenders Cover Band, joins the Hammer and Nigel show to do a few live songs for us. Ted Gregorek, the drummer, joins the guys to talk about his days as a roadie for Van Halen, Bobbi Brown, Billy Squire, and more. He's got some great stories from the road that include sex, drugs, and rock n roll. Find out which song lyrics talked about a real groupie and what she was doing on the bus.

Chris "Lights Out" Lytle

Chris "Lights Out" Lytle joins Hammer and Nigel discussing everything from his UFC career, Boxing, prepping for a fight, running for the Indiana Senate and more. He is also promoting "Making an Impact: 2014 Indianapolis". On March 15, 2014 a unique event arrives in Indianapolis unleashing a team of world renowned experts like the city has never experienced on the same stage. Listen as they reveal how to unlock the complete You and how to reinvent Yourself in a way to make an impact so big that your life will never be the same! Info:http:// www.motivationsummary.com

Surviving Rupert 2-17-2011

Great live event last night,the weather was delightful, the booze plentiful, and BS's date had Double D's. What more could you ask for from a Live BarCast you say? Well how about Rupert discussing the finer points of surviving Aunt Flow in the wild, the 50 piece nugget challenge and the blind date discussing the hell that is going out with BS for Valentine's Day. by the way check out http://www.rupertskids.org/ and look for more information on Rupert's Island Draw, a new poker game coming to the Golden Nugget in Vegas

Hotties from Metromix 2-10-2011

Amy and Adrianne from metromix stop by to discuss Nigel's encounter at a gay bar, Hammer's recreation of Chris Farley's Chip-n-Dale tryouts, and of course the Metromix best of Indy. Also we effort to get BS a date for Valentine's Day. Enjoy the Bar-Cast, it enjoys you!

News Biz with Gene Rodriguez 2-3-2011

To everyone's surprise, including ours, Hammer & Nigel were asked back for week 2 of the Hammer & Nigel Live Bar-Cast, despite the reviews from our critic calling this the worst piece of shit ever heard (who knew Hammer's mom could be so mean?). This week Gene Rodriguez was kind enough to sit down and join the show, of course we lied to her and told her it was a night time edition of the Smiley Morning Show, but since she made it all the way downtown she decided to stay. Ever wonder what an unfiltered ex-news reporter has to say… here's your chance, you won't be sorry. Also be sure to check out Gene's blog

The Debut Episode -1-27-2011

We came. We saw. We came again. With guests like Mel McMahon, Nikki of 104.5 WJJK, and Melanie our lovely photographer, why wouldn't we? The very first episode of Hammer & Nigel did not disappoint says several bar patrons paid off in beer. The show included talk of a "Moon and Go" or "Drive by Mooning" at a church on Good Friday, how Hammer seduced his wife on their first encounter, Nigel's new "Curves" workout program, and of course lots of drunken statements that we all seriously regret this morning. Due to technical difficulties, BS went to the Garter afterwards instead of posting the show online, the podcast is just now seeing the light of day! I now present to you the debut of Hammer & ...

The Black Muslim Republican, Abdul

We talk with Abdul about his new gig on WIBC, the revitalization efforts of the programming on WIBC, ObamaCare, gay marriage, the Glenda Ritz issues, Officer Bisard and more.

Sealed the Deal: Colts' Marlin Jackson

Former Indianapolis Colts' player Marlin Jackson joined the show to discuss his Fight for Life Foundation (http://fflf.org/), one of the all time greatest Colts' plays (the interception against Tom Brady), Richie Incognito, and more. We were also joined by the Hammer and Nigel house band, Twin Peaks, as they sang two songs for your amusement.

Colts vs Pacers and the Ghosts of Kin

WRTV's Jason Spells joined us early to talk about the Colts, after a rather piss poor effort against the Rams. We also dove into the Pacers' 8-0 run and their drive and focus to make take home field advantage away from the other teams in the east, especially the Miami Heat. Band "Ghosts of Kin" (Alan Long and Jessie Phelps) joined us for some live music and to talk about the music scene in Indy. What they have faced as a band and Nigel's school girl crush on Jessie Phelps.

Leaving Las Vegas for the Country Life

Tammy Lively stops by from WFMS and we talk about Vegas, working in radio, Country vs Rock, how she made the transition and how loyal country fans are.

Surviving a Plane Crash with Slick

The legendary player, turned coach, turned broadcaster Bobby "Slick" Leonard stopped by discussing the NBA, ABA, who was the better player Roger Brown or Reggie Miller and more. He took us into his days at IU where he shot the free throws that would lead IU to a National Title. He also talked about playing in the NBA, a plane crash he and his team survived in Iowa, players carrying guns into the locker room, his championships with the Pacers and what he thinks about the current team. There is a lot more that is in this episode that you just have to hear for yourself (including his thoughts on Bob Knight).

Mad Dog and a Bull Dog

The Bulldog and the Mad Dog joined Hammer and Nigel on Thursday Night. Former Butler star Matt Howard and radio legend Jimmy "Mad Dog" Matis stopped by Coaches Tavern to discuss an array of topics that included toilets, chicks with armpit hair, Brad Stevens trash talk in practice and more. Enjoy

Classing Up the Joint

Always good when you have a beautiful reporter from one of the top TV stations in town being told she has a stripper name by one of radio's rejects. Hammer, contemplating student – teacher porn (of the adult variety, not rocking it Penn State style) and that was just the first 5 minutes and before Dave Smiley, of the Smiley Morning Show on WZPL, steps in from the bathroom to truly bring the show to a halt. The show is chock-full of porn, sexual deviance, angry black guys, talk of how cheap the show is (we don't make Smiley money), etc.

None Other Than Chiiiiiick McGee

Chick McGee from the Bob & Tom show joins Hammer and Nigel. Find out how Mr. Obvious came about, how he joined the Bob & Tom crew, the Live Porn Shoot, heart surgery and more.

Laundering Money Over the Fiscal Cliff

When you have the 4th most influential financial planner in the financial industry you maximize his time by talking pot, alcohol, and taking calls about laundering money. Pete the Planner joins us to discuss everything you wanted to know about all the things you won't hear him talking about on CNN. Thank God he's a good sport (and let his followers understand that he has a sense of humor).

You Don't Have to Wear Pants

We made it to 100 episodes and we did it with special guests Pacers' TV reporter Brooke Olzendam and the voice of the Pacers Mark Boyle. We had a full cast lineup on tap with Tardo Special Needs Tommy Tremaine kicking himself in the nuts (recap play-by-play provided by Mark Boyle), Pizza Josh, Big Boobed Molly, DJ Dave, Drunk Matt, Beaver, Kim, CJ, and more were in house as well. We talked Pacers, Brooke's pants off coffee story, Mark's Ron Artest Pants off story and more. Join us for the show that was so special we needed more than an hour.

Jay Baker's Rise, Fall, and Rise Again

The legendary radio personality Jay Baker stopped by the Hammer and Nigel show discussing everything from his time working with Bob & Tom, the explosive growth of the radio station, feeling like a rock star, being brought down to earth, and life after radio's golden years. Anyone who loves local radio, will love what this show has to offer.

The Pranks of Peyton Manning and More

The Indianapolis Star's Phillip B. Wilson joined us again talking about the news business, doing stand up comedy for charity, and his new book coming out "100 Things Colts Fans Should Know and Do Before They Die"… We can't wait for this book as he gave away a preview involving Peyton Manning's Golf Cart Pranks.

Everything's Wonderful in the Men's Club

Ed Wenck, the new managing editor of Nuvo, stops by discussing everything from his decision to leave radio, what he believes radio is missing right now, the infamous "Men's Club" at Q95, his X103 days and the many animals that have defacted in the building over the years. We also get serious and talk a bit about the Government shut down, the impact the decisions are having on the country and more.