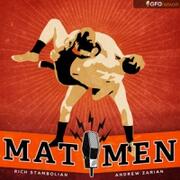 Mat Men Ep. 49 – Return To Parts Unknown 4-10-14

After a monumental Wrestlemania weekend the guys are back with a new episode of Mat Men. Andrew, Rich, and Jon drop stunners left and right bringing you the best in wrestling speculation and talk. They talk Mania, Daniel Bryan, the shocking end to The Streak, NXT, the Hall of Fame, and the untimely demise of The Ultimate Warrior. This episode is jam packed to the gills with some great rassle tawk!

Mat Men 48 – We're here 4-3-14

The Road To Wrestlemania is almost at an end and the boys are back with their take and thoughts on the biggest wrestling event of the year and possible of all time. Andrew, Rich, and Jon bring it home with some fantasy booking, match outcomes, continuing storylines, the over/under, and talk about their ideal Mania ending. They also chat about wrestlers that they never "got." All this and more on this week's Mat Men!

Mat Men Ep. 47 – From the Rafters 3-27-14

Pro Wrestling is a hot topic of conversation when the Mat Men are around! Join Andrew, Rich, and Jon as they dive deep into the goings on of the WWE and keep their feet on the road to Wrestlemania. They fantasy book many situations while talking about the Wrestlemania card, Hall of Fame, and how the Network will affect the future of the company. They also talk a tad about TNA and about how Sting might be introduced into the WWE Universe.

Mat Men Ep. 46 – Lemme Tell Ya Something Brother 3-13-14

This episode of Mat Men was brought to you by the NWO, brother! Andrew, Rich, and Jonathan are back again with another stiff shot of wrestling knowledge and speculation. They talk about the WWE Network, hidden gems within network programming, the parallels between fans now and then, crowds, and the current Mania lineup. They also fantasy book Wrestelmania's ending AND do a what if Hulkamania never existed!

Mat Men Ep 45 – World Championship…Wacky!? 3-6-14

Mat Men is here once again and the boys are going to talk to you about rasslin'! Join Andrew, Rich, and Jon Layman as they take you on another adventure on the road to Wrestlemania. They talk about Monday's Chicago crowd, what WWE looks like they are doing headed into their biggest event of the year, and they talk at length about the WWE Network and its content. When you dive into a WCW hole, sometimes you never make it out!

Mat Men Ep. 44 – WWE Network Launch Party 2-27-14

Your favorite wresting lovin' muscle daddies are back in town. Wait, that doesn't sound right. Mat Men is here once again and talking about the hottest topic in the wrestling industry: the WWE Network. The boys talking about the WWE Network at length as well as this past week's PPV Elimination Chamber, what is lacking in some of today's Superstars, what will make future stars, Wrestlemania booking, fantasy CM Punk return booking, fantasy booking booking, and crowd reactions that could be coming from Chicago next Monday!

Mat Men Ep. 43 – Be A Badass 2-20-14

Mat Men brings it to you like a ladder match inside of a steel cage on top of another steel cage on this brand new episode. Join Andrew, Rich, and Jon while they have a healthy back and forth about the WWE Network and what it means for the future of the wrestling business, wrestling fandom, and their attention spans. They talk about what they are most excited to catch up on with the WWE Network, the Elimination Chamber, TNA, and which superstars are the future of the WWE.

Mat Men Ep. 42 – What's Your Gimmick? 2-6-14

Mat Men is running right at you like a madman from Parts Unknown! This week the guys talk about their dwindling interest in the Road to Wrestlemania and why they are a bit disenfranchised with the product right now. (Maybe it's the New York weather?) They talk the crooked path WWE seems to be taking, weird trends in the business, and they talk at length about current gimmicks as well as internet fandom.

Mat Men Ep. 41 – CM Punk: Walk Out Work Or Grim Reality 1-30-14

On this very special and exciting episode of Mat Men join Andrew, Rich, and Jon Layman as they talk about the current controversies of professional wrestling. They dive head first into the Royal Rumble results, crowd reaction, internal booking, the road to WM XXX, and about how Daniel Bryan has come this far to be kept at bay in the fans eyes. They also chat about the major news topic of this week, which is the apparent walk out of CM Punk from the WWE. It is a debated topic that could either fall into Kayfabe 2.0 or be a legit gripe with a mega machine company. All this and more!

Mat Men Ep. 40 – Batista Bombs 1-23-14

Mat Men is here this week with their go home show for the Royal Rumble ppv! The boys talk about this week's past RAW including the ups, downs, and return of the world's greatest club promoter...we mean the Animal; BATISTA! They guys speculate about the Rumble Ppv and the ever encroaching road to Wrestlemania. They fantasy book a bit and talk about some of the current news issues of sports entertainment. All that and a whole lot more!

Mat Men Ep. 39 – WWE Network Launch 1-9-14

If you love wrestling then you will love Mat Men! The boys are back in town with a recap of the last week or so worth of pro wrestling news and views. They discuss RAW, TNA, Toby Keith, and of course the launch of the WWE Network and what that means for everyone involved. They also chat about what may be the main event of Wrestlemania and the story-lines leading up to the grand daddy of them all as well as possible returning superstars!

Mat Men Ep. 38 – What does 2014 hold for pro wrestling? 12-26-13

Join Andrew, Rich, and Joe Layman for another riotous episode of Mat Men! This is their holiday/year ending recap spectacular and they touch on what they loved in 2013 as well as what did not work in the world of professional wrestling. They talk about their favorite characters, moments, matches, and more! They also try and establish a better picture for the Royal Rumble and Wrestlemania as well as talk about how the returning Animal Batista will have an impact on the main event scene. What will the 2014 wrestling landscape look like? All this and more!

Mat Men Ep. 37 – WWE Network Woes and Worries 12-19-13

Mat Men comes hot off of the past week's TLC PPV and season Finale of Total Divas! They talk about the PPV, the WWE Network, and try to book next years Wrestlemania with the information they have. They also talk about the state of how the business will be run into the future as well as who The Undertaker may face at next years big event!

Mat Men Ep. 36 – Invasion Persuasion 12-12-13

This week your hosts Andrew, Rich, and Jon delve into the world of sports entertainment like only they can. They chat about the lead up to TLC, the classic ending of Monday Night Raw, what will happen with the title unification, and fantasy book The Invasion (when WCW was "bought" by Shane McMahon) and much more!

Mat Men Ep. 35 – Big Guys And Little Guys 11-21-13

This week Mat Men returns with your favorite podcasting marks...for themselves! Andrew and Rich bring it hardcore and drop and elbow through a flaming table on this week's episode. They talk the history and upcoming card of WWE Survivor Series, wrestling nostalgia, the size of wrestlers, how the Alliance angle went wrong along with the buyout of WCW. They also touch on the road to the Royal Rumble and to Wrestlemania. All this and much more on this great episode!

Mat Men Ep. 34 – Andrew VS The Fans 11-14-13

Mat Men is back this week with another awesome episode full of wrestling related hi-jinks! Andrew and Rich tag team to bring you the latest in pro wrestling speculation, talk about the BIG EVENT in NYC, the last few weeks of WWE programming, wrestling fandom, Sting in the hall of fame, up and coming talent, plus a bit of fantasy booking for Wrestlemania, The Undertaker, and much more!

Mat Men Ep. 33 – Tuesdays With Taker 10-31-13

Mat Men returns with a pretty sweet Halloween episode. The boys discuss the dreaded WCW Halloween Havoc PPV, the current state of WWE and how their new character driven storylines are the best in some time, the apparent falling of TNA plus the future of the company, and much more. They also talk about which wrestler they would love to hang out with and do every day things with!

Mat Men Ep. 32 – Bound for Glory with Austin Aries 10-17-13

Andrew, Rich, and Jon Layman are back with a vendetta! This week they return with a very special episode of Mat Men where they talk about TNA's Bound For Glory, Monday Night RAW, the buildup for Hell in a Cell, the future of the World Title, and the World Title picture. They then welcome their very special guest; The Greatest Man That Ever Lived: Austin Aries! Tune in for a great interview with a great guy!

Mat Men Ep. 31 – Spaghetti and Mayonnaise 10-3-13

This week on Mat Men your favorite wrestling fans talk about what they liked about current WWE programming and how RAW seems to be good again (who'd have thought!?) They chat about the current storylines, Randy Orton, The Rhodes angle, Randy Orton, the midcard and undercard, Randy Orton, and about Los Matadores! They also talk about Randy Orton! Also, the fellas discuss what makes a great star in the wrestling business. Rich is also forced to watch a video of Bret Hart and Jim The Anvil neidhart FREAKIN' OUT, MAN! This fun filled episode has some great back and forth between your lovable mod squad of wrestle-philes; Andrew, Rich, and Jon!

Mat Men Ep. 30 – Time to Play the Game 9-26-13

Its time to play the game! Mat Men is back in action and the boys are cooking up some trouble. This week Andrew, Rich, and Jon review the HHH documentary release, his rise to the top of WWE, and how the business has changed as a whole on TV by HHH being in charge. They also review RAW and the hits/misses. The guys then talk about TNA's inevitable future and the possibilities of what superstars go where. Plus, the boys fantasy book a good chunk of storylines!

Mat Men Ep. 29 – Getting Down to Business 9-19-13

Rock and Roll will never die and neither will the Mat Men's love of professional wrestling. This week the boys get down to bidness, if you will, and talk about the Night of Champins PPV event as well as the repercussions on RAW. They also talk about the Rhodes family drama and how the shows now seem more entertaining overall. The boys then go into some speculation about the future of TNA, which stars would be viable assets to WWE (since it's the only game in town) and WHO are the super stars that could never be duplicated. It's a jam packed show so take a gander and enjoy!

Mat Men Ep. 28 – The Viper Comes Alive 9-12-13

Mat Men return after a couple weeks off to extinguish your summer time blues. What's the cure for the summer time blues? Some bearded and facial hairy dudes! This week the boys talk about all things pro wrestling, the current angles on RAW; including the Rhodes family saga and Daniel Bryan ascending to the top of the company, why ECW was what it was, crowd reactions/chants, and much more. This is a fun one folks!