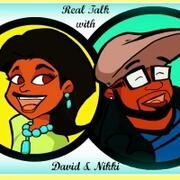 I'll Be In The Bathroom

Have you ever had a friend who didn't act their age? Or who did everything that you didn't want to do. It's ok sometimes.. But, at other times you just tell them you have to go to the bathroom and leave them on their own. Wrong? Maybe.. lol

Live At Pop!Con

live at Pop!Con pop culture and comic book convention. I was waiting for the Mikey Rotella panel. Had a blast.

Fat And Facebooked

Did you all hear about the Facebook post "encouraging" an overweight runner? I understand what the poster was trying to do and say. But, there were so many unnecessary phrases in the so called approval it made me feel bad about the article before I could feel good. Feel me? Tell me what you think.

Speaking Of Shade

You know how drama sometimes is always present no matter how much you do not want to be involved in it. Well I still have some matters to take care of at work and it hasn't been easy getting my coworkers to behave like adults.

Free Comic Book Day with Joe Field

Every year on the 1st Saturday of May, Comic Book fans new and old flock to their local comic books stores to participate in what is known as FREE COMIC BOOK DAY. Today we talk to the founder and creator of FCBD, Joe Field and ask him how long this event has been around? Why is it important? and What books are being offered this year? Joe was a great guest and I had a geeky grin on my face the entire time we were chatting. go to www.freecomicbookday.com to find out more about this amazing event!!

Tell Me What You Really Think..

This is part 2 of another podcast. The work drama reached it's drama filled peak this week during a meeting. I have never been disrespected as much as I was during the meeting. But, it only proved my point.

Your Words Will Never Hurt Me

Asking the question how do you respond to someone who has brought your personal life into your work life. Can word hurt you?

Burned!

Just chatting about tonight after a that I woke up on the wrong side of the bed. All that aside, Have you heard of smoking alcohol vapor to get drunk? And some new findings on HIV and infection and lastly, why did Sonic Drive In give me burned food.. argh!!

Don't Call Us Or Dear Abby!

Tonight on Real Talk Ken Boggle Talk is chatting with me in the real talk seat. We talk about some mysterious and not so mysterious phone calls we have received and also Dear Abby's response to a neighbor who dislikes her gay friendly community.

Men Of Steel

I thought a good Throwback Thursday podcast would be our Superman Anniversary show. Last year, as we all know, the new Superman debuted. Nikki and I did an entire show about all the men (actors) who played the most popular Superhero of them all. Enjoy

Meet and Greet With Trevor Wayne

You may have seen glimpses of him on television shows like Dexter and Charmed. Or maybe you have seen his pop artwork creations of The Golden Girls as Superheroines. Maybe you have seen some of his modeling work for greats like Clive Barker and PinUp Showzines. Today we talk to the sexy tatoo'd god himself,Trevor Wayne. Check out all of Trevor's work on www.trevorwayne.com Listen for the contest at the end of show.

Advice To My Younger Self

I read a pretty good article on the Huffington Post about things you would say to your younger self. We are talking about that tonight along with some other stuff..

Meet & Greet with Author Alan Chin

I had an amazing conversation today, on blog talk radio, with Gay Author and World Traveler Alan Chin. Alan is a writer and literary critic. He has written novels, short stories and screenplays. The published Author shares how he started to write seriously early in 2003 and the importance of having "real" and strong lgbt characters in the stories he creates. For more information about the the Alan Chin and where to purchase his novels check out www.alanchin.net

2013 A Look Back Happy New Years

As we bring the New Years we are looking back on a few of our favorite episodes. We're going to laugh and have a little fun while we look back at The 5by5 this year. Happy New Years everyone!! Be Safe

2013 Rewind App Chat

We actually did a show where we talked about our favorite ios and android apps. It was fun, but we so weren't qualified. But, like I said it was fun regardless. We talked about The Girl Scout Cookie App, Instagram, Vine, Snapchat, Sing and others.. Check it out on our Rewind from 2013.

2013 Replay Top Ten Show

This 2013 flashback is actually 2 shows that I did when I first came to Spreaker. These shows were Top Ten list. The First is Things You Don't Say To A Over Weight Person and the 2nd Things You Don't Say To A Black Person. Enjoy

Punked On Christmas Eve

While shopping for a few final gifts on Christmas Eve, I got punked. I mean a stranger, who was nice enough, started up a weird conversation and I just had to share it. Or if Ashton Kutcher was pranking me.. good one.. I think.. I hope everyone is having a great Christmas Holiday!!

2013 Rewind Secrets and Oh My's

Another favorite episode from 2013.. David and Nikki chatted about the father who embarrassed his daughter by wearing booty shorts. They also discussed The Talk's secrets. Good episode and Some Ios app suggestions.

2013 Rewind Trayvon Martin

One of our favorite and most listened to shows. This is the second part of our discussion on the Trayvon Martin trial and subsequent not guilty verdict for George Zimmerman. But, good thing about time it catches up with you. Karma!

Giving and Receiving.. Contest!!

Nikki is ill tonight, but the show must go on. Tonight I chat about bad gift giving and share some personal stories. How do you receive a bad gift? Do you smile and keep it? Or roll your eyes and return it? Listen for the contest details during tonight's podcast. We are giving away 2 Starbucks gift cards... listen for your chance to win. Contest ends Friday Night @ 11:59pm cdt. Winners (chosen randomly) announced during Sunday's Late Night Show.

No Black Santas & More

Late Night here on The 5by5 and we are talking about a few things. One being Fox News Reporter, Megyn Kelly, saying that both Santa and Jesus are white. Bad customer service at Subway. Getglue big mistake, The SWV reality show and Beyonce's slick release of her new album.

The Liar In Me

Since we can't get away from Dayna Morales. I guess we have to talk about this chick and ask the question: When is it appropriate to lie? Nikki shares her thoughts about the death of Nelson Mandela and we both laugh about the weather, our crazy lives and more!!

Wonder GAL.. Gadot

The announcement was made a few days ago that isralei model, Gal Gadot, would be cast as Wonder Woman in the upcoming sequel to Man of Steel. I chatted about why we couldn't find someone to portray the Amazon Princess a few months ago. I give an update to that episode and my new views. Plus, I play a snippet from that episode as well.

Gifts Of Christmas Past

On this episode of Real Talk with David & Nikki we chat about an article that featured the top kids Christmas Gifts in recent years. We reminisce about our favorite gifts and some of the toy-tastrophes that went along with those gifts. Also, Nikki's belief in Santa Claus baffles me and we had a good laugh about it. Thanks for tuning in!!

Black Friday, Crazy Dream, Music

Re-recording an episode from yesterday with bad audio. But, audio quality is much better. But, today I chime in on Post Thanksgiving Day Drama, Black Friday and my crazy Buffy The Vampire Slayer dream. music provide by Snowflake and Loveshadow under a creative commons attribution license

Walmart Weaves and Music

I just couldn't sit on this story for another day. :ast week I had an encounter with probably the rudest Walmart cashier I have ever had to deal with in my life. Along with today's story I have some new music for you all. Enjoy!

They Said What?

It's R&B Sunday Afternoon here at the 5by5 and we are giving you some smooth hip hop and r&b. We are also talking about how some straight people think they can say the most ridiculous stuff to us gays.. lol.. here are 5 THINGS YOU SHOULD NEVER SAY TO A GAY MAN.

Don't Say That!

Just a fun show with music about an article I read this morning. The article, from the Huffington Post, is called "8 things gay men should stop saying". We'll go over the article as I play some of my favorite music from my past shows. Listen in. all artist and music used under a creative commons Attribution 3.0 license.