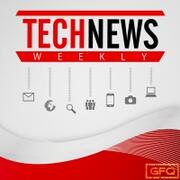 Tech News Weekly Ep. 126 – Black Friday and Cyber Monday Mania 12-6-13

Andrew Zarian and John Bubb discuss Black Friday and Cyber Monday Mania. What were the big deals to be had? Amazon's Jeff Bezos says they are working on delivering packages by drones. Are Amazon drones just fantasy or a futuristic idea? Android's KitKat claims 1.1% after just a month while iOS 7 captures more than 70% of iOS devices after 3 months. Does Android lack the ability to effectively release a new OS? Next Windows release to be code named Threshold. What will the next version of Windows improve upon? A new report claims Apple is testing a 12.9 inch iPad. Do we really need a bigger iPad? And our Picks of the Week.

Tech News Weekly Ep. 125 – Xbox One Launch 11-22-13

Microsoft's Xbox One finally arrives. Nick from Radar Gaming gives us a run down of Microsoft's next gen gaming system. How does it compare to the PlayStation 4? Also who has the better online network, Sony or Microsoft? Major League Gaming launches MLG.TV. Has e-Sports reached a new high? Selfie beats out twerking for word of the year. Should these words be included in a dictionary? Winamp announces it's shutting down next month marking the end of an era. What happened to Winamp? And a Chinese company wants to offer you 10TB of cloud storage. Is there a catch?

Tech News Weekly Ep. 124 – Sony PlayStation 4 Launch 11-15-13

Nick Craig from Radar Gaming joins us to discuss Sony's PlayStation 4 launch. Is the PS4 being well received and are there any day one update issues? Also will gamers go for the PS4 or Microsoft's Xbox One? Amazon announces Sunday delivery will begin for Los Angeles and New York. What products will be offered for Sunday delivery? Snapchat reportedly slapped down a $3 billion offer from Facebook. What would Facebook do with Snapchat? Comcast may begin selling movies via its cable boxes. Verizon admits it can't handle LTE demand in major cities. And the Australian Posts Service introduced video stamps. Should the USPS offer video stamps?

Tech News Weekly Ep. 123 – Verizon Misses the Nexus 11-1-13

The new iPad Air launches. Andrew talks about his experience buying one. Was there a line? Google announces the much anticipated Nexus 5 Android smartphone. Andrew rants about why he is so mad at Verizon for not carrying it. Why won't Verizon sell the Nexus 5? Google also announces improvements to Hangouts. Andrew and John discuss the changes. Sony's shiny new PlayStation 4 will require a day 1 update. Will it be the Nintendo Wii U launch distaster all over? Facebook considers tracking your mouse cursor to improve its ads. Is that going to far? And Samsung beats out Apple in J.D. Power's tablet satisfaction study. Is their study accurate?

Tech News Weekly Ep. 122 – Apple Airs It All 10-25-13

Apple announced several new devices and app refresh at it's event this week. Andrew and John discuss the new iPad Air, iPad Mini with Retina, MacBook Pros, OS X Mavericks. They also try to make sense to why Apple is still selling the iPad 2 and the cost for the new Mac Pro. Is there any good reason for Apple to still be selling the iPad 2? Nokia also announces the Lumia 1520, a 6 inch Windows Phone, and Lumia 2520, a 10 inch Windows RT tablet. Do we really need another Windows RT tablet? And BlackBerry begins rolling out BBM, again. John gives a quick review. Is it worth downloading?

Tech News Weekly Ep. 121 – Apple Has A Lot To Cover 10-18-13

Apple officially it has a lot to cover at it's October 22 event. Andrew and John discuss what to expect from the event including the new iPad, iPad Mini and Mavericks. But what about pricing for the new Mac Pro and could there also be a new Apple TV? Google's Nexus 5 briefly leaks on eBay. Andrew tries to explain why the Nexus 5 and Android 4.4 is a big deal to John. Microsoft releases Windows Phone GDR3 update. What are the improvements to Windows Phone 8? Twitter may launch a stand alone private messaging app. Would anyone use a Twitter message app? And our Picks of the Week.

Tech News Weekly Ep. 120 – Where Is Your Privacy 10-11-13

Reports suggest Apple may hold an event October 22 for the new iPad. Does it need something special this year? BlackBerry says it is developing an enterprise cloud service for iOS and Android. Will anyone use the service knowing the state of BlackBerry? Samsung launches the first curved smartphone. Why is curved a big deal? Google TV to be renamed Android TV. What's Google's reason for rebranding Google TV? Nielsen begins tracking TV ratings via Twitter. How accurate are they? And the NSA secretly ran tests to track cell phones. Andrew, John, and Colm launch into a privacy debate. Plus our Picks of the Week.

Tech News Weekly Ep. 119 – Bye Bye BlackBerry 9-27-13

BlackBerry has a really bad week announcing delays with the roll out of BBM for Android and iOS, a large loss due to poor sales of the BlackBerry Z10, and a 4.7 Billion dollar buy out. What will happen to BlackBerry after being sold? Microsoft officially unveils the Surface 2 and Surface Pro 2 tablets. What's changed and will anyone be interested in them? Valve announes SteamOS, Steam Box, and Steam controller. Colm breaks down what these all mean for gamers. Grand Theft Auto V sales reach 1 Billion dollars in it's first 3 days. Andrew, John, and Colm discuss whether or not GTAV should be for adults only. And a new report claims Apple may not launch an iPad mini with Retina along side the iP...

Tech News Weekly Ep. 118 – Two New iPhones 9-13-13

Apple officially announces the iPhone 5C and 5S. Andrew Zarian and John Bubb discuss Apple's newest iPhones. Do they live up to what was expected? Microsoft plans event in NYC to unveil the Surface 2. What does Microsoft need to do to improve Windows 8 and Surface tablet? Twitter finally files for an IPO. Will their IPO be a success or blunder? NSA disguises itself as Google to collect data, and Verizon tries to kill net neutrality. Is the internet as we know it over? BlackBerry says it submitted BBM to Apple weeks ago. Does BBM on iOS make sense still? Also Dell approves Michael Dell's buy out, Nokia Lumia 1520 may have a 6 inch screen, and our Picks of the Week.

Tech News Weekly Ep. 117 – A Nokia Geared Microsoft 9-6-13

Microsoft acquires Nokia for $7 Billion. Is this a smart move for Microsoft? Ballmer confirms Stephen Elop is being considered for being Microsoft's next CEO. Is Elop a good choice? Apple announces an iPhone event for September 10. Will the next iPhone have a fingerprint scanner? Google announces Android 4.4 KitKat. Samsung announces the Galaxy Note 3 and Galaxy Gear smartwatch. Andrew, John, and Colm discuss Samsung's newest offerings. Microsoft confirms November 22 for the launch of Xbox One. Colm explains why he thinks the launch should be earlier. Also Yahoo unveils a new logo and HDMI 2.0 officially announced.

Tech News Weekly Ep. 116 – Steve Ballmer Retires 8-23-13

Microsoft CEO Steve Ballmer announces he will be retiring as CEO in the next year. Who should replace Ballmer as CEO of Microsoft? Lenovo starts shipping PCs with a start menu replacement. Does this indicate Windows 8 is a failure? Sony announces the PlayStation 4 will hit stores on November 15th. Will the Xbox One launch before the PS4? Latest rumors say the iPhone 5C could replace the current iPhone 5. Does that make any sense? Warner Brothers announces Ben Affleck will play Batman in the Man of Steel 2 movie. Is Ben Affleck the wrong person to portray Batman? And Microsoft says the Xbox One will never sell without Kinect.

Tech News Weekly Ep. 115 – The Next iPhone Event 8-16-13

Michael Manna joins Andrew Zarian and John B. for this weeks show. John talks with Michael and Andrew about the new ATR2100 USB microphone he got and why it's so good for podcasters. September 10th gets pegged for an Apple event where a new low cost iPhone and iPhone 5S are rumored to launch along side iOS 7. Could there be a finger print sensor and gold iPhone this year? BlackBerry confirms it is looking at strategic alternatives such as selling the company or going private. Does this mean BlackBerry is finished? Also confirmed is the official release date for Windows 8.1. And Microsoft says it will stop selling PC games on Xbox.com. Michael rants about Microsoft's recent string of reversal...

Tech News Weekly Ep. 114 – Time Warner vs CBS Showdown 8-9-13

Time Warner Cable blacks out CBS over fee dispute. Is CBS asking for too much money or is Time Warner shafting it's customers? Andrew, John, and Jim discuss Apple's long rumored low cost iPhone 5C. Does it make sense for Apple to have a low cost iPhone? A study says most iOS apps will need to be updated for iOS 7. Is this going to be trouble for developers. A new rumor purports Amazon may launch an Ouya like console this year. Will people be interested in an Amazon set top box? Asus stops plans to support Windows RT. Is Windows RT a disaster? And our picks of the week.