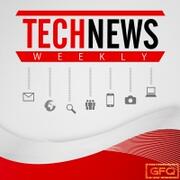 Tech News Weekly Ep. 142 – OnePlus One Hype 8-1-14

A new round of funding for SnapChat suggests it's value could be as much as $10 billion. Is SnapChat over valued? Samsung sees its lowest profit in years. Is the smartphone market over saturated? Andrew and John discuss the hype surrounded the OnePlus One Phone. French company Iliad makes a bid for T-Mobile. Could it have an easier time getting approved than Soft Bank? New malware dubbed BadUSB can hide undetected on any USB device. What can you do to protect yourself from USB malware? And ISPs admit their home internet services do no suffer from network congestion. So why do ISPs want to cap your bandwidth?

Tech News Weekly Ep. 141 – Netflix's New Privacy Twitch 7-25-14

Verizon FiOS ups their upload speed to go just as fast as download speed. Why don't more ISPs offer symmetrical internet speeds? Netflix is testing a new private mode. Should they roll it out to all users? Google is yet again rumored to be buying Twitch for $1 billion. What makes Twitch worth a billion dollars? YouTube star Michelle Phan faces a lawsuit over the background music in her videos. Is the record label unfairly targeting Michelle? Amazon debuts their version of a digital Wallet and new rumors of a 4K Apple monitor.

Tech News Weekly Ep. 140 – Microsoft Cuts Weight 7-18-14

Microsoft announces plans to cut as many as 18,000 employees, most from their recently acquired Nokia devices division. What does this mean for the future of Windows Phone? BlackBerry announces it is building their own virtual assistant, BlackBerry Assistant. Apple and IBM forge a partnership to put more iOS devices in the workplace. What enterprise level apps could we see? Latest rumors say as many as 3 different iWatches could be launching this year. Google Plus let's you finally choose any name you want, well sort of. And Andrew and John discuss the awful Comcast retention phone call.

Tech News Weekly Ep. 139 – Google Everything 6-27-14

Andrew and John discuss Google I/O 2014. Is Google heading in the right direction with Android L, Android Wear, Android TV, and Android Auto? US Supreme Court rules Aereo's streaming service is illegal under copyright law. Is this the end for Aereo? Nest acquires Dropcam for $555 million. Will Google benefit from Nest's acquisition of Dropcam? And YouTube announces new support for 48fps, 60fps videos, and a tip jar for donation.

Tech News Weekly Ep. 138 – WWDC 14 Recap 6-6-14

Apple announces Mac OS X 10.10 Yosemite and iOS 8 at this year's WWDC 2014 keynote. Andrew and John discuss Yosemite, iOS 8, along with Apple's other announcements of HomeKit, and HealthKit. Is iOS 8 simply catching up to Android? Amazon plans a launch event for June 18. Will we finally see an Amazon phone? Verizon sends a cease and desist letter to Netflix over their new error message showing up to some users. Who's to blame for the issues between Verizon and Netflix? And Sprint agrees to buy T-Mobile. Will they have better luck acquiring T-Mobile than AT&T?

Tech News Weekly Ep. 137 – Apple Running Your Home 5-30-14

Apple acquires Beats Electronics for $3 billion. How will Apple utilize Beats? Apple is also rumored to focus on home automation in iOS 8. Will it simply be a certification process? YouTube will soon let you crowdfund your videos. NFL will bring it's online network to Roku, Fire TV and Kindle Fire. Is this the beginning of the end for cable TV? Amazon Prime may launch their own streaming music service. A message on TrueCrypt's web site says it is no longer safe to use. What happened? And Kickstarter backers pledge over $1 million to bring Reading Rainbow to the web.

Tech News Weekly Ep. 136 – Super Surface 5-23-14

Microsoft unveils the new Surface Pro 3 at an NYC event this week. Does Microsoft finally have a successful tablet? AT&T announces it will buy DirecTV for nearly $50 billion. Will AT&T's acquisition of DirecTV pass federal regulators? Google is rumored to be close to buying streaming video service Twitch. What should Google do if it acquires Twitch? Comcast and Time Warner Cable voted most hated ISPs in America. Could Comcast customer satisfaction become worst after taking over TWC? And Andrew solicits viewers help for selecting a new laptop.

Tech News Weekly Ep 135 – Netflix On Your DVR 4-25-14

After years of rumors, Netflix is set to raise prices for new customers, and come to cable boxes. Should cable companies let Netflix manage their on demand services? Dish is reportedly looking into launching an internet TV service to reach a younger audience. Will millennial's be the reason cable companies finally embrace internet delivery? Amazon announces Prime Pantry, a service that ships you 45 pounds of groceries for $6. Who benefits the most from this new service? And a new survey shows Americans are optimistic about technology, except for drones and robots.

Tech News Weekly Ep. 133 – Heartbleed 4-11-14

A 2 year old vulnerability on the web affect more than half of the web is discovered. What is it and who is affected by the Heartbleed bug? A new rumor suggest Apple may sell two iWatch sizes. Is it pure speculation or is there any truth to the rumor? Microsoft announces Skype TX, a studio-grade version of Skype. Andrew Zarian fills us in on the demo he saw at NAB. BlackBerry announces it will not renew T-Mobiles license to sell BlackBerry devices. What happened between BlackBerry and T-Mobile? And Amazon launches Fire TV. How does it compare to Roku and Apple TV?

Tech News Weekly Ep. 132 – iOS 8 Getting Fit 3-14-14

Leaked screenshots of iOS 8 show new icons for Healthbook and TextEdit. Andrew and John discuss Apple's new focus on health and fitness. Sony and Panasonic announce a new Archival disc for long term storage. Do we still need optical discs for storage? CBS could become an internet only network if Aereo wins in court, so says CBS Chief Les Moonves. Why do the networks dislike Aereo so much? Amazon announces Prime subscription fees will rise to $99. Is Amazon Prime still worth it at $99 a year? And a Mom sues Google after her 5 year old spends $45 on virtual currency. Should Google be held accountable for these mistakes?

Tech News Weekly Ep. 131 – Apple CarPlay Makes It's Debut 3-7-14

Apple CarPlay, formerly iOS in the car, makes it's debut inside Mercedes and Ferrari vehicles. Andrew and John discuss their thoughts on the CarPlay interface. Twitch takes game broadcasting mobile. Will people be interesting in streaming their mobile gaming? Roku announces a $50 streaming stick to compete against Chromecast. How does it compare to the Roku 3? RadioShack announces plans to close 1,100 stores. Is there still a need or RadioShack in the current era? New Keurig brewers to include DRM to exclude unlicensed K-Cups. What does this mean for K-Cup consumers? And our Picks of the Week.

Tech News Weekly Ep. 130 – Bitcoin Brouhaha 2-28-14

Andrew and John discuss the Samsung Galaxy S5 and Nokia X Android phone announcement from Mobile World Congress. Why is Nokia launching an Android phone? Netflix agrees to pay Comcast to help skip the middlemen. Does this go against open internet rules? Popular Bitcoin exchange Mt. Gox files for bankruptcy protection. Should the US ban Bitcoin? Sony to shutter most of it's US stores. Did anyone shop at Sony stores? Ford may be looking to replace Microsoft with BlackBerry in new vehicles. Would such a move save BlackBerry? Also Facebook buys WhatsApp, Google announces plans to roll out Fiber to more cities, and T-Mobile gets an earful from BlackBerry's CEO.

Tech News Weekly Ep. 129 – Start Screen Skip 1-31-14

A new rumor suggests that the Windows 8.1 update might skip the Start screen by default. Is Microsoft listening to feedback once again? Lenovo buys Motorola's handset business from Google. What will Lenovo do with Motorola? Amazon says it is considering a $40 price increase for Prime subscriptions. Would a 50% price increase make the service too costly for consumers? Microsoft is rumored to name Enterprise chief Satya Nadella as it's new CEO. Is Nadella a good choice for CEO of Microsoft? Also TigerDirect will begin accepting Bitcoin payments, and Apple may be consider two iPhones with larger screen sizes.

Tech News Weekly Ep. 128 – CES and Tech 1-17-14

Andrew, John, and Nick recap CES 2014. What products stuck out the most and what about this years hype surrounding 4k TVs? Google acquires home automation company Nest. Could a Google connected home be in the works? WWE announces it's own streaming network. Does this signal the end of traditional cable? AT&T says businesses can now foot the bill for consumers wireless date use. What does this mean for Net Neutrality? And digital music sales decrease for the first time ever. Is music piracy on the rise?

Tech News Weekly Ep. 127 – The NSA Plays Xbox 12-13-13

Andrew updates us on how he is doing with the LG G2. Google may be launching a Nexus branded set top box next year. Will Google abandoned it like previous TV products it's launched? The NSA reportedly is infiltrating Xbox Live and World of Warcraft to hunt for terrorist. Has the NSA gone too far? Andrew, John, and Nick discuss whether or not the NSA is over reaching. New rumors suggest Microsoft may be adding the start menu back as an option in a future version of Windows. Nokia may be launching an Android device. Should Nokia have gone to Android sooner? And YouTube lists the top 10 viral videos of 2013.

Tech News Weekly Ep. 126 – Black Friday and Cyber Monday Mania 12-6-13

Andrew Zarian and John Bubb discuss Black Friday and Cyber Monday Mania. What were the big deals to be had? Amazon's Jeff Bezos says they are working on delivering packages by drones. Are Amazon drones just fantasy or a futuristic idea? Android's KitKat claims 1.1% after just a month while iOS 7 captures more than 70% of iOS devices after 3 months. Does Android lack the ability to effectively release a new OS? Next Windows release to be code named Threshold. What will the next version of Windows improve upon? A new report claims Apple is testing a 12.9 inch iPad. Do we really need a bigger iPad? And our Picks of the Week.

Tech News Weekly Ep. 125 – Xbox One Launch 11-22-13

Microsoft's Xbox One finally arrives. Nick from Radar Gaming gives us a run down of Microsoft's next gen gaming system. How does it compare to the PlayStation 4? Also who has the better online network, Sony or Microsoft? Major League Gaming launches MLG.TV. Has e-Sports reached a new high? Selfie beats out twerking for word of the year. Should these words be included in a dictionary? Winamp announces it's shutting down next month marking the end of an era. What happened to Winamp? And a Chinese company wants to offer you 10TB of cloud storage. Is there a catch?

Tech News Weekly Ep. 124 – Sony PlayStation 4 Launch 11-15-13

Nick Craig from Radar Gaming joins us to discuss Sony's PlayStation 4 launch. Is the PS4 being well received and are there any day one update issues? Also will gamers go for the PS4 or Microsoft's Xbox One? Amazon announces Sunday delivery will begin for Los Angeles and New York. What products will be offered for Sunday delivery? Snapchat reportedly slapped down a $3 billion offer from Facebook. What would Facebook do with Snapchat? Comcast may begin selling movies via its cable boxes. Verizon admits it can't handle LTE demand in major cities. And the Australian Posts Service introduced video stamps. Should the USPS offer video stamps?

Tech News Weekly Ep. 123 – Verizon Misses the Nexus 11-1-13

The new iPad Air launches. Andrew talks about his experience buying one. Was there a line? Google announces the much anticipated Nexus 5 Android smartphone. Andrew rants about why he is so mad at Verizon for not carrying it. Why won't Verizon sell the Nexus 5? Google also announces improvements to Hangouts. Andrew and John discuss the changes. Sony's shiny new PlayStation 4 will require a day 1 update. Will it be the Nintendo Wii U launch distaster all over? Facebook considers tracking your mouse cursor to improve its ads. Is that going to far? And Samsung beats out Apple in J.D. Power's tablet satisfaction study. Is their study accurate?

Tech News Weekly Ep. 122 – Apple Airs It All 10-25-13

Apple announced several new devices and app refresh at it's event this week. Andrew and John discuss the new iPad Air, iPad Mini with Retina, MacBook Pros, OS X Mavericks. They also try to make sense to why Apple is still selling the iPad 2 and the cost for the new Mac Pro. Is there any good reason for Apple to still be selling the iPad 2? Nokia also announces the Lumia 1520, a 6 inch Windows Phone, and Lumia 2520, a 10 inch Windows RT tablet. Do we really need another Windows RT tablet? And BlackBerry begins rolling out BBM, again. John gives a quick review. Is it worth downloading?

Tech News Weekly Ep. 121 – Apple Has A Lot To Cover 10-18-13

Apple officially it has a lot to cover at it's October 22 event. Andrew and John discuss what to expect from the event including the new iPad, iPad Mini and Mavericks. But what about pricing for the new Mac Pro and could there also be a new Apple TV? Google's Nexus 5 briefly leaks on eBay. Andrew tries to explain why the Nexus 5 and Android 4.4 is a big deal to John. Microsoft releases Windows Phone GDR3 update. What are the improvements to Windows Phone 8? Twitter may launch a stand alone private messaging app. Would anyone use a Twitter message app? And our Picks of the Week.

Tech News Weekly Ep. 120 – Where Is Your Privacy 10-11-13

Reports suggest Apple may hold an event October 22 for the new iPad. Does it need something special this year? BlackBerry says it is developing an enterprise cloud service for iOS and Android. Will anyone use the service knowing the state of BlackBerry? Samsung launches the first curved smartphone. Why is curved a big deal? Google TV to be renamed Android TV. What's Google's reason for rebranding Google TV? Nielsen begins tracking TV ratings via Twitter. How accurate are they? And the NSA secretly ran tests to track cell phones. Andrew, John, and Colm launch into a privacy debate. Plus our Picks of the Week.

Tech News Weekly Ep. 119 – Bye Bye BlackBerry 9-27-13

BlackBerry has a really bad week announcing delays with the roll out of BBM for Android and iOS, a large loss due to poor sales of the BlackBerry Z10, and a 4.7 Billion dollar buy out. What will happen to BlackBerry after being sold? Microsoft officially unveils the Surface 2 and Surface Pro 2 tablets. What's changed and will anyone be interested in them? Valve announes SteamOS, Steam Box, and Steam controller. Colm breaks down what these all mean for gamers. Grand Theft Auto V sales reach 1 Billion dollars in it's first 3 days. Andrew, John, and Colm discuss whether or not GTAV should be for adults only. And a new report claims Apple may not launch an iPad mini with Retina along side the iP...

Tech News Weekly Ep. 118 – Two New iPhones 9-13-13

Apple officially announces the iPhone 5C and 5S. Andrew Zarian and John Bubb discuss Apple's newest iPhones. Do they live up to what was expected? Microsoft plans event in NYC to unveil the Surface 2. What does Microsoft need to do to improve Windows 8 and Surface tablet? Twitter finally files for an IPO. Will their IPO be a success or blunder? NSA disguises itself as Google to collect data, and Verizon tries to kill net neutrality. Is the internet as we know it over? BlackBerry says it submitted BBM to Apple weeks ago. Does BBM on iOS make sense still? Also Dell approves Michael Dell's buy out, Nokia Lumia 1520 may have a 6 inch screen, and our Picks of the Week.

Tech News Weekly Ep. 117 – A Nokia Geared Microsoft 9-6-13

Microsoft acquires Nokia for $7 Billion. Is this a smart move for Microsoft? Ballmer confirms Stephen Elop is being considered for being Microsoft's next CEO. Is Elop a good choice? Apple announces an iPhone event for September 10. Will the next iPhone have a fingerprint scanner? Google announces Android 4.4 KitKat. Samsung announces the Galaxy Note 3 and Galaxy Gear smartwatch. Andrew, John, and Colm discuss Samsung's newest offerings. Microsoft confirms November 22 for the launch of Xbox One. Colm explains why he thinks the launch should be earlier. Also Yahoo unveils a new logo and HDMI 2.0 officially announced.

Tech News Weekly Ep. 116 – Steve Ballmer Retires 8-23-13

Microsoft CEO Steve Ballmer announces he will be retiring as CEO in the next year. Who should replace Ballmer as CEO of Microsoft? Lenovo starts shipping PCs with a start menu replacement. Does this indicate Windows 8 is a failure? Sony announces the PlayStation 4 will hit stores on November 15th. Will the Xbox One launch before the PS4? Latest rumors say the iPhone 5C could replace the current iPhone 5. Does that make any sense? Warner Brothers announces Ben Affleck will play Batman in the Man of Steel 2 movie. Is Ben Affleck the wrong person to portray Batman? And Microsoft says the Xbox One will never sell without Kinect.

Tech News Weekly Ep. 115 – The Next iPhone Event 8-16-13

Michael Manna joins Andrew Zarian and John B. for this weeks show. John talks with Michael and Andrew about the new ATR2100 USB microphone he got and why it's so good for podcasters. September 10th gets pegged for an Apple event where a new low cost iPhone and iPhone 5S are rumored to launch along side iOS 7. Could there be a finger print sensor and gold iPhone this year? BlackBerry confirms it is looking at strategic alternatives such as selling the company or going private. Does this mean BlackBerry is finished? Also confirmed is the official release date for Windows 8.1. And Microsoft says it will stop selling PC games on Xbox.com. Michael rants about Microsoft's recent string of reversal...

Tech News Weekly Ep. 114 – Time Warner vs CBS Showdown 8-9-13

Time Warner Cable blacks out CBS over fee dispute. Is CBS asking for too much money or is Time Warner shafting it's customers? Andrew, John, and Jim discuss Apple's long rumored low cost iPhone 5C. Does it make sense for Apple to have a low cost iPhone? A study says most iOS apps will need to be updated for iOS 7. Is this going to be trouble for developers. A new rumor purports Amazon may launch an Ouya like console this year. Will people be interested in an Amazon set top box? Asus stops plans to support Windows RT. Is Windows RT a disaster? And our picks of the week.