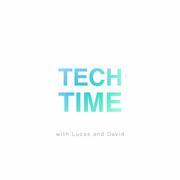 Tech Time News - July 29th 2014

Welcome to the first episode of Tech Time News! To watch this on youtube, visit https://www.youtube.com/watch?v=zUD4LNvOCkw Tech Time on Twitter: @techtimepodcast Visit our website techtimepodcast.webs.com

Does Apple Already Have a Smartwatch?

Hello everyone! Today we have a very good show for all of you. Follow us on Twitter @techtimepodcast and visit our website www.techtimepodcast.webs.com

Jam Packed Super Fun Episode!

Wow we have a LOT to talk about!!! Show notes are here: https://docs.google.com/document/d/1VBBT4KOef9fVwn-actipxJ6ncEiy19ss6EuarfYSVaQ/edit Find us @techtimepodcast or on www.techtimepodcast.webs.com

Is Apple Our Of Their Mind?

Hello everybody, today we talk about Samsung's new tablets, the new Amazon Fire phone, Apple news, and more! Visit our website www.techtimepodcast.com or tweet us @techtimepodcast

Note 4 Specs And Other Things LEAKED?!?!

Hello everyone! Tonight's episode is all things LEAKED! For example, Samsung's Galaxy Note 4 specs have been leaked, along with NHL 15's gameplay demo, Netflix passwords, and even MORE!!! You can find us at techtimepodcast.webs.com @techtimepodcast and youtube.com/thetechtimepodcast

WWDC Recap and More!! - Tech Time

We have a #AWESOME episode for you guys and gals today! Starting it all off is a WWDC recap, then our apps of the week, and an overview of the NEW Beats Solo 2 headphones!!! Visit our website: techtimepodcast.webs.com and tweet us or follow us on twitter @techtimepodcast Thanks for all your support!!

Gaming Wars, DEBATES! And More!

This is a JAM-PACKED Episode full of interesting content and opinions from our guest, Tyson! Unfortunately Lucas was unable to make it, but will be back next week. Visit our website techtimepodcast.webs.com for even more!

Beats by Steve

We are here once again to talk about E Ink displays, cool apps for iPhone and Android, Apple's acquisition of Beats, and more!!