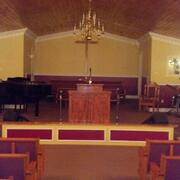 Who let the dogs out?

The boundaries to blessing

Someone Drag It Out Of The Road

Someone Drag It Out Of The Road

Karen Harvey "The five fold ministry"

Listen in as Karen Harvey teaches about the five fold ministry.

The Finisher

The finish line is just ahead. Don't give up, don't quit.

Karen Harvey

What does the fox say

Bringing God back

Preston Haddix

Praise ye the Lord

Jeff Osborne

Rattling of old bones

Bill Caudill

Thomas Adams

Brother Thomas Adams teaches during our Wednesday night service.

God's going to move

Bro. Fugate

Missionary from Mexico

Beat up but still standing

6-6-2014 Christina Fox and Lily Barnett

Join us as these two women of God tag team preach tonight.

Bill Caudill

Karen Harvey

Using what you have

Pastor preaches on using what you have for the Lord.

Terry Joseph

Without a vision

God uses weak things

Repent

5-21-2014 The Holy Ghost

Wednesday night teaching on the holy ghost.

The Secret of Faith

Compromise

Wednesday Night Teaching

Your word your way

Join us as tonight's evangelist preaches God's word.

An Experience

Have you had a true experience with Jesus? Please join Pastor Buddy Turner as he preaches his sermon on "An Experience"

Lindon barger

The tomb is not empty

You're a Fighter

Karen Harvey

He folded the napkin.

The Lost Plain

Listen to Pastor Buddy Turner as he compares losing the Malaysian flight 307to losing our PLAIN religion.