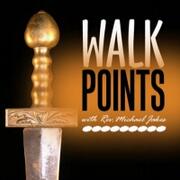 THE DEVIL'S JOY pt.2

There a few more things that we do that the devil appreciates-don't get caught making him happy.

THE DEVIL'S JOY pt.1

No, scripture obviously doesn't mention anything about the devil having any joy, but I really believe he appreciates some of the nonsensical things we do in the name of Christianity, all the while thinking we have the Lord's approval; the enemy on the other hand simply smiles and says 'Thank you for doing what you're doing!'

HANDLE WITH CARE

How shall we escape if we neglect so great a salvation? This is the question asked by the writer of Heb.2:3. This question is for those who have already received. You may say, 'How is it possible to do this?' It happens when we are not careful with this gift that has been given to us. Handle it with care.

NO DISTRACTIONS

Nothing slows down our Christian walk like distractions. Distractions of all kinds from every side. We must be careful to remain focused and keep our eyes on Jesus at all times. The Enemy wants to turn our heads-but we cannot allow him to have his way.

IN THE GARDEN

Jesus' ultimate victory in the garden of Gethsemane, did not seem to come easy. There was agony and there was suffering-but there was no defeat. When we find ourselves dealing with our 'Gethsemanes', there is so much we can learn if we trust God.

THE OVERPOWERING LIFESTYLE

One of the things that the Christian life should be characterized by is WATCHFULNESS. Not just watching out for the devil-that's obvious. We need to watch out for ourselves. Being careful that the things we do don't cancel out the good things we say. Basically, we must practice what we preach.

THE BEREAN SPIRIT

The Psalmist had it right. He said that those who love His law (Word) have great peace (Psa.119:165). This can only happen when we make time to read it-and read it with the proper attitude. The Bereans in Acts chapter 17 had that proper attitude. We all need some of that 'Berean spirit'.

UNDER THE SUN

King Solomon was a 'been there, done that' type of person. In his pursuit of pleasure, one of the came conclusions he came to was that there was 'no new thing under the sun'. We must guard against living our lives apart from the leadership of the Lord, and keep first things first while we do His will and not our own.

PECULIAR AND PROUD

The world may think we are peculiar, and we are-in the biblical sense. Biblically speaking, our 'peculiarity' stems from the fact that we are God's own special people. Yes, we are unique!

BLINDED MINDS

The real problem in the world today is that people simply don't know Jesus. The enemy is doing all he can to keep the light of the gospel from reaching the unsaved. What are we doing to insure that they do see it?

CHOSEN NOT FROZEN

From the foundation of the world we have been chosen, and that carries with it responsibility; to do, and to be all that He has chosen us to be in Him. We cannot allow the world to get us to slow down-to the point of a stand still.

THE DEFINITION OF YOU

As the world tries to redefine Christianity and Christians, we must be steadfast and keep who we are in Christ ever before us...because sometimes we forget. We must always remember that the definition of who we are is all wrapped up in Him.

THE DYING DISCIPLINE

Bible study is probably the most basic of all Christian disciplines; yet it is the most neglected. That which we need the most is the most ignored. There are reasons, but no reason is good enough. e need to rearrange our lives and make room for it. This dying discipline must not be allowed to die in us.

THE HOUSE OF GOD

The Lord has much invested in His house. His name, eyes and heart are forever associated with it. Jesus Himself specifically said that His house is to be a house of prayer. We must be mindful of this at all times because along with being a house of prayer, it is a house of so much more.

THE BATTLE TO PRAY

It has been said that the biggest battles are fought on your knees. This rings true for those who are standing in the gap and praying for the lost. Prayer is a dying discipline. 'It's too difficult', some say. Or, 'I don't have time.' Whatever the ecuse, there is no reason not to pray. But once you enter in, the enemy will battle you. Will you persevere?

WHO, ME SANCTIFIED?

God spoke it loud and clear. 'Be holy, for I am holy.' No wiggle room. No options. The fact is, many Christians either don't live holy or feel holy. However, God will never call anyone and not enable to do and be what He asks or commands. As I am submitted to Him, sanctification will be a natural outgrowth of my obedience. He will bring it to pass.

WEAPONS OF POWER

Ask anyone and they will tell you that weapons enhance an individuals' effectiveness-especially in a battle. The same holds true in the spiritual realm; except that our weapons are mighty through God. These 'weapons of mass destruction' help us to gain and maintain victory over the devil in our daily battles.

THE SNOWBALL EFFECT OF SIN

Sin is relentless. This is why it must be effectively and forcefully dealt with in all of its forms. Sins of omission and commission, barrel toward us seeking to bury us along with our testimony. But God is greater. He promises that sin shall not have dominion over us.

THE POWER OF ONE

ONE may be a lonely number, but it's also powerful. Coupled with the right amount of focus, strength and awareness, ONE can be the most powerful thing you can do. Though different for each person, sometimes there's only one thing necessary to bring change to your life.

STAYING IN THE CLOSET

There a times when it is necessary to get alone with God and seek His face for the needs of ourselves and others. We need to find a private place; a personal place, free from distraction where we can commune with Him one on one. Jesus said to go into our 'closet'. Do you have a 'prayer closet'?

FOR SHEPHERDS ONLY

Shepherds, or more commonly known, pastors, serve a very important role in the kingdom of God. They are called to feed the flock that has been entrusted to them. They are to lead, guide and protect, but so much more. A simple overview of the pastor's role.

THE MINISTRY OF THE THORN

Thorns are painful. Thorns are uncomfortable. In the same way, thorns are painful in life. But believe it or not, they serve a purpose greater than we can see. When we look at it this way, we understand that thorns are a ministry to us.

WORKING IT OUT

In order to 'maintain our edge' in this Christian life, there are certain things we need to do, remembering that we are not alone-God is working in us to will and to do of His good pleasure.

ITS NOT WHAT YOU KNOW...

Knowing a thing is good, but with knowledge comes responsibility. What I am going to do with what I know? The more you know about Jesus, the more responsible you are to do something about it. Knowing about Him is good, but KNOWING Him is so much better.

CHRISTIANITY IS...

Properly spoken, Christianity is the body of doctrine consisting of the teachings and way of life made possible by the life, death and resurrection of Jesus Christ. But on a practical level, it is so much more. Called a religion by most, it is the single most important relationship you can have.

THE LOST WORD

We face a very real danger when we ignore the Word. When that happens we run the risk of losing the Word. We will lose it in our lives, our homes-and even in the house of God.

UNBREAKABLE

The Word of God has stood the test of time and will continue to do so. Transmitted to us by the breath of God; protected for us by the power of God. One thing is true-scripture cannot be broken.

STRETCHING OUT

When we find ourselves in need, and we know that it's only the Lord who can help, we need to stretch out to Him in faith. Sometimes it's not so easily done; we have to overcome the barrier called SELF.

REAL REVIVAL

In any given church at any given time, you will find a revival taking place. Only many of these revivals have been called by men and not sent by God; for when real revival takes place, real change takes place. The question is then, What is real revival?

THE INNKEEPERS TUNE(SPOKEN)

During this time of the year so many are out and about trying buy this and do that. What happens many times is that Jesus is lost in the shuffle. The words to this little song bear out the importance of recognizing Jesus and making room for Him in our lives. Have you made room for Jesus?

EMPTY BLESSINGS

We need to be careful when we pray. As we petition the Lord, we must be sure that our prayers are according to His will. Anything less, if received, has the potential to be an empty blessing; something that does not deliver what is promised.

TRUSTING TRUTH

When you anchor yourself on truth, there will be nothing that is impossible to you. However, if you do not trust truth, and find yourself always doubting it, you complicate your life. the way to true freedom is to trust truth.

THE GRATITUDE ATTITUDE

Giving thanks is one of our basic disciplines, and yet many times it's the one thing we either forget or neglect for one reason or another. Sometimes it's the thing we feel does not warrant our thanks, that need all of our thanks.

SOUL PRAISE

Our praise to the Lord needs to come from our heart and soul. Anything less indicates that we are simply giving Him lip service. Praise needs to be generated from the right place. Let's bless Him with all our heart and soul.

NO IDENTITY CRISIS

We should never be confused about who we are in Christ. Without that sure knowledge, the enemy will surely try and make you who he wants you to be. Know who you are; no time for an identity crisis here.

THE RIGHT STUFF

It will take much grit, determination and fortitude to accomplish the Lord's will...we need to stand firm and not be moved by circumstances. We do it-when we have the right stuff.

PROFANITY IN THE PEWS

Christians who curse? I'm afraid the problem is rampant. Mouths and tongues should be taken to the water and washed with the Word. May our words ever be acceptable in His sight.

POSTURING FOR POWER

It's amazing how we can find the power we need through the weakness we have...power perfected in weakness...God is great!

WORDAHOLICS

Many have only a casual acquaintance with the Word of God. In this world, we need more than that. we need to be hopelessly devoted to the Word; addicted to the Word of God.

S.W.A.G.G.

There is a particular attitude and mindset that the child of God needs to have. The world would call it 'swag', or 'swagger', which carries with it the idea of arrogance and aggression. We actually do need s.w.a.g.g. An interesting acronym.

ZERO TOLERANCE

Do not allow the enemy to tell you who you are, or are not. You are who Jesus says you are. Do not tolerate his lies. Adopt a 'zero tolerance policy' in your life!

FIRESTARTERS

In order to instill passion in others, you first must have passion yourself.

SPIRITUAL SUCCESS

Success is not defined by how much you have...but by how much Jesus has of you-true spiritual success

RESILIENCE

As children of the King we must have the ability to bounce back from adversity...some good points from the Word of God

RIGHTEOUS ADDICTIONS

As we walk with the Lord, we should become increasingly 'addicted' to several things...these are righteous addictions

EVANGELISM CENTRAL

Evangelism is the single most important ministry in the life of the believer. Learn eight powerful walk points that will help you become more aware of the task ahead.