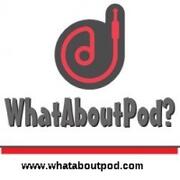 What About Pod? #51

The Dick Butkus edition! Squyres goes to traffic school, after running a stop sign and getting a ticket. Danah Palmer from "Journey Through Food And Wine" joins us just in time to cover everything Peep! Too many can give you beetus beetus.. diabeetus. News talks about interesting fundraisers, creepy feet guys, and a Rob Ford video game! This Week In Boobs returns this week, our weekly Game Of Thrones recap! Mix in a Cat Story of the Week, and This Week in Vocal Pauses, and you've got episode 51! Get you some today!

What About Pod? #50

On Golden Pod! Our 50th podcast kicks off with Ricciardi's imaginary fight with two guys at the gym who do not do leg day. We salute Canada in yet another "Spanning the Globe", and Ricciardi interviews Jill Castle from "Anthony's Daring Adventure"! News includes multiple lotto winners, porn searches, and some TV news. This week kicks off the "Bitch, Be Cool" anti-rant, as well! Wrap it up with Ratzilla in the CSOTW and some vocal pauses, and it's a wrap for the big five-O! Enjoy!

What About Pod? #49

It's your three favorite Saltine-Americans, and we're back for 49! We pay homage to the great country down under with Spanning the Globe - Australia! Wombat poop is a cube, ya dig? Ricciardi tells another tale of his past, in another Adventures in Online Dating.. this one's a thriller! We come back strong with another game of "Name That Substance!", and news includes a bacon alarm clock along with super sheep shearers. We update a previous CSOTW, and this week's vocal pauses are really something else. It's all what we call a podcast, and it's available now! Get some!

What About Pod? #48

Welcome to 48! Want to hear a dial-up modem impression? #ProducerJay is your guy! We hit on the "Cup Song" and Ricciardi's fascination with Pitch Perfect. Brand new "Is it -or- Is it?" this week. How well do you know your deodorant flavors? We also cram in a "Best" this week, highlighting the best and worst songs about infidelity! News includes unintentional laxatives, otters and the importance of searching yourself on the interwebs. Wrap it up with a cat that causes police to scramble and the Vocal Pauses, and you've got 48 in all its glory! Get it!

What About Pod? #47

Episode 47! We kick off with a 6-Pack Interview with Leo York from the "Inhabitants of Burque" Facebook Phenomenon! We debut "SmartPhone Roulette", which derails the show in short order. "Adventures in Online Dating", along with News, Entertainment Report, and much, much more. Don't miss this episode. It's hilarious!

What About Pod? #46

At long last, the Ugs do the Six Pack! Jamie and Paula from The Uglee Truth podcast join us for a glimpse of their meteoric rise in podcasting, and a lot of fun. We talk about John Travolta murdering names at the Oscars, and Ricciardi joins us via satellite to give us a man on the street view of the Chihuahua crisis in West Phoenix! Other news includes how to excite your alligator! We pay tribute to the great state of Washington, and Danah Palmer joins us to talk St. Patrick's Day traditions, and green beer. Wrap it up with some cat facts, and you've got a jam packed Episode 46! Guaranteed to please, or DOUBLE your money back!

What About Pod? #45

45? Already? We discuss the passing of Harold Ramis and have a little-known Ramis trivia fact for you! We kick off a BRAND NEW game.. "Name That Substance!" This one is pretty difficult, and the duo of Chrises struggle to name the illicit drugs that criminals were on at their time of arrest. News includes snake-bit preachers, bad movies on VHS and genius Girl Scout Cookie sales tactics! Entertainment Report talks about the Robin Thicke divorce. We close out with curling cats in the CSOTW, and all the Vocal Pauses your little ears can handle. Come get some!

What About Pod? #44

The Goldy Edition! Things kick off with how Ricciardi got sick, and Chris' diatribe about kickstarter projects for podcasting documentaries. Salute to Texas in this week's "Spanning The Globe"! We jump into "Is It -or- Is It?", the My Little Pony vs. Porn Star edition! News includes frozen rib chuckers and how LSD can turn you into your favorite TV crime fighter! We salute Jimmy Fallon in this week's Entertainment Report, and wrap it up with how many cats you can cram into a double-wide! All the insanity you've come to expect, with ZERO calories. Enjoy!

What About Pod? #43

The "Nozzle" Edition! Ricciardi is traveling this week, so it's a Chris and #ProducerJay chatstravaganza! We talk about bad roommates, fishing creels, and Ricciardi chimes in from the road throughout for a new Airport segment! We do a deep dive into Dumb Starbucks, Flappy Bird, and the Olympics. Entertainment news covers Bob Costas, The Beatles Anniversary, and how horrible John Mayer and Keith Urban are. As an added bonus, TWO Cat Stories this week, along with some Oompa Loompa Vocal Pauses! Behold and enjoy Episode 43!

What About Pod? #42

42! Afterall, it's the answer to the universe! We salute New York as an emerging market, and Chris Ricciardi kicks off a regular "Adventures in Internet Dating" segment. The first story is totally cringe-worthy! We slam another "Best" your way, dealing with great (and horrible) choices to impress your Valentine! News, Entertainment Report, the CSOTW (Cat Story of the Week) and Vocal Pauses round out another WAPtastic journey. Come get it!

What About Pod? #41

The third leg of the WAP tripod, finally revealed after an exhaustive interview process... Chris Ricciardi joins the show, and it starts of with another Smooth Move. We cover #ProducerJay's cough from Episode 39 in musical fashion, and make our Super Bowl picks. News includes exploding toilets, "The Boss with the Hot Sauce", and a Bryan Adams exorcism. The WAP Entertainment Report debuts, with some news about #DeportBieber, and the sad news of the impending Captain & Tennille divorce. The Systematic Throwing of Cats and Vocal Pauses round out our first of many 3-man shows! Enjoy!

What About Pod? #40

OMAHA! The late, great Pat Tillman edition kicks off with some woo-pitching for a future 6-Pack Interview. We delve into some quick Oscar nomination talk, followed by the possible "Redemption" edition of Is it -or- Is it? Producer Jay tries to fight back from his crushing defeat at the end of 2013. How much crap do we eat at Super Bowl parties? Danah Palmer from Journey through Food and Wine joins us for a Great Moment in Food History! News includes prognosticating camels, horrible baseball coaches, and horrible thieves. Wrap it up with Kitten and Puppy Bowl news, and you've got Episode 40. Guaranteed to please, or your money back!

What About Pod? #39

Episode 39 kicks off with #ProducerJay clearly playing injured.. We briefly talk all things Walter White and charity, before an extended interview with Author/Comedian Andy Martello about his new book "The King of Casinos: Willie Martello and the El Rey Club". The interview includes everything you'd want to know about Searchlight, Nevada and includes tidbits about The History Channel's "American Restoration" and "Pawn Stars". News includes a BBQ throwdown, chicken bones and marriage, and some Colorado highway theft. This week's cat is a survivor! Wrap it up with Vocal Pauses and we've successfully helped you blow 45 minutes of your week. Enjoy!

What About Pod? #38

Back in action; Episode 38! Hats off to our new largest market, San Francisco! To pay tribute, we do some "Spanning the Globe", just for you! We go over the best and worst break-up songs in yet another "BEST" segment. News this week includes the world's greatest meth-addicted multitasker, sports-related baby booms, and the visualization of whirrled peas. Danah Palmer also joins us and gives us everything you ever wanted to know about hot chocolate! Grab a mug, pull up a chair and enjoy!

What About Pod? #37

Results from the 2013 WAPpy Awards! The extravagant gala wrapped up just recently and we go over some of the award winners, and reveal "WAP Segment of the Year" live! News includes jail vs. time with your spouse, what to do with those unused holiday gift cards, and the most annoying words of 2013! Cat Story of the Week pays homage to some of our dearly departed feline friends who left us last year. Wrap it up with the first Karaoke Blast of 2014 and you've got Episode 37! Enjoy!

What About Pod? #36

The Double Dutch Jerome "Bus" Bettis edition! #ProducerJay's girlfriend makes an appearance, and puts his perfect record in "Is it -or- Is it?" to the ultimate test. Ikea furniture? LOTR character? Play along! We go over our New Year's Resolutions, and tackle some news including RedBox porn, booby-trapping girlfriends, and Instagram criminal masterminds! If you've ever thought about trying to feed 120 cats, you'll need to figure out the best way to pay for it. All this and more to close down 2013. Come get some!

What About Pod? #35

Our good buddy JR joins us for Episode 35! We relive a bit of episode 21 with a three-headed "Is It or Is It?". Groucho? Karl? Dick? Play along! News will help you with your Hall and Oates emergency.. A Santa-Con beatdown and a massive apology to Keenan Thompson (you'll understand when you listen). Christmas weed and Christmas Cats TV, plus a very special "This Week in Vocal Pauses" help us close out the big three-five! Get it now!

What About Pod? #34

It's Christmas time in Hollis, Queens! A Christmas themed episode 34. BEST kicks us off. Got your Christmas shoes on? Ugh. Danah Palmer joins us again, this time with EVERYTHING you ever wanted to know about fruitcake! News includes suicidal shoppers, rock biters, and professional cuddlers. Need a cat? Watch online for hours at a time before making your decision! It's all the little Christmas miracle we like to call Episode #34. Happy Holidays!

What About Pod? #33

We officially have a PLETHORA of podcasts! Storys of whining XBOXes, and Spanning the Globe - Arizona edition kick off Episode 33. News includes "Makin' it rain" at the mall, big huge tippers, methberry crunch ice cream and Amazon drones! Cats don't care what we say, but... they don't care what YOU say either! Wrap it up with a bow and let's call this 33, shall we?

What About Pod? #32

Good friend and local Phoenix comic Chris Ricciardi joins us to talk about sports, news, and his very own Smooth Move! News includes Twenty. Pound. Carp., exploding burritos, and precarious butt-dialing. What else but a Mayoral Cat finishes up a hilarious episode 32. Go get it!

What About Pod? #32

Good friend and local Phoenix comic Chris Ricciardi joins us to talk about sports, news, and his very own Smooth Move! News includes Twenty. Pound. Carp., exploding burritos, and precarious butt-dialing. What else but a Mayoral Cat finishes up a hilarious episode 32. Go get it!

What About Pod? #31

Ah yes.. a PRIME number.. We start off with a way to get your holiday shopping done quick and easy! Pearl Jam rules! Another riveting edition of "Is It.. or... Is it?" focusing on real and fake food figureheads! News includes nad staplers, Jean Claude Van Damme, and skydiving cats! We had a great Rocky segment that didn't make the show, unfortunately. However, this quick-blast podcast packs a punch! Get it!

What About Pod? #30

Everyone's back to full health, and #ProducerJay apologizes unnecessarily for his lack of communication! We kick of with a 6-Pack interview with Danah Palmer from "Journey through Food and Wine". Who would win in a fight between Rachael Ray and Giada De Laurentiis? The answers will amaze. News this week covers Carl's Jr. Theives, Chinese Leg Hackers and Russian Nut Nailers. Cat Pee Smell? Dude, you're gettin' a Dell! Turkey Facts and Vocal Pauses put a bow on the grand extravaganza that is Episode 30!

What About Pod? #29

After battling through the sickness that might bring about the Zombie Apocalypse, 29 is now ready for action! Quick review of the Podcast Awards nominations, we're back to our general WAPness with commentary on Nate Burleson, getting shot while sitting on the throne, and black lab pyromaniacs! A long list of cat facts for Cat Story of the Week, and a Red Dawn one-star spoiler alert. There may or may not be a Karaoke Blast involving a canadian pop star. Cannot confirm nor deny! Come get some!

What About Pod? #21

Our buddy JR joins us as our first in-studio guest, although it seems all we could find for a mic was a drive-thru speaker.... the show derails pretty quickly, but not before we pay tribute to China for becoming #2 on our "most downloaded" country list! A spirited game of "Is it.. or Is It?" ensues, and news includes cats (again.. cats), Pepsi Cheetos and Weed Arrows!

What About Pod? #22

The mighty double-deuce starts off with a quick numerology lesson relatable to classic NFL running backs. After we've scared off all the ladies, we get into do-it-yourself dog food, and "golden oldies". News includes Monopoly mysogony, Japanese KFC, and WE KNOW HOW MUCH PORN YOU'RE WATCHING!! Producer Jay's cat fetish takes on a whole new meaning.. so much so he's gotta SING to get over it. Join us for Episode 22!

What About Pod? #23

Powered by Schraderbrau! Episode 23 of course starts with Breaking Bad talk. Yes, Chris has a problem. Spanning the Globe includes our newest friends in France! News includes pathological generosity, and we BREAK THE CASE of the #NorthamptonClown! We fire up our "Best" segment to discuss TV themes, and Jay's Cat Story of the Week talks of a feline mayoral candidate. It's number 23, and it's available now!

What About Pod? #25

A quarter of the way to 100! We start out with a quick Northamtpon Clown/Beckham update, and march straight in to our new interview segment, the What About Pod? Six Pack! Producer Jay gets the dubious distinction of being our first interview. News includes Sex on Train Tracks, Praise Jesus and Chimpanzeezus, and Shotgun Gorillas! Wrap it all up with some Alvin, Simon and Theodore and you've got Episode 25!

What About Pod #26

The "Yellow Starburst of Loneliness" edition! #ProducerJay gets a shot at redemption with "Is it -or- Is it?". News includes the apple of Eminem's eye, the "Word To Your Mother" #VanillaIce jacket, and Chris derailing on metric system and daylight savings as a result of the Solo Cup conversation (he even lashes out at his favorite beer. It's quite moving). How to flip a quarter, and how to stress out your cat! All compliments of Episode 26. Come get some!

What About Pod? #27

Bon Voyage to our good buddy Q to start off Episode 27... which leads to a SPEAKPIPE CHALLENGE! Wanna win $25!? Hit us with your best Knock-Knock joke! This week we play BEST, and it's got everything to do with retro sports video games! Jack in the Box Violence, Black Ninja Burgers, the ULTIMATE HANGOVER cure, and an outright denouncement of words AND math! Cat Wine, Vocal Pauses, and much more! You won't get this anywhere else. Come get you some Episode 27!

What About Pod? #28

A special Halloween themed WAP! We throw another round of "Best" together, highlighting our favorite (and least favorite) Halloween/Spooky themed songs. News includes a squirrel shootout, a spooky CLOWN ASSASSIN, and the SCARIEST story to date...a Belieber undergoing plastic surgery to look more like the Beibs! Cat Story of the Week hits us with a cat that'll getcha HIGH.. but who needs that? WAP does the trick all by itself!