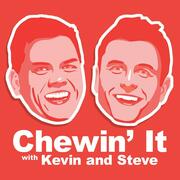 Jonah Ray

Jonah Ray (The Meltdown, Nerdist podcast, Jonah Raydio) joins Kevin & Steve to chat about Indian comedy partners vs. Pakistani comedy partners, the origins of the Meltdown, the new Comedy Central Show, Archie, working in a record store and as a bonus... Lemme & Jonah go head to head over the movie "North Shore!"  Enjoy the chew!

Adam Duritz

Adam Duritz: singer, songwriter, frontman for Counting Crows.  Kevin & Steve welcome Adam to chat about his new album Somewhere Under Wonderland, partying at Adam's house, weightlifting tunes, how Crows got their start, touring, producing movies together, Freeloaders and MUCH MORE! Get the new album Sept 2 and enjoy the chew!

Pete Holmes

Pete Holmes, comic, actor, You Made it Weird podcast, The Pete Holmes Show! Kevin & Steve chat with Pete about taboo words, Batman, "Her", Auditions, Pun Dumpsters, Robin Williams, Stand Up, Matt Damon, Patrick Swayze, impressions, podcasting and a lot of Leprechaun Talk...  a... lot... of... Leprechaun Talk.  Enjoy the Chew!

Vacations!

It's summer vacation time! As Kevin & Steve head off for vacations w/ kids, they re-live some of their favorite vacation memories. As troublemaking kids, as debaucherous teens, as drunk college kids and as adults with their lady friends. Plenty of fun stories. Enjoy the summer chew!

Jay Larson

Jay Larson, stand up, actor, co-host of Best Bars in America on the Esquire Network, & the Crabfeast Podcast.   Our pal Jay joins us to talk about his new TV Show, how he got his start in stand up, Dublin's, playing college ball, Wally Pip, Fenway, writing for TV, great bars and of course...Three's Company. Enjoy the Chew!

Jamie Kaler

Jamie Kaler (My Boys, Robot Chicken,The Kaler Show Sirius/XM 97) Standup, actor, radio host joins Kevin & Steve. They talk red heads, Boston, Kaler's time in the Navy, My Boys, Yankees/Sox, 80's icons and aging movie stars.  Enjoy the Chew!

Bert Kreischer

Bert Kreischer is a hilarious stand up comedian, host of Trip Flip on Travel Channel and author of Life of the Party: Stories of a Perpetual Man-Child. They talk about Bert getting stomped by a bull, going to a dominatrix, being a human sling shot and the secrets their Fit Bits contain! Enjoy the chew!

World Cup Fever!

As soccer passion consumes the world, Steve (a soccer aficionado) and Kevin (a soccer ignoramus) weigh in. The guys discuss Lemme's beloved Team Argentina, growing up in a soccer household, soccer vs. other U.S. sports & the infamous Dulce du Leche story.  Enjoy the CHEW!  (Can you find Lemme in the picture?!)

Auditions

Kevin & Steve have been on a lot of auditions, good & bad, successful & not so.  In this week's episode they run down the funny times they've had auditioning for everyone from big time directors to commercials to student films, doing accents, singing for parts and even times when they've had to audition for each other.  Enjoy the Chew!

Nat Faxon Returns

Academy Award Winner Nat Faxon joins for a second visit! We chat about Faxon's new TV Show "Marrried" on FX, his sex scenes, his TV wife, where he keeps his Oscar, directing TV, The Groundlings & more!  Enjoy the chew!!!

Neil Garguilo and Dave Park

Garguilo & Park are the creators of the very funny new show "MOCKpocalypse" on AXS TV. The show currently airs Thurs nights and Kevin & Steve were lucky enough to appear in a few episodes. They talk about the show, their new feature film "Bloodsucking Bastards," their comedy group Dr. God, Park's appearance in "Club Dread," Garguilo's role on MTV's "Awkward" and they all chew on the hot new "Garguilo Sandwich."  Enjoy!

Colorado and Canada

Kevin & Steve shoot their new Stand Up Special this month in Denver, so they share a few Colorado stories in preparation. Also having just returned from Canada, they share stories re: Canadian fans, hockey, DVR vs. PVR, poutine & why Canada ties into the opening scene of Super Troopers. Enjoy the chew!!!

The Art of Pitching

There is an art to pitching Movie & TV ideas in Hollywood. While Kevin & Steve never claim to be artists, they do have a lot of funny pitch stories in their past: from pitching Super Troopers to things they've been totally unqualified for.  Hear about the pitch process, how it works and its successes & failures. Enjoy the Chew!

Kevin Pereira

Kevin Pereira (G4 Attack of the Show, Pointless Podcast)  joins Kevin & Steve!  They chew it about Hosting Attack of The Show, Making James Cameron bleed, Podcasting, Gaming, Guitar Hero vs. Rock Band, The latest in virtual reality tech & Replacing Kevin with Kevin. Enjoy the chew!

Mike Mitchell

Mike Mitchell, Director of Shrek 4, Sponge Bob 2, Sky High, Deuce Bigalow.  Great convo about Animation (What does an Animation Director do?), the Cal Arts all star roster, Sandler's input on Deuce Bigalow, the Shrek franchise, petting llamas, the awesomeness of Sky High and Kurt Russell & MORE!    Enjoy the chew....

Ike Barinholtz

Ike Barinholtz (Neighbors, The Mindy Project, East Bound & Down, MadTV) joins Kevin & Steve. They talk about shooting Neighbors, how he landed on MadTV, writing & acting on Mindy, makin' comedy in Amsterdam, doing way better impressions than Lemme & MORE, Enjoy the Chew!

Gunter Schlierkamp

Gunter Schlierkamp (Beerfest, World Champion Body Builder) joins Kevin & Steve as they talk Beerfest and how it ruined his career, what it takes to be a Champion Body Builder, what Gunter can do to Kevin and Steve to get them into shape and MUCH MORE.  Enjoy the chew!

Nick Thune

Nick Thune, stand up, actor, writer, musician and all around renaissance man joins Kevin & Steve. They talk about Nick's new special "Folk Hero" on Netflix, bad stand up gigs, guitar comedy, & Thune's ample softball skills.   Enjoy the Chew!

Answering Your Questions!

This week Kevin & Steve answer the mail! Your questions answered!  In doing so they talk Super Troopers 2, favorite beers, Rocky, memorable road trips and ZJs!!! Enjoy the chew!!

Philippe Brenninkmeyer

Philippe Brenninkmeyer (Super Troopers, Beerfest, Slammin' Salmon, Babymakers). He's been a swinging German, the Beerfest Ringmaster, an angry fish customer and more. What you may not know is that he's also a star on German TV. Our close friend Philippe joins us to chat about all of the above AND all things Europe.  Enjoy the chew!

Birth!

Last week Lemme had a baby! (Or his wife did.)  So Kevin & Steve cover all things birth related. They talk about Lemme's week, giving birth, breastfeeding, the births of their other children and they even corral two VERY special guests, Kevin's parents: Jane & Mike, to tell the story of Kevin's birth.  Enjoy the chew!!!

Matt and Tom Berninger

Matt Berninger (Front man for the indie band The National) & Tom Berninger (Director/star of the new doc Mistake for Strangers) join Kevin & Steve for a two on two chew! They talk about making the new documentary Mistaken for Strangers, Matt's band The National,  their relationship as brothers, Rob Halford & what's up next for the Berningers.  Chew it!