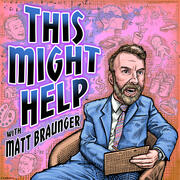 Mr. Burns' Thug is Hilarious

Braunger jumps in to talk about Burns' thug on The Simpsons, his Thug t-shirt, a couple who chased him down in the street to give him drugs, going on "Feelings hikes" with a male friend, realizing he's a late bloomer, the FYF Fest, and how driving in LA makes you an angry boy. Thanks for picking him up!

Mr. Burns' Thug is Hilarious

Braunger jumps in to talk about Burns' thug on the Simpsons, his Thug t-shirt, a couple who chased him down in the street to give him drugs, going on "Feelings hikes" with a male friend, realizing he's a late bloomer, the FYF Fest, and how driving in LA makes you an angry boy. Thanks for picking him up!

Minneapolis!

Matt's in Minneapolis working out new stuff, just locked the new special, isn't drinking right now, doesn't want to wear Cosby sweaters, is hanging out with Doug Benson (who broke up a fight last night), got a bunch of cool records, wants your input, still has a mustache, and is getting a Jucy Lucy tomorrow. Listen in!

You KNOW That Guy??

Oh man oh man oh man! Braunger didn't do a DDMB last week because of his birthday (what a child), so this week's episode is 45 minutes long. And change! His weekend in Palm Springs, a realization about his habit to walk everywhere, the time he became a serial killer online, and a childhood memory involving stacks of porn are all discussed, but it all goes deeper than that! Let's delve in, shall we, to the world of a Ding-Dong.

We've Made It So Far, You Guys

Matt made this one earlier in the week, but there's no way you should be able to tell that unless I just told you. Whoops! This, the 60th triumph, finds our hero talking about relationships, being alone, his recent crazy weekend, how you have to accept your friends despite their horrible tastes, why you should hug your pets now, and the challenge of motivating yourself to work in hot Los Angeles. Guys! We're 60!

Dunk the Baby

We're almost to 60 episodes, gang! When we get there, we'll all go swimming and dunk the baby. You'll have to listen to this week's episode to know what the hell I'm talking about. This ep, Matt gets into Weird Al, the taping of his new short film, his perfect card and gift for a one-year-old's birthday party, a horrible party guest he meets there, gay stuff, and a terrible movie that capped off the weekend. Thanks for picking him up!

A Stoned Experiment

Hey gang! Matt spends 22 minutes of this episode talking about getting stoned on camera in "Getting Doug with High," then extolls the genius of online savants Grace Helbig, Mamrie Hart, & Hannah Hart, then explains how he plans on setting fire to himself in Palm Springs for his B-Day. Only three topics? Only three topics. This episode rocks ass.

Happy 4th of I Almost Killed a Guy!

Happy 4th of July, Braungals and Braunguys. Matt's back with some tales again, because it's a weekly show and that's why! He's got the story of "Night of 1,000 Segers," how he almost just hit a guy with his car, getting "made" at the Comedy Store last night, why he's melting, why he's going to Palm Springs to melt more, and why he yelled "My tit!" earlier today. Happy 4th. Listen and it'll all make sense.

Night Moves

Taking a break (or maybe not) from rehearsing his song in the upcoming "Night of 1,000 Segers," Matt hops into your brain again. He just got back from driving a combined 60 miles to audition for the role of "Coach" on a sitcom. Yep. Just "Coach." He's talking about auditions in general, editing his special, 1,000 Segers rehearsals, the show he's developing with a guy you all love, and how the film "Jason Nash is Married" is awesome and should be seen by all. Let's work on our Night Moves together.

The Definitive Guide to the Game of Thrones Characters

This week is a doozy and a half, folks! Lots to cover. Lemonheads in a big box, editing the new hour special, b-day plans, helping a friend in need, depression, Henry Phillips, the short film Matt shot over last weekend, a new Neil Diamond song he's writing without Neil's permission, and (most importantly) the definitive guide to most of the Game of Thrones characters. Phew! Tune in.

The Wrong Girl's Head

Summer's underway! And that means a new DDMB. Well, so does Winter, Spring, you get the idea. Hope not having any discernible theme besides Matt Braunger's dumb life isn't driving you nuts. Anyhoos, this week Matt gets into a strange encounter/show at the Belly Room at the Comedy Store, talks a therapy encounter that made him go "Oh no," gets into the short film he's doing this weekend with Ron Funches, and describes his dumbest moment at the movies ever. On a date. Check check check check check ch-check it out!

I'm Back From Portland and Brooklyn and the Special is Taped!

What a week! Braunger's been all over the map. Listen to the tales of his adventures in an all new episode. Old friends, two tapings (one of them too sweaty), a wedding where he got too drunk, doing karaoke with Mom, how fucked up the end of that Game of Thrones was, and more! Here we go again on our own, going down the only road we've ever known."

It's Coming!

Hey kids, it's almost time for Matt to record his new special and he's going bonkers. Let's let him yammer on for a while to calm his nerves. He just got back from Denver, is doing a run-through of his set in Hollywood tonight, just did one of the last ever episodes of Chelsea Lately (it got cancelled today), and he's unveiling his set list for you. Out loud. Tune in and see what's up this week besides your nipples.

Bird Suicide and I'm Doing a New Special!

Holy crap, what a day! Matt just got back from the Burbank airport, where he spent all day waiting to fly and couldn't. Listen to find out why, how he's doing a brand new hour special, why you shouldn't eat old blueberries, and also gratitude.

Back From Bridgetown!

Ding-Dong is back from the festival that robbed us of an episode last week. Why didn't he plan a live one at his own fucking festival? Because he's an idiot. Anyway, this episode is funny and in no way disjointed. Bridgetown, Matt's week, LA's blistering heat wave, weed, effects of weed on theories of the afterlife, a dummy who discovers that ice is cold, getting sunstroke indoors, and why headshots are funny are all discussed. Plus more, more, more! Listen in and see why it was worth the wait.

Welcome to Torn Pants! Pants are $50,000

This episode is fast and furious, like a movie of some weird name about cars. Fresh off just doing another podcast, Donger gets into his friend's amazing new song/video, almost playing a Geto Boys song for his mom as a kid, a charity show this evening you should attend, Crate and Barrel, getting Pasadena-ed, his crazy "Uncle" Randy, his recent appearance on @Midnight, the tuxedo curse, and more! Tune in. It's a doozy.

A Driver Who's Trying to Get Fired

Well, we're barreling through with this crazy 30 minute episodes thing, and so far we're gangbusters. Braunger's got some bad news, but also a lot of good. Tune in for both, as well as stories from his parent's visit, the worst comedy club driver in the world, why the 30 minute thing works, and more! Tune in now, jerks! Love, Me

DDMB is 30 minutes now

Holy crap, you guys. Matt had so much fun doing the podcast last week (the double one, for double fun) that he's doing it for 30 minutes....from now on! We'll see how long he can keep up this Herculean labor. For now, enjoy his thoughts on drinking during podcasts, ideas for names for his new tour, his parents coming to town this weekend, the idea of "The Braun-gals," Dina Martina, how we should call our privates our "Shames," and much, much more! Man, is this now the longest podcast there is? Not at all? Oh, okay. Good. Enjoy

The Big 30 Minute Episode Episode!

Whoa whoa whoa, I know you're all mad, but Matt's got a good excuse. Sure, you'll have to listen to this episode to hear it, but it's worth it. Trust us. To make up for it, here are two episodes in one. Well, actually, just one long one that's the length of two episodes. What's that, Matt? It's probably the best one yet? Holy shit, that's huge. Like this episode. Listen and learn why.

Lunchbox that Motherf*#er!

After trying and failing to record this episode where he meditates (don't get weird, it's his bedroom on a wooden chest (wait, that IS weird)), Matt is back at the dining room table for a new episode. This week he tested and failed to book a third pilot, got low-grade "Belushi-ed," startled some kids while hiking, and invented the term "Lunchboxing." Tune in to learn what it all means on this 45th episode!

Look How Fast My Beard Grows!

Let's get real, let's get honest. That's where Matt's at today, but it's okay! Bouyed by a better attitude and the fact that he's doing a musical number tonight, Donger's on the up. He's got some stuff to share, including the difference between comedians and actors backstage, how certain musical notes mean "I'm sad, and I'm hiding," and other stuff--hey, just listen in!

Back from SXSW, Still SouthFresh

Oh man, SXSW was crazy, but so is life. Donger returns with whole new tales from the Southwest, including a bit of advice first-person inspired by the tragedy from the other day. Sad clown leaves however, and the delight continues. Tune in to see what the hell I'm talking about. Huzzah!