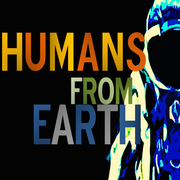 Josh Boone

Filmmaker Josh Boone ("The Fault in Our Stars") will be directing a feature film version of Stephen King's "The Stand" and this week's edition of Humans From Earth has the exclusive first interview about his plans for the dark bookshelf classic.

Kyle Newman & Jamie King

Geoff Boucher is joined by husband and wife Kyle Newman, director of FANBOYS and Jamie King star of STAR WARS:THE CLONE WARS, HEART OF DIXIE and SIN CITY. They talk about the upcoming films SIN CITY 2, and BARELY LETHAL as well as Harvey Weinstein, British accents, Frank Miller, R-rated animation, and STAR TREK onesies.

Eli Roth

Special guest Eli Roth swings for the fence in this latest episode of Humans From Earth. "Hostel" filmmaker Roth riffs on Germany, Gummy Bears, fake heads, cannibals, Texas evangelicals,  death scenes, kinky vampires and new scientific data about his own blood-loving brain!

Scott Wilson

Scott Wilson of The Walking Dead visits with a truly lively world view and his killer resume (In the Heat of the Night,  In Cold Blood, The Ninth Configuration) in this fifth episode of the podcast!

Clark Gregg

Clark Gregg, Marvel's intrepid agent of intrigue, brings his laser sharp wit and fanboy earnestness on board this episode of Humans From Earth. Gregg also opens up a different sort of dossier with details about his new directorial effort, "Trust Me", which he also stars in.

Russo Brothers

The Russo brothers of Ohio are the newest sensations sent onto the field by team Marvel thanks to the critical and commercial success of "Captain America: The Winter Soldier". In this episode of Humans From Earth, the cinema-loving sibs talk about secret formulas, surprise twists, and yankee-doodle color scheme for their newly minted career victory.

Bob Orci

Never one to slink away from a firefight, Geoff talks with Bob Orci who is anything but neutral. Orci has been a lifelong fan of star fleet and the co-writer of the two latest silver screen voyages of the Starship Enterprise,  now he awaits his next mission, one that puts him in the captain's seat/director's chair vacated by J.J. Abrams.

Jon Favreau and Gil the Mutant Season

Humans From Earth, a stellar new pop-culture podcast hosted by Geoff Boucher, makes its debut with special guest Jon Favreau and fellow Nerdist podcaster Gil from Mutant Season.