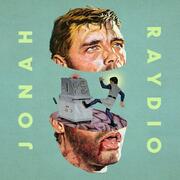 Episode Together

Nick Youssef returns to Jonah Raydio for a relaxing afternoon of podcasting.

Telepisodo

We have a great episode for you with Bobcat Goldthwait, Howard Kremer, Charlie Fonville, and Tony Thaxton on this edition of Jonah Raydio.  Bobcat's movie Willow Creek is now available on iTunes, and Howard's new album Summah This Summah That is available on Bandcamp and iTunes.

The B-Side Episode

Packed house for this edition of Jonah Raydio with our guest Matt Pryor (The Get Up Kids, The New Amsterdams, The Terrible Twos)!  Also joining us is past guest and artist Travis Millard, Tony Thaxton, Greg Heller, and Mike Henry.

Whornisode

Comedian Kurt Braunohler is our guest on this episode of Jonah Raydio.  Check out Kurt's album How Do I Land and his podcast K Ohle.  Kurt also has a new Comedy Central web series Roustabout.  The first installment of the series focuses on his charity campaign "Let's Get Wet For Goats".  They still have not met their goal so please take a look at their IndieGoGo campaign to contribute.  On July 25 Kurt's Comedy Central Half Hour premiers, and you can see Kurt and our very own Jonah Ray on the same episode of season 2 of Drunk History on August 12.  If you live in the Los Angeles area go to his popular show The Hot Tub Show hosted by Kurt and Kristen Schaal.

Episode To Be Stupid

"Weird Al" Yankovic and Chris Hardwick are on this episode of Jonah Raydio.  You're welcome.  Filling in for Cash Hartzell is the host of Feliz Navipod, Tony Thaxton. Weird Al's new album comes out July 15 and on vinyl in August.  Check out his song "Albuquerque," cut with Breaking Bad.  It totally works!

Episode Sucks

We got old friend and returning guest Sean O'Connor (Conan, The Ben Show), comedian and writer Hampton Yount (Loiter Squad, Ridiculousness) and Erin Magner!  Go buy Sean's comedy album "James Dean Type"!  Check out the second season of Drunk History Tuesday's at 10/9C on Comedy Central.

TNTisode

No guests on this edition of Jonah Raydio.  It was just the four of us with a drop in by Deanna Rooney enjoying a Sunday afternoon talking about The Replacements and laughing at a video of a Weezer cover gone wrong.

Sunbathing Episode

Comedians April Richardson (Chelsea Lately, @Apey) and Greg Behrendt (Walking the Room, The Reigning Monarchs, @GregoryBehrendt) are our guests on Jonah Raydio to talk about stuff.  I have no idea what they talked about because I was home dealing with the dreaded Mango Fever.  Enjoy!

Episode from Lance's Room

Recorded live from Lance Bangs' room at the Hollywood Roosevelt Hotel, Jonah Raydio has former guest and good friend Chris Holmes, Louies Theroux (Weird Weekends, When Louis Met…, BBC Two Specials), Adam Buxton (Hot Fuzz, The Adam and Joe Show, BUG), and Chris Smith (Director of American Movie, Yes Men).  Check out Adam's Youtube channel with lots of awesome videos including this Lego animation about David Bowie called Cobbler Bob.  Also check out Louis many documentaries on Youtube

They Threw Us All in a Trench and Stuck an Episode on Top

From Jonah's San Pedro days Daniel Holden aka Boom Sexy of the band Rolling Blackouts and Recess Records own Hal Velasco aka Hal Badal swing by for another amazing episode of Jonah Raydio.

Not A Live Episode

I, Adam Rodrigues, was not there for this episode because I was off playing Dungeons and Dragons.  Seriously.  The rest of the gang got together and had comedian, writer, actor, and co-host of Walking the Room podcast Dave Anthony, as well as writer for Uncle Grandpa and Rick and Morty, Wade Randolph.  Also in attendance is animator and artist Deanna Rooney.  Check out Dave's new podcast The Dollop.

Episode Serenading

Our guests this week are Brad Stevens, Boyd Vico and Deanna Rooney.  Brad and Boyd talk about writing for the White House Correspondence Dinner, their experience on the Howard Stern Show and other fun things like this knife mishap clip.  Jonah Raydio will be in Portland, Oregon May 10 for the Bridgetown Comedy Festival with Lance Bangs, Hutch Harris from The Thermals and live music from Mikal Cronin.

The Beach Bums

The idiots drove to the beach in Jonahs car.

Live at Jackknife Records and Tapes

Recorded on Record Store Day at Jackknife Records and Tapes in Atwater Village in front of dozens of people and 2 odd faced small girls. Cut with Cash listening to records on a crappy record player at his house.

Live From Neil's House It's Hostless FM

Remember that movie about the haunted house where that little girl goes "they're baaaaaack."?  Don't know why I was thinking about that. I've never seen that movie, but only know it as a pop-culture reference.  This episode of Jonah Raydio Hostless FM features a live broadcast from Downton Stabby, aka Castle Neilskull, aka protective enclosure over his expensive carpet that him and his mom went halvsies on. Jonah and Adam were not there, but Neil and Cash are joined by a mystery guest who despite not wanting to be named, ends up the funniest person on mic. Disclaimer, do not listen unless you're a huge fan of these Hostless episodes.  It's real boring.

Say Yes to the Episode

Adam ain't here this week. BUT! Jeff Davis from Harmontown and Matt Gourley from SUPEREGO and James Bonding are! Also, Paul Bonanno shows up with his signature catchphrase and Neil addresses the "Neil'd It!" T-shirt giveaway controversy. Good tunes on this one!

The Bed is in the Episode

Kyle Clark is our guest.  Check out season 2 of Nerd Terns with Kyle Clark!

Owlsisode

Donald Abel, one of Jonah's oldest friends, is our guest this episode along with one of our earliest guests director Lance Bangs. Lance has a new documentary about Slint called Breadcrumb Trail.  You can see Lance's new film at Cinefamily in Los Angeles March 11-13, the PhilaMOCA in Philadelphia March 14 and 15, and Roxy Theater in San Francisco March 20.

Throwing Episode

On a cold, rainy day in San Francisco's Mission District Jonah Raydio had its first live podcast at Lost Weekend Video's Cinecave.  Ben Garant (The State/Reno 911) joined us, and The Manx provided live music.  Thank you to everyone who came out to the show, we had a blast doing it.  Special thanks to Will Scovil for engineering the recording.