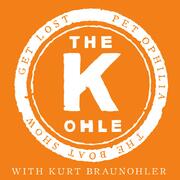 The Boat Show with Scotty Landes

Another unconventional Boat Show that's more about jet skiing for goats than boats! Comedy writer extraordinaire, Scotty Landes chats about Roustabout, writing on Workoholics, and writing for comedy in general. It's two good friends chattin', and you don't wanna miss it.

The Boat Show with Kumail Nanjiani

Kurt chats boats (but mostly dead elephants) with comedian Kumail Nanjiani on the latest Boat Show. Kurt talks about Dogs and the multiverse up top.

The Boat Show with Kurt Braunohler Part 2

Jet Ski adventure part 2! Kurt sits down with himself and tells the rest of the story of his epic journey from Chicago to New Orleans by jet ski.

The Boat Show with Kurt Braunohler

Its just Kurt with no guest to tell you all about the first three days on his epic jet-ski adventure from Chicago to New Orleans. And there's still time to donate to help him raise $50,000 to send 500 goats and 1000 chickens to Africa!

Pet-o-Philia with Jesse Thorn

Radio Legend and Podcaster Extraordinaire, Jesse Thorn sits down with Kurt at the Max Fun studios and talks about animals, and boats, and life.

Killer Rips with Kurty B! with Andy Wood

Kurt goes surfing with comedian Andy Wood (co-founder Bridgetwon Comedy Festival) and talk about surfing, comedy, and girlfriends. Plus they each get a sweet Ride Brag and talk like typical surfers. Kurt talks up top about his upcoming jet ski adventure.

Pet-o-Philia with David Koechner

Kurt sits down with the legendary David Koechner (Anchorman, SNL) to chat about animals and ends up not mentioning animals once. They go deep down the rabbit hole of the mid 90s Chicago comedy scene and even deeper into their love/hate relationship with improv. In the intro, Kurt talks about Baltimore, deconstructionism, and acid.

Pet-o-Philia with Sara Schaefer

Kurt talks with comedian Sara Schaefer about everything from dogs, to the biz, to squirting. We also get into it about Crows being super smart and creepy, and Kurt talks about his 13 year relationship Rumspringa.

The Boat Show with Jason Mantzoukas

Kurt finally sits down with Doctor Jason Mantzoukas, aka, Dr. Knots The Not Doctor, to get a full heaping of boats on top of a plate of more boats. Topics include his new book, his website, and why air travel is the curse of the boatsman. Kurt talks in the intro about his plan to jet ski from Chicago to New Orleans and a new commercial that competes with the General commercial as King of Garbage.

Get Lost with Josh Gondelman

Kurt blindfolds comedian Josh Gondelman and drives him someplace he has never been before, and it turns out that place is closed. An ultimate failure of the Get Lost format (and it's all Kurt's fault) but still a worthy episode because of the fantastically funny Josh. In the intro, Kurt gets engaged and talks about balloons.

The Boat Show with Paul Scheer

Kurt and Paul sit down to talk about boats extensively with no knowledge of boats at all. Topics include Captain Phillips, dream team of boats, and Class B Boats. Kurt talks about getting ready to shoot his half hour in Boston.

Pet-o-Philia with Doug Benson

Doug and Kurt talk about Doug's pets of his past, how elephants console each other, and play the second installment of Spirit Human.(And don't forget to enjoy the constant squeak of the power meter in the room!) At the top, Kurt chats about zoos and commercials.

Get Lost with Rory Scovel

Kurt blindfolds Rory, throws him in his car, and takes him somewhere he's never been. In the cannon of Get Lost, this could be the most amazing location yet - it's creepy, historically important, extremely difficult to get to, and Kurt continually forgets to bring flashlights. A must listen. Also, Kurt talks about his first taste of showbiz at the top.

Pet-o-Philia with Max Silvestri

Comedian Max Silvestri sits down with Kurt and talks biz, animals, and how Max and Kurt both thought people could remotely view them when they were 12. Kurt rants about the internet mostly.