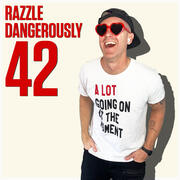 Brea Grant

Brea Grant (Mystic Party Podcast, Heroes, Dexter) joins the guys in the studio to drop some serious knowledge about the weird history of cotton candy, the weight of clouds, what the hell globsters are, the worst tragedy ever to befall a French monkey, and much more.  

Dave Waite

It's our fiftieth episode, so we're asking the tough questions. Namely, what the hell constitutes a smorgasbord? How many aircraft carriers are there in the world? What black spreadable paste drives Australians crazy? Comedian Dave Waite (Hotdoggin', Late Night with Jimmy Fallon, Last Comic Standing) joins the guys in studio to get to the bottom of these burning questions and much more.

Roger Black and Waco O'Guin

Who is James Bond named for? What in the world is snipe hunting? Where did the Magic 8-Ball come from? Reply hazy, try again later. In the meantime, Razzle sits down with Brickleberry creators Roger Black and Waco O'Guin at San Diego Comic-Con to search for the answers to all of these and more.

Kirk Fox and Rhett Reese

Comedian Kirk Fox (Forgetting Sarah Marshall, Parks and Recreation) and writer Rhett Reese (Zombieland, G.I. Joe: Retaliation) join the guys on their never ending quest for knowledge!

Matt Knudsen

How long can a chicken live without its head? What's the dark secret behind Domino's mascot, The Noid? How do pronounce "Knudsen?" Comedian Matt Knudsen (American, Big Love, Grabbing Lunch) joins the guys in studio to try and suss out the answers to all of these and more.

Shane Nickerson & Andy Kozel

You've had a long week. You deserve a BONUS episode of Today We Learned, so Razzle sat down with Shane Nickerson (MTV'sRidiculousness, Rob Dyrdek's Fantasy Factory) and returning guest Andy Kozel to talk about the World Cup, the origins of Johnnie Walker, the most unexpected hockey goalie ever, and more.

Steve Byrne

Razzle's plane was shot down somewhere over the South Pacific, so guest host Clarke Wolfe (The Bloodcast, Nerdist) joins Dan in studio to talk with comedian Steve Byrne (Sullivan & Son, Champion) about opening for Mariah Carey on tour, the origins of the phrase "balls to the wall", why pilots shout "Mayday!" when they're in danger, and much more.    

April Richardson Returns

By popular demand, today the hilarious April Richardson (Go Bayside, Chelsea Lately) returns to the studio to help the guys find out how you can steal a beach, who really owns the Seattle Mariners, the origin of Philadelphia Cream Cheese, the surprisingly medieval official state sport of Maryland and much more.

Tyler Labine

What's the inspiration behind the Sears Tower? How did Oscar the Grouch become America's filthiest sweetheart? What are the world's biggest lakes? The hilarious, hirsute Tyler Labine (Deadbeat, Tucker &  Dale vs. Evil) swings by to help get to the bottom of these burning questions. Dan's out of town again (he's like the Carmen Sandiego of this podcast), so Razzle makes like Jesus and takes the wheel.

Bonus Episode with Andy Kozel, Mary Kobayashi, and Jason Collings

What's this? It may not be Monday, but there's a brand new bonus edition of Today We Learned! Dan is out of town, so Razzle sits down with comedians Andy Kozel, Jason Collings, and Mary Kobayashi to talk pogs, cinema in 1984, and much more.

Mike Burns

Behind every great @dadboner is a greater podcast guest. The inimitable Mike Burns (MTV's Ridiculousness) joins the guys in studio to talk little-known Goonies trivia, Michigan's roving insecticide trucks, the history of Lucky Charms, and more!    

Joel David Moore

Where does the term gypsy come from? What's the deal with Portland's secret network of tunnels? Are those pants salmon or coral? The delightful Joel David Moore (Bones, Avatar, ABC's Forever) joins the guys in studio to find out.

David Krumholtz and Jason Ritter

The men of The Big Ask, David Krumholtz and Jason Ritter, swing by the studio to talk about Mario in real life, mind-controlling fungus, the origins of Mr. Potato Head and much more.

Julieanne Smolinski

How many lies could Pinocchio tell before snapping his neck? What are the origins of Oregon Trail? Julieanne Smolinski (GQ, xoJane, Grace and Frankie) joins the guys in the studio to find out!

Bobak Ferdowsi

Bobak Ferdowsi (NASA's Jet Propulsion Laboratory) joins the guys to talk about Bluetooth's Viking past, the secret origins of Chinese checkers, how many times Godzilla has destoryed Tokyo, and when the heck we're moving to Mars.

Evan Dickson

Bloody Disgusting's Evan Dickson swings by the help the guys figure out what people stock up on most before hurricanes, giddy up for the Kentucky Derby, run down some horror movie trivia, and much more.  

Duncan Birmingham

What famous celebrity's father was an assassin? What do people keep stealing from Colorado's highways? What is Sam Rockwell's connection to the Teenage Mutant Ninja Turtles? Duncan Birmingham (IFC's Maron) joins Razzle in the studio to find out the answers to all of this and more. Meanwhile, Dan is mysteriously absent...until next week.

Jade Catta-Preta

What's the difference between a crevice and a crevasse? Where does Velcro come from? What happens to old Pizza Huts when they die? Comedian Jade Catta-Preta (Californication, Daddy Knows Best) joins the guys in studio to answer all your burning questions.

Jessica Chobot

What will $3.1 million get you on eBay? What purpose do gargoyles serve? What common food causes lucid dreaming? Jessica Chobot (Nerdist News, Daylight, G4) joins the guys at Nerdist HQ to find the answers to all of these and much more.

Andrew W.K.

Why does the Leaning Tower of Pisa lean? What is the origin of the white t-shirt? What notable theme song did Tony the Tiger sing? Rock star extraordinaire and party guru Andrew W.K. join the guys to find the answers (and eat some caviar).