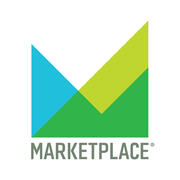 7-11-14 Mid-day Update - Making money off Instagram

Interest rates. How brands hook up with social media personalities.

7-1-14 Mid-Day Update – B-list social media stars

The Fed's minutes, the VA's online filing system, and B-list social media stars.

7--14 Mid-Day Update – Keep on truckin'

The economic effects of Brazil's loss, Uber's discounts, and energy efficient trucks.

7-8-14 Mid-Day Update – Summer camp for techies

Walmart versus the small business, cord-cutting slows down, and coding summer camps

7-7-14 Mid-Day Update – Walmart and women

Transportation funding runs out of gas, women-owned businesses at Walmart, and a phone app as art.

7-4-14 Mid-day Update - European banks leery of Bitcoin

Bitcoin in the EU. Gas prices and mass transit. And, food waste in India.

7--14 Mid-Day Update – Jobs are up for June

The jobs report for June, the older generation of unemployed workers, and President Obama on Marketplace.

7-2-14 Mid-Day Update – Companies get healthy

Alleged gender discrimination at Goldman Sachs, a bitcoin auction, and companies trying to be healthier.

7-1-14 Mid-Day Update - Shrinking office space

A look at the S'P 5, shrinking office space, and the "share" in sharing.

6--14 Mid-Day Update – The house doesn't win

Robert McDonald's P'G past, trouble in Atlantic City, and financial planners for political giving.

6-27-14 Mid-Day Update – Bitcoin for sale

A stunning GDP revision, a bitcoin auction, and strategies to address homelessness

6-26-14 Mid-Day Update – GoPro's next move

IKEA raises wages, GoPro goes public, and the struggle for Latino representation in the media.

6-25-14 Mid-Day Update – Oakland's Silicon Valley

Removing the ban on oil exports, plus increasing diversity in the tech industry.

6-2-14 Mid-Day Update – The cost of classroom wi-fi

The end of the export-import bank, the current state of the GED, and getting wi-fi into classrooms

6-1-14 Mid-Day Update – American Apparel undressed

Chairman Yellen goes soft on inflation, the implications of the Aereo case, and Dov Charney's antics

6-18-1 Mid-Day Update – Guardians of interest rate

What to expect from Chair Yellen's press conference, the amazon phone, and the 'maker movement'

6-17-14 Mid-Day Update –

Inflation, Apple's e-book woes, and a look at the state of the Argentine economy

6-1-14 Mid-Day Update – Open sourced electric cars

Tesla gives up its patents, President Obama visit to a Native American reservation, and the difficulty of combating illegal fishing

6-12-14 Mid-Day Update – The money of the World Cup

The economics of the World Cup, and why some want to cut the game of golf in half

6-11-1 Mid-Day Update – NASA's flying saucer

Cantor's loss and what it means for immigration reform, a look at Brazil's economy, and NASA's flying saucer

6-1-1 Mid-Day Update – Turning blue collar 'quotgreen'quot

The state of part-time, turning jobs "green," and how Radio Shack fixes itself

6-6-14 Mid-Day Update – 217, new jobs

The jobs report for May, the worth of California Chrome, and what business can learn from soccer

8-1-1 Mid-Day Update – Sprint/T-Mobile merger

European Central Bank makes moves to avoid deflation, the possible Sprint/T-Mobile merger, how vocal fry affects men and women

6-4-1 Mid-Day Update - The man behind the FHFA

The man behind Fannie and Freddie, Chip and PIN credit cards from Sam's Club, and the blue collar protesters at Tiananmen Square

8-1-1 Mid-Day Update – Chicken wars

The war for Jimmy Dean's, the creation of green-jobs, and the effort to make more home-grown products in the UK

6-2-14 Mid-Day Update – Seattle's new minimum wage

More on the EPA's new rule, Seattle's $15 minimum wage, and why HELOCs (a form of second mortage) are on the rise

5--14 Marketplace Mid-day Update: A $2 billion bank shot for the Clippers

A look at the markets, Clippers big sale and the EPA's new carbon rules.

5-2-14 Marketplace Mid-day Update: The cost of concussions

A look at the markets, the challenge of reducing concussions and more from our LearningCurve series.

5-28-14 Marketplace Mid-day Update: Is it smart for employers to dump workers onto the ACA exchanges?

A look at the markets, ACA stipends and a new Marketplace series about the intersection of tech ' education.

5-27-14 Mid-day Update - Women and minorities ignored by VC

Too often, minority and women innovators miss out on venture capital funding.

5-26-14 Mid-day Update - Comcast's massive lobbying push

To secure a merger with Time Warner Cable, Comcast has launched a lobbying blitz.

5-2-14 Mid-day Update - Can London always be a world finance capital?

Can London hang on to its position as the heart of the global economy?

5-22-14 Mid-day Update - The economy in Uighur China

Today's attack on a market in Xinjiang killed 1. A look at Scottish independence.

PODCAST: A cautious Fed

A visit the 1 year-old Borough Market in London. And a look at London's lost title as the top financial city in the world.

PODCAST: London's stock ambitions

A look at Brixton Market, in South London. And there's a clamor about high executive pay in the UK.

PODCAST: AT'ampT bids $48.5 billion for DirecTV

We visit Smithfield Market in London. And a look at London's business environment.

PODCAST: The inflation-interest paradox

Fast food workers across more than countries protest for better wages. And small-scale entrepreneurs are taking aim at that urban ritual of waiting for the bus.

PODCAST: Fixing infrastructure and American jobs

Cisco makes a move into the "Internet of Things." And, Fannie and Freddie start paying back the American taxpayer.

PODCAST: The shoppers who never showed

China wrangles with its credit bubble. And a look at cities that give budget power directly to citizens.

PODCAST: Net Neutrality

It's national infrastructure week. And, looking at housing inequality in Brazil.

PODCAST: Apple goes shopping

Congrats college grads now start job hunting. And, the Marketplace Morning Report Quiz.

PODCAST: Size does matter for FedEx

The new nominee for HHS Secretary goes before the Senate. And more Americans are going online to find cremation urns.

PODCAST: Alibaba IPO

Why advertisers care how long a show sits in your DVR. And, the struggles to unionize workers in Bangladesh.

PODCAST: Sell in May?

Google and Amazon compete on same-day delivery. And, turning a rookie poker chump into a champ.

PODCAST: Buffett-Palooza

The annual meeting of Warren Buffett's Berkshire Hathaway company wraps up. And limes are getting more expensive.

5-2-14 Mid-day Update - Strong jobs report undercut by shrinking labor force

The April jobs report shows strong growth. Tesla needs a new battery plant. And, the history of marketing of Cinco de Mayo.

5-1-14 Mid-day Update - LinkedIn's secret (no cat pictures!)

The economy nearly stalled out from January to March. How LinkedIn is trying to stay afloat. And, foster care and Medicaid.

Winter came, for the GDP

Spending on goods was down, but for services, consumer spending was up.

PODCAST: A case of the Mondays for BofA

As Oprah releases a new tea at Starbucks, a look at the power of branding. And, the business value of connecting with old flames, or "dormant ties."

PODCAST: NBA deals with Sterling

We look at why breast-cancer survivors have a high rate of long-term unemployment. And, a look at the markets in the week ahead.

4-25-14 - Mid-day Update - American's youth want to be their own bosses

Mortgage lending this winter fell 58 percent from a year ago to the lowest level in 14 years. A report says dentists see more Medicaid patients without increasing wait times for existing patients.

4-24-14 Mid-day Update - The secrets behind college wait lists

This morning brought a bit of a reversal fortune for tech companies that have been getting pummeled in recent weeks. The FCC is expected to introduce new rules today that will allow broadband providers to charge companies for faster internet service. Colleges are growing their wait lists and using them in some surprising ways.

4-2-14 Mid-day Update - Is Apple the new Microsoft?

Apple is expected to report mostly flat revenues from a year ago. One famed activist investor says there is a tech bubble and he's betting against it. And, film and TV production flee LA for big tax subsidies in states like Georgia and New York.

PODCAST: Activist investors

Netflix is planning to raise prices on new members. And Earth day, at 44, may be a little tired.

PODCAST: Is Netflix the new cable?

We look at Japan's surging trade deficit. And, for the past few weeks, God has quietly been ruling the box office.

PODCAST: Obamacare's youth movement

Japan and the U.S. are having beef over the price of meat. And, the fight between TV broadcasters and Aereo goes to the Supreme Court.

International business and Ukraine

Diplomats from Ukraine, Russia, the U.S. and the EU are in Geneva

PODCAST: China's slowing growth

A disease ravaging shrimp is pushing up prices for the small shellfish. And a look at homelessness in Silicon Valley.

PODCAST: Google's drones

Internet companies are racing to patch their Heartbleed vulnerabilities, at great cost. And legal pot shops are discovering the joys of tax season.

PODCAST: Warm reception for retail

Congress is out for recess, but not to play. And a look at France's proposed new rules for workplace messaging after hours.

4-11-14 Mid-day Update - What's so bad about low inflation?

Why are investors suddenly fleeing from stocks? Some at the Fed are worried the inflation rate, around 1 percent, is too low. When it comes to wellbeing, Costa Rica tops the list of countries in Latin America.

PODCAST: From bailout to IPO

Will China interfere with efforts to isolate Russia? And, teens are now spending as much on food as clothes

PODCAST: Medicare's pay-data dump

We look at what the proposed Time-Warner Cable and Comcast merger will mean for internet users. And a challenger appears in the single-serve coffeemaker market.

PODCAST: (Not) talking about pay

Banco Popular is shifting eastward from Los Angeles and Chicago. And looking at giving and taking in the workplace.

PODCAST: Tech bubble bursting?

We look at the best and worst states on closing the gender pay gap. And The University of Baltimore is offering a free semester for finishing within four years.

PODCAST: March jobs report

U.S. employers hired 12, people in March. And the company behind the food delivery app GrubHub gets ready for its IPO.

PODCAST: Fewest first quarter layoffs since 15

A new economic indicator seeks to give the GDP some competition in measuring economic health.

PODCAST: Private sector warms up

Microsoft is expected to announce a digital personal assistant akin to Apple's Siri. And Alan Sloan from Fortune Magazine talks tax code.

PODCAST: Dealing with high frequency trading

Retail store are looking to get more foot traffic with cell phone charging stations. And Netflix gets Frank Underwood to lobby for them.

PODCAST: UN warns of climate change effects

The Senate Finance Committee thinks about bringing back expired tax breaks. And a look at the safety and costs of in vitro births.

PODCAST: Bridging the movie language barrier

Obamacare reaches another milestone with 6 million enrollees. And you're not crazy, your office really is giving you headaches.

PODCAST: College football to get unions?

The U.S. saw an uptick in GDP. And with 2, tech workers commuting daily from Santa Cruz to Silicon Valley, the city tries to start its own tech hub.

PODCAST: Facebook buys Oculus, and its headaches

Orders for durable goods are up. And, the first time in more than a century, Americans are eating more chicken than beef.

PODCAST: Disney gets into viral videos

A look at how the Fed measures inflation when deciding to adjust interest rates. And despite inheriting one of the toughest economic environments in years, Millennials are still optimistic.

China, the U.S. dollar, and learning to code

In the past two weeks, we've seen the most rapid fall in China's currency in decades.

PODCAST: IRS scam

Walmart is putting on a "Black-Friday-like" for gardening and outdoor supplies. And we look at how legalization might affect undocumented workers as part of our series, City of Dreams.

PODCAST: Veteran unemployment

Interest rates are up after the new Federal Reserve chair's briefing yesterday. And the Washington monument is reopening, thanks to private money.

PODCAST: The dual mandate

The Fed grapples with balancing interest rates and a shrinking unemployment rate.

PODCAST: Stress tests and more political ads

Just what we need, right?

PODCAST: Markets look past Ukraine

New Cold War? What new Cold War?

Midday Update: Is BP back?

Beginning next week, BP will be allowed to bid on leases to drill for oil on government land.

PODCAST: Shop 'til you freeze

Despite the cold weather, American consumers still went to the stores.

PODCAST: Overtime, overworked?

The White House wants to make more Americans eligible for overtime pay.

PODCAST: Nuclear economics, post-Fukushima

It's been three years since the Fukushima disaster prompted Japan to try weaning itself from nuclear power.

PODCAST: Seen at South By

SXSW Interactive is in full swing in Austin, Texas.

PODCAST: February jobs report

A look at supermarket mergers. And some employers are shifting how they contribute to 41(k) plans.

PODCAST: Dell CEO Michael Dell

Dell CEO Michael Dell tells Marketplace his plans to meet future demand. And getting ready for the next unemployment report.

PODCAST: Another ACA delay

The makers of the SAT have a new college admissions test. And Americans are drinking less and less orange juice.

PODCAST: U.S. sanctions won't hurt Russia

President Obama face an uphill battle in getting more funding for early childhood development. And the Fed takes a more personal approach in New England.

Spying on your Yahoo video chats

According to documents, Yahoo webcam chats were intercepted by a British security agency.

Your breakfast view will change

The White House changes the look and focus of nutrition labels.

The stock market, five years on

If you held onto your stocks at the bottom, things might not be so bad.

Bitcoin mystery

Many are expecting Mt. Gox to file for bankruptcy.

PODCAST: Freezing our economic output

The winter weather might slow our national GDP.

Depending on family for that startup loan

When starting a business, you don't always have to go to a bank to get money.

PODCAST: Facebook's bet on WhatsApp

Facebook made one of the most expensive tech acquisitions in recent history.

PODCAST: A higher minimum wage

Will raising the minimum wage hurt jobs or reduce poverty? A new report says: both.

College debit cards and Chinese taxi cabs

The government looks at the student debit card market.

PODCAST: Tennessee car workers reject union

Stimulus woes in Japan put a hamper on the country's recovery. And taking a look at how we value water.

President Barack Obama is scheduled to visit the agriculturally-rich city of Fresno, Calif.

President Barack Obama is scheduled to visit the agriculturally-rich city of Fresno, Calif. to address the state's drought.

PODCAST: Cable mega-merger

Comcast is trying to buy Time Warner Cable for $45 billion.

PODCAST: Silicon Galley?

Another Obamacare delay that gives businesses some breathing room. And, the first part of our series on the increasingly isolated culture of the tech industry: Silicon Island.

PODCAST: Problems in the U.S. drug pipeline

The U.S. has a new ambassador to China, who'll have to face challenges in getting Chinese and American businesses to play nice. And in New Orleans, learning music by watching the feet.

PODCAST: January jobs report

This months jobs report showed unemployment inching down, but fewer jobs were created than expected. And we look at how much personal debt is too much?

PODCAST: Layoffs in tech and retail

There big cuts to jobs in the tech industry in January. Meanwhile the Governor of Tennessee wants to make community college in his state free. And European officials are considering new trade agreements with Cuba.

PODCAST: What are 'Climate Hubs?'

The Obama administration is set to announce the creation of regional offices called climate hubs today. Also, Twitter is set to release its first earnings report.

PODCAST: Matchmaking in Mexico

The new Secretary of Commerce Penny Pritzker is going on a trade mission to Mexico to find new business partners to match with U.S. companies. And, investing in iPads to help schoolchildren learn carries some costs that may be getting overlooked.

PODCAST: Microsoft has a new CEO

Satya Nadella is Microsoft's new chief executive. We look back at Steve Ballmer's tenure as his successor takes over. And where have manufacturing jobs gone?

1-1-14 Mid-day Update - Who will lead Microsoft?

There's a lot of chatter out there about who will be named as Microsoft's next CEO. We wondered what sort of advice people -- not just those who know the Fed but regular folks, too -- might have for Janet Yellen, as she becomes the chairwoman of the Federal Reserve. And, this weekend's game is a big opportunity for the pro-pot faction.

1--14 Mid-day Update - Cuba seeks foreign investment

Investors are pulling out of emerging markets, and putting their money into older markets. How much does the Fed have to do with it? A proposal to waive tuition at public universities, but grads will have to "pay it forward." And, Cuba looks for foreign investment.

1-2-14 Mid-day Update - State of the Union as heard from Europe

President Obama focused mostly on domestic issues during his speech last night. How did it go over in Europe? Some say Nintendo needs to ditch the console and focus on games, but Nintendo may still try to save its hardware business. And, the USPS raised the price of stamps by cents last Sunday.

1-28-14 Mid-day Update - White House to raise minimum wage for federal contracts

Previewing tonight's SOTU. The NSA and its British counterpart are sucking up data from some mobile apps. And, there's a lot of code in the Silicon Valley dress code.

1-27-14 Mid-day Update - Emerging market jitters

Emerging markets are starting off 214 in the worst place they've been in 5 years. A new study says more than half of Americans are fuzzy on the deadline for signing up for health insurance. And, some charter schools see a benefit to pulling students from both sides of the tracks.

1-24-14 Mid-day Update - The legal marijuana industry's banking problem

Banks are reluctant -- or, in most cases unwilling, -- to do business with the marijuana industry. Railroads are shipping less coal, while they're sending packed supply trains to the oil fracking fields of North Dakota. And, less than five months before Brazil's World Cup kicks off, 6 out of 12 venues are still unfinished.

1-2-14 Mid-day Update - Are black people treated differently on Airbnb?

Carl Icahn wants eBay to spin off PayPal, separating the online auction site from the digital payment service. And, researchers say that African-Americans who rent out comparable apartments in similar neighborhoods charge less for their listings than white hosts do.

1-22-14 Mid-day Update - Optimism at Davos

The World Economic Forum kicks off today in the Alpine town of Davos, Switzerland. 5 percent of people who enroll in massive open online courses, or MOOCs, drop out. And, a recent study shows one in 1 job applicants have been rejected because something turned up in their credit history.

1-21-14 Mid-day Update - Oil demand booming

A new IEA report out Tuesday says global oil demand will rise by 1. million barrels per day this year. The annual meeting of the World Economic Forum kicks off this week, in Davos. One of the items on the agenda is inequality. And, the JOBS Act will promote equity investing through crowdfunding.

1-17-14 Morning Report - Surprise! Smoking is a lot worse than we all thought

Hey Smoking, you can add diabetes and rheumatoid arthritis to your list too! Studying abroad in Latin America gets a big boost. And when keeping up with the Jones' means getting your own private water well.

The NBA has made it clear -- they want to expand to Europe

Could personal coaches help low-income students graduate? The NBA is looking across the pond. And the current state of state finances.

1-15-14 Morning Report - The Fed -- cash cow or sitting duck?

The long-term unemployed, the NCAA debates paying its student athletes, and the Fed's bond portfolio.