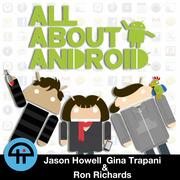 AAA 151: Rollin' With the Normals

The Google Now Launcher, Samsung's marketing jackpot, TWiT Live on your Chromecast, and more.

AAA 150: Huawei Wrong Way

A ton of hardware from Mobile World Congress, the rising backlash of Google Glass, new hardware coming direct from Google, and more.

AAA 149: Last Chance for Etiquette

The Android upgrade standard, Glass etiquette straight from the mouth of Google, gearing up for Mobile World Congress, and more.

AAA 148: Forkin' Android

Android is forkable, a look at new titanium frames for Glass, the Flappy Bird fiasco, EA steers angry customers away from reviewing games, and more.

AAA 147: The Broadway of Barcelona

Lenovo buys Motorola, Nexus is a winner, Chromecast SDK finally releases, Flappy Bird (sigh), and more.

AAA 146: It's a Metaphor

Samsung and Google's patent partnership, frames for Google Glass, Amazon's living room ambitions, and more.

AAA 145: Glass Case Closed

The case of driving with Glass, Glass in the theater, the follow up to Ingress, Blackphone, and more.

AAA 144: Pure Android

Android @Home becomes a little clearer, Moto X crosses the pond, Nokia Normandy makes Android look like Windows Phone, and more.

AAA 143: Open to Openness

The Open Auto Alliance, CES hardware announcements, Google certification for alternative form factors, and more.

AAA 142: A Banner Year

The biggest wins, the biggest flops, the best apps, predictions for 2014, and facial hair.

AAA 141: Best of 2013

Some of the most memorable moments of All About Android from 2013.

AAA 140: Google's Christmas Card

Chromecast plans for 2014, Google's home automation ambitions, Android gets festive for the holidays, and more.

AAA 139: Sportsball Edition

New Google Edition devices by Sony and LG, Android 4.2.2, the economics of Moto G, Chromecast gets an app infusion, and more.

AAA 138: Freedom to Make Epic Mistakes

Best phones for the holidays, the Hangouts dilemma, the missing sequel to the Nexus 10, All About Android: The Game, and more.

AAA 137: Do What Like a Sandwich?

The move from iOS to Android, the early arrival of the Moto G, app permissions is still hiding, and more.

AAA 136: Stalker Level Set to Red

Upcoming changes to camera API, the Moto G, Google Glass gets developer friendly, search gets even better, and more.

AAA 135: The ART of Tinkering

The next Dalvik, Google getting smarter with your personal data, a deep dive on the Nexus 5, the arrival of CyanogenMod for everyone, and more.

AAA 134: Classin' It Up

KitKat inside and out, Nexus 5 in the flesh, a revolutionary video game, mustaches, and more.

AAA 133: The Soldiers of Giants

Motorola's modular future, Glass gets revised, Hangouts and Google+ get major updates, and more.

AAA 132: The Iron Fist of Capitalism

Closed source creep, the myth of "Android First", better butter coming soon, a Google event that isn't about the Nexus 5, and more.

AAA 131: No One Wants a Floppy Phone

Even more Nexus 5 and KitKat conjecture, Google Experience Launcher, HTC One Max review, and more.

AAA 130: Samsung Throws a Curve Ball

The overblown threat of Malware, more developer analytics, trends like fingerprint scanners and curved screens, and more.

AAA 129: Another Tutorial

Are benchmarks important? new Kindle Fires, Google's app update-palooza, LG G2 review, and more.

AAA 128: Death By a Thousand Micro-Payments

Cyanogen Inc, Nokia's lost Android ambitions, BlackBerry's BBM not-launch, unofficial iMessage app (is sketchy), and more.

AAA 127: Disoriented by Google Maps

Google Wallet for all, more phones left in bars, things that go Bump, modular smartphones, and more.

AAA 126: Good Parents Teach Android

Old desserts say goodbye, Chrome apps to hit Android, IFA roundup, the next Nexus, and more.

AAA 125: The Taste of Selling Out?

KitKat, more Android management changes, IFA preview, Google's WiMM Labs acquisition, and more.

All About Android 124: Reminder Inception

Allcast woes, notification bar ad crackdown, a bunch of teased hardware ahead of IFA, and more.

All About Android 123: Smell Your Device

Waze integration begins, Samsung Galaxy Gear, Wikipad preview, updates to G+ and YouTube, and more.