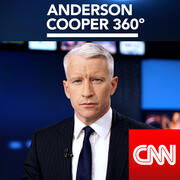 Remembering the victims of Flight 17

Anderson Cooper shares some of the stories of the lives lost on MH17.

Remembering a little brother killed on MH17

Alexandra Anghel shares memories of her 24-year-old younger brother killed in the crash of Flight 17.

Piecing together clues on Flight 17

AC360 looks at evidence that the U.S. intelligence community is using to answer questions about the downing of MH17.

Remembering families killed on MH17

Among the 298 people killed on Flight 17 were several families traveling together. AC360 looks at some of their stories.

Kids find no escape from Gaza violence

Ben Wedeman looks at children in Gaza who have no way to escape the airstrikes.

Will Russia take responsibility for MH17?

Fareed Zakaria explains why the Flight 17 crisis feels like a return to the cold war.

Does debris prove MH17 was shot down?

CNN's Anderson Cooper wraps up the latest developments following the crash of Malaysia Airlines Flight 17.

Dutch leader gives moving speech on MH17

The Dutch foreign minister gives a moving speech at a U.N. Security Council meeting about the crash of MH17.

A look at the crash of KAL007

CNN's Randi Kaye looks closely at Korean Air Lines Flight 007, which the Soviets shot down in 1983.

AC360 Daily Podcast 7/22/2014

Seeking new evidence in the downing of Flight 17. Also, the human cost of the fighting in Gaza.

Grandfather remembers 'lively' grandson

Quinn Lucas Schansman, a 19-year-old with U.S. citizenship, died on MH17. Anderson Cooper spoke to his grandfather.

Remembering the victims of MH17

A husband and wife, an American citizen and a beloved school teacher. Anderson Cooper remembers some of the MH17 victims.

Couples who were aboard MH17

CNN's Anderson Cooper profiles some of the people who were killed when Malaysia Airlines Flight 17 went down.

Paying tribute to the lives lost on MH17

AC360 takes a look at the worldwide tributes honoring the 298 people killed on Malaysia Airlines Flight 17.

What's Putin's next move?

New Yorker Editor David Remnick takes a look at Putin's recent actions surrounding the downing of MH17.

AC360 Daily Podcast 7/21/2014

Two young women remember the dear friend they lost on Malaysia Airlines Flight 17

Russia's MH17 propaganda war

The Russian media appears to be on the offensive, possibly spreading misinformation about what happened to MH17.

MH17 vicitm friends: It doesn't seem real

Karlijn Keijzer, an Indiana University student, died on MH17. Two of her roommates talk to Anderson Cooper about Karlijn.

Ukranian President compares MH17 to 9/11

Anderson Cooper reports on the latest developments on the downing of the Malaysian airliner.

AC360 Daily Podcast 7/18/2014

Remembering the victims on Malaysia Airlines Flight 17

Why did MH17 fly over a war zone?

Were red flags ignored before the decision was made to fly Malaysia Airlines Flight 17 over the conflict in Eastern Ukraine?

Tragic twist of fate for MH17 passengers

CNN's Deborah Feyerick reports on the extraordinary stories of people who were -- or should have been -- on Flight 17.

How MH17 will impact AIDS research

CNN's Sanjay Gupta profiles the AIDS researchers who were killed in the Malaysia Airlines Flight 17 crash.

Brother of MH17 victim won't place blame

Anderson Cooper speaks to Drew Ryder, whose brother and sister-in-law died in the MH17 plane crash.

Confusion, hostility at MH17 crash site

CNN's Anderson Cooper reports on the latest developments in the investigation into the MH17 crash.

When passenger jets become targets

MH17 is not the first plane to be brought down by a missile. Randi Kaye looks back at previous downings.

MH17 crashes one day after new sanctions

Anderson Cooper looks at events in Russia and Ukraine that led up to the day of the Flight 17 crash.

Flight attendant loses friends on MH17

CNN's Anderson Cooper talks with a friend of a few of the flight attendants who were on Malaysia Airlines flight MH17.

AC360 Daily Podcast 7/17/2014

Anderson talks to a journalist who was one of the first people to arrive at the Malaysia Airlines Flight 17 crash scene.

What we know about the MH17 crash

Many questions remain unanswered amid the crash of Malaysia Airlines MH17. CNN's Anderson Cooper examines the facts.

Rep. Nugent: The doors are open

Rep. Richard Nugent, R-Fla. says that much of the information on young gang members entering the U.S. is classified.

Not guilty plea in Google exec's death

AC360 looks at the case against the alleged call girl accused of killing a Google executive with a lethal dose of heroin.

Atty: Bergdahl grateful to President Obama

Anderson spoke with Sgt. Bowe Bergdahl's attorney Eugene Fidell about the former Taliban prisoner's reentry to military life.

Rep. Nugent clarifies 'gang bangers' remark

Rep. Richard Nugent, R-Fla. talks to Dana Bash about the number of young gang members coming over the border.

Breaking through the immigration rhetoric

Anderson Coopers looks at the possibility of lawmakers passing immigration reform while they are so deeply divided.

Big talk on immigration, where's the action?

Anderson Cooper is Keeping Them Honest on immigration as the clock ticks down to Congress' summer break.

'Illeagles': A typo or a sick bird?

Does misspelled graffiti make protest less potent; or are there just sick birds in Maryland? The Ridiculist weighs in.

Remembering JFK Jr., 15 years later

CNN's Anderson Cooper looks back at the plane crash that killed John F. Kennedy Jr. and two others on July 16, 1999.

AC360 Daily Podcast 7/16/2014

Politicians who crank up the rhetoric on immigrant kids while congress fails to take action.

Families find immigrant hopefuls dead

Many parents in Honduras who thought their children migrated to the U.S. have found them in a morgue instead.

Sgt. Bergdahl returns to active duty

Army Sgt. Bowe Bergdahl, a Taliban captive who was recently released, has returned to active duty. Ed Lavandera reports.

Jose Antonio Vargas: I was trapped

Anderson Cooper speaks to Jose Antonio Vargas, a Pulitzer prize-winner who was detained near the U.S.-Mexico border.

Is this sheriff behind immigration protests?

Anderson speaks with Sheriff Paul Babeu about protests of undocumented immigrants temporarily living on an Ariz. ranch.

Governor masters political doublespeak

CNN's Anderson Cooper reports on a mini-scandal brewing in Florida over a campaign stop by Governor Rick Scott.

Stopping the next domestic terror attack

AC360 looks into the difficulty of preventing Americans who traveled to Syria from launching terror attacks in the U.S.

Strangers rescue kids from hot car

AC360 looks at shocking video of a hot car rescue along with the new statement from Leanna Harris.

AC360 Daily Podcast 7/15/2014

Gary Tuchman travels to Central America to show you the train of death and Anderson talks with Arizona Sherrif Babeu.

Should child-focused companies polygraph?

Rep. Dennis Ross talks about his proposal to allow polygraphs for employees who will be working around children.

Migrants ride the 'Train of Death'

CNN's Gary Tuchman reports on the desperate and dangerous journey for migrants heading to the U.S.

Americans trained in Syria pose risk

CNN's Barbara Starr reports on concerns Americans could go to Syria for training then slip back into the U.S. undetected.

40 immigrants deported back to Honduras

Rosa Flores reports from Honduras about a group of 40 Central Americans deported from the U.S. back to their homeland.

Nebraska's Governor on immigrants' arrival

Nebraska Governor Dave Heineman says he was kept in the dark about hundreds of undocumented immigrants sent to his state.

AC360 Daily Podcast 7/14/2014

A look at the dangerous road from Central America to the United States and a peace proposal in the Middle East.

Man fired after buying legal pot

CNN's Anderson Cooper reports on a Washington man fired after he waited in line for 19 hours for legalized marijuana.

Family praises massacre's lone survivor

A Texas girl who saw her entire family brutally murdered speaks out for the first time. CNN's Randi Kaye reports.

Migrants' harsh journey through Mexico

CNN's Gary Tuchman is in southern Mexico following migrants looking to hitch a ride on anything that will transport them.

Theme park employees caught in sex stings

AC360 Investigation: Dozens of theme park employees arrested in child sex stings off site after hours.

John Walsh is back on 'The Hunt'

John Walsh explains to Anderson Cooper why he decided to 'saddle back up' to begin a new hunt for fugitives.

Is a ground invasion of Gaza next?

Anderson discusses the implications of an Israeli ground invasion of Gaza with George Mitchell.

How does Israel's Iron Dome work?

Tom Foreman looks at how Israel is able to safely knock rockets from Gaza out of the sky.

Cleveland prepares for Lebron's rebound

Cleveland's love / hate relationship with Lebron James enters a new chapter with the superstar's homecoming.

What fueled John Walsh's crusade?

CNN's Anderson Cooper profiles John Walsh and explains how he began his crusade against crime.

Should the U.S. build refugee camps?

Pulitzer Prize winning author Sonia Nazario discusses the violence driving a flood of children to the U.S. border.

Can politicians end the immigration crisis?

Anderson Cooper speaks with former L.A. Mayor Antonio Villaraigosa about the politics of the immigration crisis.

Snakes showing up in unwanted places

CNN's Anderson Cooper's reports on two discoveries of slithery snakes showing up in unusual places.

Protestors to immigrants: Go back home

CNN's Randi Kaye reports on immigration protests in some Texas and California towns.

An immigrants' hard road north

CNN's Gary Tuchman reports on the hard road north as Guatemalan immigrants make the journey to Mexico and America.

Shocking new details in Detroit abuse case

Court documents reveal shocking allegations in the case of the missing Detroit boy found in his father's basement.

Neighbors want 'Pllowcase Rapist' gone

Stephanie Elam reports that neighbors vow to drive a man known as the "Pillowcase Rapist" from his court assigned home.

AC360 Daily Podcast 7/10/2014

Exclusive reporting from the routes that thousands are taking to the United States.

John Walsh on the 'Pillowcase rapist'

The Hunt's John Walsh questions the release of a man who admitted to raping 40 women.

What should happen next at the border?

Texas Congressman Henry Cuellar and documentary filmmaker Jose Antonio Vargas discuss the crisis at the border.

Keeping Them Honest on immigration

Anderson Cooper looks a comments made by President Obama and Governor Perry after their meeting on immigration.

Riding Mexico's train of death

Karl Penhaul gets a first hand look at the dangers of a train immigrants use to try to approach the U.S. border.

Guatemalan immigrants surge to the U.S.

CNN's Gary Tuchman shows how easy it is to illegally cross into Mexico from Guatemala and journey on to the U.S.

Re-enacting the hot car death case

Police return to a Georgia parking lot to re-enact the hot car death of Cooper Harris.

AC360 Daily Podcast 7/9/2014

President Obama, politics and the big problem on the border.

Immigrants find a helping hand

Rosa Flores visits a shelter where weary undocumented immigrants try to figure out their next steps in the U.S.

What can be done to fix the border crisis?

Jorge Ramos, Dana Bash and David Gergen discuss the politics and possible solutions to the immigration crisis.

Former NOLA Mayor Nagin headed to jail

Former New Orleans Mayor Ray Nagin has been sentenced to 10 years in jail for corruption. CNN's Drew Griffin reports.

Is there a border crisis conspiracy?

Anderson Cooper is Keeping Them Honest, sorting out the politics from conspiracy theories surrounding the immigration crisis.

From Guatemala into Mexico for $1.30

CNN's Gary Tuchman traces the route Guatemalan immigrants often take as they cross into Mexico on their way to America.

Body language a clue in toddler's death?

Is there a right or wrong way to act when learning of a tragedy? CNN's Martin Savidge investigates.

Dr. Gupta on hot car death

Anderson looks at a hot car demonstration video allegedly watched by Justin Harris. He discusses it with Dr. Sanjay Gupta.

Can the Harris' behavior come up in court?

AC360 looks at the hot car death case and whether Justin & Leanne Harris's behavior could be admissible in court.

Can immigration asylum law be repealed?

AC360 looks at a law that is complicating the immigration crisis and what it would take to repeal it.

Meet the guardian to over 800 children

CNN's Gary Tuchman profiles one woman who is the legal guardian to over 800 children after their parents were deported.

AC360 Daily Podcast 7/8/2014

The Obama administration's answer to a humanitarian crisis and chaos at the border.

Beach thieves hilariously caught on cam

Two women were caught on camera trying to steal a family's beach equipment. CNN's Anderson Cooper has more.

Border crisis: Just the facts

CNN's Ed Lavandera looks past the political chatter to clear up some confusion about the current border crisis.

What's on the Pistorius reenactment video?

Robyn Curnow looks at how the Oscar Pistorius reenactment video could impact his murder trial.

Trying to save kids from hot car deaths

Lyn Balfour was acquitted of murder after she forgot her nine-month-old son in a hot car. She discusses the Harris case.

The threat behind new airport screening

AC360 looks at the intelligence that likely led to stepped up security screening for U.S. bound flights.

New airport security rules for gadgets

A look at what new airport security rules mean for international travelers carrying electronic gadgets onto planes.

Did Leanna Harris incriminate herself?

CNN legal analysts look at the actions of Leanna Harris before and after her toddler son's death in a hot SUV.

New documents released in hot car death

Eight search warrants are just some of the documents shedding new light on the hot car death of 22-month-old Cooper Harris.

Tariq Khdeir's aunt speaks out

Aunt of American-Palestinian teen beaten by Israeli police tells Wolf: if he wasn't a U.S. citizen, he would have died in jail.

Zakaria: Israeli conflict like WWI events

CNN's Fareed Zakaria likens the Israeli conflict to the events that sparked World War I.

AC360 Daily Podcast 7/7/2014

Mideast tensions grow and so does the cycle of violence. Wolf explores what's next and whether there's a way out.

Police: Mom of dead child acted odd

CNN's Jason Carroll reports on the behavior of Leanna Harris, the mother of the child that died in a hot car in Georgia.

'Operation Protective Edge' underway

Israel Defense Forces say they are are targeting Hamas and calling the action "Operation Protective Edge."

Drew Griffin on his charity investigation

Drew Griffin looks at the response to his charity investigation and clarifies his remarks about donations.

The case against Justin Harris

AC360 looks at the case against Justin Harris, the father charged with murdering his son by leaving him in a hot car.

Will Justin Harris be released on bail?

A judge will decide whether there is enough evidence to hold Justin Harris in jail in the hot car death of his son.

Murrieta Mayor on immigration protests

Mayor Alan Long discusses the protests sparked by busloads of undocumented immigrants arriving in his community.

U.S. bound travelers face tougher screening

Jim Sciutto looks at the new measures aimed at finding sophisticated bombs before they get on board U.S. bound planes.

What's behind new airport screening rules?

Former D.H.S. Secretary Tom Ridge sheds light on the intelligence that triggered new security rules for U.S. bound flights.

California goes after CNN whistle blower

Is California doing enough to protect communities from convicted sex offenders? CNN's Drew Griffin reports.

AC360 Daily Podcast 7/2/2014

Fresh concerns that terror groups have found a new way of getting bombs onto airlines.

California town blocks immigration buses

A small California community fights the busing of immigrants into their town. CNN's Kyung Lah reports.

Israel plans response following murders

Following the murder of three Israeli teens, Mideast tensions have escalated, and an Israeli response seems imminent

AC360 Daily Podcast 7/1/2014

Lawmakers shedding darkness instead of light on their bought and paid for overseas travel.

Keeping Them Honest: Congress For Sale

"Keeping Them Honest" - Pamela Brown examines a new policy that might lead some to believe Congress is for sale.

Girl barred from graduation, takes life

Gary Tuchman asks why a school did not allow a teen to attend graduation, which her parents say contributed to her suicide.

Will Ahmed Chalabi be Iraq's next leader?

Ahmed Chalabi, a divisive Iraqi politician who is in the United States, could become the country's next prime minister.

Birth control ruling sparks debate

Jeffrey Toobin and Gloria Borger discuss the Supreme Court ruling that dealt a major blow to Obamacare.

ISIS declares 'Caliphate'

Ali Soufan and Arwa Damon discuss ISIS' new propaganda video and its declaration of an Islamic "caliphate".

Israeli military strikes Hamas targets

Israeli military strikes Hamas targets after three missing teens were found dead. Ben Wedeman has the latest.

AC360 Daily Podcast 6/30/2014

New security concerns at the airport. Also, Keeping Them Honest. 360's investigation of charity ripoffs.

Police: Mom researched hot car deaths

Leanna Harris researched online how children die in hot cars, according to investigators. Martin Savidge reports.