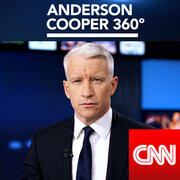 What's fueling diplomat arrest uproar?

The AC360 debate over the role politics is playing in India's response to the arrest of a diplomat in New York City.

New call to limit NSA's mass spying

Jim Sciutto on a White House panel's report calling for the NSA to limit controversial surveillance programs.

Antoinette Tuff: 'It wasn't a game'

Antoinette Tuff calmed & disarmed a gunman at an Atlanta school. She is feartured on "CNN Special Report: Extraordinary People"

Uproar in India to diplomat's arrest

Mallika Kapur reports from New Delhi on outrage to Indian diplomat's arrest in New York City.

D.A. wants jailtime for 'Affluenza' teen

AC360 debate on whether Texas D.A.'s have a case in a new legal effort to prosecute Ethan Couch.

Anderson Cooper loses top spot to...

Anderson Cooper lists the top newscasters on social media, and he's not too happy about being runner-up. See who beat him.

U.S. atty: Indian diplomat not handcuffed

U.S. attorney Preet Bharara says the Indian diplomat who was arrested was treated fairly and "accorded courtesies."

Texas D.A. wants jail for affluenza teen

Prosecutors want Ethan Couch to serve jail time for DWI assault charges after he was only given probation and rehab.

Making sense of multivitamins

Dr. Sanjay Gupta & "The Doctors" co-host Dr. Travis Stork weigh in on new reports on multivitamins.

AC360 Daily Podcast 12/17/2013

A chopper goes down in Afghanistan, the danger of multivitamins and the RidicuList

Santa: Black, White or Wiccan?

CNN's Anderson Cooper looks back at the heated debate over Santa's race and adds even more unanswerable Santa questions.

Questions surround deadly chopper crash

Barbara Starr reports on serious questions surrounding the chopper crash in Afghanistan that killed 6 U.S. troops.

Big Sur fire burns fire chief's home

CNN's Dan Simon reports on a nearly 550-acre wildfire that has burned several homes in California's Big Sur region.

RidicuList: Build your own milk jug igloo

Who says you need snow to build an igloo? Anderson Cooper found a couple in California that built one with milk jugs.

AC360 Daily Podcast 12/16/2013

The blockbuster court ruling against the NSA 's massive phone surveillance program.

NSA ruling exonerate Edward Snowden?

Glenn Greenwald & Jeffrey Toobin discuss the NSA program ruled likely unconstitutional and if it exonerates Edward Snowden.

Report: 'poop cruise' should not have left

Records show Carnival "poop cruise" could have been avoided. The cruise line was aware of ongoing fire hazard in ships.

Fmr. bodyguard: Jeffs still wields power

Gary Tuchman reports the feds want to know whether polygamist leader Warren Jeffs is running two towns from jail.

Arapahoe rallies behind wounded student

The friends of Claire Davis are doing everything to show support for the teen who was shot at Arapahoe High School.

Glenn Greenwald on NSA ruling

A preview of Glenn Greenwald's conversation with Anderson on a judge's ruling on the NSA

Cooper rips into 'affluenza' defender

CNN's Anderson Cooper has a spirited exchange with Dick Miller, the psychologist at the center of the "affluenza" case.

Affluenza: Is justice system equal?

Legal panel discusses the legitimacy of the "affluenza" defense and equality in the justice system.

AC360 Daily Podcast 12/13/2013

A student opens fire at Arapahoe High School in Centennial Colorado.

Playgrounds built to honor Sandy Hook victims

26 playgrounds built across the country honor each life lost during the Sandy Hook School shooting.

"Fake Interpreter" may have had criminal past

Errol Barnett on new reports the "fake interpreter" from Nelson's Mandela's memorial may have had a criminal past.

Arapahoe & Columbine miles apart

Dave Cullen, author of "Columbine" talks about the two shootings that happened just miles apart from each other.

Inside the Arapahoe shooting lockdown

Courtney Leypoldt tells Anderson about being inside Arapahoe High School during the shooting.

Was Bob Levinson on a secret spy mission?

Valerie Plame and Bob Baer talk about new evidence suggesting American Hostage Bob Levinson was a spy.

Victim's family: Affluenza is 'nonsense'

The brother of a teen seriously hurt in Ethan Couch's DUI crash says the "affluenza" defense was nonsense.

Student: Gunman last person I'd suspect

Frank Woronoff tells CNN's Anderson Cooper he knew the school shooter and that he never suspected he would do this.

AC360 "affluenza" psychologist part 1

Part one of Anderson's exclusive interview with Dick Miller, psychologist in the center of the "affluenza" case.

AC360 "affluenza" psychologist part 3

Part three of Anderson's exclusive interview with Dick Miller, psychologist in the center of the "affluenza" case.

AC360 Daily Podcast 12/12/2013

Psychologist defends "affluenza" as reason drunk-driving teen should be spared jail

AC360 "affluenza" psychologist part 2

Part two of Anderson's exclusive interview with Dick Miller, psychologist in the center of the "affluenza" case.

Korean media: Kim uncle 'worse than a dog'

Korean state media says Kim Jong Un's uncle confessed to dozens of crimes before being executed. Paula Hancocks reports.

Plea deal in newlywed murder trial

Kyung Lah reports on Jordan Graham's guilty plea to 2nd degree murder for pushing her husband off of a cliff.

Fake interpreter blames Schizophrenia

CNN speaks with the sign language interpreter at the Nelson Mandela memorial.

Treatment center in affluenza case

Anderson speaks with Dr. Drew and Newport Academy treatment center CEO about rehab for Ethan Couch in affluenza case.

Does "affluenza" belong in the justice system?

AC360 debate on the "affluenza" defense in the drunk driving trial of Ethan Couch.

Psychologist defends 'affluenza' decision

Psychologist G. Dick Miller says Ethan Couch's case is not an example of a separate system of justice for the affluent.

'Affluenza' family sued for $20 million

CNN's Randi Kaye reports the family of one of the people hurt in the DUI crash involving Ethan Couch is suing his family.

Psychologist defends outcome in affluenza case

Anderson speaks with Dick Miller who testified for the defense in the affluenza case.

AC360 Daily Podcast 12/11/2013

Teen gets probation for killing 4 people. We hear from the husband and father of two of the victims.

Geragos explains 'affluenza' decision

Criminal Defense Atty. Mark Geragos talks about the 'affluenza' defense that kept a teen D.U.I. offender out of prison.

Remembering the children of Sandy Hook

Parents, survivors reflect on the tragic shooting at Sandy Hook Elementary that took place nearly one year ago.

Chilling new video of Asiana crash

Rene Marsh has the latest on newly released video and a new report on the crash of Asiana flight 214.

Newlywed trial: Focus turns to 'surprise'

Prosecutors say a newlywed bride plotted to kill her husband of 8 days. CNN's Kyung Lah reports.

Fake sign language interpreter outrage

Brian Todd on the sign language interpreter at the Mandela memorial who translated the speeches into "gibberis.h"

Capt. Sully: Culture can be a problem

Capt. Sully Sullenberger explains how cultural differences can inadvertently create safety concerns.

Inside the "affluenza" defense

Anderson discusses the drunk driving "affluenza" case with Dr. Drew, Mark Geragos, and Sunny Hostin.

Eric Boyles on loss and "affluenza" defense

Eric Boyles' wife and daughter were killed in the drunk driving accident at the center of the "affluenza" case.

Dr. Drew: 'Affluenza' is ridiculous

Dr. Drew says there's no such thing as "affluenza," the defense used in a teen drunk driving case that killed 4 people.

Boyles: Wife, daughter were givers

In an AC360 Exclusive, Eric Boyles shares his grief after losing his wife and daughter to a teen drunk driver.

Teen avoids jail with 'affluenza' defense

CNN's Randi Kaye reports on case of boy who used the "affluenza" defense in case of killing four while driving drunk.

Honor the Children - Newtown One Year Later

A look at the way Avielle Richman's parents are honoring her by creating a foundation to support mental health research.

Pres. Obama shakes hands with Raul Casto

Ana Navarro & David Gergen discuss today's handshake between President Obama and Cuban President Castro.

Tempers flare during newlywed's trial

Emotions run high as jurors try to determine if the death of Jordan Linn Graham's husband was murder or self-defense.

South Africa says farewell to Nelson Mandela

Anti-apartheid anthem 'Senzenina" is the soundtrack to the AC360 look back at the tributes to Nelson Mandela.

AC360 Daily Podcast 12/10/2013

One families amazing survival.. two days in sub-zero cold.

Newlywed murder defendant faces her lies

A discussion of day 2 in the murder trial of Jordan Graham. She's accused of killing her husband of eight days.

How cellphone signal helped rescue NV family

Justin Ogden of the Civil Air Patrol talks about how a cell phone signal helped in the rescue of the missing NV family.

Inside the budget deal reached in Congress

Dana Bash breaks down what is in today's bipartisan budget compromise.

Were there only 4 gunmen in Kenya mall attack?

Susan Candiotti on a new report contradicting claims from Kenyan officials that some 15 gunmen stormed the Nairobi mall.

Survival expert on NV family's rescue

Survival expert Joseph Teti, explains how a family of six survived two days in the frigid wilderness of Nevada.

Miracle rescue of family lost in NV wilderness

Missing NV family found alive in their overturned Jeep after 2 days in the bitter cold. Stephanie Elam has the latest.

Rescuer: Missing family in good spirits

Chris Montes talks to CNN's John Berman about finding the family of six who survived two days in wintry Nevada mountains.

AC360 Daily Podcast 12/9/2013

U2's Bono remembers Nelson Mandela

Newlywed goes on trial for killing hubby

Jordan Graham could face life in prison if found guilty of killing her newlywed husband. CNN's Kyung Lah reports.

Capturing iconic images of Nelson Mandela

Anderson talks to Pulitzer Prize-winning photographer David Turnley about capturing iconic images of Nelson Mandela.

What will it take to free Kenneth Bae?

The sister of detained American Kenneth Bae talks about her family's efforts to free him North Korea.

Planning for the Mandela memorial service

Anderson discusses plans for Mandela's memorial service as world leaders from around the world travel to South Africa.

South Africa: Mourning & celebrating

Anderson takes a look at the ways South Africans are paying tribute to Nelson Mandela.

Bono remembers Nelson Mandela

Bono spoke to Anderson about his friend, and says Mandela "represents the fist turning into the handshake."

Bono: Mandela risked life for peace

Bono says that Nelson Mandela sacrificed everything in his life to bring peace to South Africa.

Winter storm creates deadly conditions

A winter storm is placing lives in danger and stranding people in the snow. CNN's Randi Kaye reports.

Bono: Mandela chose love over hate

Bono says that Nelson Mandela believed love would do better than hate in trying to end Apartheid.

South Africa plans to say farewell to Mandela

Robyn Curnow outlines the next ten days of mourning in honor of the death of Nelson Mandela in South Africa.

U.S. Ambassador to South Africa on Mandela

U.S. ambassador to South Africa Patrick Gaspard shares his memories of meeting Nelson Mandela.

Innocent man: Prosecutor "tried to kill me"

Rani Kaye speaks to a man who was wrongfully sent to death row when prosecutors withheld crucial evidence in his case.

Nelson Mandela embraced power of sports

Legendary golfer Gary Player remembers Nelson Mandela and his belief that sports can impact the world.

Ending prosecutorial misconduct

Mark Garagos & Sunny Hostin discuss the problem of prosecutorial misconduct. They debate the best way to stop the problem.

AC360 Daily Podcast 12/6/2013

Maya Angelou remembers Nelson Mandela

Mandela: Revolutionary to President

CNN's Jill Dougherty reports on Nelson Mandela's journey from revolutionary to President of South Africa.

Angelou: Nelson Mandela was on a journey

Poet Maya Angelou spoke to CNN's Anderson Cooper about the life of Nelson Mandela and what he did for the world.

N. Korea: American detainee was deported

North Korean State TV says that American detainee Merrill Newman has been deported, CNN's Paula Hancocks reports.

Bizos recalls Mandela's life in prison

George Bizos tells CNN's Anderson Cooper about his friend former South African President Nelson Mandela.

AC360 Daily Podcast 12/5/2013

Remembering Nelson Mandela

Rangel: He's been an inspiration to many

Rep. Charles Rangel talks to CNN's Anderson Cooper about his friend Nelson Mandela.

How prison transformed Nelson Mandela

Author Rick Stengel talks to Anderson about how Mandela's personal history prepared him to lead South Africa.

Branson: Mandela had wicked sense of humor

Sir Richard Branson tells Anderson about his friendship and work with former South Africa President Nelson Mandela.

AC360 Daily Podcast 12/4/2013

The family of Olivia Wise is speaking out about her legacy

New questions about Paul Walker's death

Kyung Lah on coroner's report that found Paul Walker likely survived the initial impact of the car crash that claimed his life.

Cobalt 60's dirty bomb threat

CIA officer Bob Baer talks about the missing radioactive material found in Mexico and the danger it could be used in a dirty bomb.

Missing radioactive material found in Mexico

Brian Todd reports new details on the discovery of a missing shipment of cobalt 60, which could be used in a dirty bomb

Impact of Newtown 911 tapes

Anderson discusses the release of 911 recordings released nearly one year after the tragedy in Newtown.

Authorities release Sandy Hook 911 tapes

Deborah Feyerick reports on the release of 911 tapes recorded during the tragedy at Sandy Hook Elementary School.

Olivia Wise's 'roar' remembered by family

Olivia gained fame when a Katy Perry song she recorded went viral online. Her mother and sister remember her with Anderson.

911 caller: They stole my turkey

CNN's Anderson Cooper has the story of a 911 dispatcher who helped out a man robbed of his food on Thanksgiving.

Wiretap documents: Gang blackmailed Ford

The Toronto Star's Robyn Doolittle talks to Anderson Cooper about newly released police wiretap documents on Mayor Ford.

Recovery turns to rescue days after shipwreck

Fmr Navy SEAL Brandon Webb talks about how a man was able to survived days inside a shipwreck deep under the Atlantic Ocean.

Amazing underwater rescue caught on tape

Anderson Cooper looks at the amazing rescue of a man trapped inside a shipwreck days after it sunk.

Alleged rape victim at center of murder case

Cold case reopened after alleged rape victim is now charged with murder of her alleged attacker nearly 20 years later.

Are U.S. students lagging behind?

Fareed Zakaria and Amanda Ripley discuss a study showing American students are not keeping up with the rest of the world..

Was sleep a factor in train derailment?

Sleep expert Michael Breus talks about whether a change in sleep schedule could have contributed to the Bronx train crash.

Train crash investigation focuses on engineer

Nic Robertson on new reports the Metro North engineer was reportedly "nodding off" before his train derailed.

Woman charged in alleged rapist's death

Charged with a felony murder count, Norma Patricia Esparza says she played no part in the killing of her alleged rapist.

AC360 Daily Podcast 12/3/2013

The incredible rescue of a man after 60 hours underwater.

Driver: Porsche is like a wild animal

CNN's Kyung Lah sat alongside the owner of a rare Porsche Carerra GT to experience a ride in the fast lane.

Nightmare for Americans held in North Korea

Steve Weber U.C. Berkeley Professor talks about what it might take to free two Americans held in North Korea.

Did a drag race kill Paul Walker?

New video shows the moment that Paul Walker's car crashed in turn killing the 40-year-old actor. Kyung Lah reports.

Porsche in Paul Walker's death "Not for novices"

Eddie Alterman is the editor-in-chief of Car & Driver magazine, and says the Porsche GT is not a car for novices.

How fast was the train moving when it derailed?

Jason Carroll has new information on the investigation into the deadly Metro North train derailment.

AC360 Daily Podcast 12/2/2013

Surviving a train wreck-- one woman's amazing story. Also, the kids of one crash victim remember the father they lost.

RidicuList: Plan B for suspended license

A Virginia woman got creative and decided to ride her horse to the DMV after her driver's license was suspended.

TB scare on US Airways flight

CNN's Dr. Sanjay Gupta talks about the risk of exposure to illness when flying in the small confines of an airplane.

Son: Our father was more than a victim

The family of Jim Lovell speaks to CNN's Anderson Cooper about the man they lost in the Bronx train derailment.

RidicuList: Jose Canseco and his goats

Why is former baseball star Jose Canseco doing driving around with diaper-wearing fainting goats? It's on the RidicuList

Afghan interpreter escapes Taliban to U.S.

Anderson interviews Afghan interpreter Janis Shinwari after US Army Captain Matt Zeller returns the favor of saving his life.

AC360 Daily Podcast 11/27/2013

A WOMAN WHO SAYS SHE DIED, LEFT THIS WORLD AND RETURNED. ALSO.. IT'S A VERY JOSE CANSECO THANKSGIVING ON THE RIDICULIST.

Doctor describes going to heaven and back

Mary Neal tells Randi Kaye her near death experience story. She says she left this world for another and came back.