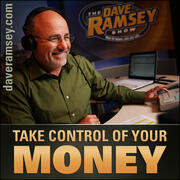 Medical Debt First?

Gordon asks if he should pay off medical debts first no matter how large they are. Dave says he should pay them off using the debt snowball.

Pete and Renee Paid Off $2.8 Million!

Pete and Renee are calling from Dave's lobby to shout that they are debt-free! They have paid off an astounding $2.8 million in 10 years!

From Black Book to Blue Book

Reese went to trade in his truck and was told by the dealer that they use the Automotive Black Book. Reese has never heard of it and wonders if it's another "gotcha" from the dealer. Dave breaks it down for him.

Keep Health Insurance In Place

Derek has $5,000 in savings. The deductible on his health insurance is $5,000, and the premiums are $390 a month. Should he drop the health insurance to get more focused on paying off debt?

What's So Special About $1 Million?

Angela asks what is special about a $1 million net worth in order to buy a new car. Dave explains his reasoning.

Living With Dad Is a Bad Idea

Brittany's 55-year-old father is losing his house. Her father plans to move in with her since he has nowhere else to go. What's the best way to set some boundaries with him as he moves in?

Pausing For Adoption

Tim and his wife can't have a child. They would like to adopt. Tim has $16,000 in a 401(k), and he and his wife are wondering if they should use that money to pay off some of the $40,000 student loan debt.

Stop the Snowball For the Wedding?

Miles's son is getting married in February, but the wedding is in China. Miles and his wife are in an investment club with $15,000 in it. Should they take $5,000 out to go on this trip?

How Does Dave Justify Wealth?

Lisa asks how Dave justifies building wealth when there is so much need in the world.

Pay the IRS First

Olivia's husband installs windows and basically owns his job. They now have IRS and state tax debt as a result. Where do these tax debts need to be placed in the debt snowball?

Emergency Fund in Bonds?

Ryan asks what Dave thinks about putting his emergency fund in bonds. Dave thinks it's stupid.

A Squirrel Fund

Cathy's husband works construction, so in the winter, they barely scrape by. Should they build an emergency fund for the slow times?

Lauren Overcame Adversity and Debt

Lauren is debt-free! She paid off $105,000 in four years.

Check on the Checking Account

Melinda's husband who died eight years ago. She didn't probate the estate, and he did not have a will. She is trying to deal with this again but is being given the runaround.

State or Private Insurance?

Steve stays home with the kids. His wife's income isn't enough money to pay for health insurance, so they get it through the state. Should they continue to use the state or go private?

There Might Be Hope

Andy's mom is ready to file bankruptcy. She has $115,000 in debt because of a $42,000 balloon payment due in April, a $21,000 car debt, medical debt and credit cards. Dave doesn't believe his mom is bankrupt.

Dave On Hyperinflation

Chris is concerned about hyperinflation. What would be Dave's plan if that starts?

Confirmation For Payoff?

Angela paid off her student loan. Should she call for a formal letter stating that it's paid off?

Student Loans Are a Parenting Problem

Tim's daughter is studying to become a pilot. If something should happen to her, would he be responsible for the student loans they co-signed for? Should they get a life insurance policy on her?

Jon and Cindy Are Free!

Jon and Cindy are debt-free! They paid off $50,000 in two and a half years.

Control the Overhead

Josh owns a small business he's having trouble scaling up and keeping expenses down. Dave has a warning for him.

Skip the Prepaid Funeral

Dave's wife passed away in February at 43 years old. Now he's getting solicitations from the funeral home to prepay his own funeral. He's 45 years old. Dave warns him away from this.

Universal Life Won't Make You Rich

Natalie says she went to a seminar about investing and was told to invest in a universal life insurance policy. Dave warns Natalie this is a bad idea.

Brent and Julie Are Free!

Brent and Julie are in Dave's lobby to scream that they are debt-free! They paid off $145,000 in three years and 10 months!

Counting Against the 15%

Dan just made it to Baby Step 4 and wonders if the money he contributes to his 401(k) counts against the money he can contribute to his Roth IRA.

Using the Extra

Victor just worked some overtime and brought home $2,900 with this paycheck. Should he and his wife put some extra money toward their kids' birthdays this month or put the extra toward their debt?

Big Collection No-No

Sara settled a debt with a collector, and she gave him electronic access to her checking account. When she checked her account this morning, it was overdrawn $80. Does she have any recourse here?

The TSP Vs. the IRA

Troy is a federal employee, and he devotes $700 to the Roth TSP each month. He also puts another $200 a month to an IRA. Should he scale back the Roth TSP in favor of the Roth IRA?

When Should I Freeze My Credit?

Tony asks when it is appropriate to freeze credit. Dave explains.

Balancing Passion and Money

Tyler asks how to balance a job that pays well with a job he's passionate about.

What If He Doesn't Go To College?

Wendy asks what happens to the money in an Education Savings Account (ESA) if they decide not to go to college.

Finding Career Fulfillment

Lea and her husband are debt-free except for their house. She's 38 and in an unfulfilling career. She's considering a return to school, but should she apply that money toward paying off their house?

Avoiding Student Loans With Parenting

Dave rants about student loans and the stupidity involved in making a decision about where to go to college and what to study.

Dave On His Bankruptcy

Dave talks about filing bankruptcy 25 years ago.

Rent a Car For Vacation?

Joe asks if it would be better to rent a car for vacation or use his own car.

If All Americans Were Debt-Free ...

Allison asks how the U.S. economy would be affected if every family were debt-free.

Auction Off the Timeshare

Amy asks what the best way to get rid of a timeshare is. Dave offers Amy some options.

Was Her Son's Identity Stolen?

Danielle's son received a car insurance quote in the mail. Her son is 12, and she isn't sure how to check his credit report. Dave advises her to go to each separate credit bureau to get his credit report.

Inherited IRA As College Savings?

Jennifer's mother-in-law passed away. She left Jennifer and her husband some of her retirement money, and they want to use it for a college fund for their kids. Dave tells her how to go about making that happen.

Switch to Roth TSP?

Jeremy asks if he should consider switching from his Thrift Savings Plan (TSP) to a Roth Thrift Savings Plan.

Handling Social Media

Carl owns a small business, and he's discovering problems with social media reviews. Carl feels as though the reviews are being filtered in a certain way that paints his business in a negative light.

Keeping a Hedge Against Inflation

CJ just relocated from the midwest for her husband's job. Are there any downsides to long-term renting? She and her husband are enjoying the low-maintenance lifestyle they have now.

Online Bank Okay?

Raphael asks what Dave thinks about using an online-only bank for his emergency fund. Is it a bad idea?

We Take Care of Our Own

Brian is in middle management. What can he do when an employee is worth more than he is allowed to pay them?

Married To the House

Daniel bought a home from a bank in 2009. It's livable but needs some updating. Daniel would rather spend his money elsewhere. He'd like to sell it as it is. Should he just sell it and be free?

What Is a Free Market?

A listener asks Dave to define what a free market is. Dave explains.

Peter and Breanne Are Free!

Peter and Breanne are debt-free! They paid off $24,000 in 22 months.

Concentrate On Building Wealth

Max is on Baby Step 4. He's renting because he's active duty military, unmarried, and has no children. He isn't sure how to think of the later Baby Steps because of his situation.

No Lightweight Problem

James says his wife has diabetes. Is there any hope of finding life insurance for her?

Part-Time and Disability Insurance?

Nancy is considering disability insurance for herself. She works part time, and she's running up against work-hour limits for disability insurance. Dave explains why that is.

Why Choose the ESA?

Jimmy asks why Dave recommends an Education Savings Account (ESA) versus a 529. Dave recommends checking with an ELP to find an ESA and explains why he recommends them.

Kids and Credit Cards

Margie says her children received credit card offers in the mail. Is it legal, and is there anything they can do about it?

Land Contract Warning

Scott wants to buy real estate, and in his market, it's cheap. He'd like to buy and sell it on land contracts. Why does Dave warn Scott against this plan?

Paying the Kids

Sarah asks if kids' commissions should go into the budget while doing the debt snowball.

Darryl and Carina Are Debt-Free!

Darryl and Carina are debt-free! They paid off $53,000 in 44 months.

A Farming Budget

Tyler is $250,000 in debt and is a farmer. How does he budget for something so volatile? Dave explains how to handle the business budget.

Auction Buys

Julio asks what Dave thinks about buying a home via auction.

Dealing With Payday Loan Punks

Susan and her husband are debt-free. Earlier this month, they received a past-due payment from a payday lender. They've never had an account with a payday lender. What should they do?

Dave Is a Pragmatist

Dave responds to negative comments from listeners who claim that capitalism is evil.

Is Wealth Because of Luck?

Dave reads some articles about how the rich people of the world got that way.

Roth 401(k) Over Regular 401(k)

Jamie asks Dave the benefit of a Roth 401(k) over a regular 401(k). Dave's answer is a simple one.

Garnishing While Paying

Jennifer and her husband have $60,000 in student loans. Can their wages be garnished if they are paying less than the payment amount, and if so, how far behind must Jennifer and her husband be for that to happen?

When to Start Collecting

Mark asks if there is a formula or rule of thumb for determining if it's better to start drawing Social Security at age 62 or when you are fully vested at age 65.

Keep the Emergency Fund Where?

Tiffany asks if it's better to have your money in a certificate of deposit (CD) or a money market account. Dave explains what they are, but talks about why the interest rate is nothing to get excited about.

The Baby Timeline

Tom and his wife have $13,000 in the bank and $35,000 in a Roth IRA. They have no debt and a baby due in January. He is in the military and wonders if now is a good time to buy their first home.

Giving Beyond Tithing

Carrie and her husband tithe, but they're on Baby Step 2 and expecting a child in a few months. What do they do about giving beyond tithing?

Slow Down on Mortgage Acceleration

Jennifer asks if she should pay a nominal fee to be enrolled in a mortgage accelerator program. Dave isn't too keen on the idea.

Splitting the Assets

Warren asks if a spouse is entitled to IRA investments in the event of a divorce.

Vanilla Financial Advice

Dave rants about normal in America and the insanity of vanilla financial advice.

The 10-Year Mortgage

LaTonya asks what Dave thinks about 10-year mortgages. Dave loves them.

Intense Focus

Chaz asks what Dave would recommend for 401(k) contributions while getting out of debt. Dave advises stopping any investing while in Baby Step 2.

Student Loans and Impending Marriage

Nate has been working on his debt snowball for a year. He may be getting engaged, and she has a substantial amount of debt from school. He isn't sure how to have the money conversation with her.

Sell the House, Do the Mission

Matt and his wife want to go into the mission field. They own a home, and they have considered keeping the home as a rental property while they're overseas. Dave thinks they need to sell the house.

Envelope Excess

Angela asks what to do with leftover envelope money at the end of the month.

Private School Versus the Mortgage

Molly has twins about to begin eighth grade. She could sell her home to move into a better school district, but that will cost an extra $250,000. Should she continue with private school or move?

Moving Into Mom's Place

Katy is 23 with no debt and going into her last year of college. Her mom has offered to let Katy move in with her. Is moving back in with her mom a good idea?

Employees Dating Each Other

Roger owns a small company, and sometimes his employees date one another. Should he try to stop this practice?

No Business Dropping Out

Dakota is a college student studying music business. He's been running his own business for several years, and he'd like to focus on the business and leave school. His parents disagree.

The Boomerang Generation

Dave reads an article from CNN Money about boomerang kids.

Lotto For Losers

Gary on Twitter asks why playing the lottery is a bad thing.

A Prodigal Daughter

Eddie says his daughter has $20,000 in student loans. He could pay them off today. If she never pays off the student loan, what will happen? Is there a better way for him to help her than paying this off?

Pacing the Work Hours

Carrie and her husband want to cash-flow an adoption, and they have $14,000 in debt. They make $63,000 a year. The adoption will cost about $12,000. Should her husband take on another job to help cash-flow this?

Single and Staying On Track

Debbie asks Dave what she can do to stay on track as a single person.

Flaky Friend?

Jess hired a friend to do some work on his house. He owes $3,500. His friend didn't do a good job, and the friend put the ball in Jess' court. What's the right thing to do regarding his friend?

Telling Mom No

Jessica is calling because her mom keeps asking her for money. Jessica isn't sure how to tell her no.

Law School Without Debt?

Ethan is about to start his senior year of college. Now he's considering law school. He won't have enough money to cover that, so what recommendation would Dave have for avoiding student loans?

Life Insurance Vs. 529

Rusty says an insurance salesman told him a life insurance policy is better for college savings than a 529 because the kids can use it for anything rather than just college. Is that true?

Collector On the Defensive

Scott is a collector for a credit card company. He takes his business and his faith seriously as he attempts to assist and help people.

You Cannot Out-Earn a Budget

Kristen and her husband are trying to decide if she can afford to stay home with their son. Dave is concerned about such a significant income drop and adjusting lifestyle.

Better Car, Better Gas Mileage?

Trey asks if he should sell his car to buy one with better gas mileage.

Count Employer Contribution?

Brian on Twitter asks if employer contributions count toward the 15% Dave recommends putting toward retirement.

Start Living Like No One Else

Angela asks Dave when she can start living like no one else.

Get the Gorilla Off Your Back

Stephen has $190,000 in student loans for a bachelor's degree and master's degree in music. Does Dave have any suggestions for getting his income up and cleaning this mess up?

Does Government Intervention Work?

Dave talks for a few minutes about government intervention when the economy tanks and gives his opinion of it.

Student Loan Crisis?

Dave discusses the student loan crisis going on in this country today.

HSA and the Budget

Michael says his company gives him $2,000 a year toward his HSA. He isn't sure how that should play into his budget.

Employer Life Insurance

Cheryl asks if she should get life insurance through her employer or on her own.

Dan and Aly Are Debt-Free!

Dan and Aly are debt-free! They paid off $57,000 in 21 months.

Joe and Lourdes Are Debt-Free!

Joe and Lourdes are debt-free! They traveled from Texas after paying off $58,000 in two years.

Land Contract Isn't the Way to Go

Courtney and her husband are moving for his job and they have no debt but the house. It isn't selling, so they are considering either renting or doing a land contract. Is that the way to go?

Cash At Closing?

Kasey is putting her condo on a short sale and she might owe some cash at closing. In the way she describes the situation, something sounds weird to Dave. He tells her how the process usually works.

Section 8 Housing Dilemma

Marvin says the government wants to turn his property into low-income housing. Is this a good idea or should he find his own tenant?

Fund It Upfront?

Vicky asks if she should fully fund her Roth IRA at the beginning of the year or over the course of the year. Dave explains.

How Much Term Do I Need?

Dan asks if term life insurance should be purchased based on current earnings or future ones.

Not Eligible For Disability Insurance?

A listener asks what options they have if their profession is not insurable for disability.

Not Technically a Scam

Larry asks what Dave's opinion is on reverse mortgages.

Mad Money Budget

Alex and his wife are trying to determine how much mad money they should each have per week. Does Dave have a suggestion?

Mike and Bryton Sold the House!

Mike and Bryton are debt-free! They traveled from Boise after paying off $132,000 in 21 months.

Whole Life Disagreement

Matthew sells whole life policies. He explains to Dave why a whole life policy can be beneficial.

Paying Deferred Loans

Micah and his wife have her student loans left to pay off. They're deferred because she's working on a Ph.D. Should they start paying them or save up to pay them off when she graduates?

Lumping It

Lorenzo has a credit card debt he hasn't paid on in about two years. The debt has been sold multiple times. How does he know the company the debt was sold to is legit?

Emergency Fund Range

A listener asks why the fully funded emergency fund has a three-month range. Dave breaks it down.

Budgeted Fun

Elizabeth thinks it's fine to pay $100 for a bottle of wine if you want to and it's budgeted, but her coworker says no way. Dave says Elizabeth is correct with a caveat.

Is Budget Billing a Blunder?

Ashley wonders about Dave's thoughts on budget billing.

HSA In the Baby Steps?

David and his wife are just starting their total money makeover. His school offers a matching 401(k) and a health savings account (HSA). Should he begin putting money into this after Baby Step 1?

Cut the Health Insurance?

Shauna asks if it's ever okay to stop paying health insurance to pay down debt. Dave says no way.

Brother's Bad Deal

Andrea and her husband hired her brother as their real estate agent, and he hasn't helped them buy a house. She's worried about the agreement she signed with him and her family's reaction to firing him.

Giving and Baby Stepping

Kevin asks for advice about giving when in Baby Step 2.

Regan Is Debt-Free!

Regan and his wife are debt-free! He paid off $106,000 in 24 months while cash flowing grad school for their daughter at $30,000.

Budgeting With Scale

Betty and her husband have eight kids. They just started their Total Money Makeover. Is it okay for them to still take family vacations?