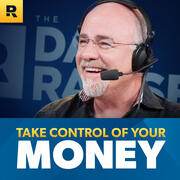 Ditch the Separation Pay

Gretchen's husband is going to receive military separation pay. If he goes into the National Guard, they will need to repay it. Dave advises Gretchen to check into whether or not they can decline separation pay.

More of a Mortgage

Lindsey and her husband's mortgage payment is more than 25% of their take-home pay. They're trying to decide if they should be placing the full 15% of their income toward retirement or pay down the mortgage.

Repair Now or Buy Later?

Dave is driving a 10-year-old car with 195,000 miles on it. It needs $1,500 in repairs and is worth $4,000 or $5,000. Should he put $2,000 in the car to keep it running or buy something else?

Using the Mortgage to Consolidate

Leslie is about to get remarried and has $34,000 in debt. Should she take that $34,000 debt and put it on her mortgage to consolidate it?

Freezing Your Credit Report

Eric wants to know if Dave recommends a credit freeze in order to protect against identity theft.

Settling With Sallie Mae

James asks if it's possible to settle on a student loan.

A Big Choice

Gus is 50 years old with $500,000 in retirement accounts. He owes $144,000 on his house and makes about $140,000 a year. Should he stop putting money in retirement in order to pay off his house?

No Dogs Allowed

Jim has been spending money on remodeling rental houses because he allows pets. Should he begin refusing tenants with pets?

The Wrong Half of the Month

Kathy is the Nerd, and she's trying to reconcile the on-paper budget with what's going on in their bank account. Dave reminds Kathy that the budget is supposed to tell her what to do.

The Target Date Fund

Matthew started a Roth IRA and used a target date fund. Would Dave move out of the target date fund into a growth stock mutual fund?

Finding 12%

Jason asks where to find mutual funds with a 12% rate of return.

Sell the Rental and Reinvest?

Barbara and her husband have a rental property. The rental property has a $150,000 mortgage, but everything else is paid for. Should they sell the rental and reinvest in the stock market?

Paying the Insurance Penalty

Brian and his wife have whole life insurance. If they cash them out, there's a 7% penalty. If they wait a few years, they won't have to pay into the premiums anymore. Should they cash out the policies anyway?

Upside Down and Selling

Jay wants to know how to get rid of a car when he is upside down on it and it is worth less than what he owes.

Can't Fix the Roof

Brittany says a roofer recently came out to inspect the roof, and it's going to cost $25,000 to repair the home. Brittany and her husband don't have the money to fix it right now. What do they do?

UTMA Means Taxes

Sam asks why Dave recommends the ESA and the 529. Are they like an UTMA? Dave explains the differences.

Leaving Something for Her

Lynn's 90-year-old father wants to leave something for her one-year-old daughter for college. He'd like to do it now in case he passes and it isn't done. Dave gives Lynn some options.

Will the Government Take It?

Barry has a five-year-old daughter and wants to start a 529 for her. However, he is concerned that the government might seize the 529 assets in order to pay off debts and give people treasury bonds instead.

A Dangerous Thing at That Age

Suzanne and her husband are considering moving into a retirement community, but they will need a mortgage in order to do so. Dave encourages Suzanne to search for other options that don't include debt.

Baby Step Reboot

Justin's only debt is the mortgage on his house. When he goes through Financial Peace University, should he restart the Baby Steps in order to establish the intensity?

Leftover Education Trust

Renee says her husband has a Michigan Education Trust. Renee's husband didn't go to college, so they can either divide it between their two kids or cash it in. What would Dave do?

Invest Your Money Elsewhere

Waylon took out an insurance policy on his son. The mom doesn't know her family medical history, so Waylon took out the policy to make sure his son can have insurance later. Dave tells Waylon to drop the policy.

Finding a Good Money Market Account

Vincent asks how to find a good money market account.

Two Free Spirits

Steve wants to know what his wife and he should do if they're both free spirits with money.

Tithing and Giving While Getting (Out of Debt)

Sarah wants to know if she should continue tithing and giving while getting out of debt.

Playing With House Money

Andrew and his wife are debt-free and saving for their first home. They have $75,000 in savings. Where should they place this money so that it's working for them while they save?

Still Doesn't Want to Budget

Jennifer can't get her husband to sit down and do a budget even after taking Dave's class. Dave thinks Jennifer's husband is acting selfishly and doesn't listen to her.

You Aren't Double Dead

Alaina says her credit union offers free accidental death and dismemberment insurance. Should she take it?

Tithing Feels Like a Tax?

Ben wants to get his wife on board with tithing. Ben's wife sees tithing as a tax rather than giving. Dave explains that this is more of a spiritual discussion than a financial one.

100% Mortality Rate

Cam asks if it's unreasonable to ask her 76-year-old husband to make a will. His rationale of why he doesn't want to do it gets Dave laughing out loud.

Get Out of the Politic Mess

Dustin and his wife need a new roof for their condo. They have an emergency fund, but his neighbors are all broke. How can they take care of this without the condo owing them money?

A Grad Student's Budget

Ilya is a graduate student. He receives $1,640 a month as a fellowship stipend. Ilya is struggling to complete the first Baby Step. Does Dave have any suggestions?

Dave Interviews Mark Cuban: Part Two

Dave continues his conversation about debt and business with Mark Cuban.

Dave Interviews Mark Cuban: Part One

Dave welcomes businessman and investor Mark Cuban to the show.

Buy the Dream Car

Rick wants to buy a collectible car. However, Rick is in college and paying cash for school. He has about $2 million in investments. The car is $10,000. Dave tells Rick to buy it.

Finding Money for Dental School

Tom's son has applied to dental school, and the first year will be about $77,000. Tom wants his son to graduate with no debt and plans to help him. How do you approach this kind of graduate school?

Look At Life As a Filmstrip

Dave rants about working hard and getting ahead despite life obstacles.

Housing Includes Taxes and Insurance

Ryan asks if the recommended 25% of income for housing should include taxes and insurance.

Client Out of Bounds

David and his wife own a small business. They only accept cash or check as payment. A client suggested that they accept credit cards, and David wants to know Dave's take on the situation.

Admiring and Inspiring

Sarah has some ideas to update a book, but it isn't her content. The book isn't in the public domain. What is the best way to approach the author about using this material and modernizing it?

Extra Savings Takes Away Volatility

Sarah is making $26,000 a year. Sarah has $1,000 in her emergency fund and is working extra jobs to earn extra money. Should she beef up her emergency fund in case she goes through another job loss?

In Honor of Mike

Lauren is debt-free! She paid off $55,000 in about five years. Lauren's husband passed away in 2011 due to leukemia, and his goal was to do this debt-free scream together.

Doing Nothing Doesn't Work

Jim is 56 years old and has $44,000 in a 401(k). His wife has ongoing medical expenses. Is it too late for Jim to start planning for old age?

Contentment Is a State of Being

Marie says her husband has a great job, and Marie works as a substitute teacher. Her husband would like her to take a more full-time position to build more wealth. Dave has a philosophical answer for Marie.

Time to Beg for Mercy

Chris and his wife have an SUV they're $28,000 upside down on. They need $48,000 to pay the SUV off. Dave explains that it is time to have a conversation with the bank that provided this loan.

More of a Long-Term Spending Jar

Monica has started her 4-year-old on a chore chart. She has his envelope system set up but has trouble helping him distinguish between saving and spending. How can she do that?

Skip the Keystone Trust

Terry asks Dave what he knows about keystone trusts. Dave explains what they are used for and the shadiness that can be attached to them.

Work Ethic for Less

Erin has three daughters, and one of them is in 4-H. The cost of the animals is expensive. Should Erin have her daughter help pay for this hobby somehow?

Always Take the Roth

Jennifer says her job offers a regular 401(k) and a Roth 401(k). Which should she take?

Ugly and Reliable

Earl asks if he should pay $1,500 in repairs on a car worth $2,500. Is it time to get another vehicle?

No Treating Student Loans Like a Mortgage

Jade asks where very large school loans would go in the Baby Steps.

Brian and Ashlee Overcame Disaster

Brian and Ashlee are debt-free! They're celebrating after paying off $40,000 in 10 months.

Let Go of the Timeshares

Joe says his mom passed away and left behind timeshares. Joe inherited those, and they are all paid for. He isn't sure what to do with them now as the executor of the estate. Dave explains how to handle it.

Jeremy and Sandy Did It!

Jeremy and Sandy are debt-free! They paid off $9,500 in six months.

Avoid Revocable Trusts

Ann wants to know when to create a revocable trust, especially if you own real estate. Dave doesn't believe Ann needs one even though it does provide some liability protection.

Debt Forgiveness Is Taxable Income

Chris asks when you get issued a 1099-C for cancelled debt, do you still owe the debt?

Where Does This Money Go?

Walt asks if you should pay extra on a mortgage that will be paid off in the next couple of years or invest that money over and above Dave's recommended 15% for retirement once you are on Baby Step 6.

A Little Lot Loan

Jim and his wife found a property that they want to build their dream house on, but they are putting all their money on paying off the mortgage. Is it all right to take out a small lot loan for $69,000?

What to Do With Restricted Stock

Patty says her husband receives restricted stock bonuses with his company. She isn't sure how long they're restricted. Are they allowed to sell these options?

Tim and Tiffany Are Debt-Free!

Tim and Tiffany are debt-free! They paid off $96,000 in 40 months.

Don't Leave an Estate With Life Insurance

Steve's mom is 71 and debt-free. She's investing $600 a month in a universal life insurance policy worth $250,000. What could she invest that money in instead of this life insurance to leave an estate?

Find a Reputable Dealer

Lisa discovered an art and coin collection her father owned. She isn't sure what to do with this collection. Does Dave have any ideas?

Mutual Fund Researching

Seth asks where he should research mutual funds to prepare for investing.

Bankruptcy Aftershocks

Brittany asks what the long-term effects of declaring bankruptcy are.

Chapter 7 Vs. Chapter 13

Claudia wants to know the difference between a Chapter 13 and a Chapter 7 bankruptcy.

Dan and Trudy Paid Off the House

Dan and Trudy are debt-free! They're from Wyoming and celebrating after paying off $108,000 in five years and nine months.

Income Is the Problem

Stephanie says some of her and her husband's bills went into collection, and she refused to give them her checking account information. Dave says Stephanie is doing the right thing.

Roll the Money

Tracy asks how to handle a 401(k) when moving from one job to another.

Life Isn't a Snapshot

Marcell is a single dad and wants to know how to get out of debt and continue to pay his bills. Dave thinks it's time for Marcell to start considering a new career to bring up his income.

Warning, Warning, Warning!

Sandra and her fianc? make $90,000 a year. They want to start a family after they're married, but Sandra's fianc? wants to buy a boat soon after they're married. Dave gives Sandra some tough love.

Always Get It in Writing

Ashley asks what the best way is to handle collectors who are hounding her about old medical bills. Dave has a simple answer.

No Credit Score Required

Matt asks how to get a mortgage without a credit score. Dave says it's all about manual underwriting.

Do I Bail Her Out?

Cindy's youngest child is asking to be bailed out of a situation. Cindy isn't sure if she should give her a loan or just give her the money and give the two other children the same amount.

Middle of the Storm

Susan and her husband have $6,000 in debt and some savings. They had a baby with some serious birth defects. Susan is unable to return to work. Dave recommends hanging on to the savings for the time being.

Needing Big Repairs

Amber can't afford to repair her home, and she is considering just walking away. Dave advises Amber to get with a good real estate agent to dump this house.

Does Dave Say Sell?

Tramaul brings home $2,700 a month and has $2,000 in payments. His $15,000 car is his largest debt. Tramaul believes he can pay it off within two years. Does Dave think he should sell it?

Be Very Kind and Very Grateful

Laura says her parents took out a whole life insurance policy for Laura when she was born. Laura wants to cash it out and apply it to the debt snowball, but she's worried she'll offend her parents.

When Am I Self-Insured?

Justin is married with four kids. At what point will he become self-insured? Dave has a quick answer and a thorough explanation.

Keeping Motivation Up

Brandon has $55,000 in debt, including $15,000 on a car loan. He has a part-time job and is working up to 70 hours some weeks. Brandon wants to know what Dave recommends for staying motivated through this process.

Transferring Risk With Life Insurance

Jensen asks if he can cash in a term policy at the end of 20 years, or did he pay all of those years for nothing?

Withhold the Right Amount

Brandon wants to know if it's better to withhold the maximum from his paycheck and get a big refund or withhold less.

Getting a Trademark

Angela wants to know how to trademark words or phrases. Dave explains how the process works.

Paying the Right Amount for a House

Kayla asks if taxes and insurance should be factored into the 25% of income that is acceptable for housing.

Starting From Small

Kayley has no debt except the house and eight months' worth of expenses in her emergency fund. She'd like to start a small business. How can she do that without the extra money to fund it?

In What Order Should We Pay?

Erik and his wife have $36,000 in debt. They make $90,000 a year. Most of it is medical bills, and they have a $5,000 student loan. The medical bills are accruing interest. Should they still pay those last?

More Than the Four Walls

Rachel asks how to determine expenses in order to save for the emergency fund.

More Than One Life Insurance Policy?

Chad asks if you can have more than one life insurance policy. Is there ever a reason to do this?

School's on the Horizon

Erin's husband is leaving his full-time job in a year so that he can attend school full time. Once they complete Baby Step 3, should they move to Baby Step 4 or continue saving?

Helping Her the Right Way

Mike and his wife have a friend they met through the Big Brothers Big Sisters program. She recently asked for money from Mike and his wife. They don't approve of how she's spending money, but she needs help.

Life Insurance Transfers Risk

Angie asks what happens to the money she gives each month to a 30-year term life insurance policy. Is she throwing her money away?

Not Getting the Match

Bethany isn't sure if she should contribute to her 401(k) or a Roth IRA instead. It is a discretionary 401(k), and Bethany isn't sure she'll receive a match at the end of the year. What would Dave do?

Time for Baby Birds?

Joel says his wife really wants to be a mom and would like to start planning for that. Joel wants to wait a little longer and build up their emergency fund before taking that step. Who's right?

Child Support Battle

Tina says she and her husband are battling the state over owed child support. Tina isn't sure where that debt falls in Baby Step 2. Dave tells Tina how she needs to handle this.

Funding Fun After College

Jonathan is finishing his last semester of college and landed his first job. He's revising his budget, and he has $15,000 in student loans. Jonathan wants to know if he should put some fun money into this budget.

The IRS Bill

Jared owes the IRS $6,000 and is paying them monthly. Should he add a personal loan to this debt or continue the debt snowball until the IRS debt makes it to the top of the list?

Biweekly Mortgage Okay With No Fees

Jeremiah asks what Dave thinks about a biweekly mortgage payment.

Cashing Out Not a Good Plan

Cody is transitioning jobs. He's 23 and has $11,000 in a 401(k). He has $15,000 in debt. Should he cash out the 401(k) to pay down the debt?

Is Refinancing Good Here?

Lisa and her husband are on Baby Step 2. All of their debt is student loans. They're considering a refinance of the loans. Is that a good idea? Dave lays out some guidelines for doing a refinance.

Sliding and Snowballing

Shawn has income on a sliding scale. She has $5,500 in debt left and is in a position to further her education and increase her pay scale. Should she work on that now or wait until she's debt-free?

Take Care of College

Lou and his wife have $55,000 in individual stocks they want to move. They have four kids, and the oldest will leave for college in five years. Should they pay off the house or put the kids through college?

School Cost Versus Salary

Sarah and her husband have $35,000 in debt. Sarah wants to go to school for a better education and a better job. Dave recommends looking into the cost of the school and potential salary before pursuing it.

Mike Did It!

Mike is in Nashville with his son Caleb to celebrate debt freedom. He paid off $370,000 in five and a half years.

Sean and Jessica Are Debt-Free!

Sean and Jessica are debt-free! They're from Missouri and paid off $88,000 in about five years, including the house!

You Don't Have a Need for Life Insurance

Jody asks if she needs life insurance if she isn't married and doesn't have kids.

Setting Up a Business Emergency Fund

Eric wants to know how to set up a business emergency fund. Dave explains.

Ask for Expectations

Charlie says a friend owes him money, but the friend is helping Charlie with a job. Does Charlie pay him for the job or forgive the debt?

Writing a Zero-Based Budget

Mike asks how to create a zero-based budget when his pay varies from month to month. Dave explains.

Asking for the Raise

Vanessa wants to know how to ask for a raise when she has more responsibility than her coworker but the same title on paper. Dave believes Vanessa's increase in pay will come over time.

Immediate Needs, Not Baby Steps

Kevin asks when in the Baby Steps he should work on getting life and disability insurance. Dave says it is an immediate need and not part of the Baby Steps.

Married to an Entrepreneur

Charles says he married an entrepreneur, and he and his wife have different personality styles. How can he best communicate to her and not hold her back from her ambitions? Dave thinks Charles's wife needs him in her life in order to bring stability to her life.

Millionaire Widow Needs a Prenup

Heather's husband died from cancer several years ago. She has $3.8 million in assets. Heather is considering marriage again. Does she need a prenuptial agreement?

Contentment Is Learning Gratitude

Ryan asks how to teach their kids to be grateful for what they have and not always have the latest, greatest thing. Rachel says humility is part of this lesson.

Who Do You Want to Hang Out With?

Aaron has two job offers from tech companies. He's being advised to take the Silicon Valley job, but Aaron would have more money in his budget if he chose San Antonio. Which would be a better opportunity?

Older Dave's Advice to the Younger Dave

Jamin is graduating from college. He'll have about $40,000 in student loans, and he has $4,000 in savings. What advice would Dave give Jamin at this point?

Do I Need Earthquake Insurance?

Jonathan asks if earthquake insurance is a good idea.

No CDs for Kids

Abe asks if it is a good idea to start a CD account for his two small children. Dave says no.

Small Business and the Four Walls

Josh asks what the four walls are of a small business budget.

Dustin Broke Free

Dustin celebrating after he paid off $56,000 in 24 months. He also cash-flowed an engagement ring during this process.

Rehabbing to Sell

Terri and her husband recently inherited her parents' home. The house is worth about $85,000 if it's cleaned up. Without cleaning it up, it's worth $75,000. Should they clean this house up to move it faster?

Change Your Habits Instead of Refinancing

Karen asks if it would be wise to refinance and add her current debt to the total. Dave says no way.