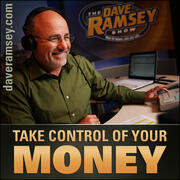 AAA or Self-Insure?

Jeremy asks what Dave thinks about auto club memberships like AAA.

Your Bank Advice Is Bad

John wants to roll over a 401(k). His bank is encouraging him to roll it over to fixed annuities. Is that a good investment? Dave says no way.

Life Insurance With Diabetes?

James says his fianc?e has diabetes. Is there any hope of finding life insurance for her?

Boise Bible College Is Debt-Free!

Curt and Terry from Boise Bible College are calling to say the college is debt-free! They paid off $2.2 million in about seven years.

Keeping Tax Documents

Robert asks how long to keep tax documents.

Book a Hotel Without a Credit Card?

James asks if it's possible to book a hotel without a credit card. Dave says yes.

Selling a Car With a Lien

Miranda asks how to sell a vehicle with a lien amount higher than the value.

Keep the Lifestyle Simple

Mitchell is about to start a new job with a $20,000 income increase. He needs to adjust his budget. What would Dave suggest for this new income?

Goals Limiting One Another

Michelle and her husband are newly married and currently renting. They are paying $1,200 a month. What range of houses should they look at with an income of $7,000 a month?

Saving For the Twins' Future

Candace just had twin boys five months ago and is wondering what the best option is for building up savings for them once the family's debt snowball is finished.

Garett and Amanda Are Free!

Garett and Amanda are debt-free! They paid off $45,000 in 28 months.

Sharing Successes

Amanda and her husband are only 28 years old and have no debt whatsoever. They don't share this information due to being treated differently by others. How should they handle this situation?

Giving a Tenant Mercy

Flavia owns a condo she's using as a rental property. The new tenant signed an agreement and just called to back out of the lease. Flavia has the first month's rent and a deposit. Should Flavia keep the money?

Is Investing Gambling?

Thomas invests in the stock market, but a friend at church says that is like gambling. Dave is happy to explain why he disagrees, and he defines what gambling is.

Growing Up As a Ramsey

Joe wants to know how to get your kids to learn the dangers of debt without them feeling the sting of it. Dave and Rachel give their answer from the experience of growing up in the Ramsey house.

What Are Index Funds?

Michael asks Dave to explain index funds versus mutual funds.

You Will Leave the Company

Sandy works under a contract, and her contract is about to expire. She has a $5,400 401(k) loan, and it needs to be paid off in 60 days. Dave warns Sandy to pay off this loan as fast as possible.

A Marriage in Troubled Waters

Steve and his wife have $70,000 in debt and make $183,000 a year. They have separate bank accounts, and she spends what she wants. Dave senses this may not be a salvageable marriage situation.

Financial Russian Roulette

Dustin's wife travels for work one week per month and charges her expenses to a personal credit card for reimbursement later. Should they continue using the credit card or go with a debit card?

Budgeting Pocket Money

Aurora asks if you still budget for mad money when you're getting out of debt. What would Dave do?

No More Cards

Debbie is trying to get Baby Step 1 in place. As she pays off her credit card debts, should she close the accounts?

Dustin and Sammie Are Debt-Free!

Dustin and Sammie are debt-free! They paid off $44,000 in 39 months.

The Degree Needs to Create Income

Michelle is overwhelmed by student loans. Her husband co-signed for their son's loans, and the balance is over $100,000. Dave suggests it's time to turn this kid's degree into an income.

The Life Insurance Agent Versus Dave

Russ is an insurance agent who says term life insurance isn't always recommended. Dave points out exactly why Russ's point of view is wrong.

Creating a Teachable Moment

Julie says her 13-year-old son wants to set up a bank account. What does Dave think about Julie's son having an account and linking her checking account to it?

Trading Debt for a Career

Travis is considering a career change to become a financial adviser. It will mean a 40% cut in his salary during the short term. He will need to take on debt in order to survive this cut. Is this a smart move?

Wastes of Money

Andy asks if a home warranty is a waste of money with a fully funded emergency fund.

A Transitional Year

Adam and Kali are considering relocation to Nashville. They own a home. Should they hang on to the house for a year just in case the move to Nashville didn't work out?

The Family Business

Dennis asks Dave if he has any advice for taking over a 30-year-old company that belongs to their dad. Dave does indeed.

You Don't Inherit Debt

Matthew has in-laws who have a large amount of debt. How will that affect his wife and their family if the in-laws die with debt? Dave has good news for him, but a word of caution as well.

Investing in Land

Tara asks what Dave thinks about land as an investment.

My Income Only?

Libby says her husband's company matches retirement up to 6%. Does that 6% count toward their 15% in retirement?

Job Change and a Retirement Loan

Angel has a 401(k) at his current job, but he wants to take another job. The problem is he has a $6,000 loan against his 401(k). Once he quits this job, what happens to the loan?

Retirement or Student Loans?

Amber graduated from college with $70,000 in student loans. She is 33 years old, and she wonders if she should continue paying off the student loans before investing in a retirement plan.

First Buy Bargain

George is about to buy his first home. He and his wife are considering buying a foreclosure and remodeling it. Is that a better idea than buying a new home?

Mike and Jeannette Are Debt-Free!

Mike and Jeannette are debt-free! They're in Nashville to celebrate after paying off $177,000 in four years.

Gambling Entertainment?

Brian asks how Dave feels about gambling at a casino as entertainment as long as you don't go in expecting to win big.

Extravagant Giving Foolish Spending?

Linda and her husband have several hundred thousand dollars in savings. They pay for their children and grandchildren to visit during Christmas each year. Her mom thinks it's foolish spending. Who is right?

Saying No to Extended Warranties

Laura recently traded in a pickup truck for a new pickup truck. She purchased an extended warranty, and Laura feels like that was a mistake. Dave advises her to cancel it right away.

Disagreeing With Leadership's Direction

Debbie is working for a startup but barely making ends meet as a result. Should she be pursuing positions with larger companies instead of sticking with smaller businesses?

Put Limits on Wedding Spending

Joe is on Baby Step 2 and has $33,000 left to pay off. One of his daughters is getting married in about a year. How does this fit into the Baby Steps?

English Teacher Drowning in Loans

Casey has $175,000 in private and federal student loans. She is a high school English teacher, and she is in way over her head with these loans. She makes $38,500 a year. Dave has some tough love for Casey.

Budgeting on His Own

Austin is 20 years old and making $13.50 an hour. He lives with his dad and wants to move out on his own. How can Austin afford to move out on his own and cover his expenses each month?

The Variable Annuity Option

Dave and his wife are retired and completely debt-free. They have an annuity that has matured with $235,000 in it. They have another $100,000 in cash. Where would Dave suggest they place it?

Nobody Ever Saves Enough

Jonathan asks what happens to the money in an ESA if a child gets a scholarship and no longer needs the money. Dave explains.

Letting Kids Make Money Mistakes

Christina has a 6-year-old son with $400 saved. He wants to buy a motorcycle someday with it, but now he's changed his mind and wants a tablet. Is it okay for him to change his mind like this?

Donkeys Aren't Thoroughbreds

Deborah is a new mom who is considering bankruptcy. She has $20,000 in debt and has been dependent on her boyfriend the last several months. She's ready to take over and take care of herself and her child.

Deciding What the Kids Need to Know

Brian asks if it's okay to tell your kids how much you make when teaching your kids about money. Dave says it depends.

Brokenhearted Mom

Laurie took out a student loan for $10,000 for her youngest son's college. Laurie wants to keep her word to her son but is struggling. Dave helps Laurie decide what to do from a moral standpoint.

Check Cashing For the Unbanked

Brian asks if Dave feels the same about check cashing companies as payday loan companies. Dave doesn't like them, but he doesn't put them in the same category as payday lenders.

Invest Now or Pay Off Debt?

David graduated with $70,000 in debt. He makes about $50,000 a year, and his wife is making about $40,000. He's in residency. Should he be paying off his student loans or putting money in a Roth IRA?

Mobile Homes Are Large Cars

Brad asks Dave to elaborate one why he tells people to not buy a mobile home.

Contest Money for College

Deanna has a 10-year-old daughter, and she just won a contest that awarded her $25,000. Deanna isn't sure where to put this money for her daughter for the future. Dave makes college the first priority.

Don't Risk the Family Farm

Robert says his wife started works at a pharmaceutical company that gave her stock. The stock has doubled, and they're considering buying some more to see how it does. What does Dave think about that?

Taking the Tax Hit

Allison says her husband is receiving a $60,000 lump sum as his commission. They aren't sure how to minimize their tax implications. They have no debt other than their mortgage.

Claudia and Abdias Sacrificed for the Kids

Claudia and Abdias are debt-free! They paid off $295,000 in two years. They paid off their house!

College Student Budget Priorities

Colton wants to know how to prioritize his budget. He's returning to school and getting engaged, so he has a lot of big changes coming. He has some student loans. Should he pay those off before he gets engaged?

Owing on Commercial

Dawn and her husband own three commercial buildings with debt. The buildings are leased out, and they earn $190,000. Is it okay to owe on commercial buildings, or should they work to pay those off?

Getting Them to Stop

Dan asks how he can get credit card companies to stop sending him credit card offers. His wife continues to sign up for them, and he's now $40,000 in debt. Dave clarifies the kind of problem Dan has.

Pre-Retirement Cash

Colleen and her husband are moving across the country in the spring. They aren't sure if they should put money into savings or retirement. Their short timeline factors into Dave's answer.

Getting a Fresh Start

Johnny recently became a Christian, and up until this point, he made no plans for the future and lived in the moment. Now he wants to get his life on track. He isn't sure where to start.

Partnership Gone Bad

Ben asks what the best way is to dissolve a bad business partnership and move on. Dave says it's probably a complicated answer.

Investing Savings Bonds

Ashley asks what Dave would suggest she do with savings bonds she's been given over the years.

Wait for Disability Insurance

Stacy asks if she should wait to get disability insurance until after she's out of debt. Dave says no.

Insurance for Mom

Jo wants to take out life insurance on her mom. Her mom is her nanny, and Jo isn't sure who would care for her kids if her mom passed away. Dave disagrees with buying life insurance for Jo's mom.

Is It Worth a Lawyer?

Shane wonders if it's worth it to pay a lawyer to settle IRS debt. Dave doubts it would be.

Balance Transfers Don't Do Anything

Kelsey asks if she should transfer the balance of her credit card to one with a lower interest rate while she pays it off?

Do Fewer Stupid Things

Tiffany says her parents have co-signed government loans so that she could attend college. Will her forbearance or nonpayment affect her parents' credit if she doesn't pay? Dave says yes.

Not Time to Buy

Dory and her husband have a $16,000 car loan and $12,000 in student loans. They have a home down payment and earn $2,000 a month. Dave warns Dory why buying a house now is the wrong move.

Talking to His Folks

Jake is concerned about his parents' financial situation. He's attempted to talk to them about the Baby Steps, but Jake's father is convinced it won't work.

Is More Schooling Worth It?

Robin is 49 and interested in going back to school. If she returns to school, she'll receive a raise. Is it worth it to go back to college?

Long-Term Investing Has Risk

Matt is worried about investing in the market because of volatility. Are there safer investments?

Directing Their Money

Ken and his wife have two mortgages, including a rental property. They have no other debts and make $140,000 a year. Are they allocating their money correctly by paying off the houses?

Using the 401(k) Wrong

Marcus and his wife make $90,000 a year. His wife has $4,500 in a 401(k). Should they cash out the 401(k) and use that money to move to a new home?

Superstar Salesman

Daniel owns a landscape company, and he hired some superstar employees. He wants to turn one of them into a salesman. He isn't sure how to start with that though. Dave explains how he would approach it.

Define the Goal

Charlie asks if he should give his kids money to buy Christmas gifts for friends and family. Dave says it depends on the goal.

Team Reading

Scott would like his team members to begin reading certain books. What are the logistics of this? Dave tells Scott how he does it.

Relocation Package and Taxes

Lucas got promoted with his company, and he had to relocate. His company agreed to buy his previous home. Is there any advantage for him to wait until January for this transaction to take place?

Dramatic Decision-Making

Lee Ann and her husband need to replace a rotting back door. It will be a $10,000 home improvement project to repair and protect the house from rotting. Where do they find the money for this?

Reverse That Mortgage Idea

Peter is negotiating a reverse mortgage. He's been out of work for two years and owes $15,000 in back taxes on his home. It's worth $320,000, and he owes $50,000 on the mortgage.

Guiding Mom Through the Mess

Ben has divorced parents. His mom has $126,000 in debt. She makes $2,700 a month. He isn't sure how to help guide her through this mess. What would Dave suggest?

Mom's Nonexistent Boundaries

Deron says his mother left her job and apartment in Georgia to attend a funeral in Ohio. She has no savings and no retirement. He's struggling with continuing to help her when she won't help herself.

Mom Hooked on Payday Loans

Ronnie's 74-year-old mother is spending too much money on things she wants, and she's using payday loans to fund it. She's $800 in debt to them again. How can he help her?

A $235,000 Decision

Michael and his wife just had a baby. They aren't sure if his wife should stay home or return to work. They're also considering a refinance. Dave doesn't see why they can't do both.

The Last Insurance

Michael says his elderly parents have $120,000 in cash value from a whole life insurance policy. He would like them to pay off their $130,000 mortgage by cashing in this policy. Is this a good plan?

Building Up for Baby

Clint and his wife are expecting their first child. They owe $11,000 in student loans and $11,000 on cars. Should they stop their debt snowball now to pile up more money in anticipation of the baby?

Home Warranties Are a Bad Deal

Steven asks if Dave recommends purchasing a home warranty for the first year after buying a home.

Marine With a Mess

Matt has a brother-in-law in the military overseas, and he's in collections for not paying tuition for a class. He owes $3,500. What's the best way to help his brother-in-law settle this mess?

Alternative to College?

Tom asks if certifications or other trade schools are a good alternative to college. Dave thinks they are.

Turned Upside Down

Emily is upside down on her $16,000 car loan to go along with $42,000 in student loans and a mortgage at $1,200 a month. Should she sell the car to get out from under the loan?

Life Insurance for the At-Home

Eric asks what Dave's take is on life insurance for a stay-at-home spouse and children. Dave explains how much he believes Eric should have.

Mom Needs Boundaries

John says his mom is enabling John's brother and his brother's children. His brother is 58 years old. Dave tells John how to talk to his mom about this ongoing family situation.

A Surprise For Dad

Brittain is debt-free! She's in Nashville all the way from Kansas City to celebrate after paying off her mortgage!

Bad Rental Property Strategy

Andy and his wife own a rental property in Kentucky. He'd like to refinance their primary residence, buy a duplex, and pay it off. Hear why Dave says no way.

Where to Save?

Crystal just started a new job making $50,000 a year, and she has been offered a 401(k) with no match. Should she put money into the 401(k) or a high-yield CD? Dave has another recommendation.

Finding a Used Car

Amanda asks where the best place is to buy a used car. Dave gives Amanda some pointers.

Robby and Cathy Are Debt-Free!

Robby and Cathy are debt-free! They're celebrating after paying off $20,000 in four months.

Get Rid Of Gerber

Cody has Gerber life insurance for his daughter. Should he cancel it? Dave says yes.

Ty and Nikki Are Debt-Free!

Ty and Nikki are debt-free! They're from Atlanta and celebrating after paying off $147,000 in three years and six months.

Beef It Up

Allison's 10-year-old daughter is a survivor of leukemia. As she and her husband are doing their Baby Steps, should they make any changes in case their daughter has another bout with cancer?

Decide What You Can Afford

Jennifer and her husband have been approved for $800,000 to buy a house, but it won't put them where they want to be. Is it a wise move for them to look beyond their preferred area based on their budget?

Debit Card Access For a Collector?

Susan has heard Dave say she shouldn't give collectors access to her checking account. Does that include payments with her debit card?

Go Ahead and Auto-Draft

Brandon asks if it's a bad idea to have student loan payments auto-drafted. Dave says no.

Add On or Move?

Ann Marie and her husband have four small children and one bathroom. They want to stay in the house, but they need to add on. Is it wrong to stop their retirement contributions to pay for an addition?

An Emergency Fund Shouldn't Take a Year

Beth is 30 years old and debt-free. Should she stop her 401(k) contributions for a year to save up her emergency fund?

Valuation Of a Business

Rhonda plans to sell her retail business. Is there a formula she should use to figure the asking price?

Borrowing Against a 401(k) Is Dumb

Frank has 16 people on staff with a 401(k) in place. Recently, an employee asked if she could borrow against her 401(k) in order to buy another car. What should Frank's response be?

Medical Debt First?

Gordon asks if he should pay off medical debts first no matter how large they are. Dave says he should pay them off using the debt snowball.

Pete and Renee Paid Off $2.8 Million!

Pete and Renee are calling from Dave's lobby to shout that they are debt-free! They have paid off an astounding $2.8 million in 10 years!

From Black Book to Blue Book

Reese went to trade in his truck and was told by the dealer that they use the Automotive Black Book. Reese has never heard of it and wonders if it's another "gotcha" from the dealer. Dave breaks it down for him.

Keep Health Insurance In Place

Derek has $5,000 in savings. The deductible on his health insurance is $5,000, and the premiums are $390 a month. Should he drop the health insurance to get more focused on paying off debt?

What's So Special About $1 Million?

Angela asks what is special about a $1 million net worth in order to buy a new car. Dave explains his reasoning.

One More Baby

Amanda wants one more child but worries it will strap her and her husband so that they are unable to attack their debt. Dave doesn't see why they couldn't afford a third child.

Living With Dad Is a Bad Idea

Brittany's 55-year-old father is losing his house. Her father plans to move in with her since he has nowhere else to go. What's the best way to set some boundaries with him as he moves in?

Pausing For Adoption

Tim and his wife can't have a child. They would like to adopt. Tim has $16,000 in a 401(k), and he and his wife are wondering if they should use that money to pay off some of the $40,000 student loan debt.

Stop the Snowball For the Wedding?

Miles's son is getting married in February, but the wedding is in China. Miles and his wife are in an investment club with $15,000 in it. Should they take $5,000 out to go on this trip?

How Does Dave Justify Wealth?

Lisa asks how Dave justifies building wealth when there is so much need in the world.

Pay the IRS First

Olivia's husband installs windows and basically owns his job. They now have IRS and state tax debt as a result. Where do these tax debts need to be placed in the debt snowball?

Emergency Fund in Bonds?

Ryan asks what Dave thinks about putting his emergency fund in bonds. Dave thinks it's stupid.

A Squirrel Fund

Cathy's husband works construction, so in the winter, they barely scrape by. Should they build an emergency fund for the slow times?