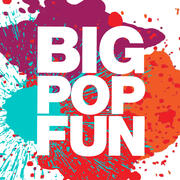 Tom solos a Hollywood Lent

In this sleigh ride, Tom takes a solo on his travels, novelists, and philosophers, including Scott Baio. Enjoy!

Tom solos Rocky!

It's the 100th episode of Big Pop Fun, and Tom takes a solo on Ohio, Phoenix, and Rocky. Yeah, he thought the 100th episode would be a bigger deal, too! Enjoy!

James talks Disney!

After Tom talks about some Tom stuff, our P.I.T. James Arnold Taylor takes time off from voicing Obi Wan Kenobi to talk to Jason Surrell, a Walt Disney Imagineer and author. They talk about writing, the Haunted Mansion, and almost the meaning of life until James cuts Jason off (podcaster "in training"). Then Tom talks a little. Enjoy!

Tom solos T.V. writing

Tom takes a solo on journalism, recent travel, and writing a set for television without a net! Enjoy!

Tom Solos Bikes!

Tom has been an avid biker since the Beatles were popular, and he keeps us posted on the ongoing score, which is: Tom - 2, Bike Thieves - 5. Enjoy!

James Arnold Taylor, M.D. (mucho dialogue)

In this episode, Tom gets back on the horse after some time at an undisclosed location, and hands the reins over to James Arnold Taylor, P.I.T. (podcaster in training) Enjoy!

Tom solos Machete!

Tom takes a solo on the famous film director Taylor Hackford, and those two Hollywood legends that simply can't be thought of without immediately thinking of the other - Helen Mirren, star of "The Queen," and Danny Trejo, star of "Machete."

Ron Young

Ron Young has a life, and job, that's out of the ordinary. He's a priest. Reverend Ronald Wayne Young, OMI, came by Wilson World, and Tom asked him about what it's like to be a priest, and if he truly finds the black outfit slimming. Enjoy!

Tom Solos Life

In this episode, Tom takes a solo on the richness of life, Coca Cola, and the Liberty Bell March. Enjoy!

Tom Solos Auditions

Tom has auditioned for many thousands of projects. He's been hired on two hundred or so, tops. That should tell you something. Enjoy!

Tom Solos Toughness

Tom is tough. He is so tough that he once slid on broken glass and threw a guy over a lunch table. But only if you heard about it, not exactly if you were there. Enjoy!

Greg Carpenter

Greg Carpenter has been at the center of the tech boom since it's inception. He's been up to his elbows in the digital age, from satellites to cel phones, music production to Miscrosoft, Ralph Lauren to something else that's starts with an R. Now the CEO of Boopsie, Tom and Greg talk about phys. ed, head injuries, and sinister data collection. Enjoy!

Travis Clark

Travis Clark is an accomplished actor, comedian, and podcaster of the Tiny Odd Conversations podcast, as well as the son of Blake Clark, the American folk hero made incredibly famous by the Big Pop Fun podcast. Enjoy!

Emilio Palame

Emilio Palame is a consummate musician, composer, arranger and producer, and talks to Tom about Buffalo, Peggy Lee, and Fredonia State University. Go Blue Devils!

James Arnold Taylor (2)

Voice Over legend James Arnold Taylor returns to Big Pop Fun to talk with Tom about his two dads, his vital role in the Star Wars universe, and his forays into standup comedy, which was long ago in a galaxy pretty close.

Jonathan May

Jonathan May is a composer and pianist of wide and varied experience, from performing his works at the Kennedy Center in Washington, D.C., to playing ragtime piano at Disneyland while wearing a bow tie. Enjoy!

Tom solos music!

Tom takes a solo on the tuba, the guitar, and the eyepatch. Enjoy!

John Crist

John Crist is a rising young comedian from Denver, a clever stand up comedian who was raised by the pastor of a church in rural Georgia and home schooled through his entire childhood. How did that happen? Enjoy!

Tom solos in fives

Tom takes a solo on Joe Don Baker, baseball, and Scott Baio, with an added bonus or penalty song, depending on how much or little you like it. Enjoy!

Tom solos Disney

Tom takes a solo on Hollywood, Cinderella, and onomatopoeia, the last one being the hardest to spell. Enjoy!

Scott Lewis (2)

Scott Lewis continues his honest conversation with Tom, as they talk about the nature of Hollywood, celebrity, ego, and the effects they have on real life.

Scott Lewis

Scott Lewis has been an observer of Hollywood and it's grand insanity for a lifetime, but With a dad like Jerry Lewis, how could he not see a few things.

Jeff Altman

Jeff Altman is a comedian and actor with decades of experience, who started out along with David Letterman, Jay Leno, and the small group of comics who revolutionized show business from the stage of the Comedy Store on the Sunset Strip. Tom and Jeff talk about cattle additives, magic, and pratfalls. Enjoy!

David Darrow, painter

David Darrow is "Dave the painting guy" on his own web series. Tom and Dave talk about painting, art school, and the uses of an art school diploma, for example, origami. Enjoy!

Kevin Michael Richardson

Kevin Michael Richardson is an actor and voice over artist whose voice has been heard on cartoons and commercials around the world. Tom and Kevin talk about Syracuse University and the play they were in together, though neither can remember what it was about. Enjoy!

Kevin Shinick

Kevin Shinick is the man behind MAD the animated series and Robot Chicken, he's written for Batman, Spiderman, and has been a Broadway star. Tom and Kevin talk about UFC cage matches, game show hosting, and working hard at having fun. Enjoy!

Caitlin Gerard

Caitlin Gerard is an actress and writer from "The Social Network" and "Zach Stone is Gonna Be Famous." Tom and Caitlin talk about Rap videos, French, and crying. Enjoy!

Wayne Cotter

Wayne Cotter is a comedian with a long list of credits, including The Tonight Show and Letterman. Either Tom or Wayne got a full scholarship to study Engineering at the University of Pennsylvania. Guess which one!

Armen Weitzman

Armen Weitzman is a writer and actor. Tom and Armen talk about ties, their feelings, and their new show Zach Stone is Gonna Be Famous. Enjoy!

Phil LaMarr

Phil LaMarr is an actor from MAD TV, Teenage Mutant Ninja Turtles, and lots more. Tom and Phil talk about Yale University, sketch comedy, and the wind. Enjoy!

Martin Starr

Martin Starr is an actor, writer, and musician, and Martin talks to Tom about Freaks and Geeks, Love, and hip hop bluegrass. Enjoy!

Tom solos Larry Miller!

Tom takes a solo on his friend actor/comedian Larry Miller, and also e.e. cummings. Enjoy!

Noah Katz, sound editor

Noah Katz is a sound editor who's worked with George Lucas, James Cameron, and the top technical talent in the world. Tom and Noah talk about computer games, Koyaanisquatsi, and Gary Coleman's fake mustache. Enjoy!

Tom solos Frankenstein!

Tom takes a solo, telling stories live at the UCB theatre in L.A. and singing a song about late night eating. Enjoy!

John Garrett

John Garrett was an accountant at Price Waterhouse who put down the pencil to pick up the standup microphone. How did that happen? Tom and John talk about the Azores, drastic life changes, and, unfortunately, Notre Dame University. Enjoy!

Jon Polito

Jon Polito is an actor in theatre, movies, and television. From the historic La Mama Theatre in New York, to many Coen Brothers movies, to Gangster Squad, Jon and Tom talk about Villanova theatre, Dustin Hoffman on the set, and magical opportunities onstage. Enjoy!

Jonah Ray

Jonah Ray is a comedian, actor, writer, and punk-o-phile. Jonah and Tom talk about Hawaii, the punk sensibility, and being large.

Jake Johannsen (2)

Jake Johannsen and Tom get together one more time to eat lunch and record it. Not the eating part, they talked to each other. 

Jim Hope (2)

Jim and I continue talking about life and our experiences on September 11th, 2001 when we were working on the same set together, until I get ticked off and change the subject. Enjoy!

Jim Hope

Jim Hope is a comedian and writer. He's been a big shot producer on the shows Later, Titus, and The George Lopez show, and we talk about his life and work except for George Lopez. Enjoy!

Pat Fraley

Pat Fraley is a legendary actor, voice over artist, and teacher, and we talk about Grandma Nevada, Fear, and Australia. Enjoy!

Kari Coleman

Kari Coleman is an actress of wide experience, but even wider than you think. Have you ever been a fire eater in Las Vegas? She has! Enjoy!