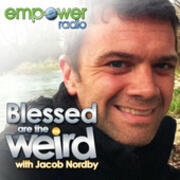 Poetry of the Soul

Jacob Nordby will lead a soul adventure as he reads and adds commentary to poetry from around the world and many different eras--including some of his own and by students in his Creative Unbootcamp. Don't miss the surprising horizons this episode will reveal. See your world through different eyes.

Do Atheists Really Eat Children For Breakfast?

Is it possible to live a good, ethical life without the moral absolutes of religion? Join Jacob Nordby and self-confessed atheist, Doug Zeigler, to explore this fascinating deconstruction of Pascal's Wager and other honeybadgers.

Coming Out As Yourself with Paul Boynton

Paul Boynton joins Jacob Nordby on Blessed Are The Weird show to tell how he came out as a gay man and how living his truth in this way has led to a life full of inspiration and fulfillment. Mr. Boynton's unique, gentle message will offer insight on how to discover our own hidden treasure and reveal it to the world.

"Prison Break!"

Join Jacob Nordby as he continues the drumbeat calling us into greater freedom by showing what he calls the "invisible bricks" which have become prison walls--and how to dismantle them.

The Real Question To Ask In Life

After last week's excursion into Who We Really Are, one of my listeners disagreed with me about The Big Question. This led to a fascinating conversation and we bring Suzanne Michelle back to the show to share her transformational question and the powerful tool she has developed to accompany it. Disclaimer: don't listen to this show if you don't want the way you see your life to change!

"Live Your Truth - How to Show Up as Yourself, Inspired and Fully Engaged"

Blessed Are The Weird host and author, Jacob Nordby flies solo in this excursion into the authentic self--and what it means to take off our masks, shed the armor and march to the beat of our own drum. He focuses on the practical application of these inspiring ideas with ways for you to try out your own wings.

Understanding Yourself with Rosemary Hurwitz

Ever wonder what you can gain by having a greater understanding of yourself? Join us in meeting Rosemary Hurwitz, who teaches the time-honored Enneagram--which can provide a fascinating map of our own personalities and how to navigate the world more beautifully.

Lead With Your Heart - Regina Cates

Join Jacob Nordby and Regina Cates to learn how you can tap into the rich resources of yourself and create a life of love, compassion and purpose.

What's Your Unique Code?

Jacob Nordby interviews Karen Curry, author of Understanding Human Design, and finds out some surprising facts about his own life's journey. Karen explains how knowing your energy type can be vital when figuring out your life's true purpose.

Take the Leap: Create the Life of Your Dreams with Heather McCloskey Beck

Have you ever wondered how you can possibly find time to create the life you dream of? Maybe you have inspired stirrings within but can't imagine how you will get unburied from your busyness long enough to express them. Join us to learn how taking simple steps toward what calls you is all it takes...

Making a New Agreement with Reality

We have all made agreements about how we choose to live our lives and what we believe our personal truths are. But what we may not realize is that each one of these agreements represents an attachment, a limiting filter on who we think we are, and what the future could hold. We call these attachments "knowledge" without ever questioning if that knowledge is necessarily true for us. Join us as we discuss how to make new Agreements that are more in line with our true Authentic Self.

Embracing the Four Elements of Change

Seasons change, weather changes, leaves change, and so do people. In HeatherAsh Amara's work, we are encouraged to embrace the changes in our lives and create the kinds of changes that we want to see in ourselves and our world.

"Beautiful, Gentle, Ruthless Quest"

Story-teller, poet and Oriah Mountain Dreamer appears on Blessed Are The Weird to share from her lifetime of inquiry into the Sacred Mystery. For fans of her books, The Invitation, The Call, and The Dance, this will be a conversation you won't want to miss.

Hand Wash Cold: Care Instructions for an Ordinary Life

Creating an extraordinary life is a process of finding rich magic in the ordinary. Buddhist Priest, wife, mom and author, Karen Maezen Miller shares her insights for living and loving life.

Stairway to Awesomeness

Through her comics, award winning blog, social media platforms and literary works, Tanya Masse entertains and encourages others to: - Make the best of the busyness, craziness, chaos, frustrations and challenges of life and parenthood - Live on the AWESOME side - STOP taking life SO SERIOUSLY - Embrace the INSANITY - Focus on the POSITIVE lessons - Recognize the BLESSINGS - Find the HUMOR whenever possible, and - CELEBRATE LIFE!

Your Body: Stop Punishing Yourself and Start Enjoying Your Physical Home with Lisa Engles

What if you could turn your body into a full, joyful partner rather than something to be punished, starved and disdained? Science now confirms that the mind and body are both inseparable and interdependent, which means that the peak levels of health, fitness and well being that we all seek requires an integral approach that addresses physical, mental and emotional aspects of our Selves. Learn more about Lisa Engles' breakthrough approach called Pranayama Running (not just for runners!)

Paul Boynton on Blessed Are The Weird

Paul Boynton, author of Begin With Yes, shows us how real magic happens in life when we learn to say yes in what is often a "no" kind of world. He shares from his personal experience of transformation and growth in a deeply practical way.

Get Your Freedom On with Chandra Marie

Join electrifying lead vocalist and band founder, Chandra Marie, as she reveals how finding her true voice set her free in life. She will share notes-from-the-road from her artist's journey and perhaps even some live clips of music from her band, The Vision.

Transforming Ordinary Into Extraordinary with Edie Weinstein

Meet Healer, Minister and Author, Edie Weinstein. She will share from the many tales of her extraordinary life experiences with such notables as the Dalai Lama, Shirley MacClaine, Kenny Loggins and more. Most importantly, she will show us how she teaches people around the world to live an extraordinary life by following their bliss. Don't miss this show with a fellow Blessed Weirdian in every sense of the word.

Red, Hot, and Holy: A Heretic's Love Story

What if love's very nature was to consume and call us home? What if there is nothing more irreverently sexy and sacred than your soul aflame? Meet red hot author, Sera Beak, who wrote The Red Book and now returns to shake things up in her deliciously heretical way.

The Afterlife Of Billy Fingers with Guest Annie Kagan

What lies on the other side of the wall called Death? What if we lived a "bad" life? Is it possible that loved ones can contact us from the other side? Find out when Annie Kagan shares the fascinating story of how her life was changed forever by the unlikely visitations by her dead bad boy brother.

Just Blow It Up: Firepower for Living an Unlimited Life with Dixie Gillaspie

Have you ever experienced your life as a cramped, stifled box? Have you wondered how you can budge just enough to start moving in the direction of your deepest desires and grandest dreams? Maybe what you need isn't a key. Sometimes you just need to blow stuff up. Join us to hear from Dixie "Dynamite" Gillaspie as she tells her own true story and shares her explosive secrets for living a rich, authentic life.

A Million Steps: A Story of Life, Love and Addiction on and off the Camino

Young retired businessman, Kurt Koontz takes off on a European adventure which leads him to walk the ancient Camino de Santiago. The journey of a million steps transforms his life. If you enjoyed Martin Sheen's movie, "The Way", you won't want to miss this real-life adventure.

'Burn The Leash' with Barb Black

Find courage to get off the chain in life and discover that our highest creative expression lies in the unknown. Creative partner in Blessed Are The Weird, Barb Black, shares her artist's journey.