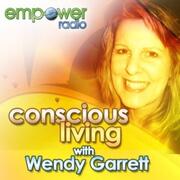 EarthKeeper Alliance with Adam C. Hall

Adam Hall nailed the American Dream! Then the nightmare of his own life condition woke him up. He undertook a life-changing metamorphosis that would ultimately alter his mind-set from Earth Conqueror to Earth Keeper. Each has the power within to find his own way home. Adam diligently persevered in tearing down the walls that kept him from hearing his angels and reemerged from his dark night of the soul to become an Earth Keeper carrying a torch for a bountiful and beautifully green future.

Adventures in Consciousness with Walter Stock

The Monroe Institute has a new Executive Director and several brand new programs. On the forefront of Adventures in Consciousness, we talk to Walter Stock - an introduction to an ongoing series beginning in February 2014.

Helping Ghosts Cross Over with Tina Erwin

Tina Erwin is back sharing her ghost stories from a ghost's point of view. We share a great prayer to help ghosts to cross over and give you an assist if you want help seeing ghosts and how to call in an Archangel. What happens when too many ghosts invade your space? You really don't want to be a ghost magnet.

Grouding Yourself with Sonja Grace

Grounding yourself to the 5th Dimension energies. What does that mean and how does that work? Sonja Grace, author of Earth Ways: Healing Medicine for the Soul: A Practical Guide for Ceremonies for the Earth, shares her expertise in working with the non-physical realm to effect intentional vibrational healing. Curious about how that might work for you? Tune in.

Unexpected Encounters with Energy

A death in the family changes the direction of the show. Today I talk about death and an unexpected encounter while engaging that energy. We also talk about Bob Monroe's Journeys Out of the Body, in reference to an upcoming interview with The Monroe Institute Executive Director/Walter Stock. All that and some metaphysical insight on expanding self awareness. We are incredible creators. And we are NEVER alone. The rest of the players in our reality would like us to get a clue.

Tina Erwin - 'Ghosts and Ghost Stories'

Part of expanding psychic knowledge is traveling and working in the real world. In the US Navy for 20 years, Tina Erwin retired as a Naval Commander in 1992. Tina says she knew from a very early age she had lived before and remembers getting into trouble in school for wanting to know, if energy is neither created nor destroyed what happens to souls when they die? We get into trouble today when we start talking about the power of frequency. The "live" show ended and we segued to record mode. Welcome to the brave, new world calling us to upgrade our conscious awareness. Ghosts are here to let us know death is not an ending.

Beyond the Physical with Mike Habernig

All things death, life after death, consciousness, out of body and more. The Path series explores the world of Metaphysics while you ride shotgun. Director Mike Habernig suggests film number three in the series may be the best yet. Still looking for a title. Watch the first two and see what you think.

The Life After Death Project with guest Paul Davids

Meet the incredibly fascinating and prolifically creative Paul Davids and hear him explain how his experiences with the deceased Forrest J. Ackerman spawned the Life After Death Project...he is prolifically creative and there are several sites to explore his work...we cover ghosts, UFOs and all sorts of para - anomaly...Enjoy!

Jim Harold - 'True Ghost Stories'

Join Wendy as she talks with best selling author and popular podcaster, Jim Harold about his most recent book, True Ghost Stories: Jim Harold's Campfire 2. Jim shares some of his favorite stories about some first hand experiences with ghosts and paranormal activity.

Remembering Contact with Gary Northcott

Remembering contact starting as a young child, Gary Northcott reveals a life rich with transcendent experiences. He credits the Gateway Program at The Monroe Institute for enhancing his awareness and remote viewing ability. He doesn't have a website. He is featured in the book Extra-Planetary Experiences by Thomas Streicher -- or email him at grayhaven@kc.rr.com.

Wealthy by Design with Kimberly Foss

Two-parter -- First half hour -- New York Times Bestseller Wealthy by Design: A 5-Step Plan for Financial Security author Kimberly Foss financially offers insight on how to harness the combined power of professional advice and personal goals to build stable, profitable portfolios—for the present and for the future. Plus - she gets a great endorsement from Ben Stein ... second half hour Wendy dives into the deep end of the metaphysical pool -- implementing conscious manifesting. Trust your own knowing ... and build on that to create your reality.

Global Consciousness from a Local Perspective

My interview today touches on local and global Eco awareness. Laura Lombardi and Moses Brings Plenty, discuss the Concert for Climate event being held in Kansas City. We talk about Free Eco focused environment and the importance of water.The event includes Robert F. Kennedy Jr. and writer Bill McKibben. Use this as a template to create your own community event!

Exploring the I Am America Teachings with Lori Toye

Lori Toye is known for the best-selling I AM America Earth Changes Maps, which introduced spiritual teachings of prophecy and the Time of Change. Her initial work was published more than twenty years ago before public awareness of the serious environmental issues of Global Warming and Climate Change. Lori's work has been featured on NBC, FOX, UPN, London's Carolton Television, in the Washington Post and the New York Times. She joins Wendy Garrett to discuss her latest work, A Teacher Appears on this week's edition of Conscious Living.

Lillie Leonardi on Conscious Living

Might be the last person one would expect to share a story about angels - a career Law Enforcement professional. When you hear Lillie Leonardi, it becomes apparent angels have no regard for our lack of awareness. We may simply need to allow ourselves the ability to see them. Seen and Unseen - they are among us.

The Power of Gratitude

Lisa Ryan incorporated the power of Gratitude into her daily routine and rewrote her life script. Since 2009, she's launched a new career, new book, 2 Movies and ... that's the short list .. Try it .. note 5 things a day that you are grateful for .. It's that easy ....

Sassy Belles with Beth Albright

My interview today with Beth Albright - we crossed paths at KCMO in Kansas City... (early 90's). She's got a dynamite new career .. and a fab Kirkus review to boot. ...loaded with awesome southern charm ... and what happens when you create a life that shouts the joy ofowning your roots...

Authentic Medium with Traci Bray

An authentic Medium? Right now there are 20 credited as such through The Windbridge Institute. Traci Bray is one of them. Quite a departure from her career in law enforcement. Working as a fullt-time Medium, Traci found a niche for which she is a perfect fit. Connecting dots with Traci.

Everyday Oracles with Ann Bolinger-McQuad

The Universe speaks to us in so many ways. We are in constant contact when we learn how to read our code. Everyday Oracles opens a door into the library of wonder, where the mystery reveals insight...

Transitions: A Nurse's Education About Life And Death

Becki Hawkins, a hospice nurse and a chaplain, is the author of "Transitions: A Nurse's Education About Life And Death". She sat by the bedside of seriously ill and terminally ill patients for more than 30 years as an oncology and hospice nurse. During that time, she listened to patients describe various kinds of spiritual experiences, including near-death experiences.

The Afterlife of Billie Fingers with Annie Kagan

Annie Kagan discovered her bad boy brother wanted to write a book to help people get through some of life's tough passages -- passages he knew up close and personal. He died. The kicker? Now he had stuff to share about the afterlife. Meet a bad boy with a great story; it includes Heaven, mystery, pearls and loving sisters.

Alien Abductions with Kathleen Marden and Denise Stoner

Are you a candidate for alien abduction? Working together to thread more pieces of the alien abduction puzzle together, Kathleen Marden -- niece of Betty and Barney Hill -- and experiencer Denise Stoner present a list of compelling accounts. There, they underscore the ongoing mystery while suggesting a potential purpose for abduction. Read The Alien Abduction Files - the most startling cases of human-alien contact ever reported.

Vacation Encounters

Deceased relatives, spirit guardians, Psyops, and UFOs. The kitchen sink of metaphysics. Life with the nightlights is a trip.

Connecting with Reality with Wendy Garrett

Reality is as big as you can imagine! In learning to connect with the unseen others, spirits, guardians, elementals, transdimensionals and non-corporeal beings with whom we share constant presence, we have to reformat our hard drive to create a new playing field. Start by shifting your focus to create white noise ... and a space to manifest your upgraded level of awareness.