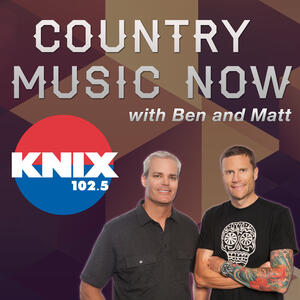 Tim McGraw Smacks A Grabby Female Fan

Tim McGraw was forced to lay the smack down on a female fan who ripped his pants on stage, Blake Shelton invites Little Big Town to mentor on The Voice and Kenny Chesney tickets sell out immediately!

Luke Bryan Has A Tattoo WHERE?!

We learn some interesting things about Luke Bryan on his 38th birthday, Kellie Pickler gets a role in an animated movie and Blake Shelton pays Little Big Town an incredible compliment!

The Flordia Georgia Line Dominate Radio

The Florida Georgia Line have dethroned Taylor Swift with the fastest charting country radio single for 'Dirt', Jason Aldean distances himself from his earlier hits and Chris Young's 'Who I Am With You' is voted the best country song by Rolling Stone Magazine!

Justin Moore Welcomes A Baby Girl

Justin Moore welcomes a brand new baby girl into the family, Garth Brooks' ticket prices are surprisingly reasonable and Carrie Underwood will be on the silver screen!

Five Sold Out Garth Shows Cancelled!

Sorry, Ireland... Garth ain't coming! Garth and Irish promoters can't come to terms on 5 sold out shows, Tim McGraw gets his 56th top 10 hit and the Florida Georgia Line help Habitat for Humanity!

More Drama With The Garth World Tour!

Garth Brooks' upcoming world tour announcement gets held up over some trouble in Ireland and Blake Shelton fans read too far into a tweet about his 'last' album!

Major Garth Announcement! Or Is It?!

Garth Brooks plays with his fan's emotions, Something Bad becomes only the third female duet to hit number one in 50 years and Taylor Swift's Red tour proves to be financial powerhouse!

Randy Travis' Long Road To Recovery

Randy Travis' recovery after having a stroke is going to be a much harder road than first predicted, Craig Morgan reveals an MMA fighter put him in the hospital and Hunter Hayes gets tapped to play the MLB Hall of Fame ceremony!

Blake Shelton Makes Music History

Blake Shelton makes country music history, Forbes taps 3 country stars for their 100 most influential celebs list and Kenny Chesney announces a release date for his forthcoming album!

Zac Brown Duets With Billy Joel!

Zac Brown can scratch a duet with Billy Joel off his bucket list, Brad Paisley loses a VERY expensive bet to rapper Ludacris and the list of #1 songs that Dierks Bentley has turned down is pretty staggering!

NEW Music From Kenny Chesney AND Dierks!

Kenny Chesney drops a brand new single called American Kids and Dierks Bentley pens an awesome new song for a reality show!

Tim McGraw Takes Cover Of Men's Health

Tim McGraw opens up about his past, his 12-pack abs and his marriage to land him on the cover of Men's Health Magazine and Blake Shelton gets juvenile with his pranks on the road with The Band Perry!

Blake & Miranda Open A Bed & Breakfast!

Blake & Miranda are turning a local landmark in their small town into a Bed & Breakfast and some of country's biggest songs are going to Broadway!

Kelly Clarkson Welcomes A Baby Girl!

Kelly Clarkson-Blackstone welcomed a new baby girl into the family, more details emerge from the Kimberly Perry wedding and Brad Paisley writes new music for an animated movie!

Kimberly Perry Ties The Knot!

The Band Perry's front-sister Kimberly quietly married her pro-baseball fiance yesterday and Luke Bryan's Crash My Party goes DOUBLE platinum!

Luke Bryan Voted Hottest Country Daddy

Chris Young is recovering after putting himself in the hospital with a kitchen knife and housewives agree; Luke Bryan is the hottest dad in country music!

The Zac Brown Band's Back In The Studio

The ZBB announced they will be taking time off of touring to work on a new album with a new producer and Dave Haywood from Lady Antebellum is expecting a baby boy!

George Strait Shatters Attendance Record

George Strait made his last concert the biggest in history. Seriously. Over one hundred thousand fans were on hand at AT&T Field to watch King George and just about everyone in country play the final show of his Cowboy Rides Away tour!

The Cowboy Rides Away With A Bang!

Luke Bryan scores his fourth #1 of off Crash My Party, George Strait's final show will be one for the ages and Darius Rucker can't get any respect at his OWN CMT after party!

Highlights From The 2014 CMT Awards

It was an amazing show last night full of great traditional country and a lot of multi genre cross-over! We break down the highlights from the 2014 CMT Music Awards!

Miranda Lambert's Emergency Landing!

Miranda Lambert's private flight is forced to make an emergency landing and she also makes the cover of Rolling Stone magazine! Plus all the amazing things to expect from tonight's CMT Music Awards in Nashville!

Travis Tritt Feuds With Brantley Gilbert

Travis Tritt ignited a Twitter feud with Brantley Gilbert yesterday after opening a show for him and Kenny Chesney releases a teaser of some of his new music!

Brad Paisley VS Westboro Baptist Church!

Brad Paisley takes selfies with the Westboro Baptist Church who were protesting his concert, Scott McCreery has enough guns to arm a militia and Dan + Shay get support from an unlikely super star!

Luke Bryan Has A Nasty Spill On Stage!

Luke Bryan went from country's sexiest man to country's bloodiest after taking a nasty spill on stage during a concert!

People's Sexiest Men of Country Music!

People Magazine announces it's Sexiest Men of Country Music, Trace Adkins announces a new tour and Jason Aldean aims to deliver a new album by this Fall!

Meet Country's $700 Million Dollar Man!

We break down country music's top touring earners and some awesome new additions to the line up for the upcoming CMT Music Awards!

Carrie's Deadly Gift From Miranda!

Brad Paisley hops on Air Force One with Barack Obama for a surprise memorial day visit to troops in Afghanistan and Carrie Underwood gets a surprisingly deadly thank you gift from Miranda Lambert!

Carrie Underwood Gets In Twitter Feud!

Carrie Underwood upsets American Idol fans by tweeting a spoiler and the Florida Georgia Line launches their own clothing line!

Jake Owen Dissed By A Fan On Stage!

Jake Owen got a brutally honest answer when he brought a little girl on stage and asked her who her favorite artist is, Luke Bryan sets more country chart records and Alan Jackson records the theme song for A Million Ways To Die in the West!

Country Stars Make Maxim's Hot 100

Joe Nichols welcomes a new baby girl, Keith Urban sells 22,000 guitars in three hours and three ladies of country make Maxim Magazine's Hot 100!

Country Music Rocks The Billboard Awards

Country was extremely well represented at last night's Billboard Music Awards! We break it all down for you!

A New Country Divorce Gets Ugly

Randy Houser files for divorce AND a restraining order, Craig Morgan has shoulder surgery and Miranda Lambert is nervous about her Sunday duet with Carrie on the Billboard Music Awards!

Brad Paisley Cancels Several Tour Stops

Brad Paisley cancels several stops on his summer tour, Miranda dishes on she and Blake's anniversary and Jason Aldean sticks up for his girlfriend on social media!

Miranda Tour and Jerrod Neimann's Remix

Miranda Lambert announces her Platinum tour stops, Blake Shelton has another finalists on The Voice and Jerrod Niemann's 'Drink To That All Night' gets a Pitbull Remix!

Country Music Now - 5-13-14

Taylor Swift has an unusual ad campaign with Diet Coke pulled and Thomas Rhett gets his second number #1!

Country Music Now - 5-12-14

Billy Currington is headed to court AGAIN of his boat rage incident, Kip Moore gets heated on social media and Hunter Hayes enters the Guinness Book of World Records!

Country Music Now - 5-9-14

Zac Brown finally gets the baby boy he's been trying for and some great news for Keith Urban and American Idol fans!

Country Music Now - 5-8-14

Carrie Underwood and Miranda Lambert become a dynamic duo for the Billboard Music Awards and an arrest has been made in the home invasion robbery of Scotty McCreery!

Country Music Now - 5-7-14

Brad Paisley is being courted to judge a new reality singing competition with a few interactive twists and yet another country star is forced to stop mid show to break up a fight!

Country Music Now - 5-6-14

Scotty McCreery is the victim of a home invasion robbery and Kenny Chesney kicks off a new tour, but it's not what you'd expect!

Country Music Now - 5-5-14

Jason Aldean gets into some social media drama, Jake Owen tosses a woman beater from a show and YOU could own one of Willie Nelson's tour buses!

Country Music Now - 5-2-14

Blake and Luke represent country at the first annual iHeart Radio Music Awards, Carrie Underwood has some unconventional methods to a happy marriage and Dierks Bentley scores his 11th number one!

Country Music Now - 5-1-14

A few of country's BIGGEST stars perform live tonight on the first annual iHeart Radio Music Awards and Keith Urban wants to help you become a better guitar player!

Country Music Now - 4-30-14

Eric Church reveals part of signature look is a one of a kind knock-off, Eddie Montgomery ties the knot and loses a house in the same week and Joe Nichols is adding another girl to his growing family!

Country Music Now - 4-29-14

A kings row of country music royalty come together to release a special song to benefit the Outnumber Hunger campaign, Brantley Gilbert gets his third #1 hit and Cole Swindell's 'Chillin' It' goes platinum!

Country Music Now - 4-28-14

Eric Church declares war on ticket scalpers, Brantley Gilbert is ordered by his doctor to stay OUT of the gym and The Florida Georgia Line gear up for a network television talk show appearance!

Country Music Now - 4-25-14

Justin Moore takes some time off of touring to help with his wife's pregnancy, Hunter Hayes does some of his best song writing on the road and Kacey Musgraves and Katy Perry pay homage to Dolly Parton while on tour together!

Country Music Now - 4-24-14

Which country star landed at #3 on Time Magazine's most influential people in the WORLD list? You might be surprised!

Country Music Now - 4-23-14

Luke Bryan's some makes quite a stir on Twitter after getting into some mischief and you might be surprised at who the top social media stars in country are!

Country Music Now - 4-22-14

Lady Antebellum is adding another member to the family as Dave Haywood and his wife announce they are pregnant and Jana Kramer clears the air on her mysterious hospital visit!

Country Music Now - 4-21-14

Our country performance representatives for the iHeart Radio Music Awards are announced, more judging changes are coming to the next season of The Voice and Dierks Bentley live Tweets from Boston while his wife runs the marathon!

Country Music Now - 4-18-14

Brad Paisley joins his wife on the Two & A Half Men finale and Eric Church releases a special vinyl edition of his album Outsiders!

Country Music Now - 4-16-14

George Strait teases at a possible Vegas show, tickets for the 2015 ACMs in Texas sell out in record time (but don't worry, there WILL be more!) and The Zac Brown Band adds new tour dates and an EIGHTH band member!

Country Music Now - 4-15-14

Miranda Lambert decides to take a break from touring (and the pregnancy rumors swirl), Scotty McCreery gets a surprising not from a country news blog and Randy Houser gets his third #1!

Country Music Now - 4-14-14

We finally have some really GOOD news to report regarding Trace Adkins and Brad Paisley brings the bar into the recording studio... Literally!

Country Music Now - 4-11-14

The Florida Georgia Line have half their sophomore album already recorded and Jake Owen will let you own his wake boarding boat.... for $95 THOUSAND dollars!

Country Music Now - 4-10-14

Luke Bryan checks in with a staggering SEVEN Billboard Music Award nominations, Dan + Shay have a good news/bad news kind of day and Eric Church announces dates for his 2014 Outlaw Tour!

Country Music Now - 4-9-14

Miranda Lambert apologizes for the Taylor Swift ACM snub, Taylor, meanwhile, sets a concert sales record in China and Justin Moore explains just how much winning his first ACM award meant to him!

Country Music Now - 4-8-14

Rascal Flatts releases a statement on why they lip-synced their performance at the ACM's and The Band Perry explains the strategy behind their opening act confetti drop!

Country Music Now - 4-7-14

All the winners and special moments from last night's 49th annual Academy of Country Music Awards! Plus the ACMs are going to a NEW city for their 50th Awards show and we'll tell you how YOU can be there!

Country Music Now - 4-4-14

We give you the full rundown of performances you'll get to see on Sunday night's ACM Awards live from Las Vegas!

Country Music Now - 4-3-14

How Twitter may have led to the Trace Adkins divorce and Kacey Musgraves teams up with Katy Perry for her CMT Crossroads special AND a tour!

Country Music Now - 4-2-14

Tim and Faith use lend their private island to a divorcing A-list couple and Blake Shelton throws us a curve ball with his duet selection for this weekend's ACM Awards in Vegas!

Country Music Now - 3-31-14

You'll be SHOCKED to learn who was the first country star to use AutoTune in a song back in 2001 and OUR favorite moments from the 1st annual iHeart Radio Country Music Festival!

Country Music Now - 3-28-14

The ACM's honor our Troops with a very special concert and how you can hear or watch the iHeart Country Music Festival LIVE tomorrow night!

Country Music Now - 3-27-14

Sad news as Trace Adkins' wife files for divorce while Miranda Lambert is sick of the media questioning the strength of her marriage to Blake Shelton!

Country Music Now - 3-26-14

Justin Moore on finally getting an ACM nomination, how you can watch the iHeart Radio Country Festival LIVE this weekend and Kenny Chesney celebrates a birthday!

Country Music Now - 2-25-14

The Voice comes under scrutiny after one of it's highly confidential contestant contracts is leaked, plus new music from Jerrod Niemann AND Johnny Cash! Yes, THAT Johnny Cash!

Country Music Now - 3-24-14

Miranda Lambert releases her video for Automatic, the ACM fan voting opens up and Dierks Bentley hits a new #1!

Country Music Now - 2-21-14

Merle Haggard to be honored at the ACM Awards, Dierks Bentley's Crossroads special with One Republic and Garth Brooks is packing up and heading back to Nashville!

Country Music Now - 3-19-14

Dierks Bentley dishes on asking permission to marry his wife, Josh Thompson cuts off his signature hair (for charity) and what to do Vegas during ACM weekend!

Country Music Now - 3-18-14

Jason Aldean's camp confirms his relationship with former Idol contestant Brittany Kerr and Hunter Hayes will attempt a world record to help feed children in need!

Country Music Now - 3-17-14

FGL announces a headlining tour, Jake Owen prepares to kick his off and Lady Antebellum announce a surprise collaboration for the ACM Awards! Happy St. Patrick's Day!

Country Music Now - 3-14-14

Luke gives us a tipsy preview of his Spring Break album and FGL's Tyler Hubbard enlists Kat Von D to help pay tribute to his late father.

Country Music Now - 3-13-14

Blake Shelton's camp is in a little hot water for exaggerating ticket sales and Luke Bryan's Spring Break album hits the shelves!

Country Music Now - 3-12-14

Miranda Lambert talks about teaming up with Carrie Underwood for a duet on her new album and we get a taste of Dierks' Crossroads special with One Republic!

Country Music Now - 3-10-14

Miranda finally gives us a release date for her new album and one massive Texas cowboy signs on to play at the ACM Awards!

Country Music Now - 3-7-14

Closure finally comes for Whitney Duncan and her family in the case of her missing cousin and Reba and Brad Paisley get Presidential on Twitter!

Country Music Now - 3-6-14

Dierks Bentley's Riser hits #1 and Keith Urban announces another tour!

Country Music Now - 3-5-14

Taylor Swift fights off a very creepy stalker in a Los Angeles court room and we take you inside Blake & Miranda's new property in Nashville.

Country Music Now - 3-4-14

Toby Keith announces a new tour, Jason Aldean's string of number one hits continues and David Nail's new album drops!

Country Music Now - 3-3-14

Taylor Swift goes all fanatical over an Oscar Nominee and Blake and Miranda finally buy a family spread in Nashville!

Country Music Now - 2-28-14

Dierks Bentley flies himself into Phoenix for his home town album release party, Miranda Lambert gets a HUGE honor from the Country Music Hall of Fame and Cole Swindell's debut album goes #1!

Country Music Now - 2-27-14

It's all about Dierks Bentley as he announces his Crossroads date with One Republic and debuts his VERY dark music video for Bourbon in Kentucky!

Country Music Now - 2-26-14

Dierks Bentley accidentally gives his personal email to his entire fan base and one very brave country star opens up about his lifelong struggle with depression.

Country Music Now - 2-25-14

We take a sneak peek at Dierks Bentley's much anticipated new album 'Riser' that hits stores TODAY!

Country Music Now - 2-24-14

Keith Urban is using his Idol exposure to break into the apparel business, Blake Shelton announces a big tour and Kix Brooks suffers a tragic personal loss.

Country Music Now - 2-21-14

American Idols alums Carrie Underwood and Kelly Clarkson part of a $10 Million lawsuit against Sony and Keith Urban's bizarre A.I. t-shirt approval process!

Country Music Now - 2-20-14

The Florida Georgia Line forced to cancel shows after a dirt bike accident and David Nail's tour bus is the latest victim of the Arctic Freeze!

Country Music Now - 2-19-14

Luke Bryan takes an on stage tumble, Dierks Bentley takes up Olympic Curling and The Band Perry steps into the ring with Muhammad Ali!

Country Music Now - 2-18-14

Dierks Bentley gets an unlikely new sponsor, Cole Swindell drops an album and someone in Taylor Swift's camp has some serious explaining to do!

Country Music Now - 2-14-14

Dierks Bentley and Carrie Underwood have VERY different ideas on how to celebrate Valentine's Day and Eric Church is doing a run of FREE shows to celebrate The Outsiders!

Country Music Now - 2-14-14

Eric Church joins us to talk Outsiders, The Band Perry makes friends with some Olympians and Blake Shelton teams up with a very unlikely pop star!

Country Music Now - 2-11-14

Chris Young plays cupid for Valentine's Day and Luke Bryan's reign of chart dominance continues!

Country Music Now - 2-10-14

Eric Church gives a rare on camera interview to CBS Morning News and the country stars bring down the house during the Grammy tribute to the Beatles!

Country Music Now - 2-7-14

Jay Leno's emotional send off from Garth Brooks, Keith Urban pays tribute to the Beatles famous Ed Sullivan performance and Kasey Musgraves can't be stopped! Happy Friday!

Country Music Now - 2-6-14

Jay Leno taps Garth Brooks for his FINAL Tonight Show ever and Shania Twain gets an extension on her Caesar's Palace Vegas show!

Country Music Now - 2-5-14

Dierks Bentley lets the cameras roll for a documentary film, Miranda's latest single 'Automatic' hits the airwaves and Jay Leno taps Blake Shelton as his second to last Tonight Show guest EVER!

Country Music Now - 2-4-14

Trace Adkins father tragically passes, Eric Paslay gets his first #1 and we get an EXCLUSIVE preview of Travis Tritt singing Disney classics!

Country Music Now - 2-3-14

We finally learn why Darius Rucker missed his Grammy Acceptance speech and you'll never believe which country star has been tapped to voice a new Disney movie! Hint: He smells T-R-O-U-B-L-E!

Country Music Now - 1-31-14

Country stars tune up to open the Big Game and Jason Aldean adds a really awesome country diva to select tour dates! Hint: Blake might be a little jealous.

Country Music Now - 1-30-14

The 2014 ACM Award nominees are announced and Trace Adkins leaves rehab early but for a very good reason.

Country Music Now - 1-29-14

We get an EXCLUSIVE preview of Country Music's tribute to Motley Crue and why Brad & Carrie have found themselves on the wrong end of a $10 Million dollar lawsuit!

Country Music Now - 1-24-14

Country music storms the Grammy Awards and why is Kenny Chesney going to court?!

Country Music Now - 1-23-14

A country threesome gets picked to open the Super Bowl, Blake voted most popular (socially) for the Grammys and the votes are in for this season of American Idol!

Country Music Now - 1-22-14

Randy Travis hits some milestones in his stroke recovery, Trace fans fire back over the cruise ship incident and which country stars will be rocking the Grammy awards this Sunday!

Country Music Now - 1-21-14

Pictures emerge from the Trace Adkins VS Impersonator cruise ship showdown and Kelly Clarkson knows what color to decorate the nursery!

Country Music Now - 1-17-14

Eye witness accounts from the Trace Adkins cruise ship incident and the 2014 Country Megaticket is announced!

Country Music Now - 1-16-14

Trace Adkins has a rough day at sea and an alleged physical confrontation with a Trace impersonator on a cruise ship.

Country Music Now - 1-15-14

Luke Bryan announces a HUGE NFL stadium tour and yet ANOTHER country star has a baby on the way!

Country Music Now - 1-14-14

Jennifer Nettles addresses the Sugarland breakup on the day her solo album drops and Joe Nichols adds a member to his family!

Country Music Now - 1-13-14

Which country star is BFFs with Matthew McConaughey and a country 'giant' celebrates a big birthday!

Country Music Now - 1-9-14

Florida George Line shatter digital sales records and which country couple was voted as the couple you'd most want to live next door to???

Country Music Now - 1-8-14

The biggest country music festival of 2014 has been announced and it is AWESOME!

Country Music Now - 1-7-14

We may have cracked the case of Jason Aldean's mysterious twitter puzzle and Dierks Bentley announces the release of his forthcoming album!

Country Music Now - 1-6-14

Which country music star started 2014 by filing for bankruptcy?

Country Music Now - 12-18-13

It's been a rough week for country music legends! One gets a DUI and another has his private plane catch fire! Find out who!

Country Music Now - 12-17-13

One half of the Florida Georgia Line breaks millions of hearts by secretly getting married and the season finale of The Voice is tonight!

Country Music Now - 12-16-13

The top touring artists in Country for 2013 and why some country stars are frantically trying to distance themselves from Sea World!

Country Music Now - 12.13.13

Taylor Swift celebrates her 24th birthday with a Golden Globe nomination and guess who won't let Blake Shelton attend Adam Levine's bachelor party?!