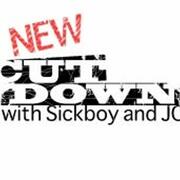 Spin Doctors

This week, Sickboy & JC explore the world of failed spin-offs and debate whether or not the series finale of M*A*S*H will ever be unseated! Also, The Ice Bucket Challenge takes a turn for the worse...and better all in the same story, Miley Cyrus does something...good(?), and a high school student is arrested for killing a dinosaur on a fake Facebook! This week, we reveal that Relevant is a spinoff of our podcast that simply aired 7 years earlier! 1. Cold Open 2. Now Playing 3. Did you hear about... 4. Spin Doctors 5. Shake & Shame

#Winning

This week, Sickboy & JC talk the Top Ten Internet phenomena of all time including poses, videos, songs, and factoids. Also, in the sea, sharks search for Google, the conflict in Ferguson, and the Ice. Bucket Challenge! This episode is better than a Double Rainbow made of Chocolate Rain! http://alsa.org http://lupus.org 1. Cold Open 2. Now Playing 3. Did you hear about... 4. Cybermen 5. Shake & Shame

Steak & Quinoa

This week, Sickboy & JC talk about the objectification of women in light of the recent story about MMA fighter War Machine. Also, a little girl and her ingenious invention, the recent #IfIWereGunnedDown movement, and an entire Now Playing segment dedicated to the late Robin Williams! You aint never had a podcast like this! 1. Cold Open 2. Now Playing 3. Did you hear about... 4. #YesAllPeople 5. Shake & Shame

Volume II

This week, Sickboy & JC endure all of the weeks random news just for you! Late Night Line-ups, Der Volks-scratcher, Malicious Malia? and we finally know more about a beloved video game character! Also, LEGO takes a step in the right direction, talk of impeachment may have an unexpected source, and Earth: The Bowling Ball! Here's to new beginnings and the first episode of Volume II of the Cut Down Podcast! 1. Cold Open 2. Now Playing 3. Did you hear about... 4. Bullet Points 5. Shake & Shame

Peace is a solution

This week, Sickboy the guys are not the ultimate authority, but they respectfully give credence to all sides of the conflict. Also, Darth Vader is more popular than Hilary Clinton, WWE Superstar Daniel Bryan thwarts an attempted burglary, and Russia is sending lizards to space to do WHAT?! This episode is dense in all the right places! 1. Cold Open 2. Now Playing 3. Did you hear about... 4. Israel/Palestine 5. Shake & Shame

The Sickboy Rises

This week, Sickboy & JC celebrate "Batman Day" the best way they know how: by letting Sickboy school us in a quiz based on the Caped Crusader! Also, Fight Club returns and we talk...I mean we don't talk about that, the lucky man who cheated death twice, and a strange case of beetle on Beatle vandalism! This episode ought to be on loop at Comic-Con all week long! 1. Cold Open 2. Now Playing 3. Did you hear about... 4. "Batman: The Dark Knight Quiz Begins, Rises, and Returns: Forever...and Robin" 5. Shake & Shame

So long, and thanks for all the FISH!

This week, Sickboy & JC bid farewell to four-time guest Brett "FISH" Anderson, but before he leaves, he tells us all about his blog "Irrisistibly Fish" and delivers a list of "Top 5 Things he will miss about Americaland!" Also, it's Throwback Third-week! The internet does not know dinosaurs are extinct, a woman admits to a false rape accusation, and more fart jokes than the law should allow! This episode has been in the works...for the longest time! @BrettFishA on Twitter http://brettfish.wordpress.com 1. Cold Open 2. Now Playing (Throwback Third-week) 3. Did you hear about... 4. Gone FISHin' 5. Shake & Shame

Excuses, Excuses

This week, Sickboy & JC talk about excuses! Not to say too much, but there may or may not be mention of a flying fox and a seemingly agressive turtle! Also, a Republican politician insists that his opponent is actually dead, DeAngelo Williams's good deed that may have fallen on a dishonest individual, and an entire story about potato salad that is more riveting than it sounds! Please excuse us if this episode is lacking in mayo, but believe, we cut the mustard! 1. Cold Open 2. Now Playing 3. Did you hear about... 4. "May I be excused..." 5. Shake & Shame

Because America

This week, Sickboy & JC talk about the origin of the Ferris Wheel, garbage bags, egg cartons, and swivel chairs in a quiz called "Canadia or 'Murrica" to celebrate our nation's birth! Also, Goldilocks is real and apparently the porridge was just right, a tampon ad that challenges the way we percieve girls, and the Waffle House declares war on Belgian waffles because America. This episode comes straight from the land of the free to the ears of the brave! 1. Cold Open 2. Now Playing 3. Did you hear about... 4. Canadia vs. 'Murrica 5. Shake & Shame

Ladies Night

This week, Sickboy & JC are joined by Elba Goostree and they take the chance to get a woman's perspective on a few issues! She also shares about Contra Costa Inter-Faith Housing, and Justin McRoberts' 15th Anniversary concert! Also, Tommy, (The Green Ranger from the Power Rangers) releases a Christian MMA apparel brand, North Korea threatens retalliation against Seth Rogen, and a man finds himself in Grenada instead of Granada! Fear bullets, Girl Talk and the end of the Relevant Podcast Feud? @elbadactle on Twitter http://ccinterfaithhousing.org http://justinmcroberts15.eventsbrite.com 1. Cold Open 2. Now Playing 3. Did you hear about... 4. Girl Talk 5. Shake & Shame

Episode 65 Preview

This week, Sickboy & JC are recording on Saturday, but fear not, you can still get a small fix and preview a few things that might be mentioned in this weeks show!

The (even more ir)Relevant Podcast

This week, Sickboy & JC are joined by two-time guest Sergio Acedo of VidaLife Church, a totally bilingual worship experience in Oakland, Ca! JC puts the guys through their paces with a food or internet quiz! Was a frozen frog found in food, or for sell on the internet! Also, a 100 yearold Picasso masterpiece revealed a surprise this week, the guys talk about the unrest in Iraq, and a Jesse carey-like story (a la Relevant Podcast) about a snake in a couch...but the feud is still on! vidalifeoakland.com @PastorAcedo 1. Cold Open 2. Now Playing 3. Did you hear about... 4. "Food or Internet" Quiz 5. Shake & Shame

History in the Making

This week, Sickboy & JC talk to Jeff Kaetzel about the amazing work that he does with an amazing team for Kid's Camp at First Covenant Church, Oakland, including his functional TARDIS and taking the camp International! Also, George R. R. Martin wants to kill the highest bidder, the CIA and their clever first tweet, and "Calvin and Hobbes" creator returns! This episode is one like no other...though Jeff may be able to take us ahead to the past as he has mastered Time Travel! OaklandFCC.org @reNewOrleans11 @KidsCampFCC 1. Cold Open 2. Now Playing 3. Did you hear about... 4. Jeff who lives at His House 5. Shake & Shame

Episode 63 Preview

This week, Sickboy & JC record on Thursday with special guest Jeff Kaetzel! Check out this episode preview...even though there are a few minor audio mishaps!

Behold the King

This week, Sickboy & JC reveal why they are the Kings of all Podcastery with an epic quiz about the most important Kings...like King Kong and the "King of Pop!" Also, a Simpson-esque Sarcasm Detector requested by the Secret Service, JC's man-crush Elon Musk unveils a shuttle that could revolutionize Space travel, and King Juan Carlos I of Spain gives up the throne! Behold the Quiz of Quizes! 1. Cold Open 2. Now Playing 3. Did you hear about... 4. Game of Thrones: Song of Fire and King-themed Questions 5. Shake & Shame

#YesAllPeople

This week, Sickboy & JC talk #YesAllWomen, not like all women individually, but the social media hashtag decrying misogyny and gender inequality. Also, Sickboy leads the revisitation of the Nigerian crisis, JC flips out about the return of Reading Rainbow, and the boys review the tenets of the new "Church of Mark Zuckerberg!" This episode is made possible by viewers like you! 1. Cold Open 2. Now Playing 3. Did you hear about... 4. #YesAllWomen 5. Shake & Shame

E.T.: The Extra-Terrestrial

This week, Sickboy & JC talk about the Top Ten NEW strategies that should be used to attempt communicating with Extra-Terrestrial life forms! Also, a clever yearbook quote lands a senior in hot water...or should we say Dihydrous monoxide beyond 212 degrees Farenheit? The VA debacle and partisan hackery surrounding it, and a flock of pigs who are fed whiskey! This episode will leave you under the influence...of awesome! 1. Cold Open 2. Now Playing 3. Did you hear about... 4. "Calling all aliens" The Quiz 5. Shake & Shame

Stump the JC

This week, Sickboy & JC talk about the stage names of Caryn Elaine Johnson, Krishna Pandit, Destiny Hope and more as JC quizes the man with the greatest pseudonym ever...Sickboy! Also, Columbus's flagship returns from Davy Jones' locker, Clay Aiken returns to headlines from...obscurity, and Miley Cyrus returns to annoying America! This episode is wrought with all the pomp and circumstance you'd expect from only the best of podcasts! 1. Cold Open 2. Now Playing 3. Did you hear about... 4. "...By any other name" The Quiz 5. Shake & Shame

Reading is Fun...damental

This week, Sickboy & JC talk book titles that encourage bad advice! Also, a Virgin Australia flight that's "hijacked"...emphasis on the Jack, Boehner and his political ploy in the form of a committee, and the devastating situation in Nigeria. You can pick up a book...or you can just listen to this weeks episode! The feud with Relevant Podcast continues! 1. Cold Open 2. Now Playing 3. Did you hear about... 4. Stop on Pop 5. Shake & Shame

The Shake Shack

This week, Sickboy & JC talk the Donald Sterling mess and rip him a new one with a small bit of NSA-like apprehension! Also, the new Microsoft IE update is to tell you to use Google Chrome according to the Dept. of Homeland Security, the White House delivers a PSA with more star power than a Garry Marshall film, and Teaneck High School students need more practical and less joke. We're throwing around a bunch of shames, and more Shakes than an In-N-Out! Cold Open 2. Now Playing 3. Did you hear about... 4. Less than Sterling 5. Shake & Shame

Sneak Preview

This week, Sickboy & JC record on Friday! But fret not early adapters, here's a short sneak peek of what to expect!

The Drone Wars: Episode 1.5

This week, Sickboy & JC talk drones...and the Star Wars talk surrounding them! Unmanned Arial Vehicles have been used for attacks for the last decade, but Sickboy & JC talk what's important about them now. Also, the Loch Ness monster, a 16-year-old arial stow away, the Senatorial poster boy for irony, and "You had one job" Oscar Mayer...and it was not to name my bologna! This week we drone on and on... 1. Cold Open 2. Now Playing 3. Did you hear about... 4. "We The People" v. "U.S." the people 5. Shake & Shame

Un-Structured

This week, Sickboy & JC are joined by artist Zach Cotham! He talks about moving to the Bay Area from Texas, a bit about coffee, and a lot about his art! Also, the tweets of a teen land a 14-year-old girl under arrest, the US Supreme Court will decide if lying is ok, and a merger of the United States & Canada? DJ Nonanon introduces the guys to Toto and gets down and funky! http://zachcotham.wordpress.com http://colorconscience.com 1. Cold Open 2. Now Playing 3. Did you hear about... 4. Cotham Knights 5. Shake & Shame

(Ir)Relevant Podcast

This week, Sickboy & JC are joined by friend of the show and long time listener Pastor Sergio Acedo of Vida Life Church in Oakland! The guys talk cross-generational, lingual, and cultural ministry along with a new radio project. Also, is Americans reading goodly? What if Jesus had a wife? And if there's a straight-A, student athlete, accepted to Ivy League colleges, but he's still from Oakland, is he any less scary? Pastor Acedo joins our hosts in their feud with the Relevant Podcast (unofficially broughht to you by Warby Parker, Nature Box, Squarespace, and Audible)! http://vidalifeoakland.com http://uni2radio.com 1. Cold Open 2. Now Playing 3. Did you hear about... 4. Pastor Orale 5. Shake...

Simply Dashing

This week, Sickboy is back! Sickboy & JC are joined by improv and voice actor Colin Iago McCarthy as they celebrate their one-year anniversary in their longest episode yet! They talk McCarthy's involvement in local productions: Dash and WriteClubSF! Also, Supreme Court is selling votes, #CancelColbert gains no traction, Cuban Twitter legitimizes some conspiracies, and a teacher uses HBO's Game of Thrones against students! This is our Legacy...isn't that right Eminem? http://un-scripted.com http://writeclubsf.com 1. Cold Open 2. Now Playing 3. Did you hear about... 4. Write this way sir 5. Shake & Shame

Episode Preview

Check out a preview of what to expect this week! This week's special 1-year anniversary episode will be released Friday, April 04, 2014! Guest Colin Iago McCarthy will be LIVE in the studio to share about Dash, Write Club SF, and much more!

...for Sickboy

This week, join JC for a condensed version of Cut Down without his better half, as he talks about a few upcoming guests that both guys are very excited about! Also, NSA whistleblower Ed Snowden finds hope in President Obama's reform, Nick Cannon as a possible shame, Malaysian Prime Minister makes a call, and after 45 years, Scooby Doo is diagnosed? Re riss rou Rickboy!

St. Sickboy's Day

This week, it is Sickboy's Birthday and we are joined once again by very good friend of the show Brett "FISH" Anderson! We talk about the little known patronage of well-known saints. Also, a woman who uses Twitter to find her love connection, speculation on Malaysia flight 370, and the vote in Crimea to secede from Ukraine. This episode is Irrisistibly FISH! http://brettfish.wordpress.com 1. Cold Open 2. Now Playing 3. Did you hear about... 4. Saint Who of What? 5. Shake & Shame

There is a balm...

This week, Sickboy & JC are joined by writer/director Arielle Julia Brown who talks with them about her recent work, "Our Hallowed Ground- The Love Balm Project" which gives voice to the testimonies of mothers who have lost children to violence. Also, the President is "Between two Ferns," 26 year old NFL retiree Rashard Mandenhall, and the end of Guacamole? Ocsar snubs, SXSW, and The Relevant Podcast's Oskarz.biz Awards are all among the fun! 1. Cold Open 2. Now Playing 3. Did you hear about... 4. Arielle Julia Brown & The Love Balm Project 5. Shake & Shame (Support the "Love Balm Friendraiser" at La Peña Cultural Center 03.14.14 7-9pm...they're not asking for what you think!)

The Pinheads

This week, Sickboy & JC talk about the surprising states that like Wiz Khalifa and Young Jeezy, the outdated artists enjoyed in West Virginia and Kentucky, and the unknown favorite of California! Also, breaking news on the impending zombie apocalypse, Pope Franc drops the F-bomb, Putin compared to Hitler, and a promo for the long-awaited hoverboard! This episode went off the rails quick...and it stayed there! 1. Cold Open 2. Now Playing 3. Did you hear about... 4. Battle of the Bands 5. Shake & Shame

The Rundown

This week, Sickboy & JC talk the top stories of the week as they Rundown the latest developments in Technology/Finance, Entertainment, U.S., and World news! Also, Bitcoin, the Oscars, Arizona's new law, and Mexican drug lord El Chapo! Unlike the shake, you can rest assured Sickboy & JC will never run out of words! 1. Now Playing 2. Did you hear about... 3. The Rundown 4. Shake & Shame

Hail to the Cheif

This week Sickboy included: how it is that 43 men have been President, but President Obama is the 44th Presidency! Also, a music-inspired menu based on the band "head of Radio," Marty McFly's Nike's that we've been long-awaiting, and a UN Report condemning North Korea. This Episode will make you Happy if it doesn't, 24HoursOfHappy.com will! 1. Now Playing 2. Did you hear about... 3. This Week- Presidents Quiz 4. Shake & Shame

Bullet Points

This week Sickboy & JC talk bullet points of the news, including the Winter Olympics, Flappy Bird, VP vs. Veep, the Attorney General, and The Beatles! Also, Bieber finally kicked out, Rand Paul suing America, the House finally doing their job, and Star Wars inspired evening-ware! There is a special surprise if you listen all the wayto the end! This episode is chock full of news you can use to look smart at dinner parties...or weird at luncheons. 1. Now Playing 2. Did you hear about... 3. This Week 4. Shake & Shame 5. Bonus Material

Cut Down XLVI

This week, Sickboy included are the new events, and Winter sports that are (wicky-wicky) old school! Also, a continued debate on minimum wage, Facebook's new app "Paper," and Clay Aiken and his bid for Congress. This episode is Hot. Cool. Yours.

The State of the Podcast

This week, Sickboy & JC share the neccessary elements of an epic Super Bowl commercial in anticipation of Super Bowl XLVIII, and participate in part one of what will be an ongoing debate about minimum wage. Also, President Obama's State of the Union Address, the GOP response from Rep. Cathy McMorris Rodgers, and Biebs is a daredevil for going 60 in a 30! The State of the Podcast is strong...and so are the Casablance references!

The Reformation

This week, Sickboy & JC talk in depth about the President's plans to shake things up in the National Security Agency! Also, a tired mom and dad get just one morning of respite, Facebook is found to be an infectious disease, and the School shooting that didn't happen at the University of Oaklahoma (Boomer Sooner)! This episode has got good movies and Bad Suns!

The Sickboy & JC Network

This week, Sickboy & JC talk about WWE Network, and what it could mean for the future of television! Also, a teachers hilarious response to a clever student, Chris Christie and the "Bridge-ghazi" scandal, and a corpse that got up and walked away in Kenya! This episode is literally "Over-The-Top!"

The Shame Game

This week, Sickboy all of this before our weekly Shame! Check out the nickname Sickboy gives to a 19th century author!

...and a Happy New Year!

This week, Sickboy & JC are joined once again by South African blogger and funny-man Brett "Fish" Anderson! The guys talk about everything that mattered in 2013 and a bunch of movies that didn't. Also, Siri predicts the opening of the Gates of Hades, a St. Louis brewer who innovated a new "F Word," and Beyonce's shameful music sampling. There are 3 shakes/shames, a few meaty conversations, and a legit vuvuzela...you might want to tackle this one in two parts!

We wish you a Merry Christmas...

This Christmas, Sickboy & JC talk about their own family Christmas traditions and the sentiments that come with them. Also, Duck Dynasty, Bond the alcoholic, Bitcoin, and a wonderful Secret Santa. NOTE: Listen to this episode with family and friends, cuddle up with some hot cocoa, and have a Merry Christmas.

And so this is Grinchmas...

In the episode that finds itself recorded during the current 7-day cycle, Sickboy partakes in a festive activity devised in the mind of his co-conspirator, JC; the activity is concerning those word that as a whole comprise the spoken portion of melodies that celebrate the high holy day of observance of the birth of the Christ (This week, Sickboy plays a game that JC made up about Christmas lyrics!) Also, the shooting at Arapahoe High, the NSA spying on WoW, James Cameron's identity crisis, and finally a budget deal for the Do-nothing-er Congress?! Sickboy & JC are in the Christmas spirit despite that Bi...er, I mean Grinch, Megyn Kelly!

Baby, it's Cold Online

This week, Sickboy & JC talk about Strange Christmas lyrics that may need to be updated. Also, NYC set to launch the nations largest Wi-Fi network in Harlem, a heated debate about a man who committed suicide, and the US sells the last of the stock after the GM bailout. JC is the egg to Sickboy's nog as they delve into the many boozes of the holiday drink!

Sickboy Paints the Sky

This week, Sickboy & JC talk their own epic Christmas list as inspired by a 7-year-old little girl known to us as Saige Paints the Sky! Also, a brand NEW SEGMENT this week called, "Hey Internet, please stop ________!" Amazon's delivery drones, Pope Franc's "Cool Confession," and the sun coming out for Obamacare. It's cold as crap here in Cali, luckily, this episode is a little thing that can turn into anything at anytime.

Merry Thanksgivukkah

This week, Sickboy a South African blogger and all-around funny guy! He's got a great accent and he participates in a mini-quiz about Thanksgivukkah (Thanksgiving/Chanukkah) on this special Thanksgiving edition! Also, the guys talk Black Thursday, the nuclear option and more #BadLuckBarry! Fish challenges JC concerning the hatred of raisins...and is challenged by the Little Drummer Boy. Our longest episode yet chock full of must-hear (and must see) material!

Bigger on the Inside

This week, Sickboy & JC talk about Doctor Who and their favorite Who monsters from the classic series and the reboot! Also, a wife's "Whovian" labour of love, Jean-Claude: the one-take wonder, George Zimmerman's recent despicable actions, and Bad Luck Barry faces ANOTHER Obamacare snafu! Sickboy is the quiet storm and JC is a madman with a box...this episode is our longest yet, and it is smaller on the outside!

The Drone Wars

This week Sickboy & JC talk the transparency of the Obama Admintistration on the issue of drone strikes. Also, the class pressident at a Christian University comes out as an atheist...and is accepted, and the last of the Blockbuster stores! This week, we go "Down Under" again and recognize our unofficial official feud with the Relevant Podcast!

Episode of Steel

This week Sickboy & JC give a little History lesson on the Ubermensch...no, not the promised man of Neitzchean philosophy, also, not a bird, nor a plane, but Superman! JC has prepared a mini-quiz for Sickboy. Also, a tragedy that turned into a recreational activity, a little tech talk, and the powerful Putin. This episode is faster than a speeding bullet, more powerful than a locomotive, able to leap tall buildings in a single bound, it's the Supershow!

Halloween 11: The tooth hurts

This week, Sickboy & JC have got a special Halloween Edition of the Cut Down Podcast where they talk the Top 10 WORST "candies" to get while trick-or-treating! Also, continued problems with the Affordable Care Act, the graciousness of Pope Francis, and some Glassholes in California! This episode is the Abba-Zabba of podcasts!

Zebras in Revolt

This week, Sickboy & JC talk Sean Combs and his new music network! JC interviews Sickboy, who sheds some light on what this might mean for the music industry! Also, the mess that is Obamacare, the science behind Oreo addiction, and Netflix pummeling a huge competitor. And thanks to Sickboy the Zebras are revolting!

Ladies Night

This week, it's Ladies' night on the Cut Down Podcast! In honor of the smarter, stronger, and more powerful of our species, Sickboy & JC talk innovative and inspiring women! Also, an update on DC (which does not stand for what you think), the most famous dead man alive, and "Captain Mike of the good ship Netflix!"

x > Congress (x = everything)

This week, Sickboy hemorroids and Ebola virus make the list, guess which one has a higher approval rating than our elected officials! Also, the Kanye/Kimmel feud, Google Chromebook by HP, and light sabers may not be too far off! We are Sickboy & JC, and we approve this podcast!

Moe, with a candlestick, in the Library

This week, Sickboy & JC were joined by improv actor and generally legit dude, Colin Iago McCarthy (Yes, that's his real name)! Also, we talk a little about the Government Shutdown, and Colin and Sickboy go head to head in a quiz for the ages! Will we ever answer the question "What does the fox say?" Because our title answers whodunnit!

Tres Bien Ensemble

This week Sickboy and JC explore the world of fears with quite the scary quiz! Also, the Kenya mall seige, Ted Cruz's "Star Wars" filibuster, the Northampton clown, and Texas Jesus. No judgment, but the guys French...and his name WAS Thomas!

Demonym = Eminem ?

This week Sickboy & JC talk the devastating events in Washington D.C. at Navy Yard and about America's cyclical greiving process. Also, we're covering all of the important beats: the "Feel Good" beat, the "Reddit" beat, the "Racist" beat, the "International" beat, and Beats by Dre. This week, we have #allthethings!

iCutDown 25S

This week Sickboy & JC start with a 9/11 tribute/story, and talk the White House and Congress' actions concerning Syria, including how Russia is getting involved. Also, Apple's new devices, Snoop Lion, Wheat Thins, Bacon Pancakes, and the man to blame for the death of three U.S. Presidents...without even being in the same room!

ThunderDome!

This week Sickboy & JC talk about where it is illegal to take pictures of rabbits in the month of June, and other strange laws. Also, what Syria is doing to the Obama administration, Vietnam's new Decree, and the most honest "burglars" Atlanta has ever seen! In the ThunderDome: Duck Tape vs. Duct Tape! Only on Pay-Per-View!

Trump-watch!

This week Sickboy we Google Yahoo, and The Catcher is apparently STILL in the Rye!

It's a Conspiracy!

This week Sickboy here's a clue for you all: The walrus was Paul. Also, Sickboy is thrilled with China's dog-lion, JC theorizes about panda wrangling, and the CIA acknowledges the mysterious Area 51.

Seriously Musky

This week Sickboy & JC talk about a minor flaw in a major part of the Spanish skyline and about the fact that Kim Kardashian is the hardest working young lady in the world? Also, there may actually be honor amongst theives, AOL is still a thing? and Elon Musk is definitely the guys' new man-crush!

Lions, and Tigers, and...Banshees?

This week Sickboy & JC talk the baddest monsters you'd never want to meet in a dark alley! Also discussed, Reza Aslan's new book, Lindsay Lohan's recovery, and the all to punny possibility that Discovery Channel's "Shark Week" has jumped the shark!

Journey through the Park

This week Sickboy & JC welcome musician Krystal Park to the show to talk about her brand new EP, To the Seas. Krystal and the boys talk the longest song title ever, music covers, and Billy Ray Cyrus. All of this and a few rock hard Weiner jokes!

The Prince and the Pontifex

This week Sickboy & JC talk Disney Princes in honor of the #RoyalBaby, and rate which would make the best husband material. Also on the show, A name change for Jay Z, theology by way of Twitter, and a Black Klansman?

Guess who's coming to record

This week Sickboy & JC welcome their very first guest! Luis drops by to talk Snowden and Zimmerman, but the guys can't help but include gratuitous nudity and Jackson, Mississippi's Pothole Robin Hood!

Don't touch my schtick

This week Sickboy and JC bring you a summer blockbuster of a show! Wordplay, puns, and immature humor are some of the things that characterize this episode...and that's just in the first four minutes! Egypt, Snowden, Wimbeldon, and comedian Rand Paul?

America the Bieberful

This week: The most patriotic episode yet (you hear that NSA?)! Sickboy has a request of ?uestlove of The Roots, and JC has some advice that comes from a peculiar source! Tune in for Derek Webb, Justin Bieber, Aaron Hernandez, and glow-in-the-dark Lamborghini!

The Amazing Race

This week Sickboy & JC are talking Black, White, and China? A racially charged episode with Deen, Zimmerman, and even a little Kingsley. Also, the Shame of the week may also surprise you!

Moons over my Hoffa

This week's episode takes a look where the sun don't shine. Sickboy & JC talk mooning, movies, Mexican-Americans, and music. Find out where Jimmy Hoffa is, and why this episode was almost called "Surfer Blood 2: PYTHONS!"

Born in the NSA

This weeks episode was listened to and approved by the NSA. Sickboy and JC talk trusty Nixon, the rapper known as NoChainz, and the (British) American hero! Malkovich, Kanye, and the worst baby names ever!

Quality not Guaranted

This week, Sickboy and JC are simply magic! We've got movies galore, super-short presidencies, a roasted chicken and a protesting Turkey! This episode features some of the best goodbyes you'll ever hear!

The Good, the Fad, and the Ugly

This week Sickboy and JC grace the news with their presence ; introducing a brand new segment, "Headlines!" Also, Hitler cookware, Robert E. Lee, I dream of Jeannie and the 10 worst fads of all time!

The show with No Name

This week, Sickboy no kidding. Overkill on movie franchises, tech news, and Disney! Is it just me or does this episode smell like bacon?

The Adventures of Sickboy and JC

This weeks episode is...well, super! JC expresses distaste with both Republicans AND democrats, and is crazy about Anna Kendrick; meanwhile Sickboy has some improvements to make to a Time Magazine Top Ten list! Joe Stalin, Angelina Jolie, and Google Image Search all on Cut Down!

Forgetting Sarah Martian

The guys are shaking things up! Pirates, Mars, and a name-change for Sickboy are just a few things going on this week!

Hitchikers Guide to the White House

This week: Sickboy sets trends, JC questions heroism, and the guys talk about getting stuck in the White House! A little bit of attempted swearing and a whole lot of ADD in Congress!

Sweet Gun O' Mine

This week: JC and the disappearing car; Sickboy and the German techno DJ, Boston, Witherspoon, and guns for everyone!

Meta Podcastery

This week Sickboy and JC discuss the saddening events in Boston, gene patenting, and how much is too much Facebook stalking. Listen to find out why Cut Down is the fastest growing podcast in all of podcastery!

Full Metal Podcast

This week Sickboy and JC talk NCAA, California legislation, North Korea, and civil unrest. Also the show pays respect to Roger Ebert, Margaret Thatcher and more...The Iron Lady meets the Full Metal Podcast!

Joke's on you

This week, we talk Doctor Who, Lana Del Rey, Congo, and Lindsay Lohan; but really the joke is on you!

Welcome Back

By popular demand...they're back! Same great show; all new flavor!