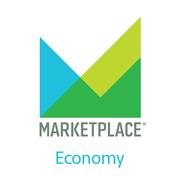 Inflation: A 'sweet spot' for consumer prices

The latest inflation numbers show prices are not too hot and not too cold.

Turning a new leaf is elusive in tobacco-built South

Mullins, South Carolina is a small town with a big past and a long memory.

Jobs, like water, always seem to run downhill

A cautionary tale about the end game of offshoring.

Other cities feel sting of Detroit bankruptcy

If one city doesn't pay up in full, does bond money dry up for everybody else?

Long-term unemployed suffer shaky re-employment

The difficulty of adjusting to a new job after a long time out of the workforce.

Summer fun for future Fed chiefs? Maybe.

At Fed camp, kids play games about personal finance and build economic knowledge.

Humans make a house for sale feel more like home

Straight out of "Arrested Development": Moving in real people helps homes sell.

Republicans have a birthday card for Dodd-Frank

A look at the progress of the Dodd-Frank Act four years in.

SIB spells a way for financiers to do social good

SIB's, or social impact bonds, let investors do good and make money

SIB spells a way for financiers to do social good

SIB's, or social impact bonds, let investors do good and make money

Weekly Wrap: Duck hunting and the Fed

John Carney from the Wall Street Journal and Nela Richardson from Redfin

'quotBad'quot housing numbers might reflect good news

Or maybe a chilly spring in North Carolina. Experts are still puzzling it out.

Don't blame millennials. Blame the middle-aged!

Young Americans are buying houses at the same rate as they did in the 1's.

California farms pumping water to make up for drought

Farmers face stark cutbacks in irrigation water but are pumping their own

Pardon my (economic) language

Here's a new economic indicator for you: The frequency of CEO profanity.

Dallas Fed Chair: Time to lose monetary 'quotbeer goggles'quot

Chairman Richard W. Fisher says the nation's monetary policy needs to sober up.

Bank of America could shell out as much as $1 billion

A look at how much Bank of America has set aside for mortgage settlements.

If California were divided into six states...

In which direct democracy shoots itself in the foot.

'Stopgap' government frustrates feds and businesses

Governing by crisis makes the federal government wasteful and inefficient.

Highway spending slowed by gridlock in Congress

Some states are already moving forward with their own infrastructure funding.

When is joining a bull market asking for trouble?

People who sat out the years-long bull market are joining in. Is that a bad sign?

What brings people to cities with unhappy residents?

A study suggests residents of Rust Belt cities tend to say they aren't happy.

The U.S. Highway Trust Fund is running low on cash

What happens to our roads and bridges?

Weekly Wrap: The most interesting man at the Fed

Another European debt crisis and dueling speakers at the Federal Reserve.

A Venezuelan airport is charging for air. Yes, air.

The international airport in Caracas, Venezuela, is now charging for air.

7-11-14 Mid-day Update - Making money off Instagram

Interest rates. How brands hook up with social media personalities.

Wells Fargo, other big banks could see lower profits

Wells Fargo has 17 quarters of positive earnings, but that might change on Friday.

The dangers of temp work

Why temp workers could be at greater risk for injury.

U.S. companies shell out more for business travel

As a sign of confidence in the economy, businesses are spending more on travel.

Economy is booming... for now

Marketplace host Kai Ryssdal talks to New York Times's Neil Irwin about his recent piece "Welcome to the Everything Boom, or Maybe the Everything Bubble."

Older workers struggle for cred in new economy

Workers over 55 are less likely to be laid off but more likely to stay unemployed.

Why Americans spend less of their budgets on food

Food prices are rising, but Americans still spend less of their disposable income on food than people in other countries.

Failing deals: a trend, or temporary?

The repo market under strain

Congress could hit dead end with highway funding

The Highway Trust Fund could be slashed in August, unless Congress acts soon.

Big Ideas: Jeremy Rifkin and the internet of everything

7-4-14 Mid-day Update - European banks leery of Bitcoin

Bitcoin in the EU. Gas prices and mass transit. And, food waste in India.

President Obama's job in 1 words

Can you answer the question that stumped CEOs, corporate heads and the President?

Bank risk-taking 'unfinished piece of business': Obama

The president says work remains to "re-balance the economy sensibly".

Finding a job isn't just a young person's problem

Workers over 55 are finding difficulty returning to the work force.

Homeowners brace for another foreclosure wave

Interest rates cut in the housing crisis will start to rise again this year.

Meet the other undocumented immigrants

-4 percent of undocumented immigrants in the U.S. entered the country legally.

What does the Fed chair worry about? Slack

Janet Yellen is concerned about the lack of jobs for un-and-underemployed workers.

Why don't we count all the unemployed?

What does it mean to be "actively" looking for work?

As banks prepare for end of draw, consumers should too

HELOCs are coming due in the next two years - and the economy should take heed.

When the 'quotsharing economy'quot doesn't play fair

The sharing economy maintains some of the same problems as traditional businesses.

More workers get crammed into less space

Businesses have added back jobs since the recession, but not office space.

The economics behind a celebrity's book

Sales of "Hard Choices" slipped significantly after its first week on sale.

Why Bob McDonald is a big departure for the VA

Most Veterans Affairs' Chiefs had lots of experience in the military, government.

New York City extends paid sick days to more workers

Most workers save their sick days for when they're most needed.

Are European banks feeling more heat than U.S. ones?

Reports that BNP Paribas will pay almost $ billion in penalties.

Space tourism: Still for the future, New Mexico learns

Virgin Galactic hopes to bring space and terrestrial tourists to New Mexico.

Quit your job! It proves the economy's getting better

After plummeting in the recession, the rate of voluntary job-quitting is slowly rising. But it's not high enough to show the job market is healthy, yet.

Why bank loans are getting riskier

Banks are relaxing the terms in their loans. And that makes them riskier.

Report finds Latinos are underrepresented in media

One of the fastest growing ethnic groups is largely absent from American media.

GDP fell, and is rising again

The U.S. economy contracted 2. percent in the first quarter. Severe winter weather drove the decline. Spring has been much rosier for the economy.

The numbers behind the Export-Import bank

The Export-Import Bank has been in the news this week. But what exactly is it?

D.C. makes the case for taxing more services

Yoga classes, tanning salons and carpet cleaners would all be hit with a new tax.

Who sues police departments the most? Police officers

In New Jersey, millions are spent each year on lawsuits involving police.

Detroit's revamped pension plan may set new precedents

Why the California state pension system cares about Detroit's bankruptcy.

Foreign investors may be behind your paycheck

Foreign-owned U.S. businesses employ 5.6 million American workers.

The 214 primary season has been expensive

Outside groups are pouring more money into races, earlier.

Should the U.S. take in more refugees?

Why accepting more refugees could be a win-win investment for the U.S.

What does the Majority Leader do?

Job number 1 is to keep the majority. To do that, you need money. Lots of it.

San Francisco losing black residents, black businesses

A bookstore closes shop because so many African-Americans have left San Francisco.

Fed grapples with rising prices and slow growth

Questions on stimulus and interest rates are subject of Federal Reserve meeting.

Why the Fed sees inflation differently than you

The latest Consumer Price Index indicates inflation is up.

Drought in the Midwest gives cattle farmers an edge

The Midwest drought helped Ken Lenox's cattle farming business increase profit.

How the U.S. pays for its involvement in Iraq

What does the defense budget already have covered?

A rogue Greenpeace trader wreaks havoc

He made $5.2 million worth of bad bets.

A mall in the middle of (what used to be) nowhere

Williston, North Dakota, is in the middle of an oil boom, but it doesn't have many stores or restaurants for a growing population.

IMF chief wants U.S. to raise the minimum wage

Also, what Christine Lagarde and Janet Yellen discuss over salad.

Donald Rumsfeld on Iraq

The former U.S. defense secretary shares lessons on politics and business.

Is Friday 1th an economic drag? Probably not

Is it really true the economy loses hundreds of millions every Friday the 1th?

A new landscape in the House after Cantor falls

Eric Cantor will resign as Majority Leader after a primary loss. That'll cost.

Trivia: Who was the last PhD economist in Congress?

Win our political dork happy hour.

GDP: Oil Patch Booms While Northeast Lags

The Bureau of Economic Analysis reports on state-by-state GDP growth in 21.

6-1-1 Mid-Day Update – Turning blue collar 'quotgreen'quot

The state of part-time, turning jobs "green," and how Radio Shack fixes itself

What Donald Duck tells us about the economy

Donald Duck was in a good generation to be an American.

Hey, 2-Somethings: Quit Your Job!

When people quit jobs to pursue new paths, it's a sign the economy is improving

Weekly Wrap: A surprise-free 217,

Jo Ling Kent of Fox Business and Felix Salmon of Fusion on the week's news.

The South is more likely to hand out corporate subsidies

The Atlanta Braves' new stadium will be funded in large part by taxpayer dollars.

6-6-14 Mid-Day Update – 217, new jobs

The jobs report for May, the worth of California Chrome, and what business can learn from soccer

It's jobs day, so here's a picture of a career fair

With 217, additional jobs in May, a look at what it looks like to hunt for a job

May Jobs Report likely to show moderate hiring

Has normality returned to the labor market after winter weather distortions?

The strategy behind Hillary Clinton's book release

The planning on the release of Hillary Clinton's fifth book has been downright military grade

Fewer homeowners drowning in mortgage debt

New data shows the number of American homeowners underwater continues to decline.

Sprint and T-Mobile eyeing $2 billion merger

A look at the pros and cons of Sprint potentially purchasing T-Mobile

8-1-1 Mid-Day Update – Sprint/T-Mobile merger

European Central Bank makes moves to avoid deflation, the possible Sprint/T-Mobile merger, how vocal fry affects men and women

Women are feeling the effect of vocal fry prejudice

A new study shows the effect of vocal fry on those looking to get hired

This summer's most boring read

The Fed's Beige Book is as bland as the color of its cover, and it's on purpose.

6-4-1 Mid-Day Update - The man behind the FHFA

The man behind Fannie and Freddie, Chip and PIN credit cards from Sam's Club, and the blue collar protesters at Tiananmen Square

While more secure, Chip and PIN technology is costly

A look at what is slowing the change to Chip and PIN technology

The man behind Fannie and Freddie

In the world of real estate, few people are more powerful than Mel Watt.

EPA gives states flexibility in cutting carbon emissions

More on the EPA's aim to cut power plants' carbon emissions % by 2

The Secret Service wants sarcasm detection software

The Secret Service wants someone to create software that will detect sarcasm.

The death of manufacturing is greatly exaggerated

A look at how one Mississippi town is bringing factory job back from overseas.

8-1-1 Mid-Day Update – Chicken wars

The war for Jimmy Dean's, the creation of green-jobs, and the effort to make more home-grown products in the UK

Reduce carbon, create jobs?

The EPA says reducing carbon emissions will cost billions but create energy jobs.

Small businesses create new jobs for autistic adults

Small business models across the U.S. ease young people with autism into work.

6-2-14 Mid-Day Update – Seattle's new minimum wage

More on the EPA's new rule, Seattle's $15 minimum wage, and why HELOCs (a form of second mortage) are on the rise

The South is more likely to hand out corporate subsidies

The Atlanta Braves' new stadium will be funded in large part by taxpayer dollars.

Businesses in Seattle advocate for higher minimum wage

Seattle expected to approve $15 minimum wage, the highest for any large U.S. city

As home prices recover, banks resume offering HELOCs

HELOCs, a form of second mortgage, are waking up from hibernation. And they're hungry.

Weekly wrap: Numbers, nudging

There was a lot to talk about in the economy this week.

The still looming problems at the VA

Limited resources, political pressure, and the future of the VA.

5--14 Marketplace Mid-day Update: A $2 billion bank shot for the Clippers

A look at the markets, Clippers big sale and the EPA's new carbon rules.

Why the GDP got revised downward

Revised GDP figures showed economic contraction, while other indicators seemed OK.

5-2-14 Marketplace Mid-day Update: The cost of concussions

A look at the markets, the challenge of reducing concussions and more from our LearningCurve series.

The cost of concussions

There is plenty of demand for technology to reduce concussions.

The Sochi Effect and the unwanted Olympics

Hey, who wants to host the 222 Winter Olympics? Not Poland, Sweden, or Germany.

Solving Detroit's blight, one scary poster at a time

Houses having been sitting empty for three to five years, and they are not getting any better.

5-28-14 Marketplace Mid-day Update: Is it smart for employers to dump workers onto the ACA exchanges?

A look at the markets, ACA stipends and a new Marketplace series about the intersection of tech ' education.

Employers must treat ACA stipends as taxable income

If companies stop offering health insurance they must treat the stipends as taxable income…or face fines of more than , dollars a year per worker.

Contemporary art: A terrible investment?

It's not just the art, it's the spectacle and the production surrounding it.

5-27-14 Mid-day Update - Women and minorities ignored by VC

Too often, minority and women innovators miss out on venture capital funding.

Rising risk in mortgage market

A stress test for new mortgages reveals higher chances for a market correction.

Where have all the first time home buyers gone?

One answer: nearly half of all home sales go to all-cash buyers

5-26-14 Mid-day Update - Comcast's massive lobbying push

To secure a merger with Time Warner Cable, Comcast has launched a lobbying blitz.

What do John Wayne and Dracula have in common?

The Marketplace Datebook for Monday, May 26, 214.

Why gas stations are disappearing

There are only gas stations left in Manhattan, echoing a national trend.