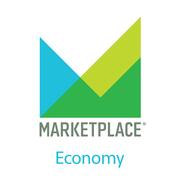 What deflation is and why it's the worst dog ever

Because more economic terms should be explained with pets.

Public Service Bonuses

A new report reveals that thousands of IRS workers got rewards despite being disciplined for misconduct – including tax compliance problems.

4-2-14 Mid-day Update - Is Apple the new Microsoft?

Apple is expected to report mostly flat revenues from a year ago. One famed activist investor says there is a tech bubble and he's betting against it. And, film and TV production flee LA for big tax subsidies in states like Georgia and New York.

How one Tennessee county kept unemployment so low

Why one resident of Lincoln County, Tenn. says: "We're lucky, I guess."

The poetry of 'bankrupt' and 'nest egg'

Pondering the etymology, imagery and poetry of the Fed and its friends.

Why it makes economic sense to send a letter for $.4

How is it possible that for less than the price of a cup of coffee you can send a letter halfway across the globe?

As beef and pork prices rise, demand tastes like chicken

Why it's a great time to be a chicken farmer.

Fed's Yellen soothes nerves on interest rates

Kai talks with Felix Salmon from Reuters and Catherine Rampell of the Washinton Post about the week's biggest economic news.

It's cheaper to buy than rent, but the gap is closing

Since the financial crisis, people who hold a mortgage have spent less on housing than people who rent. So why don't more people buy?

The employment problem of prime-age men

Men age 25 to 54 have been disappearing from employment for decades. In the recession it got worse. Now it's getting a bit better.

Will the future economy be driven by purpose or money?

Aaron Hurst, author of "The Purpose Economy," argues workers are driven by more than just the promise of a paycheck.

A bill of health for insurance companies

Pot growers bought more than eight football fields of warehouse space

Bad banks turn into good banks

What's led to the overall improvement in creditworthiness for consumers.

Bloomberg: 'Here's $5 million for gun control'

Michael Bloomberg is committing $5 million to create an anti-gun voting operation. What does $5 million buy?

How to make a White House Summit more than a photo op

The White House hosts summits on everything from healthy foods to diversity in technology. But what's the real utility of these gatherings?

PODCAST: China's slowing growth

A disease ravaging shrimp is pushing up prices for the small shellfish. And a look at homelessness in Silicon Valley.

We're paying more to pay taxes

Inflation in the tax preparation and accounting fees category is up 5.1 percent

What's pulling up the Consumer Price Index

Consumer prices increased more than expected. So what's becoming more expensive, and why?

PODCAST: Google's drones

Internet companies are racing to patch their Heartbleed vulnerabilities, at great cost. And legal pot shops are discovering the joys of tax season.

IRS budget problems help tax evaders

Taxpayers face a smaller risk of being audited by the IRS.

Real estate flippers are back!

Some of the biggest players in the housing bubble were house flippers.

Marketing the moon

How a marketing campaign helped the U.S. win the space race.

Retail sales: What's driving demand?

Retail sales increased 1.1 per cent in March, the biggest jump since September 212.

When the IRS 'likes' your Facebook update

The IRS is using data to crack down on tax dodgers

PODCAST: Warm reception for retail

Congress is out for recess, but not to play. And a look at France's proposed new rules for workplace messaging after hours.

'quotIf you can run the OMB, you can run anything.'quot

The president has picked his budget adviser Sylvia Mathews Burwell to head HHS.

4-11-14 Mid-day Update - What's so bad about low inflation?

Why are investors suddenly fleeing from stocks? Some at the Fed are worried the inflation rate, around 1 percent, is too low. When it comes to wellbeing, Costa Rica tops the list of countries in Latin America.

Why low inflation can be dangerous

Some at the Fed are worried the inflation rate, around 1 percent, is too low.

PODCAST: From bailout to IPO

Will China interfere with efforts to isolate Russia? And, teens are now spending as much on food as clothes

PODCAST: Medicare's pay-data dump

We look at what the proposed Time-Warner Cable and Comcast merger will mean for internet users. And a challenger appears in the single-serve coffeemaker market.

Who's quitting? Who's hiring? Is it you?

The "Job Opening and Labor Turnover" survey says employers advertised 4.2 million jobs in February.

PODCAST: (Not) talking about pay

Banco Popular is shifting eastward from Los Angeles and Chicago. And looking at giving and taking in the workplace.

Why don't we like to talk about our pay?

An executive order will make it easier for federal contractors to discuss pay

Is this town the Luxembourg of Illinois?

Companies based in Chicago record sales in Kankakee and other towns outside the city to lower tax bills.

Can an executive order help close the pay gap?

The order will ban federal contractors from retaliating against employees who discuss what they're paid.

PODCAST: Tech bubble bursting?

We look at the best and worst states on closing the gender pay gap. And The University of Baltimore is offering a free semester for finishing within four years.

A free semester for finishing within four years

University of Baltimore offering discount for finishing in four years

Bitcoin ATM in the halls of Congress

A Bitcoin ATM maker is setting up shop in Congress.

Weekly Wrap:

David Gura sits down with Felix Salmon, from Reuters, and Catherine Rampell, from The Washington Post, to wrap up the week.

What would full employment feel like?

The goal is always the same – so-called "full employment." But what is it?

PODCAST: March jobs report

U.S. employers hired 12, people in March. And the company behind the food delivery app GrubHub gets ready for its IPO.

Delayed foreclosures: Drawing out the agony?

Do long, drawn-out foreclosures really help homeowners prepare?

Questioning the reliability of ADP job numbers

Economists have been riled up over differences between job numbers from the payroll processor ADP and federal figures.

Overdraft fees hit a record

A study says banks pulled in $2 billion in overdraft charges in 21 and fees are climbing.

PODCAST: Fewest first quarter layoffs since 15

A new economic indicator seeks to give the GDP some competition in measuring economic health.

New study looks beyond GDP to measure economic health

According to a new study, GDP doesn't tell the whole story about the health of a country's economy.

Keating's legacy, from John McCain to a camp classic

We remember Charles Keating, one of the best-known faces of the S'L crisis of the late 8's and early 's, in which 1, banks collapsed.

What GM's mea culpa could mean for the brand

GM's CEO Mary Barra spent another day on Capitol Hill.

PODCAST: Private sector warms up

Microsoft is expected to announce a digital personal assistant akin to Apple's Siri. And Alan Sloan from Fortune Magazine talks tax code.

D printing could be the future of construction

There's no waste. And if you want to renovate? Recycle.

The yacht index: How the price of pricey boats shifts

Is it possible that yachts can serve as an economic indicator?

Housing is having a bad month, thanks to the letter 'quotL'quot

Blame the L's: labor, lumber, land, loans... and lousy weather.

PODCAST: Dealing with high frequency trading

Retail store are looking to get more foot traffic with cell phone charging stations. And Netflix gets Frank Underwood to lobby for them.

Rising small business sales likely to continue in 214

Many baby boomers were unable to sell during the Great Recession

Rising small business sales likely to continue in 214

Many baby boomers were unable to sell during the Great Recession

A limestone mine and government paperwork

In the backwoods of Pennsylvania sits 28, file cabinets full of paper and an army of employees.

PODCAST: UN warns of climate change effects

The Senate Finance Committee thinks about bringing back expired tax breaks. And a look at the safety and costs of in vitro births.

Senate Finance Committee chair to review tax breaks

A Senate proposal for a temporary extension

On Helvetica and U.S. government spending

A 14-year-old kid in Pittsburgh has found a way to save the federal government $16 million.

Weekly Wrap: Consumer confidence? 'Meh'

Kai talks to John Carney from the Wall Street Journal and Leigh Gallagher from Fortune for the Weekly Wrap.

What's the ROI for a college degree?

Many liberal arts schools say they're penalized by rankings on graduates' earnings

Bridging the language barrier at movies

myLINGO allows moviegoers to download film soundtracks in another language

CSI High: Preparing students for the job market

A town in Georgia has a unique problem. Too many skilled high school graduates and not enough jobs.

The new business of lobbying

"Government affairs professionals," as lobbyists like to call themselves, say their job has changed.

PODCAST: College football to get unions?

The U.S. saw an uptick in GDP. And with 2, tech workers commuting daily from Santa Cruz to Silicon Valley, the city tries to start its own tech hub.

Filling in the gaps that Gross Domestic Product skips

How to do we measure well-being?

Is Facebook the biggest VC in the game?

With several high profile purchases in recent years, Facebook is operating more like a venture capitalist than a social media platform

America's Game of Chicken

For the first time in 1 years, Americans are eating more chicken than beef.

The IRS labels bitcoin an asset

The IRS says bitcoins should be counted as assets for tax purposes. And that means what, exactly? Marketplace's Paddy Hirsch explains.

PODCAST: Disney gets into viral videos

A look at how the Fed measures inflation when deciding to adjust interest rates. And despite inheriting one of the toughest economic environments in years, Millennials are still optimistic.

Survival of the fittest millennial

How are millennials handling student debt and the difficulty of securing employment?

Putting student debt on trial

Law school applications are plummeting, so what are they worth?

Will you get rich? Your last name may tell you

A new book says surnames can tell us an awful lot about our social status and how successful we may be.

Starbucks is expanding serving alcohol and small plates

The company known for waking you up wants to offer more

Spooked markets and that sort of thing

Cardiff Garcia of FT and Catherine Rampell of the Washington Post talk the week's financial news.

PODCAST: IRS scam

Walmart is putting on a "Black-Friday-like" for gardening and outdoor supplies. And we look at how legalization might affect undocumented workers as part of our series, City of Dreams.

Walmart's 'quotBlack Friday'quot of garden supplies: More than a marketing ploy

Is there really a Black-Friday-like demand for gardening and outdoor supplies in the spring?

NCAA bracketeers cried today

ESPN says Warren Buffett's $1 billion bet is almost certainly safe.

PODCAST: Veteran unemployment

Interest rates are up after the new Federal Reserve chair's briefing yesterday. And the Washington monument is reopening, thanks to private money.

Repairing the Washington Monument with private money

Repairing damage from a 211 earthquake cost $15 million.

Amazon Prime could be too popular?

Analysts say Amazon could lose money by making its customers too loyal.

After combat, a battle for job-hunting veterans

Partly it's the challenge of translating their skills to a civilian workplace.

Short-selling: A step-by-step guide.

Short selling has a bad rap. But it's been around as long as the markets have.

Smith College president talks affordable education

She says her job is to "help people think past the sticker price".

The only thing the Fed has left is words. And dots.

With QE on its way out, and interest rates at basically zero, the Fed has to start using its words.

PODCAST: The dual mandate

The Fed grapples with balancing interest rates and a shrinking unemployment rate.

Why the Federal Reserve is vague about interest rates

Fed Chair Janet Yellen loves transparency, to a point.

There isn't a magic jobs number for the Federal Reserve

The U.S. is inching toward the 6.5 percent unemployment rate the Fed has set as its target. Now, it has to decide whether this rate is the rate it wanted.

Three floods in three years? Yeah, we'll buy your house.

After Hurricane Sandy, the state of New Jersey planned to buy 1, flood-prone homes and demolish them. What's taking so long?

A mixed outlook for the housing market

A recovery in new home construction hit bumps amid winter storms

The meta-convention: a trade show for trade shows

The trade show and convention industry has bounced back from the recession.

Do you wanna live forever?

Marketplace Datebook for Tuesday, March 18, 214

What deportations mean for U.S. businesses

Deportation impacts industries that historically depend on undocumented labor.

Weekly Wrap: Hurray for Washington?

Nela Richardson and Sudeep Reddy talk about what happened this week, economy-wise, and why.

That extra hour of daylight finally comes in handy

Marketplace Datebook for the week of March 17, 214

For-profit colleges and concerns over 'gainful employment'

A look at the numbers behind the Gainful Employment Rule and its potential impact on the industry.

Common Core tests get a trial run

Millions of students will take tests aligned with the new Common Core education standards.

Midday Update: Is BP back?

Beginning next week, BP will be allowed to bid on leases to drill for oil on government land.

Four ways to make money in space

NASA is increasingly reliant on contractors to get goods to and from space.

Common Core tests get a trial run

Millions of students will take tests aligned with the new Common Core education standards.

Multiple labor lawsuits hit McDonald's

The fast-food giant is sued with its franchises for alleged wage and hour violations.

Attack of the Zombies!!! (Foreclosures, that is)

Vacant homes in foreclosure can drag down neighborhoods and home prices

Attack of the Zombies!!! (Foreclosures, that is)

Vacant homes in foreclosure can drag down neighborhoods and home prices

Obama pushes for more overtime pay

Wages haven't really increased in the last 2 years--a look at how and why companies are keeping wages low

A plan to wind down Fannie and Freddie

Senate leaders have a bipartisan blueprint for getting government (somewhat) out of the housing market.

The life of a stolen passport

How stolen passports get from owner to impostor owner

PODCAST: Nuclear economics, post-Fukushima

It's been three years since the Fukushima disaster prompted Japan to try weaning itself from nuclear power.

Which public radio host are you?

Answer a series of questions including: Who would you most like to interview?

The guy behind nutrition facts and energy guides

Burkey Belser is the designer behind the original nutrition facts label. He's got his own solution for the redesign.

My first job: Big-rig truck washer

ESPN's Rece Davis didn't start out interviewing athletes on air.

Public transportation at its highest level since 156

Americans took more than 1 billion public transport trips in 21.

PODCAST: February jobs report

A look at supermarket mergers. And some employers are shifting how they contribute to 41(k) plans.

Job growth strengthens, jobless rate ticks up to 6.7%

The U.S. economy added 175, jobs in February.

Why foreign consumers shop in U.S.

Competition and other factors can lower the price of consumer goods in this country.

Are bananas doomed?

The world's fourth most valuable crop is being ravaged by an intractable fungus.

Tracking down the man behind bitcoin

News media was in hot pursuit of Satoshi Nakamoto, the alleged creator of bitcoin.

High frequency trading: More relaxed than you think

The technology and tactics of high frequency trading are impressive to some, but controversial to others, which is why a lot of companies that do it don't like to talk about it.

Snakes not on a plane

Marketplace Datebook for Friday, March 7, 214

Jeffrey Zients is not an economist

And the new National Economic Council boss is not a longtime political insider, either

PODCAST: Another ACA delay

The makers of the SAT have a new college admissions test. And Americans are drinking less and less orange juice.