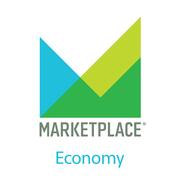 A plan to wind down Fannie and Freddie

Senate leaders have a bipartisan blueprint for getting government (somewhat) out of the housing market.

The life of a stolen passport

How stolen passports get from owner to impostor owner

PODCAST: Nuclear economics, post-Fukushima

It's been three years since the Fukushima disaster prompted Japan to try weaning itself from nuclear power.

Which public radio host are you?

Answer a series of questions including: Who would you most like to interview?

The guy behind nutrition facts and energy guides

Burkey Belser is the designer behind the original nutrition facts label. He's got his own solution for the redesign.

My first job: Big-rig truck washer

ESPN's Rece Davis didn't start out interviewing athletes on air.

Public transportation at its highest level since 156

Americans took more than 1 billion public transport trips in 21.

PODCAST: February jobs report

A look at supermarket mergers. And some employers are shifting how they contribute to 41(k) plans.

Job growth strengthens, jobless rate ticks up to 6.7%

The U.S. economy added 175, jobs in February.

Why foreign consumers shop in U.S.

Competition and other factors can lower the price of consumer goods in this country.

Are bananas doomed?

The world's fourth most valuable crop is being ravaged by an intractable fungus.

Tracking down the man behind bitcoin

News media was in hot pursuit of Satoshi Nakamoto, the alleged creator of bitcoin.

Snakes not on a plane

Marketplace Datebook for Friday, March 7, 214

High frequency trading: More relaxed than you think

The technology and tactics of high frequency trading are impressive to some, but controversial to others, which is why a lot of companies that do it don't like to talk about it.

Jeffrey Zients is not an economist

And the new National Economic Council boss is not a longtime political insider, either

PODCAST: Another ACA delay

The makers of the SAT have a new college admissions test. And Americans are drinking less and less orange juice.

Congress votes to reduce flood-insurance rates—because the seas aren't rising, right?

In 212, Congress updated the National Flood Insurance Program, to reflect higher risks and costs. Now, it wants do-overs.

Bears, bulls, and BS

We dive into the origin of a few popular finance terms.

What can the Fed do to solve social problems?

The Federal Reserve Bank of Boston is rolling up its sleeves to get closer to the community.

By cutting a deal with these two creditors, could Detroit force all the others to fall in line?

If the judge approves, the agreement could be a big step toward the city getting out of bankruptcy.

What can the Fed do to solve social problems?

The Federal Reserve Bank of Boston is rolling up its sleeves to get closer to the community.

Obama's tough sell on early childhood spending

Obama's budget proposal is equally split between defense spending and domestic programs like early childhood development.

That creepy eye on the back of the dollar bill, explained

You've seen it a million times without really looking at it. What is that doing there?

Cold, snowy winter brings hot deals on cars

Endless snowstorms, freezing cold, and an uncertain economy has car sales skidding off the road in 214. So carmakers are extending their incentive programs.

Weekly Wrap: Economic blood pressure

Kai talks to John Carney from the Wall Street Journal and Leigh Gallagher from Fortune for the Weekly Wrap.

It's March. Do you know how much coffee you're drinking?

Marketplace Datebook for the first week of March 214

It's March. Do you know how much coffee you're drinking?

Marketplace Datebook for the first week of March, 214

California rules cell phone maps OK while driving

What could possibly go wrong?

Spying on your Yahoo video chats

According to documents, Yahoo webcam chats were intercepted by a British security agency.

Fannie and Freddie: Cash cows avoid the slaughter?

The mortgage lenders have turned around their fortunes -- and not everyone's happy about it.

Companies (still) want to know your SAT score

Are SAT scores still relevant years later? Would you be willing to give your score to a recruiter if asked?

Which lawmakers got paid during the shutdown?

The Washington Post went back and checked.

Your breakfast view will change

The White House changes the look and focus of nutrition labels.

Rep. Dave Camp on his tax reform plan

Rep. Dave Camp of Michigan discusses his tax reform proposal.

Why the rising stock market isn't lifting all boats

Stocks are riding high, but where does that leave average Americans?

Chill out for National Chili Day

Marketplace Datebook for Thursday, February 27, 214

The stock market, five years on

If you held onto your stocks at the bottom, things might not be so bad.

A day to wear black

Marketplace Datebook for Wednesday, February 26, 214

GOP eyes big reforms for nation's tax code

Congressional Republicans expect to unveil their plan.

Celebrating the pantry staples

Marketplace Datebook for Tuesday, February 25, 214

TSA wants faster screening at airports, too

Airlines and travelers are increasingly antsy about the screening drill at airports, and the TSA has a March 11 deadline for bids on new screening machines.

Proposed Defense budget decreases Army levels

The Obama administration wants to shrink the Army to its smallest size since the buildup to U.S. involvement in World War II

Winter brings sweet business to salt suppliers

This season's harsh winter has meant shortages of the salt used to clear roads.

Weekly Wrap: The short version of the Fed notes

Kai talks with Catherine Rampell of the Washington Post and Felix Salmon of Reuters

The Market Was Down

A short story from the collection 'One More Thing'

Things to believe in: the Grand Canyon and the tooth fairy

Marketplace Datebook for the week of February 24, 214

Our national obsession with the tenure T-note, explained

A listener wrote to ask about our obsession with the so-called "tenture teanote". Well, you asked for it....

Notes from the Fed Meeting-so you don't have to read them

Just about anything.

The debt debate is just hibernating

It's quiet, but not gone

Bad news, bad weather

Can bad weather be blamed for bad news?

A monumental day for Washington, D.C.

Marketplace Datebook for Friday, February 21, 214

Home ownership less affordable for middle-income Americans

Incomes aren't going up—but the cost of homeownership is.

This won't make you feel better about the housing recovery

Why new housing starts are down in January – though up year-to-year.

The good and bad of rising consumer debt

Consumer debt is up, particularly among young adults. Is this a good sign?

PODCAST: A higher minimum wage

Will raising the minimum wage hurt jobs or reduce poverty? A new report says: both.

Where President Obama 'quotshops'quot

The President announced ambitious new EPA targets today -- at a Safeway.

Practice patience to avoid paying for Candy Crush

King Digital Entertainment has made a lot of money out of people's impatience.

Chicago's winter and a commuter-rail system in trouble

Delayed trains left commuters standing in icy winds, and revealed an accident waiting to happen.

Economic eyes again turn to the Baltic Dry Index

Should we be fretting that the Baltic Dry Index is tanking again?

Chicken, beef, pork and...catfish?

Catfish farmers hope USDA will get around to regulating them.

College debit cards and Chinese taxi cabs

The government looks at the student debit card market.

iPads + schools = a business opportunity?

Race to the tablet: The cautionary tale of L.A. schools' iPad program

Winter economic slowdown? Not for Campbell's soup

Winter weather is mostly a drag on the economy, but a few businesses love it

How well did the stimulus work?

David Gura and Lizzie O'Leary discuss the fifth anniversary of the 2 Recovery and Reinvestment Act

PODCAST: Tennessee car workers reject union

Stimulus woes in Japan put a hamper on the country's recovery. And taking a look at how we value water.

Auto union regroups after defeat in Tennessee vote

The autoworker's union in the wake of the Tennessee vote.

The economics of a bad winter

A business opportunity for firms that make de-icer with everything from the remnants of rum to beet juice.

Stimulus past: Are we recovered and reinvested?

It's the fifth anniversary of President Obama's signing of the American Recovery and Reinvestment Act.

Weekly Wrap: Beer bets

Kai talks to Nela Richardson and Cardiff Garcia. Bets are settled.

Polish your pick up lines, it's International Flirting Week

A whole week for the lovebirds.

25 for 25: Leave the big numbers to Janet Yellen

The numbers we use to measure our economy might not be telling us what we think they are.

Debt vote helps create a sense of certainty

Increasing government borrowing authority eases worries.

http://download.publicradio.org/podcast/marketplace/segments/214/2/11/marketplace_segment16_214211_64.mp

The House of Representatives voted 211-21 to pass an increase to the government's borrowing limit. Here's what you need to know.

PODCAST: Silicon Galley?

Another Obamacare delay that gives businesses some breathing room. And, the first part of our series on the increasingly isolated culture of the tech industry: Silicon Island.

Fed's Janet Yellen grilled by Congress for the first time

Fed chair Janet Yellen has her first Congressional hearing on Tuesday. What questions is she likely to answer - or sidestep?

Why the government can't plan ahead

The fight over the debt ceiling is tied up in a larger problem. Congress is not good at making honest and accurate predictions about our future spending and deficits.

Weekly Wrap: Taper the taper?

Kai's weekly chat with The Wall Street Journal's Sudeep Reddy and Bloomberg Government's Nela Richardson.

Stumped by the debt ceiling? Here's an explainer

Basically, Congress appropriates money for projects and programs, then lawmakers have to give the executive branch permission to pay those bills.

A tale of two jobs surveys

Economists say the optimism of the household survey should temper the gloom of low payroll reports.

PODCAST: January jobs report

This months jobs report showed unemployment inching down, but fewer jobs were created than expected. And we look at how much personal debt is too much?

Dealing with unemployment after a lifetime of work

One woman gives a face to today's jobs numbers.

How much personal debt is too much?

Consumer debt is rising over all. Financial advisors say we need to keep our personal debt load at no more than percent of our take-home pay.

When your safety net ... disappears

The number of jobless Americans who've lost their extended unemployment benefits has swelled to 1.7 million.

January jobs report: Unemployment dips, but jobs added disappoints

The U.S. economy added 11, jobs in January, falling below analysts' expectations.

8 post-apocalpyse scenarios: The Day After the Debt Ceiling

The authors of "How to Win at Everything" share some predictions for what happens if Congress fails to agree about the Debt Ceiling.

Ignore the Unemployment Rate. There's a better jobs indicator.

Why you should read the whole jobs report, and not just the highlights

How easy it should be to join a labor union?

The National Labor Relations Board wants to change the rules about how workers vote on whether or not to unionize.

European officials to consider new trade with Cuba

What will this mean for Cuba's relationship with the U.S.?

No benefits for the rich

A proposal to extend long-term unemployment benefits would exclude Americans who make more than $1Million a year.

PODCAST: What are 'Climate Hubs?'

The Obama administration is set to announce the creation of regional offices called climate hubs today. Also, Twitter is set to release its first earnings report.

What online job listings tell us about the economy

The Conference Board is out with this month's Help Wanted Online index. It's a survey of some 16, online job listings.

Irish bankers on trial for financial collapse

The financial trial of the century begins in Ireland as Anglo Irish Bank officials are accused of trying to pump up their share price.

Congress hold hearing on army recruiting fraud

When incentives to recruit new soldiers turns to fraud.

Market recap: Corrections

A look at the numbers surrounding the continuing stock market losses.

A woman quit her job on TV: Good news for the economy?

So was no one at the Department of Labor watching the Superbowl?

United kills another airline hub. What happens next in Cleveland?

Cleveland now goes the way of St. Louis, Pittsburgh and other former airline hubs, as United announces a streamlining of its routes

Do businesses profit from inequality?

The New York Times' Nelson Schwartz says there are short-term gains for individual companies, but long-term consequences for the economy as a whole

PODCAST: Matchmaking in Mexico

The new Secretary of Commerce Penny Pritzker is going on a trade mission to Mexico to find new business partners to match with U.S. companies. And, investing in iPads to help schoolchildren learn carries some costs that may be getting overlooked.

Why do we have a debt ceiling, anyway?

The debt ceiling began as a check on executive spending, but didn't reach its full crescendo until recently.

Global currency traders may be fixing the '4 p.m. Fix'

Currency traders are suspected of using a little known number called the "4 p.m. Fix" to manipulate one of the world's largest markets.

myRA, explained

myRA is a new, government-backed retirement plan designed for low-income workers, who don't have IRAs or 41Ks.

1-1-14 Mid-day Update - Who will lead Microsoft?

There's a lot of chatter out there about who will be named as Microsoft's next CEO. We wondered what sort of advice people -- not just those who know the Fed but regular folks, too -- might have for Janet Yellen, as she becomes the chairwoman of the Federal Reserve. And, this weekend's game is a big opportunity for the pro-pot faction.

We're in a valuation bubble. It's cool!

Venture capitalist Joluk Jobanputra says Silicon Valley is in a bubble, but that those inflated company values are accurate.

Advice for Janet Yellen

We wondered what sort of advice people -- not just those who know the Fed but regular folks, too -- might have for Janet Yellen, as she becomes the chairwoman of the Federal Reserve.

1--14 Mid-day Update - Cuba seeks foreign investment

Investors are pulling out of emerging markets, and putting their money into older markets. How much does the Fed have to do with it? A proposal to waive tuition at public universities, but grads will have to "pay it forward." And, Cuba looks for foreign investment.

A different way to pay for college

A proposal to waive tuition at public universities, but grads will have to "pay it forward."

Inequality: Capitalism's 'squeaky wheel'

Harvard Business School's Nancy Koehn says the bottom percent of the population spends money in a way that create jobs

myRA, explained

myRA is a new, government-backed retirement plan designed for low-income workers, who don't have IRAs or 41Ks.

How cash is like Bitcoin. And how Bitcoin is like Kim Kardashian.

What we can learn about cash, by learning about Bitcoin

1-2-14 Mid-day Update - State of the Union as heard from Europe

President Obama focused mostly on domestic issues during his speech last night. How did it go over in Europe? Some say Nintendo needs to ditch the console and focus on games, but Nintendo may still try to save its hardware business. And, the USPS raised the price of stamps by cents last Sunday.

If you bought Forever Stamps forever ago, you're getting a good return

The USPS raised the price of stamps by cents last Sunday.

What the NSA can learn from Angry Birds

Spoiler: More than we knew

A history of the African-American barbershop

A shave, a trim, and much more

$1.1: Just a nice even number?

Why did President Obama choose $1.1 as the new minimum wage for federal contractors? And, wait, which federal workers are paid minimum wage?

Is grad school 'quotprofessional suicide'quot?

Consultant Karen Kelsky says a change in school funding is leaving many grad students buried under a pile of insurmountable debt.

1-28-14 Mid-day Update - White House to raise minimum wage for federal contracts

Previewing tonight's SOTU. The NSA and its British counterpart are sucking up data from some mobile apps. And, there's a lot of code in the Silicon Valley dress code.

The president's options, without Congressional help

The president has the power to affect wages even without any help from the House or Senate.

The NSA loves Angry Birds

The NSA stoops to new depths

1-27-14 Mid-day Update - Emerging market jitters

Emerging markets are starting off 214 in the worst place they've been in 5 years. A new study says more than half of Americans are fuzzy on the deadline for signing up for health insurance. And, some charter schools see a benefit to pulling students from both sides of the tracks.

Coffee's cheap right now, and you should be worried

Coffee prices are near historic lows, but consumers aren't seeing the we're not seeing that's just setting us up for high prices.