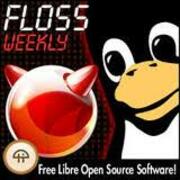 FLOSS Weekly 286: MonoGame

MonoGame is an open source implementation of the Microsoft XNA 4.x Framework, to make it easy for XNA developers to create cross-platform games.

FLOSS Weekly 285: Hydra

Hydra is a distributed data processing and storage system originally developed at AddThis.

FLOSS Weekly 284: The Go Language

Go is an open source programming language that makes it easy to build simple, reliable, and efficient software.

FLOSS Weekly 283: nginx

Run by the busiest web sites on the Internet, NGINX enables high performance web architectures to improve user experience, without incurring unnecessary costs in capital or time.

FLOSS Weekly 282: GENIVI

GENIVI® is a non-profit industry alliance committed to driving the broad adoption of an In-Vehicle Infotainment (IVI) open-source development platform.

FLOSS Weekly 281: Omegaverse

The Omega Project aims to develop a universe simulator accessible by registered users over the json-rpc protocol.

FLOSS Weekly 280: LIBRE API

LIBRE was created by the Office of the Chief Information Officer of the Commonwealth of Puerto Rico to power the liberation of government data.

FLOSS Weekly 279: SCaLE 12X

SCaLE is a community run open-source and free software conference held annually in Los Angeles.

FLOSS Weekly 278: arkOS

arkOS is a project designed to make self-hosting common web services easy for the general public.

FLOSS Weekly 277: Magnolia and Blossom

Magnolia is an open Java CMS that delivers smartphone simplicity on an enterprise-scale. Magnolia CMS allows organizations to orchestrate online services, sales and marketing across all digital channels, maximizing the impact of every touchpoint. Blossom integrates Magnolia CMS and Spring Framework, the framework for building Java applications and Blossom brings the flexibility and capabilities of Spring to Magnolia.

FLOSS Weekly 276: FreePBX

The FreePBX is an free open source web-based PBX solution.

FLOSS Weekly 275: Amahi redo

Amahi is an open source software that runs on a dedicated PC as a central computer for your home.

FLOSS Weekly 274: ownCloud

ownCloud provides universal access to your files via the web, your computer or your mobile devices.

FLOSS Weekly 273: RDO

RDO is a community of people using and deploying OpenStack on Red Hat and Red Hat-based platforms.

FLOSS Weekly 272: gPodder

gpodder.net is a libre web service that allows you to manage your podcast subscriptions and discover new content.

FLOSS Weekly 271: OpenSUSE Summit

The oSSum13 program includes keynotes, talks, workshops and a lot of fun.

FLOSS Weekly 270: QGIS

QGIS is a geographical software that lets you layout and analyze maps.

FLOSS Weekly 269: Beagleboard

The BeagleBoard.org Foundation is a US-based 501(c) non-profit corporation existing to provide education in and promotion of the design and use of open-source software and hardware in embedded computing.

FLOSS Weekly 268: Wireshark

Wireshark is the world's foremost network protocol analyzer.

FLOSS Weekly 267: YaCy

YaCy is a free search engine that anyone can use to build a search portal for their intranet or to help search the public internet.

FLOSS Weekly 266: ZoneMinder

ZoneMinder is intended for use in single or multi-camera video security applications.

FLOSS Weekly 265: OpenWrt

OpenWrt is described as a Linux distribution for embedded devices.

FLOSS Weekly 264: CampFireManager

CampFireManager is a talk scheduling tool for conferences - such as barcamps or fixed schedule conferences.

FLOSS 263: ClockWork

ClockWork provides a high level, finite statemachine-based language called Clockwork that can be used to describe process control systems.

FLOSS Weekly 262: SaltStack Redux

SaltStack develops powerfully efficient software used by the world's largest businesses for cloud orchestration, server automation and IT infrastructure management. We help cloud and software development teams, data center operations and enterprise IT organizations configure and automate essential IT systems at the speed and scale required by the most advanced cloud infrastructures.

FLOSS Weekly 261: Kaltura

Kaltura is the world's first Open Source Online Video Platform, providing both enterprise level commercial software and services, fully supported and maintained by Kaltura, as well as free open-source community supported solutions, for video publishing, management, syndication and monetization.

FLOSS Weekly 260: Opsview

Opsview is a global IT Systems Management software business. Our flagship product, Opsview Enterprise was released in 2009, based on the original Opsview open source project launched in 2003, and is in use in over 35,000 companies in 160 countries.

FLOSS Weekly 259: OSCON 2013

Simon Phipps interviews five key people at OSCON 2013.

FLOSS Weekly 258: OpenStack Swift

Swift is a highly available, distributed, eventually consistent object/blob store. Organizations can use Swift to store lots of data efficiently, safely, and cheaply.

FLOSS Weekly 257: Ansibleworks

Ansible is a radically simple IT orchestration solution that automates configuration, software deployment, and other IT needs. Ansible models your IT infrastructure by looking at the comprehensive architecture of how all of your systems inter-relate, rather than just managing one system at a time.

FLOSS Weekly 256: Serenity for Android

Serenity for Android is a Plex Media Server client for tablets and Google TV devices. It is optimized for the 10ft viewing experience, and remote navigation. While it was designed for the television, it works just as well on a tablet. Serenity provides a very visual interface to accessing video and tv show categories on the server.

FLOSS Weekly 255: web2Project

web2Project is a Free Open Source business-oriented Project Management System (PMS) built for the future.

FLOSS Weekly 254: The Maker

The Maker is a content management system for rapidly creating, editing, previewing, and publishing websites on the Mac. You stay creative, while TheMaker manages your files, media, links and page changes. Reliable, efficient, fast and powerful: TheMaker.

FLOSS Weekly 253: Mayan EDMS

Mayan EDMS is a document management system with automated OCR, automatic categorization, flexible metadata, extensive access control and more.

FLOSS Weekly 252: Ubuntu Phone

Ubuntu Community Manager Jono Bacon discusses Ubuntu Phone and where the development is headed.

FLOSS Weekly 251: Sauce Labs

Sauce Labs is an automated testing tool for mobile and web apps.

FLOSS Weekly 250: Ceph

Ceph is a unified, distributed storage system designed for excellent performance, reliability and scalability.

FLOSS Weekly 249: Weblate

Weblate is a free web-based translation tool with tight Git integration. It features simple and clean user interface, propagation of translations across subprojects, quality checks and automatic linking to source files.

FLOSS Weekly 248: Pootle

Pootle is an online translation platform that allows your professional or community translators to easily complete localization tasks. For you it becomes easier to manage and monitor the distributed work.