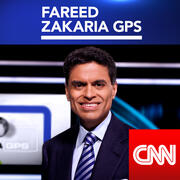 ISIS attack 'a matter of time'

Former CIA and NSA director Michael Hayden tells Jim Sciutto he believes ISIS is ready to strike the West.

On GPS: Cheaper, safer nuclear energy?

Fareed talks to Leslie Dewan, co-founder of a company with an innovative approach to nuclear power.

On GPS: Syrian civil war & the rise of ISIS

Hamid explains that the rise of ISIS is tied to the Syrian conflict. Would U.S. military action have made a difference?

A GPS panel weighs in on U.S. role in Iraq

On GPS, panelists discuss U.S. operations in Iraq. While airstrikes have been effective, is it enough to roll back ISIS?

On GPS: Understanding MidEast power struggles

Emma Sky & Shadi Hamid debate the role of moderates, extremists, & dictators in MidEast governments.

Fareed's Take: Where are the MidEast moderates?

Fareed explains that the Middle East is trapped between repressive dictatorship & illiberal opposition groups.

What in the World? Russian-Cuban rapprochement

Russia intends to have a spy post just 150 miles from Florida. Fareed explains how the U.S. drove Cuba into Putin's arms.

On GPS: Tyson on intl space cooperation

Neil deGrasse Tyson: It is "embarrassing" when earthly worries like Russia's actions in Ukraine affect space cooperation.

Tyson on deep space exploration

Astrophysicist Neil deGrasse Tyson oulines NASA plans for further space missions. But does America care anymore?

Fareed's Take: U.S. action against ISIS

The survival of Iraqi Kurdistan is in U.S. interests. Fareed explains why military intervention in Iraq is necessary.

What in the World: Where's the good news?

With turmoil in the Middle East dominating the headlines, Fareed says there is good news in other parts of the world.

Neil deGrasse Tyson on the Big Bang

On GPS, Neil deGrasse Tyson explains why it's important to study science and the origin of the universe.

Last Look: A laughing matter in Turkey

What's got these women laughing in Turkey? Fareed looks at a social media reaction to a politician's remarks about women.

GPS: 1-on-1 with U.S. Ambassador to Israel

Daniel Shapiro gives GPS the latest on the crisis in Israel and Gaza and the possibility of a sustainable cease-fire.

Serry: On Israel & a cease-fire

Serry says Israel should "seriously consider" a cease-fire, adding that the conflict has gone on too long already.

U.N. envoy on shelling of U.N. school

After the shelling of another U.N. school, Robert Serry says a cease-fire is needed, but stresses long-term negotiations.

On GPS: Serry on MidEast conflict

U.N. envoy Robert Serry explains why the cease-fire between Israel & Hamas collapsed. What are the prospects for peace?

Serry: On Hamas & cease-fire negotiations

Serry says Hamas should recommit to a cease-fire, but adds that underlying issues of the conflict need to be addressed.

Hamas: We don't use human shields

A Hamas leader says the organization doesn't use human shields and doesn't store weapons in Gaza schools.

Israeli spokesman responds to Hamas

The Israeli spokesman for PM Benjamin Netanyahu responds to Hamas' conditions for a cease-fire.

Sikorski on NATO's role in Poland

Radek Sikorski says NATO needs a stronger presence on its eastern flank as Russia conducts a "hybrid war" in Ukraine.

GPS: Gupta on the Ebola outbreak

Sanjay Gupta explains how conditions in West Africa helped the Ebola virus spread. But will it spread to the West?

Fareed's Take: The rise of Putinism

The Hungarian PM said this week the country would practice illiberal democracy. Is he taking a page from Putin's book?

Polish FM Sikorski on Russian sanctions

Sikorski tells Fareed the most recent sanctions will send Putin a message that the West can unite around a common goal..

Last Look: Plants in outer space

Fareed looks at an artist's new project: launching flowers & a bonsai into the stratosphere!

Clinton: Putin is arrogant and tough

Hillary Clinton talks about what Vladimir Putin is like as a man and how she dealt with him as Secretary of State.

Fareed's Take: How to punish Putin

The EU must take steps to send a clear signal to Russia on its stance. But will the EU have the resolve to take action?

GPS: Hillary Clinton on America's story

Clinton says America must better convey its identity to the world as "a major force for peace, prosperity and progress."

Hillary Clinton on Israeli settlements

Clinton: Israel's expansion of settlements is a "terrible signal" to send when claiming to support a two-state solution.

Hillary Clinton on Israeli offensive

On GPS, Hillary Clinton tells Fareed she does not believe Israel has committed war crimes in its use of force in Gaza.

Clinton: Putin partly to blame for MH17

Hillary Clinton tells CNN's Fareed Zakaria that Vladimir Putin should bear some responsibility for the downing of MH17.

Hillary Clinton explains Putin

What is Putin like as a man and a leader? Hillary Clinton explains what it is like to deal with the Russian president.

Clinton on the Russian Reset

Hillary Clinton explains why the U.S.'s reset with Russia stopped working. Is Putin to blame?

Last Look: Dictators & entertainment

What's a dictator to do after a bad portrayal in a movie or video game? Fareed looks at Kim Jong Un & Noriega's reactions.

Who is responsible for MH17 attack?

On GPS, Cohen and Freeland get into a spirited debate over assigning blame for the MH17 attack in Ukraine.

Brzezinski on the Israeli ground attack

On GPS, Brzezinski callls Israel's escalation strategy in Gaza "a serious mistake." How will the U.S. respond?

GPS: Response to MH17 plane tragedy

Brzezinski: The international response to Russia's role in the MH17 attack could be "a historically defining moment."

Fareed's Take: Asymmetric warfare

Fareed looks at Russia's strategy of using pro-Russian rebels to destabilize Ukraine. But could this tactic backfire?

What in the World: BRICS Bank

The 5 BRICS countries announced the formation of a new bank that would rival the World Bank. Fareed explains why.

GPS: Krugman on the U.S. economy

While Krugman says the economy is finally improving, he tells Fareed the outlook is"more half empty than half full."

On GPS: Krugman grades Obama

Fareed asks Paul Krugman to grade President Obama's domestic policy performance so far. Is Obama acing the test?

On GPS: Is Obamacare working?

Paul Krugman tells Fareed that Obamacare is exceeding expectations and proving to be a "workable policy."

Fareed answers viewers' questions

Fareed responds to questions about the Middle East, U.S. relations with allies, and trends in American foreign policy.

Last Look: A cover-up on a Russian ruble

A politician wants to change the image of the Bolshoi on a banknote. Fareed explains Russia's new trend of conservatism.

GPS: What Crimea & Kuwait have in common

Carl Bildt discusses parallels between the invasions of Crimea and Kuwait. But will the intl response be the same?

Can Israel-Palestine conflict be solved?

On GPS, Bret Stephens says big ideas for solutions to the conflict have been "well-explored" with no success.

What In the World: The Almighty Dollar

A French bank will pay a $9B fine to the U.S. Fareed explains the U.S.'s economic nuke: control of the reserve currency.

Fareed's Take: Obama's Syria Solution

Obama wants to aid the Syrian rebels. But history suggests this may not be able to change a crisis decades in the making.

What spying on Germany says about US

After Germany expelled a top CIA spy, Richard Haass & Bret Stephens explain why spying on the U.S. ally was "sloppy."

Bildt on Russian-EU relations

Swedish Foreign Minister Carl Bildt explains the dynamics between Europe & Russia. And where does Ukraine fit in?

Last Look: Erdogan's campaign logo

Turkish Prime Minster Erdogan's campaign logo looks familiar. Fareed looks at how Obama's campaign has influenced others.

Gerges on U.S. role in Iraq

How should the U.S. respond to violence in Iraq? Fawaz Gerges agrees with Obama's policy of limited involvement.

What in the World: America's Ex-Im bank

Congress may not renew the Export-Import bank. Fareed explains how this decision would disadvantage the U.S. economy.

On GPS: Can drones help in Iraq?

When are drones useful? Gregory Johnsen and Jack Devine debate whether drones will work against Iraqi terror groups.

On GPS: Is soccer bad for the U.S.?

Peter Beinart tells Fareed that America's growing interest in soccer reflects a shift toward a cosmopolitan worldview.

On GPS: A new MidEast map

Robin Wright explains the "combustible situation" in the MidEast, where rival tribes & religions threaten modern borders.

Where America Works: Sioux Falls

In part 2 of a 5-part series, Fareed goes to a boom town with one of the lowest unemployment rates in the country.

Fareed's Take: The rise of nationalism

Fareed takes a look at the troubling rise of nationalism across the world. What explains this trend?

On GPS: Is 2014 another 1914?

Are today's geopolitical tensions reminiscent of the outbreak of WWI? Fareed asks if history will repeat itself in 2014.

Whose tweets are most influential?

As India's new PM Narendra Modi gains Twitter followers, Fareed asks which leader's tweets have the highest retweet rate.

Rubin & Paulson on climate change report

Former Treasury Secretaries Rubin & Paulson say ignoring climate change is dangerous, so people need to act quickly.

Robert Rubin on solving climate change

Former Treasury Secretary Rubin says the risk of climate change is catastrophic, and needs to be tackled "on all fronts".

Former Secy. Paulson on Republican party

Paulson, Bush's Treasury Secretary, thinks many Republicans would favor reforming issues climate & immigration.

Treasury secretaries on economic recovery

Former Secretaries Rubin & Paulson say the recovery is slow but crucial structural reforms are stalled by DC dysfunction.

What in The World: Iraq's "tea party"

Al-Maliki refused this week to form a govt to appeal to Sunnis. Why? Reliance on radical Shiite support may explain it.

Fareed's Take: Hillary Clinton's dilemma

If Hillary Clinton runs for President in 2016, should she run on President Obama's coattails or on a message of change?

Where America Works: Houston's Diversity

In the first of a 5-part series, GPS looks at what works in America. First stop: Houston, the U.S.'s most diverse city.

On GPS: How is 2014 like 1914?

John McLaughlin says 2014 and 1914 have similar global dynamics: a tinder box, a rivalry and increasing globalization.

Last Look: Spain's thrifty coronation

After Prince Felipe became King Felipe VI of Spain, Fareed explains why the ceremony was a more muted, austere event.

Fareed's Take: A Plan B for Iraq

Fareed argues that given a united Iraq is unlikely. Instead, the U.S. should support the country's enclaves of stability.

On GPS: U.S. Involvement in Iraq

Robert Clarke discusses the political implications of the U.S. aiding the Shia government in Iraq.

GPS: How the Civil Rights Act was Passed

Fareed speaks to historian Robert Caro about how the Civil Rights Act got through Congress in the turbulent year of 1964.

On GPS: What Putin didn't count on

German Defense Minister Ursula von der Leyen discusses the united Western response to Russia's annexation of Crimea.

What in the World: Fixing Inequality

Is raising the minimum wage the best way to address poverty? Fareed argues for a better way to help the working poor.

Last Look: Thai junta creates happiness?

Can the Thai military government impose happiness after the coup? Fareed looks at efforts to improve morale.

What in the World: FIFA's profits

Fareed explores why FIFA and other multi-billion dollar sports organizations hold tax-exempt status.

Fareed's Take: Who lost Iraq?

As militants overtake key cities in Iraq and threaten Baghdad, Fareed takes a look at causes for the surge in conflict.

On GPS: Terrorism in Pakistan

In a 1-on-1 interview, Pakistani journalist Ahmed Rashid discusses the country's "half-hearted fight with terrorism."

On GPS: A sinking island nation

Fareed talks to Kiribati's president about how climate change & rising sea levels are threatening his country.

What in the World? Teeth & SCOTUS

Why is teeth whitening an important case for the Supreme Court? Fareed explains that licensing can hurt the economy.

On GPS: What is Bergdahl feeling?

Fareed asks David Rohde, who was a Taliban captive for 7 months, how he escaped & what he felt after returning home.

Fareed's Take: Is deterrence enough?

How should Obama confront other rising powers? Fareed argues modern foreign policy requires deterrence & integration.

On GPS: A new way to solve problems

Steven Levitt and Stephen Dubner, authors of "Freakonomics," tell Fareed why it's important to "think like a freak."

Kristof on legacy of Tiananmen protests

On the 25th anniversary of the Tiananmen Square protests, Nick Kristof remembers the democratic uprising and its impact.

Last Look: The mafia & the economy

What can the mafia do for you? Fareed looks at Italy's decision to include the underground economy in GDP calculations.

On GPS: Abdullah on Afghan stability

Fareed asks Dr. Abdullah, Afghan presidential front-runner, about the Taliban, relations with Pakistan, & corruption.

On GPS: Abdullah Abdullah on U.S. forces

Fareed Zakaria interviews Abdullah Abdullah, a front-runner in Afghanistan's election, about U.S. troops in Afghanistan.

Abdullah on corruption in Afghanistan

On GPS, Abdullah says corruption is a "serious challenge" that must be addressed beginning with the government.

GPS: Abdullah on AfPak relations

Abdullah on GPS: Recognizing that Afghanistan and Pakistan share a common threat is necessary for regional stability.

Abdullah on relations with the Taliban

On GPS, Abdullah says genuine attempts to negotiate with the Taliban will be important for the future government.

GPS: Abdullah on Afghan civilian deaths

Abdullah says he believes civilian deaths caused by U.S. troops were not deliberate, as some critics suggest.

Abdullah on U.S. troop # in Afghanistan

Fareed asks Abdullah Abdullah how many U.S. troops must remain to achieve U.S.-Afghan security & training goals.

GPS: Ghani on corruption in Afghanistan

Ghani presents his ideas for how to tackle corruption, beginning with a zero-tolerance policy at the top.

GPS: Ghani on relations with the Taliban

Ghani says political dialogue with the Taliban will be necessary to attempt to resolve conflict and key divisive issues.

On GPS: Ghani on AfPak relations

Ghani says the fight against extremism and the Taliban will require cooperation between regional powers.

GPS: Ghani on Afghan civilian casualties

Amidst criticism that U.S. troops killed civilians, Ghani says troops staying in Afghanistan will play a different role.

Ghani on # of U.S. troops in Afghanistan

Ghani tells Fareed U.S. troops are needed for counterterrorism measures, training and maintaining relationships.

Ghani on Bilateral Security Agreement

Ashraf Ghani tells Fareed he would sign the BSA if elected, allowing U.S. forces to maintain a presence in Afghanistan.

Fareeds Take: American Foreign Policy

What does the world need from the U.S.? Foreign policy involves more than the use of military force.

What in the World: Afghanistan's Future

Find out why Fareed is optimistic about Afghanistan's direction as he interviews the country's presidential candidates.

On GPS: Career advice for millennials

Nasty Gal founder, Sophia Amoruso, tells Fareed the traditional rules she learned by following an unconventional path.

On GPS: WIll cable TV viewers "unbundle?"

Jeff Bewkes tells Fareed that cable packages are actually are a good bargain and streaming limits a viewer's choices.

Bewkes on television's second golden age

Jeff Bewkes, Time Warner's chairman & CEO, tells Fareed TV is thriving because "television is taking over the Internet."

On GPS: Will Ukraine detach from Russia?

George Soros tells Fareed extricating Ukraine from Russia will be difficult because it would undermine Putin's regime.

Soros on Russian ethnic nationalism

George Soros says Russia has emerged as an E.U.-alternative as Putin fosters ethnic nationalism reminiscent of fascism.

Last Look: Solving the world's problems

What's the world's biggest issue? Voters pick a problem; whoever solves it will win a prize from the new Longitude Prize.

What in the World? Liberal Arts education

What's the value of a liberal arts education? Fareed explains that it teaches you how to write, speak, and learn.

Fareed's Take: Why China challenges U.S.

Fareed explains why China poses a challenge; it uses cyber tactics of the 21st century & power politics of the 19th.

Last Look: Language use in U.S.

What languages do people speak in your state? Fareed looks at a new Slate article that breaks down the data.

On GPS: Drones, drones and more drones

In a 1-on-1 interview, former U.S. counterterror official Richard Clarke talks about the rising danger of drones.

The controversy behind India's next PM

While Modi was head of Gujarat, the Indian state grew rapidly but suffered a brutal religious riot. Airdate 12/29/13

Is Geithner a future Fed Chair?

On GPS, former Treasury Secretary Timothy Geithner says he doesn't want any more jobs in the public life.

On GPS: Did regulations weaken recovery?

Timothy Geithner says the new regulations were necessary & just, and that they helped create a stronger economy.

On GPS: Who did the bailout help?

Did the bailout help Wall St. at Main St.'s expense? Timothy Geithner explains the strategy was to prevent unemployment.

Last Look: Wall Street of Flowers

Where do globalization & Mother's Day meet? Fareed looks at a Dutch auction house trading many of the world's flowers.

On GPS: Are we in a stock market bubble?

Steve Rattner says expensive stocks, like Twitter, are more representative of a "bubblet" than a bubble.

On GPS: Islamic extremism & women

Nick Kristof says Nigerian terror group Boko Haram benefits from the willingness of extremists to oppress women.

Griswold on Nigerian terror group

Eliza Griswold calls Boko Haram's leader a lunatic, and says the schoolgirls' abduction is about "thuggery", not Islam.

Kissinger on Russia's global integration

Kissinger says it is in everyone's interest to include Russia in the world order, despite Putin's "excessive" actions.

Fareed's Take: Obama's foreign policy

Obama's foreign policy approach has allowed him to avoid the mistakes of past leaders. But has he done enough?