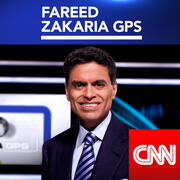 GPS August 17th

On GPS Sunday, Fareed gathers a panel of experts to discuss the ongoing crisis in the Middle East and how to stop the spread of ISIS in Iraq. What should the U.S. do in the region? Then, is Russia setting up camp in Cuba to spy on America ... again? And an innovative approach to harnessing nuclear power while cutting costs, increasing safety and reducing waste. Finally, the author of "The Culture Map" discusses how to succeed in business in today's globalized world.

GPS August 10th

On GPS Sunday, Fareed is live for the latest on breaking news around the world from the escalating violence in Iraq to the ongoing Israeli-Gaza conflict. David Kilcullen discusses U.S. military options to address the ISIS "blitzkrieg" strategy in Iraq. Then, a panel of experts explore the fight for Kurdistan and the conflict in the Gaza Strip. And what to do when earthly conflicts affect extraterrestrial policy? Fareed talks to Neil deGrasse Tyson about the future of the U.S. Space Program and its reliance on Russia.

GPS August 3rd

GPS begins with a live look at the latest from the crisis in Israel and Gaza. Then, to the other crisis, in Ukraine. Will the new sanctions against Russia make President Vladimir Putin change his behavior? Poland's foreign minister, Radoslaw Sikorski, weighs in on why this time is different. And, West Africa is experiencing the deadliest Ebola virus outbreak in history. Fareed asks two experts -- CNN's Sanjay Gupta and Peter Piot, the man who actually discovered Ebola -- whether the virus can be contained.

GPS July 27th

On a special GPS this Sunday, Fareed sits down with Hillary Clinton for the hour. First, the former Secretary of State explains what it's like to negotiate with Russian President Vladimir Putin. And does he bear responsibility for the downing of MH17? Then, Clinton explains what she thinks are some of the biggest obstacles to peace between Israelis and Palestinians. And, can a Washington insider from the Democratic Party ever become President?

GPS July 20th

On GPS Sunday, Fareed is live for the latest on breaking news around the world from Ukraine to Israel. Zbigniew Brzezinski calls the international response to the MH17 disaster a "historically defining moment." Chrystia Freeland and Stephen Cohen debate who is to be blame for the tragedy in Ukraine and what should be done about it. Then, is Obamacare working? Fareed talks to Paul Krugman about the Affordable Care Act in its first year and gets his take on the economy and Obama's domestic policy performance.

GPS July 13th

On GPS Sunday, Fareed gathers an all-star panel to discuss the escalation of violence between Israel and its enemies and President Obama's handling of the many concurrent foreign policy crises. Next, America has a secret weapon: a financial nuclear bomb in the form of sanctions. But is this good or bad for the U.S.? The world? And, part three of a GPS series: Where America Works. Fareed visits Denver to learn a cheaper way to get yourself a college degree.

GPS July 6th

As the Middle East devolves into chaos, Fareed talks to a panel of experts about the endgame in the region -- is it redrawn borders? Never-ending violence? Then, a former CIA official explains whether drones can actually help the U.S. fight terrorists in Iraq. And, as America embraces soccer, Peter Beinart says this is truly a sign of a shifting society. Finally, part two of a GPS series: Where America Works. Fareed visits a surprising boom town for jobs: Sioux Falls, South Dakota.

GPS June 29th

On GPS, Fareed talks to two treasury secretaries—Henry Paulson and Robert Rubin—about the coming costs of the climate crisis. Then, why might Muqtada al-Sadr's army be playing spoiler in Iraq, again. Next, are we reliving 1914? On the 100th anniversary of the assassination that sparked World War I, Fareed explores the geopolitical similarities. And, introducing a new GPS series: Where America Works. Washington, DC may be broken but intractable problems are solved in towns across America. First stop: Houston's immigration solutions.

GPS June 22nd

On GPS Sunday, how should we understand Iraq's recent violence, and what can the U.S. do about it? Fareed explains with a live update and a panel of experts. Then, Germany's defense minister reveals whether Europe will do what it takes to deter Putin's aggression. And, for the 50th anniversary of the Civil Rights Act, Fareed explores how the controversial bill became a milestone legislative achievement.

GPS June 15th

On GPS Sunday, Fareed is live with foreign policy experts Richard Haass and Ryan Crocker for the latest on the militant threat to major Iraqi cities as ISIS forces march toward Baghdad. Then, Fareed talks immigration reform with Mexican Finance Minister Luis Videgaray Caso. And, is there an upside to slums? Listen in to hear Harvard professor Edward Glaeser's take.

GPS June 8th

On GPS Sunday, the Bowe Bergdahl brouhaha - what's behind it? Then, what is it like to be a Taliban prisoner? Fareed asks journalist David Rohde who was held captive by America's enemy for 7 months. And, President Anote Tong explains how climate change & rising sea levels are sinking his country, Kiribati.

GPS June 1st

Around the world with a GPS all-star panel on American foreign policy, Edward Snowden, Ukraine and why the GOP should pay more attention to the EU. Then, to Afghanistan -- Fareed explains why there may actually be hope for the war torn country. And, the Freakonomics guys on how to solve problems: they say you need to "think like a freak". Finally, can you go from shoplifter to CEO? We'll introduce you to Nasty Gal CEO Sophia Amoruso who did just that.

GPS May 25th

The latest on the election in Ukraine and what it means for the East-West showdown there. And, is there a new Naziism growing in Europe? Billionaire George Soros tells us what to make of the rise of nationalism. Next, it's graduation season! What advice does Fareed have for the class of 2014? Then, Fareed asks two top Indian politicians what we should expect from the controversial Narendra Modi, India's next prime minister. Finally, on what device are you watching this episode? Fareed sits down with CEO of Time Warner, Jeff Bewkes, to learn about the future of television.

GPS May 18th

Who did the bailout REALLY help? Fareed asks former Treasury Secretary Timothy Geithner why the Obama administration bailed out the banks and if the economic recovery is working. Then, a landmark Internet case in the E.U. sheds light on the online conflict between privacy and free speech. And, is the future of war a drone-filled sky? Fareed talks to a former National Security Council official about whether U.S.'s use of drones helps or hurts.

GPS May 11th

On GPS Sunday, what to make of the Nigerian terror group, Boko Haram. Are they Islamists or just plain thugs? And will Putin make a deal in Ukraine? Fareed asks former U.S. Secretary of State Henry Kissinger what to expect from Russia. Then, is the U.S. in an economic bubble? Is it about to burst? Fareed talks to two top economic minds.

GPS May 4th

On GPS Sunday, do sanctions work? We talk to the U.S. official responsible for enforcing them. And over 1200 people in Egypt have been sentenced to death, while the U.S. re-starts military aid to the country. Egypt's foreign minister defends his government's actions. Next, the relative merits of the U.S. legal system versus Sharia law. Then, America's middle class -- once the envy of the world -- is no longer the richest. Fareed digs into the data with the New York Times' David Leonhardt.

GPS April 27th

On GPS Sunday, we'll delve into the two biggest foreign policy issues of the week: Ukraine and Asia. Fareed asks President Obama's former national security advisor Tom Donilon about Putin's intentions and Asian tensions. Then, there are better than even odds that YOU are part of the most important recent economic trend. What is it? Fareed will explain. And, did you know that animals still abide by boundaries set by the LAST Cold War? It's amazing.

GPS April 20th

On GPS Sunday, we'll bring you the latest on the crisis in Ukraine and talk about what role sanctions played in bringing the parties to the table. Then, why did Brazil go from boom to basket-case? And, a groundbreaking new study that sheds light on America's place in the world. It's not #1; it's not #2; find out where it IS ranked. You'll be surprised. Finally, we'll dig into the roots of religious hatred. What's behind it?

GPS April 13th

On GPS Sunday, Fareed takes a look at the latest in the Ukraine crisis with former National Security Adviser Zbigniew Brzezinski. And, would Israelis accept a divided Jerusalem? The Palestinians have said it's critical to peace. Fareed talks to the city's mayor. Then, Tom Friedman on the UN's new report on climate change -- can we undo the damage done? Next, Anthony Bourdain talks Russian vodka, Mexican drug cartels, and Indian veggies.

GPS April 6th

On GPS Sunday, an all-star panel on the Afghanistan elections, Ukraine, and the Middle East peace process. And best-selling author Michael Lewis on his new book "Flash Boys". Is Wall Street rigged, as he says? And, in the wake of another shooting at Ft. Hood, how to slow the killings of our military men and women OFF the battlefield. Finally, a Shakespearean tragedy in Syria that will actually put a smile on your face.

GPS March 30th

On GPS this week, President Obama says Russia "stands alone", but does it? And Around 2/3rds of the people aboard the missing Malaysian jetliner were Chinese - what the disappearance and search says about Chinese power (or lack thereof). Also, what would the world look like if women ran it?

GPS March 23rd

Fareed offers his take on Vladimir Putin's backward-looking decision to invade Crimea, before tossing to CNN's Chief National Security Correspondent Jim Sciutto for the latest in Ukraine. Sciutto interviews experts Juan Zarate and Ian Bremmer LIVE for their take on EU/US sanctions. Also, an update on missing Malaysia Flight 370 with CNN's aviation analyst Miles O'Brien.Then, Fareed returns for a look at extreme athletes and the process of flow with author Steven Kotler. And, what babysitting can tell us about the Fed ? A 1-on-1 with author Tim Harford.

GPS March 16th

Fareed offers his take on the crisis in Ukraine, before taking a look at the situation LIVE in Crimea with reporter Nick Paton Walsh. Then, a look at how Russia's neighbors are feeling about Moscow's aggression: a conversation with Poland Foreign Minister and Estonia's President. And, corruption in Nigeria, and how to end it: 1-on-1 with Nigeria's Finance Minister Ngozi Okonjo-Iweala.

GPS March 9th

As the crisis in Ukraine continues, Fareed speaks with Pres. Obama's former National Security Adviser, Tom Donilon - How would he advise the President on this issue? Then, Moscow's motivations: a panel of Russian experts including Stephen Cohen, Chrystia Freeland, and Stephen Kotkin. And, in What in the World, why some Chinese couples are balking at the idea of a second child, despite new rules allowing them to do so.

GPS March 2nd

With a crisis brewing between Ukraine and Russia, Fareed asks former Secretary of State Madeleine Albright and former National Security Adviser Zbigniew Brzezinski how Western countries should respond. Then, is Russia's Putin a neo-imperialist thug or is he simply a strong and patriotic leader? Stephen Cohen explains why Western media has it all wrong. And, Ukraine responds; Fareed talks to a leader of Ukraine's revolution, Vitali Klitschko, about what Ukraine can do. Finally, Fareed talks foreign policy and the Oscars with the director of "The Square", an Oscar-nominated documentary about Egypt's revolution.

GPS February 23rd

In the wake of dramatic upheaval in Ukraine, Fareed speaks to Polish Foreign Minister Radoslaw Sikorski, one of the men who brokered the peace deal there. Next, he sits down with a terrific panel -- Nicholas Kristof, David Remnick and Robin Wright -- to discuss Ukraine, Venezuela and Iran. Then, are trade skills more valuable than an art history degree? Adam Gopnik explains why the arts and humanities are essential. And, What in the World: why one country proposed turning the clocks back to save the economy.

GPS February 16th

Asia's war of words - why China is locked in heated rhetoric with so many of its neighbors, and whether things could get more serious. Fareed speaks with China experts Elizabeth Economy and The New Yorker's Evan Osnos. Then, 1-on-1 with Larry Summers, the former Treasury Secretary: on the new Fed Chair Janet Yellen and on the economy. And later, is the U.S. safe from cyber crime? Peter Singer of the Brookings Institution explains how the online world is very much like the real one.

GPS February 9th

As the Sochi Winter Olympics get underway, Fareed speaks with U.S. Ambassador to Russia Michael McFaul on security concerns in Sochi, and relations between Washington and Moscow. Then, are we witnessing the Great Fall of China? Morgan Stanley's Ruchir Sharma unveils some alarming economic data. Later, the authors of "The Second Machine Age" explain how advances in technology are impacting jobs around the world.

GPS February 2nd

In the wake of Pres. Obama's State of the Union speech, Fareed convenes a panel looking at inequality in the United States, with Zanny Minton Beddoes, Steven Rattner, Kenneth Rogoff, and Chrystia Freeland. Then, Ukraine's crisis, and why Kiev can't shake off Moscow: former Secretary of State Henry Kissinger explains the historic nature of Russia's role. And, an insider's perspective on Vladimir Putin, from a close friend: the famous conductor Valery Gergiev.

GPS January 26th

A special GPS hour from the World Economic Forum in Davos, Switzerland - Fareed sits down with three world leaders. First, 1-on-1 with Iran's President Hassan Rouhani, on nuclear negotiations, on relations with America, on Israel, and on Syria. Then, an exclusive interview with Japan's Prime Minister Shinzo Abe on the economy and on relations with China. Finally, Egypt's Prime Minister on his country's path towards democracy, three years on from the Arab Spring.

GPS January 19th

A 1-on-1 with former Defense Secretary Robert Gates, about his new and controversial memoir "Duty". Why did he need to publish it so soon after leaving office? Does he think U.S. foreign policy is on the right track? Later, What in the World: why Japan's aging population may actually be a good thing for the economy. And, understanding Iran through neuroscience.

GPS January 12th

Amid a renewed spate of violence in Iraq, Fareed explores what went wrong. Is it all just Washington's fault, or does it have its roots in history? A great panel including Richard Haass and Rashid Khalidi debate the issue. Then, What in the World: part II of the GPS list of 5 easy ways to ruin your economy. And later, top tips to save yourself, as well as the economy: Dr. David Agus explains how to avoid diseases and illness.

GPS January 5th

Fareed's panel discusses the coming year and our changes of making more money, more war, and more peace in the coming year. Plus Fareed talks to U2's Bono and inventor/entrepreneur Elon Musk about where they get inspiration.

GPS December 29th

As India gets ready for its national elections - the biggest in the history of the world - Fareed Zakaria looks at the country's prospects.

GPS December 22nd

What were the most significant moments of 2013? Who were the year's big winners and losers in the world of international relations? Fareed convenes an all-star panel of GPS experts. Then, the case for British austerity: 1-on-1 with UK Chancellor of the Exchequer George Osborne. And later, a preview of the new GPS report "India at a Crossroads", looking at how Bollywood's Tom Cruise is taking on some of the country's biggest social ills.

GPS December 15th

A photograph that ricocheted around the world -- Fareed offers his take on Pres. Obama shaking hands with Cuba's Raul Castro. Then, an all-star panel on why American kids are falling behind students in other countries: Tom Friedman of the New York Times, Salman Khan of the Khan Academy, and more. In What in the World, a look at the protests in Kiev: is this the start of a Ukranian Spring? And, why North Korea's Kim Jong Un ordered the execution of his own uncle.

GPS December 8th

Nelson Mandela dies at 95. Fareed offers his take on the South African leader's legacy, and convenes a panel of experts on South Africa's road ahead. Then, a conversation with Obama's former National Security Advisor, Tom Donilon, on a nuclear deal with Iran. And, are we entering another economic bubble? 1-on-1 with former Fed Chair Alan Greenspan.

GPS December 1st

An all-star panel of historians on the state of the American economy, on second-term presidencies, and more: Walter Isaacson, Nancy Gibbs, Jon Meacham, and David Nasaw. Then, a referendum to cap CEO pay to 12-times the salary of a firm's lowest-paid employee: What in the world is going on in Switzerland? And, why kids in South Korea and Finland are getting a better education than their counterparts in the United States.

GPS November 24th podcast

World powers strike a nuclear deal with Iran - what happens next? Fareed offers his take. Later, CNN's Wolf Blitzer picks up for updates from reporters in Tehran and London, reaction from Jerusalem, and a panel of experts in Washington. Plus, Fareed's exclusive conversation with Elon Musk, the founder of SpaceX and Tesla Motors.

GPS November 17th

At its mysterious and influential Third Plenum, China's new leaders decide to relax their "one-child" policy, as well as further open China up to the global economy. How will those moves impact the world? Nicholas Kristof and Elizabeth Economy weigh in. Also, the day John F. Kennedy died: Pulitzer Prize-winning historian Robert Caro looks back, and explains why JFK continues to loom so large in the American imagination.

GPS November 10th

The latest on nuclear negotiations with Iran - why did the Geneva talks this week end in a stalemate? Fareed offers his take and speaks with two experts on the discussions. Later, the Edward Snowden leaks: did the whistleblower actually do America a service? And, 1-on-1 with the Prime Minister of Albania: how Edi Rama transformed his capital city with a simple strategy - painting.

GPS November 3rd

In light of revelations that the National Security Agency allegedly tapped German Chancellor Angela Merkel's phone, are relations between Washington and Berlin endangered? Fareed speaks with former German Defense Minister Karl-Theodor zu Guttenberg. Next, the American side of the story. Who gave the NSA permission to spy on leaders of allies? Former NSA and CIA chief Michael Hayden responds. And, New York Mayor Michael Bloomberg on his legacy, as he prepares to step down.

GPS October 27th

France & Germany are angry about revelations of U.S. phone-tapping, and Saudi Arabia is disappointed by U.S. policies in the Middle East. What can Washington do? Fareed speaks with a panel of experts. Plus, re-thinking the Bible: Malcolm Gladwell explains why the David and Goliath story was about an underdog ... except that the real underdog may have been Goliath.

GPS October 20th

Can Washington bounce back? Fareed speaks with an old GOP hand who has held each of the following jobs: White House Chief of Staff, Treasury Secretary, and Secretary of State -- an exclusive with James Baker. Later, What in the world: why Africa's leaders stay in power for so long. And, 1-on-1 with Chile's President, Sebastián Piñera.

GPS October 13th

Why is Washington so polarized? And what can be done about it? Fareed speaks with three experts: Norman Ornstein, Jeffrey Toobin, and Vanessa Williamson. Also, Goldman Sachs CEO Lloyd Blankfein on the economy, globalization, and inequality in America. And, What in the World: Advantage China, as Pres. Obama misses two big summits in Asia.

GPS October 6th

Two exclusive interviews. First, Iran's Foreign Minister Javad Zarif - on the nuclear negotiations, why his country needs nuclear energy, on the United States, and on Israel. Then, rockstar and activist Bono. The U2 frontman talks about the fight against HIV, the benefits of foreign aid, Africa, U.S. politics, and more. All that plus Fareed's Take on the U.S. government shutdown.

GPS September 29th

Four exclusive interviews. First, U.S. National Security Advisor Susan Rice on the way forward with Iran, and what to do about Syria. Then, 1-on-1 with Iran's only Jewish parliamentarian: what is it like to be a Jew in Tehran? How does one reconcile with the country's politics? Later, how the terror group Al-Shabaab was spawned, with Somali President Hassan Sheik Mohamud. And finally, 1-on-1 with Turkey's President, Abdullah Gül - on the conflict in neighboring Syria, and on the protests in Turkey this summer.

GPS September 22nd

An exclusive 1-on-1 with Bill Clinton, the 42nd President of the United States of America. In a wide-ranging discussion, Clinton discusses Obama's options in Syria, the economy, the NSA spying controversy, the next Fed Chair, U.S. politics, the Clinton Foundation, and whether his wife Hillary will run for President. All that, plus: Fareed's take on the two other big issues of the week - talking with Iran, and elections in Germany.

GPS September 15th

What's the way forward in Syria? Can Moscow be trusted as an ally in dealing with Damascus? Fareed speaks with two of America's foremost geopolitical thinkers: former Secretary of State Henry Kissinger, and former National Security Advisor Zbigniew Brzezinski. Then, how to secure and destroy Syria's chemical weapons: 1-on-1 with the man who did just that in Iraq.

GPS September 8th

What should Washington do about Syria? GPS convenes a shadow National Security Council with former staffers from both sides of the aisle: Paul Wolfowitz, James Steinberg, Wesley Clark, and Nicholas Burns. Later, a legal quandary: does Pres. Obama need Congressional approval to strike Syria? Jeffery Toobin debates Steven Groves. And, why France is backing Obama on Syria: 1-on-1 with French philosopher Bernard-Henri Lévy

GPS September 1st

A special program on the crisis in Syria, live from Istanbul. Turkey shares a 500-mile border with Syria: Fareed looks at the regional implications of Syria's crisis, and the ramifications of a potential U.S.-led attack on Damascus. Richard Haass, Zbigniew Brzezinski, Fawaz Gerges and other experts weigh in.

GPS August 25th

Fareed offers his take on global unrest around the world, and why he thinks it's part of a natural journey towards liberal democracy. Then, 1-on-1 with the world's youngest self-made female billionaire: Sara Blakely tells her story of how she started Spanx with nothing more than $5,000 and an idea everyone thought would never work. Plus, where the world will live in the future: Fareed convenes a panel of thinkers and academics on cities and the global trend of urbanization.

GPS August 18th

What does the future hold for Egypt, and what can Washington do to help? Bret Stephens debates Peter Beinart. Then, is America over-regulated? Fareed puts that to Pres. Obama's former "regulation czar" Cass Sunstein. In What in the World, some good news for America: common sense is kicking in on prison reform. And, the Middle East's other revolution: how the region is becoming a hotbed of innovation and tech startups.

GPS March 24th

What is the answer to America's growth problem? According to Nobel Prize winning economist Paul Krugman, you need to spend, spend, spend. Fareed and Krugman strike up a lively debate. Then, a frontier where the U.S. seems to be falling behind India and China: the space race. Neil DeGrasse Tyson looks at the implications. And, what Asia's rise means for the world: 1-on-1 with Singapore's Kishore Mahbubani.

GPS March 17th

What to do about North Korea? As Pyongyang gets ever more belligerent, Fareed talks to two men deeply involved in crafting Washington's East Asian policy: former Ambassador to S. Korea Donald Gregg, and Victor Cha of Georgetown University. Then, 10 years on from the start of the war in Iraq: what went wrong, why, and what needs to be done now -- Fareed speaks to one of the original architects of that war, Paul Wolfowitz. And in What in the World, why hundreds of Chinese are suddenly getting divorced.

GPS March 17th

What to do about North Korea? As Pyongyang gets ever more belligerent, Fareed talks to two men deeply involved in crafting Washington's East Asian policy: former Ambassador to S. Korea Donald Gregg, and Victor Cha of Georgetown University. Then, 10 years on from the start of the war in Iraq: what went wrong, why, and what needs to be done now -- Fareed speaks to one of the original architects of that war, Paul Wolfowitz. And in What in the World, why hundreds of Chinese are suddenly getting divorced.

GPS March 3rd

Why does Iran think nuclear talks have reached a "turning point"? Fareed has an exclusive, rare interview with Iran's Ambassador to the United Nations, Mohammad Khazaee. Also, the United States gets sequestered: but what does it really mean and what impact will it have? Fareed convenes an all-star panel. All that, and What in the World -- why one world leader refuses to watch an Oscar-nominated film that was made in his own country.