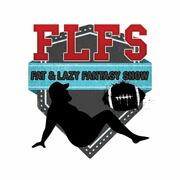 The Draft Episode!

JJ, Tiny Tyler, and Stat Boy Daniel pick over and under-drafted players at each position, and give you a few deep sleepers to keep an eye on for the 2014 season.

Divisional Previews - NFC East & South

JJ, Tyler, and Stat Boy Daniel finish up 2014 divisional previews with the NFC East and South, including the Eagles and Cowboys, and what to make of the Falcons' woes last season

Divisional Previews: AFC South & East

JJ & Stat Boy Daniel preview the rest of the AFC...including what to make of Tom Brady, the new-look Jets, and more

2014 Division Previews - NFC North, West

JJ & Stat Boy Daniel tackle Jay Cutler (who hasn't), Teddy Bridgewater, new faces in the NFC West, and more as we continue our fantasy football divisional previews

2014 Division Previews - AFC North, West

JJ, Tiny Tyler, and Stat Boy Daniel are joined by comedian Ricky Smith to talk Johnny Football, Josh Gordon, and the rest of the AFC North and AFC West.

Week 16 - Super Bowl Lineup Shuffle

JJ & Tyler's last full podcast of 2013 helps you breakdown this week's NFL games and put the best fantasy lineup on the field to help you win a championship

12/17: Dynasty/Keeper League Stashes

JJ discusses potential deep keeper and dynasty league stashes for 2014 at each position

Week 15 - Holy Crap, you might win this

JJ & Tyler break down every Week 15 matchup and injury update to help you sneak into the championship of your fantasy football league

Week 14 - Congratulations if you care

JJ & Tyler get you ready for Week 1 of the Playoffs with potential late-round stashes and game-by-game previews

Week 13 - It's All On the Line here

JJ looks at players to be thankful for and goes game by game to give you analysis to help you with that final playoff push. Tweet your questions @FLFantasyShow

Week 12 - It's Rainey Man, Hallelujah!

JJ & Tyler break down Week 12, including which performances from last week to believe in and which ones aren't repeatable

11/18 - Rice, Rainey, and gaudy RB stats

JJ takes a quick look back at Week 11, including breakout performances from Ray Rice and Bobby Rainey, plus a potential sell-high RB candidate

11/15 - Colts/Titans, Injury Updates

Quick reactions to Thursday night's Indy/Tennessee game, plus updates on Peyton Manning and Stevie Johnson

Week 11 - Are you in the playoff hunt?

JJ & Tyler give you players that may help you for your playoff push, plus game-by-game breakdowns for Week 11

Aaron Rodgers is hurt: EVERYBODY PANIC!!

More on Aaron Rodgers, Buy/Sell from big Week 9 performances, and game-by-game breakdowns for Week 10

Daily Deuce: Aaron Rodgers Injury Reax

JJ discusses three potential Aaron Rodgers fill-ins, plus how his injury affects the other Packers players in your fantasy lineups

Week 9 - This Season is Scary

JJ & Tyler talk Week 9 - six more teams on bye, plus more injuries to deal with - plus a Gronkowski reality show and crappy Halloween candy

Daily Deuce 10/28 - Buying or Bailing

JJ breaks down Week 8's games and tells you which monster games to buy...and which former studs to bail on

Week 8 - I'm Mike James, B***h!

JJ & Tyler break down the worst bye week of the season, major injuries to major players, and talk about a potential upcoming MTV appearance

Daily Deuce 10/23 - Injuries

Week 7 - Good Call/Bad Call, Injuries

JJ rehashes our best and worst fantasy calls for Week 7, and touches on major injuries over the weekend

Seahawks/Cards Reax, Gronkowski

Daily Deuce - Week 7 rankings/sleepers

Week 7 - Drop Em Like Its Hot

JJ & Tyler discuss short-term and longterm waiver pickups, players that should be dropped, and preview the Week 7 games

Giants/Bears recap

Week 6 - Juli-OUCH

JJ & Tyler talk Julio Jones, Brian Hoyer, Michael Vick, and a rash of other injuries that may be affecting your lineups, plus Week 6 game-by-game breakdowns

Week 5 - Your Runningback Sucks!

JJ & Tyler talk about those maddening 1st round runningbacks, who you might be able to trade them for, and go game-by-game with fantasy advice for Week 5

10/1 - Waiver Wire RBs

Daily Deuce 9/27 - Rams/Niners Reax

Week 4 - Ridin Solo!

JJ flies solo this week and looks at the potential return of Rob Gronkowski and Le'Veon Bell, struggles from the Giants and 49ers offenses, and gives game-by-game fantasy analysis for Week 4

Sunday Buy and Sell

JJ discusses which Week 3 performances you should buy and which ones to ignore

Trent Richardson trade reax

Week 3 Matchups, RB Injuries

JJ & Tyler talk about all the runningback injuries in Week 2 and how they affect your lineups this week, plus David Wilson, Eddie Royal, and fantasy anaylsis on all 16 Week 3 matchups

Steelers/Bengals recap, waiver pickups

Thoughts on MNF game, ranking the top waiver wire targets for Week 3

Daily Deuce 9/13 - Pats/Jets, Ballard

Week 2 - Game Analysis & Waiver Wire

JJ & Tyler talk struggling RBs, sneaky waiver wire picks, and provide fantasy analysis for all 16 Week 2 games. Tweet your questions @FLFantasyShow or email FLFantasyShow@gmail.com

Daily Deuce 9/10 - MNF recap

Daily Duece - 9/9 Monday morning Week 1

Blowouts and Busts from the first Sunday of Fantasy Football

Daily Deuce 9/6: Broncos-Ravens Recap

JJ & Tyler do a special DOUBLE Daily Deuce - talking Peyton, Julius Thomas, Broncos RBs, and the Ravens' struggles

Fantasy Football is Back!! Week 1

JJ & Tyler break down every Week 1 matchup from a fantasy perspective, plus sort out RB committees in Denver, New York, Cincinnati, and Pittsburgh

Daily Deuce - Foster, Ball, Lamar Miller

Daily Deuce 8/30

Denver RB situation, plus some deep names to tuck away as we head into the final weekend for drafts

TE & DEF rankings, plus sleeper picks!!

JJ & Tyler touch on tight end and team defense rankings, plus injury updates and our last-minute sleeper picks for the year

Daily Deuce 8/27 - RB platoons

Lions/Pats, Ravens/Panthers

Injury Updates 8/22

Preseason WRs and Injury Reactions

Injuries to Foster, Le'Veon Bell...Von Miller suspension...plus JJ & Tyler talk about preseason WR rankings and what it takes it to be an international superstar

Thursday Preseason Reactions (Week 2)

Preseason Reaction & RB Rankings

JJ & Tyler give their takeaways from the 1st week of the preseason, plus the latest on the Jamaal Charles injury and a look at the 2013 fantasy runningback class

8/12 Quick Hits

Fantasy implications of Jamaal Charles injury, RGIII being back at a full workload, and Dallas Clark signing with the Ravens

Preseason Week 1 - Offseason moves, QBs

Riley Cooper, fantasy implications of Danario Alexander's injury, plus QB rankings and analysis of major offseason moves

Packers injury update

Quick hits on injuries to Jordy Nelson and Bryan Bulaga and how they affect the rest of the Packers players from a fantasy perspective

Riley Cooper, Percy Harvin updates

Injury Updates 7/30

FLFS_SpreakerPromo

Teaser for the upcoming season of the Fat & Lazy Fantasy Show - first podcast August 7th!