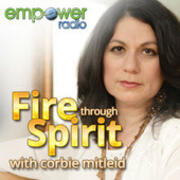 How to Surf the Energy During the Grand Cross and Stay Upright

I'm pleased to welcome aura reader, psychic, radio show host, author, and speaker Pamala Oslie to the show tonight. Pam is living proof of the profound shift that is occurring in human consciousness. We are evolving into a more highly developed species, one with enhanced abilities and a greater level of awareness, and it is expanding our understanding of reality. Pamala says these abilities are not only possible, they are real and natural, and she shows you how to develop them so you can enrich your life.

Past Presents the Future

Tonight's FIRE THROUGH SPIRIT radio show is "Past Presents the Future." It's going to be a discussion show (and you are welcome to join in), looking at how important things in our past have shaped us for tackling this problematical future. I'll be discussing how ELFQUEST, with its ideas about tribe, nature, self-reliance has affected so many of its readers for the better, generation after generation, and also be speaking with folks whose experiences in medieval/Renaissance re-enacting have made them more aware of the ideas of courtesy, chivalry and being of assistance out in the world.

Gardening With (and for) The Birds And The Bees

These days, gardening is not just to grow plants -- it's to support your local birds, bees and critters, and to keep the planet running a little better, one butterfly bush at a time! I'm delighted to welcome my dear friend and National Wildlife Federation spokesman David Mizejewski for a real spring program: Gardening for wildlife, and making a difference for the planet right in our own backyard and community!

The Art of Divine Appointments

Do you believe in "divine appointments?" For over twenty years, Dorothy Smotherman had been asked by Spirit to complete a book about a unique healing tool. She taught about this tool, she lectured on it, but the book just wouldn't jell. It took a chance meeting with Lori Rekowski to make it happen. Paying attention to these types of meetings can be life changing for us all! Dorothy and Lori talk with me about the synchronicity of how their "divine appointment" with each other other birthed this vital book on this edition of Fire Through Spirit.

Spring Forward!

"Spring is sprung, the grass is riz…" and we know where Sharita Star is -- right here with us for her seasonal visit. Join me with one of my favorite co-hosts to discover what's ahead for the next three months through numerology, astrology and lexigrams.

Food Freedom and Fundamentals with Rachel Ginther

I'm pleased to welcome Rachel Ginther, longtime alchemist at The Garden at Thunder Hill. The Garden has been home to amazing vibrational products for years, but she and her husband Brian have now founded Lady Liberty Farm, a Holistic Organic Farm & Educational Retreat Center. If there is anyone who knows how to co-create with the land, the animals and people, it's Rachel! Join us for a lively discussion of food, freedom and fundamentals on this edition of Fire Through Spirit on Empower Radio.

Law of Attraction: Ordering Right the First Time

Continuing our theme of Manifestation, I'm pleased to welcome life coach and Spiritual Transformation Mentor Brenda Garris. Brenda and I both agree – there are right ways and "detouring ways" to view Law of Attraction work, and this week is about getting you on the expressway to your desires. We'll be talking about how to correctly manifest your highest and greatest good; look at how you may be blocking yourself from receiving the best the Universe has in store for you; and explore how our mind controls who we are and what we receive.

ANGELS AND MODELS AND FRIENDS, OH MY!

My experience at the John Holland Master Class last year was marvelous, both from a learning point of view and because of the dear friends I made there. I am delighted to welcome one of them, Savonn Champelle, to the show this week. Working as a male model -- with all the ups and downs that such a career entails -- Savonn's life took a dramatic turn in his 20s, when his latent clairvoyant abilities came-front-and-center, and he has been working with Angels and guides to help people calm, clarify and empower their lives ever since.

Winter on the Outside, Spring on the INside: Seasonal Suggestions with Chef Christy

When you have the winter blahs, how can you get your body ready for spring? Our brilliant Mistress of the Kitchen, Chef Christy, will join us with suggestions on how to rev up that sluggish digestive system and rev up your energy for the season ahead.

The Romance Report

This week is a "reading show," and I'll be talking with listeners about what it takes to find That Special Person, how to work within current relationships, and how to make the big decision: are you fine the way you are, do big changes need to happen, or is this a relationship that should be dissolved? Join us for our very special type of Valentine's show!

A Conversation with John Naughton

John Naughton is a long time friend on the psychic show circuit. Over the past couple of years, John has asked me to channel his spirit guides with regard to an amazing book he was writing that revisits the Biblical chapter of Revalations. It is nothing like you have heard before, and I am delighted that John has agreed to talk with us about his new work. This story an interpretation of the age old prophecy "The Revelation of Christ". This is not a book about the Bible. This is a book that explains the prophecy that is the last book of the Bible. Through the spiritual gift to Interpret Prophecy, he received this interpretation and with the help of The Council of Elders, Angels and Guides wro...

The Law of Attraction with Paul Sutherland

Many people search for the truth, the elixir of life or the secrets of success. But with the sea of information out there, it's often difficult to discern truth from falsehood. Paul Sutherland's book, Breaking the Law of Attraction, is a guide directing people toward what really matters in life: internal happiness centered on love, peace and truth. While the Law of Attraction has value, Paul takes the "pretty" out of the real world and explains how hard work, positive belief and solid focus will get you where you need to go in life for all the right reasons. Money isn't the goal: making money while pursuing your dreams and staying true to yourself is hitting the jackpot. We'll be talking wit...

Kate Breeders on Fire Through Spirit

I met Kate Breeders last fall at the wildly successful Natural Living Expo in Boston. I was struck by Kate's logo: Clarity + Beliefs + Actions = Brilliance! Kate is a specialist in helping entrepreneurs get unstuck, get moving, and get the cash flowing (all of which I know I'm interested in -- how about you?). We talk with Kate about how our mindset affects our success and the conscious v. the subconscious mind; Kate also shares stories with us about some of her most memorable clients, with tips and tricks that will get your entrepreneurial year off to a great start!

Kasia Cummings on Fire Through Spirit

A woman who never let go of her dreams, no matter how many detours, blocks or delays the Universe gave her...Kasia Cummings. The founder and alchemist of Buffalo Gal Organics and nutritional counselor with Whole Health Evolution. She shares with us how she went from crossroads of self-doubt to envisioning what she wanted to give the world through her skills with essential oils and nutritional savvy. Until you start to know yourself, you can't want a different life but you will be blocked from attaining it. When you know your purpose, your joy and your true craft, Spirit comes rushing in to help you create your truest dreams.

End of the Year Wrap Up with Sharita Star on Fire Through Spirit

Wow, time flies! And it's time to bring back my favorite co-host, author/astrologer/numerologist/lexigramist Sharita Star. We look at what's ahead for the year to come, how to navigate the holidays with less stress and more serenity, and some of YOU had your chance to ask Sharita for your PERSONAL year forecast!

Corbie Chat on Fire Through Spirit

It's "Corbie Chat" on Fire Through Spirit. What's on the table? New Year's thoughts – how to make 2014 what you want, instead of what you "think you can have". How to look at the happenings of 2013 in the best and most constructive light possible. My own tips and tricks for getting 2014 off to a jet-propelled start. Plus the value of "the Card of the Year" – a single card pull that gives you direction and encouragement for the next 12 months.

Readings with Allie Cheslick

My Noo Yawk compatriot, the wonderful psychic/medium/Grand Mamacita Allie Cheslick, joins me on FIRE THROUGH SPIRIT for an ALL READING SHOW! That's right -- those of you who had been waiting to ask questions, talk to a loved one passed or just get a good dose of "Youse Guys" perspective from the two of us, this is the show!

Thanks For Local Giving: A New Perspective on Turkey Day

Corbie talks turkey and other holiday traditions with her good friend and neighbor, Shannon Hayes. How to simplify and enjoy the true spirit of the season, without all the baggage, stress and worry that none of wants or needs.

Greg Milk on Fire Through Spirit

The holiday season is upon us (even though Thanksgiving has not yet arrived). And if you're a parent, one of the toughest things is dealing with the commercial, buy-buy-want-want aspect that commercialism has pumped into the season. I'm delighted to welcome back our regular visitor, Greg Milk -- Option Mentor, father of four, "Autism Awareness Avenger" and a wise and very funny man -- who shares his ideas about how to make the holidays more meaningful, less stressful, and more deeply appreciated by parents and children alike. This one is for all the parents out there!

Rob Beschizza on Fire Through Spirit

Science and technology often meet up with the weird, the inexplicable, and the numinous. This point of contact is at the heart of much of what Rob Beschizza does as the managing editor of Boing Boing, one of the Internet's longest-running and most popular tech and countercultural websites. The mélange of science and technology can be as delicate as a sword dance, and sometimes as fraught – but it's a wellspring of wonderful stories. Most of the coverage is hard science and tech, but every day there'll be something about cryptozoology, mysticism or whether crop circles are created by beam weapons or spirits. This conversation with Rob is no holds barred, and even I didn't know where it was go...

MaryLee Trettenero on Fire Through Spirit

It's a reading show plus! The Red Sox are in the World Series so we're taking our cue from them by welcoming world-renowned Boston Intuitive MaryLee Trettenero. MaryLee does ghost tours, she's a medium and forensic intuitive, and a heck of a lot of fun. We'll be talking with MaryLee about all of her adventures and talents!

Donna Barr on Fire Through Spirit

Donna Barr, a woman I have known for over 20 years, her passion for looking at the world in all its facets -- good AND bad -- is what I love about her. This is a no fluffy-rainbows-and-unicorns woman, but one who sees everything about the world that needs repair and redress and dives in. Whether its pointing out human foibles and blind spots through her characters, championing the environment or calling on people to rethink their ossified attitudes, there is never a dull moment around this woman.

Lisa Andres on Fire Through Spirit

I've been saying for a very long time that "you can do what we do" - you have the wiring; you just need to learn how to access it. This week's guest Lisa Andres discusses her book, Gifted - A Guide for Mediums, Psychics & Intuitives. Learn how to find your own talents and get the guidance to open up to your gifts. Find out how Lisa evolved into a Psychic Medium, plus other topics from her book, and even how Lisa became a self-published author!

Leaning Toward Each Other: The 60/60

It's a Corbie Chat this week, talking about what makes the best relationships. A lot of times you hear a radio guest who says "here are all the terrible problems and how to fix them." We're turning the idea on its head this week, in hour of Corbie's upcoming 11th wedding anniversary. We'll be talking about what makes a good marriage, and we encourage people who have good marriages/committed relationships to call in and share what makes them stay solid, loving and supportive. Corbie will share some of her own stories about her 22-year history with the man she calls "her Hero" - we want yours too!

When In Doubt Volume II on Fire Through Spirit

So it's just you and me, my listeners...all topics are on the table. Reincarnation, learning from the past, DNA activation, thoughts about spirit guides, what to do when your cats see ghosts and you don't...nothing is too wild! So sit back, relax and open your mind with Fire Through Spirit.

The Goddess: Who Is She and Where Can We Find Her?

In a technical, fast paced, demanding world, the idea of the Divine Feminine -- nurturing, deep, intuitive, compassionate -- has been hard to find. But now, She is returning into people's consciousness in answer to their yearning for a way to find balance in an unbalanced time, to connect with all parts of themselves, including those that have been lost, shut down or misunderstood for thousands of years. Join me as I welcome artist and channel of the Divine Feminine Jo Jayson and explore the true meaning of Goddess Energy, dispensing with stereotypes and embracing the true archetype

Fire Through Spirit with Sharita Star

The leaves are turning, the days are getting shorter, and that means fall is on its way. As always at the turn of the seasons, we are delighted to welcome back one of Corbie's favorite co-hosts, Sharita Star: lexigramist, astrologer and numerologist. Find out what's in store for you as we wind down the year -- and hear about Sharita's own new blog on Empower Radio, EMPOWERSCOPES

Juice Up Your Life with Greg Milk

It's our bimonthly visit with Greg Milk, and he'll be talking about his passion for juicing -- what it is, how it can help, and how to do it right. Learn the difference between juicing feasts and fasts, how to prepare yourself for the adventure, advantages of organic vs. nonorganic, and his roster of Juicing MythBusters 101 We'll also share some fabulous recipes by "Gregory Juicenstuff!" Greg is always fun to work with and the conversations run fast and furious.

Healing Is Natural with Janet Klock

Our bodies' innate intelligence has everything we need to know. We can learn to tap into it at any time, to navigate through the sacred waters of life. Join me on FIRE THROUGH SPIRIT as I discuss Natural Wisdom with Janet Klock. How do we reconnect with this profound healing source when we've been bombarded by medical propaganda and bulled into thinking that we are merely passive consumers of drugs and surgeries? What it is costing us, both in money and in life force, to ignore our own power? How do we start to listen to our bodies again? What resources are available to us to tap into our own natural wisdom?

Sound Alchemy with Stone Row

SOUND ALCHEMY WITH STONE ROW: Music is an art, a science, and pure magic. To create world sound that speaks to people across countries, ages and mindsets, you have to be a combination of shaman, scientist and alchemist -- and Stone Row can claim all three titles. Meet Glenn Bernardis, who wrote our new theme music, and delve into the creative process with the entire band on Thursday night. Calls and questions welcome at 248-809-3475!

"It's What You DON'T Remember That Creates You"

Science is beginning to understand that much of our personality is created from conception to age three -- before actual memory of events can be recalled. I'm pleased to welcome back medical intuitive and healer Art Gutkin, whose gift allows him through meditation to travel his client's past from the womb onward to discover those implicit memories. Through his unique blend of healing arts, client's issues are resolved.

Lightworkers are Human Too

Even the best of Lightworkers stumble. I want to talk about why it's best to own it, walk it, and learn from it rather than acting like I'm A Professional And It Never Happens Here. I feel it is important to own that we are still all on our own paths; just because we have been doing what we do for a while doesn't mean we are perfect, and it does not lessen us to admit to it -- indeed, my clients trust me MORE because I know when I could have done better in my earth walk.

The Tarot Illuminati

I've been reading Tarot for 40 years. For at least 15 of those, I used one particular deck -- easy for "rookies" to understand during readings and at psychic fairs. New decks that came along were lovely to look at, but didn't call me -- and then I walked into "the little metaphysical shop" in York PA" referred to in Erik C. Dunne's biography. There was the Tarot Illuminati -- lush, nuanced, and breathtakingly beautiful. And That, as they sat, Was That. I'm delighted to welcome artist Erik Dunne to FIRE THROUGH SPIRIT this week, to talk about the creative process of a visionary artist, and how a superb Tarot deck was born.

Psychic Responsibility and Intuitive Ethics

We're kicking off our new show style in a DOUBLY big way. Terry and Linda Jamison, the Psychic Twins, will be my guests. While they are known for some pretty amazing predictions, tonight is NOT about predictions -- it's about psychic responsibility. Ethics, if you will, around being an intuitive with a public face, and the Ten Commandments of being a professional psychic. This is the intuitive version of all those Actors' Studio shows on public television -- getting up close and personal with folks in "the biz" to find out what it really takes to do it right. Join us!

Chris Alexandria on Empower Readings

Angels here, Angels there, Angels are everywhere! With whimsical prose and divine illustrations representing the universal child, Chris Alexandria's new picture book, Have You Ever Wondered About Angels?, answers the questions children of all ages have asked since the beginning of time. We'll be talking with Chris about her new venture tonight, and how she believes kids can know about metaphysical wonders from the earliest ages.

"The Option of Adoption" with Greg Milk

Adopting a child is a most amazing experience. Whether a newborn, a toddler, or older, introducing a new person into the family unit can be a challenging yet heart-opening experience. We're pleased to bring back Greg Milk, an Option Process Mentor and the father of adopted children, to discuss positive and nonjudgmental ways to bring a new family together!

My Spirit Is Not Religious: A Guide to Living YOUR Authentic Life

Millions of people today experience guilt, shame, anger, anxiety, depression, or similarly disempowering emotions as a result of their indoctrination into organized religion and more individuals are leaving the faith they were born into and identifying themselves as spiritual rather than religious. My Spirit Is Not Religious: A Guide to Living YOUR Authentic Life, will help you eliminate emotional obstacles while providing guidelines for living a heartfelt spiritual life via lessons delivered from personal experiences — author Tina Sacchi's as well as those of her many clients and students. The intention is not to dismiss all organized religions, but to guide those for whom they no longer wo...

Summer Solstice and Mercury Retrograde

Ahhh... the long, lovely, lazy days of Summer are upon us. But so are a Mercury retrograde and a few other celestial shenanigans. How to cope -- now THAT'S the BIG question! As always when the seasons change, we're bringing back our favorite mistress of words, numbers and starcharts, Sharita Star.