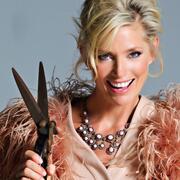 Soil: The Skin of the Planet

Did you ever wonder what makes the food you eat grow? In to successfully grow anything, you need nutritious soil. Ryland Engelheart, from restaurant, Café Gratitude, is on a mission to get people to grow their own food, which will help our planet by improving the topsoil. He has great tips on composting and shares his favorite recipe from his restaurant. Supermodel Jerry Hall is a tall, long legged, Texan beauty, famous for modeling during the 70's and 80's. Now at 57 she talks about modeling, acting, children and gardening, a passion of hers for 21 years.

Bottle Water & Purification Systems

You would think something so simple as water can't be that complicated. Every time I walk in a grocery store and pass the beverage isle the water isle seems to be growing. Some of them are more expensive than others. What is the difference between, alkalized, purified, distilled, reverse osmosis, ionized and artesian spring water? Is this water so different than the water I have coming out of my tap? My guest Adam Marshall, Business Development Manager and Senior Water Expert for Life Ionizer, knows all you need to know about water. We close with Elena Davis my food miracle guest, founder of I Am Waters Foundation; she is responsible for saving lives through hydration.

Water

Without water we would perish. Water is a topic you hear people talking about. You can't grow food without it! My guest, Lawrence Brooke, Scientist and owner of General Hydroponics, will shed some light on growing with water, covering topics on how to feed the world and the impact growing food has on our planet. Dr David Gettoff, board certified Naturopath and Nutritionist has given many seminars on the Fluoridation of our drinking water. You might want to know what's in your water! Lastly on my food miracle segment, Leo McDevitt's wife gets rid of her arthritis with changing her diet and water.

Gluten

What is all the fuss about Gluten? I want to know! So many people are buying the gluten-free food but they really aren't sure why. This show is about what you need to know about this protein found that is found in certain grains that could be causing havoc on your body. Naturopath and Nutritionist, Dr. David Getoff is going to set the record straight on my SIMPLE HEALTH segment. Mary Kay Waters, owner "Water's Catering" and 4 gourmet-to go-shops in the San Diego area, will give us some pointers on cooking without gluten and some yummy recipes. She has been gluten free for years and has first hand experience.

JUICING

Juicing is quite trendy these days and more and more people are turning to fresh juice for health benefits. What should you know about juicing? This show covers the health benefits, and how to choose the best fresh juice out there. What is in the juice you drink? Fresh is best but it can also be expensive so we will cover making your own juices, the different types of juicers, recipes the do's and don'ts for juicing. Expert on the topic, Lisa Oldenweller, Beaming's CEO & Founder, a super food vitality bar in Del Mar California will give you great tips on juicing and share delicious, nutritious recipes. Friend, supermodel and avid juicer, Kim Charlton, has been juicing for years and shares he...

All About Apples

It is apple season so let's celebrate that tasty, crunchy fruit! Cooking with apples has never been so easy. My Gourmet, N – Season, French Chef, Bernard Guillas, is going to share a few apple dishes that are simply to die for! Beverly Johnson, another Supermodel friend of mine from the '70's and '80's, is on my MODEL HEALTH segment. Beverly was the First African-American model to ever grace the cover of American Vogue, and forever changing the fashion world. We are going to find out what she's up to these days. Richard Rivera from Volcan Valley Apple Farm grows apples in a big way and he is not afraid to tell us his secrets on growing them. We end with my inspiring "Food Miracle" segment, r...

Milk

Do you get confused when you walk into the grocery store and try to figure out what food you should buy for your family? Well we are going to learn all about the milk you drink and dairy you consume. What does homogenized, fortified, pasteurized, ultra pasteurized and raw mean? What is best for me, whole, 2%, 1% or skim milk. What are the cows eating and how are they treated? We are going to cover these topics and more. My knowledgeable guest certified Naturopath and Nutritionist, Dr. David Getoff, will clear up any questions and misconceptions you might have on the topic. World cheese award winner, Julian Pearce from Soledad Goats farm is going to teach us how to make delicious goat cheese....

Seasonal Spicy Peppers

This weeks N-Season Veggie is one of my favorites especially the hot variety, the pepper! I do like it spicy. We will cover the health benefits, growing tips on chili and the bell variety of peppers. Baja Mediterranean cuisine Chef and Restaurateur, Chad White creates a unique and flavorful dish with peppers and cold smoked marlin. Supermodel, actress, author and now host of a new TV show, Carol Alt gives us all kinds of Model Health advice and teaches us a few things about eating raw. Last but not least is my Food Miracle Segment. Gordon from Texas tells us how water therapy and spinach smoothies saved his life.

The Tomato!

Best buddies, Chef, Author and Restaurateur, Don Pintabona, and Gerry Hayden talk tomato and share a gazpacho recipe from Gerry's restaurant "The North Fork Table and Inn", that is out of this world! Friend of the chefs and tomato grower, Farmer Stephanie Gaylor from Invincible Summer Farms in South Fork, New York, talks about seed saving for the future, and how to grow a tasty tomato and the lovely Joan Severence is on my Model Health Segment, she is not just a pretty face, she models, acts, cooks, grows a little and now is a game inventor. Should be a fun show!

Start Planting!

Finally we are going to get some plants in the ground. We are planning the layout of our veggie garden and going to start planting! Stephenie Caughlin from SeaBreeze Organic Farm will be the N-Season Farmer this week. She is going to share growing tips on our seasonal star veggie, the beet a root vegetable you need to get to know. Chef Andrew Spurgin is back giving us delicious ways to cook our star veggie. Nancy Donahue, a dear close model friend of mine, has reinvented herself time and time again since her supermodel days; wait till you see for what she is up to now! She also has some Model Health advice and a beet recipe too!

selecting tools & watering systems

Hopefully I have peeked your interest in growing your own on my first show and we are moving right along with selecting gardening tools and a simple watering system for your new garden. Have you ever heard of Stone Ale from the Stone Brewery Co.? Well the manager of their small farm is my N-Season Gardener, David Solomon will inspire us to grow our own micro greens and mushrooms. By the way anyone can grow micro greens, even my 11 year old son, Cole can. David Sasuga, from Fresh Origins, will show us how it is done on a larger scale. He is one of the largest micro green distributors nationally for chefs and restaurants. Lastly my good friend, supermodel, spokeswoman and author, Kim Alexis, i...