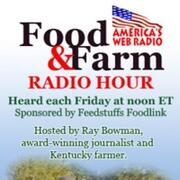 Wes Jamison, animal welfare

Does the Bible teach vegetarianism? Some new insights from Dr. Wes Jamison on Food and Farm.

Bruce Chassy, French GMO Study

When the Seralini GMO report was published in the journal Food and Chemical Toxicology last year, Dr. Bruce Chassy discussed with me the the possibility of its retraction. In light of recent developments, we'll revisit that conversation on Food and Farm

Kevin Folta on Dr. Don Huber

Dr. Kevin Folta joins us on Food and Farm to discuss his recent exchange with Dr. Don Huber over Huber's claim of the discovery of a deadly organism associated with bio-engineered corn.

Nena Winand, carriage horse welfare

Animal rights groups spent big bucks to elect New York mayor Bill DeBlasio and put more pressure on the city's carriage horse industry. Cornell vet and horsewoman Nena Winand says the effort's misguided.

Bryan Burhans, American Chestnut

Once almost extinct, the American Chestnut is making a comeback, with a little help.And of course we threw in a little Longfellow.

Julie Young, coyote predation

Coyotes are almost everywhere in the US, even Hawaii. Dr. Julie Young discusses research on the dynamics of cyote populations.

Steve Savage, proposed trans fat ban

Scientist/blogger Steve Savage joins me on Food and Farm to discuss a possible FDA trans fats ban and "advertising by exclusion"

Carrie Meyer, Days on the Family Farm

This book has been around for a while but it offers some excellent ag history insight. This is my Food and Farm interview with author Dr. Carrie Meyer.

Lara Durben, Thanksgiving turkey

The bird is the word! Time to talk turkey with Lara Durben from Minnesota Turkey on Food and Farm

Bruce Kraig, Man bites Dog

Hot Dog! Bruce Kraig, author of Man Bites Dog joins us on Food and Farm to talk about... well, what do you think?

Maureen Ogle "In Meat We Trust"

The highly anticipated "In Meat We Trust: An Unexpected History of Carnivore America" hit the book store shelves this week (11/12/13) and author Maureen Ogle talks about it on Food and Farm

Jon Entine, GMO labeling

It appears Washington state's GMO labeling ballot initiative failed. Jon Entine discusses it on Food and Farm

Richard Raymond, Bridging the Gap

The National Institute for Animal Agriculture (NIAA) holding a symposium on antibiotic resistance Nov. 12 - 14 in Kansas City. Dr. Dick Raymond is one of the organizers and joins me on this episode of Food and Farm

Maureen Ogle, In Meat We Trust

Maureen Ogle's book will hit the shelves this month. The name, "In Meat We Trust" is about the only thing that's changed since we first talked about it some time ago, so I thought you might like to hear that initial conversation again.

Dr. Allen Straw, pumpkins

I don't like pumpkins, but you probably do so here's a Food and Farm story especially for you! Dr. Allen Straw preaches pumpkins

podcast - Dawn Wink

"It's a tough old deal," was the stoic response of author and blogger Dawn Wink's father as he reviewed the devastation of the Atlas blizzard. Dawn visits with me on Food and Farm about her family's response to Atlas and about her new book "Meadowlark."

segment 1 - Luke Minion

Mercy for Animals has released a new "undercover video," this time claiming abuses at Minnesota's Rosewood Farms. Veterinarian Luke Minion talks about it on Food and Farm.

Janine Salak-Johnson, U of Illinois

Janeen Salak-Johnson is an Associate Professor of Stress Physiology and Animal Well Being at University of Illinois and has been extremely active in research with Animal Well-being. Some time ago, we talked about her work and about the difficulty in sorting out the scientific facts from the emotional perceptions.

Emily Meredith

If the Johns Hopkins University Center for a Livable Future isn't exactly accurate on the numbers for their Meatless Monday campaign, how valid are their claims that the Administration and Congress have acted "regressively" in policymaking on industrial food animal system issues? We'll explore both those topics with Emily Metz Meredith from Animal Agriculture Alliance on Food and Farm

Dr. Rosie Nold

Dr. Rosie Nold, Agriculture and Natural Resources Director for South Dakota State University Extension discusses the cost of a blizzard on Food and Farm

Dr. Rosie Nord

Dr. Rosie Nold, Agriculture and Natural Resources Director for South Dakota State University Extension discusses the cost of a blizzard on Food and Farm.

Dr. Nevil Speer, Food Day

October 24, 2013 is Food Day. Sponsored by the Center for Science in the Public Interest, the event is a bit one-sided, but as Dr. Nevil Speer and I discuss on Food and Farm, it is at least an opportunity to further the food discussion.

Steve Van Wie, ag disaster mental health

Dustin Oedekoven, South Dakota blizzard

South Dakota state veterinarian Dr. Dustin Oedekoven joins me on Food and Farm for an update on the aftermath of the Atlas Blizzard.

Richard Raymond - Green Leafy Veggies

Dr. Richard Raymond knows a thing or two about food safety, having served as under-secretary of the USDA in charge of food safety. He joins us for this installment of Food and Farm.

Ben Chapman, citizen food safety

Self-proclaimed "food safety nerd" Dr. Ben Chapman from North Carolina State University has started the #citizenfoodsafety project on Twitter and Instagram. He tells us about the project on this segment of Food and Farm.

Russ Daly, blizzard losses

An early October blizzard in South Dakota and parts of Wyoming dumped a devastation three to four feet of snow and caused the deaths of untold numbers of beef cattle. We talk to South Dakota State University extension veterinarian and state public health vet Russ Daly about dealing with the aftermath.

Janet Keller, WDE

Janet Keller is communications and public relations director at World Dairy Expo. We visit about the 2013 event on Food and Farm.

Stink Bugs, John Tooker, Penn State

Soybeans are ready to be harvested - don't let the stinkbugs beat you to it! Penn State entomologist John Tooker's on Food and Farm!

Peter Kerr, crisis communications

Animal disease outbreak, food-borne illness, cruelty allegations... how do we respond to the media during a crisis? Peter Kerr has some ideas for you on this episode of Food and Farm,

Roger McEowen, livestock liability

Build you're fences "horse high, pig tight and bull strong" and then the Houdini's still get out. We talk to Roger McEowen of Iowa State's Center for Agriculture Law and Taxation about livestock liability in this episode of Food and Farm.

Kathy Voth, grazing cows on weeds

In 2004, Kathy Voth came up with a method for teaching cows to eat weeds. She says her plan makes it possible for anyone to save money and take advantage of new forage by turning their cows into weed managers.

Mark Landefeld, fall weed control

Fall can be a good time to eliminate hard-to-control perennial weeds because many of the plants are feeding their root systems, which allows applied herbicide to reach the root system to effectively kill the weeds, says Mark Landefeld, Ohio State University Extension educator.

Dr. Larry Steckel, resistant weeds

Researchers have always expected weeds to develop some level of glyphosate resistance. Dr. Larry Steckel from the University of Tennessee, Knoxville talks with us about resistant weeds on Food and Farm.

Derek Lowe

Glyphosate, the principle ingredient in Monsanto's Roundup, has been blamed for everything from heart attacks to hangnails. Independent chemist and science blogger Derek Lowe takes particular issue with one such "study" and we discuss it on this installment of Food and Farm.

Calestous Juma, GMO adoption

Dr. Juma is a Harvard University professor and director of the school's Science, Technology and Globalization Project. He is author of "The New Harvest: Agricultural Innovation in Africa."

Dr. Stefano Guandalini

Concerned about gluten in your diet? Dr. Stefano Guandolini, Founder and Medical Director, University of Chicago Celiac Disease Center joins us on Food and Farm. His comments are very revealing.

Nevil Speer, Chipotle's "The Scarecrow"

Western Kentucky University animal science professor Nevil Speer examines the latest Chipotle video "The Scarcrow" on Food and Farm

Ted Braun, USC, 1st Chipotle video

Ted Braun is a critically acclaimed filmmaker, best known for his Image Award-winning documentary film Darfur Now. He takes a craftman's look at the first Chipotle video "Back to the Start" on Food and Farm.

Bill Field, farm safety

September 15-21, 2013 is National Farm Safety and Health week. On Food and Farm, we talk with Purdue's Bill Field about harvest safety.

Maureen Ogle

Author and historian Maureen Ogle joins us on Food and Farm to talk about her recent article in Scientific American magazine and her upcoming book "In Meat We Trust: An Unexpected History of Carnivore America. Join us for some historical perspective on food animal antibiotics.

Jon Entine, Golden Rice

Golden Rice might help solve the problem of vitamin A deficiencies in third world countries - if it ever gets the chance. We talk about Golden Rice vandalism in the Philippines with Jon Entine of the Genetic Literacy Project on Food and Farm.

Jay Baer, Youtility

Youtility is not about "being awesome." It's about "being useful," and promoting your usefulness first, and your business second. "Youtility" author Jay Baer joins us on Food and Farm to talk about farmers, social media and his book.

Laura Daniels

Laura Daniels' keynote wrapped up the 2013 National Agvocacy 2.0 Conference in Charlotte, NC telling participants not to forget why they do what they do. She reminds us of that on Food and Farm.

Julie Borlaug

Julee K

Julee K was anti-GMO until she did her research and did a complete turnaround. She tells her story on Food and Farm

Jennifer Elwell

Food, Mommy Jennifer Elwell shares an interesting story about getting kicked off a Facebook page for commenting on post!

Dr. Scott Hurd

A wide-ranging discussion with veterinary medical researcher and former USDA deputy undersecretary Dr. Scott Hurd.

Anne Burkholder and Guy Loneragan

Anne Burkholder of Feedyard Foodie fame and Dr. Guy Loneragan from Texas Tech join me on Food and Farm to talk about beta agonists in beef cattle rations.

June Jo Lee

June Jo Lee, vice president of strategic insights for the Hartman Group helps me define the term Foodies on Food and Farm

Dr. Russ Daly, ergot alkaloid infection

What's an ergot alkaloid and why should I care? Find out from Dr. Russ Daly on Food and Farm

Blake Hurst

Outspoken Missouri farmer and columnist Blake Hurst joins me in a frank discussion of food ethics.

Dr. Len Bull

Dr. Bull talks with Food and Farm about The National Institute for Animal Agriculture white paper, "A One Health Approach to Antimicrobial Use & Resistance: A Dialogue for a Common Purpose,"

Dr. Michael Doyle

Dr. Doyle is director of the Center for Food Safety at the University of Georgia. We discuss antibiotics in food animal production on this episode of Food and Farm.