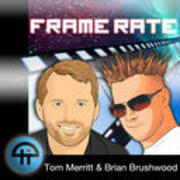 FR 153: The Last Frame

NimbleTV brings TV everywhere to New York, big plans for Chromecast in 2014, Breaking Bad spinoff coming to Netflix, and the last frame is rated.

FR 152: Fire in the Hole!

Netflix's war on mass culture, ugly numbers behind unbundled cable, rumors of a Google Nexus set-top box, and more.

FR 151: TiVo 's here and ready to party

How Amazon is rethinking the way television is made, Xbox Video launches on the web ahead of Windows Phone version, Intel reportedly wants $500M for delayed streaming TV effort, and more.

FR 150: When Seconds Matter

What really happened to Intel's failed TV ambitions?, YouTube app lands on Xbox One, DirecTV to Stream 30 Live TV Channels Outside the Home, and more.

FR 149: The Cause of Cable's Decline

Bill would make it illegal for ISPs to slow down online video services, NFL, MLB Tell Supreme Court: If Aereo Wins, We're Bailing on Broadcast, and more.

FR 148: I Like Not Being a Criminal

​Why the Marvel/Netflix deal is the best decision they've ever made, Unlike the PS4, the Xbox One won't support 3D Blu-ray playback at launch, and more.

FR 147: Bot Leta

Amazon sets Nov. 15 release date for first original TV series, Time Warner Cable lost record 306,000 subscribers amid CBS blackout, Lucasfilm and Disney struggle over 2015 'Star Wars' release date, and more.

FR 146: Blood Butter

Netflix Is Not Coming to Comcast, TWC, J.J. Abrams and Lawrence Kasdan taking over as writers of 'Star Wars: Episode VII', and more.

FR 145: 21st Century Takedown

Garry's Incident developers censoring criticism, EFF guide to YouTube removals, Netflix investors go nuts, and more

FR 144: You gonna eat that?

Netflix said to negotiate with US cable companies for set-top box app, posting and watching videos online is a fast growing trend, and more.

FR 143: The Quest for a la Carte

Amazon plans TV streaming box in time for holidays, Comcast CEO says a la carte programming will never happen, Netflix most popular online TV service but cable still king, and more.

FR 142: HBO Plays it Safe

Intel delays TV service to 2014, Time Warner CEO open to bundling online HBO subscription with broadband plans, the movie draft, and more

FR 141: Envy of My Enemy's Emmy

Nielsen TV ratings to include monitoring on digital devices starting in 2014, YouTube details how offline videos will work, Amazon Instant Video for iOS now supports AirPlay, and more.

FR 140: The Mergification Continues

Netflix Uses Pirate Sites to Determine What Shows to Buy, Epix CEO: cord cutting will force the TV industry to innovate, and more.

FR 139: Seek Medical Attention

CBS reaches deal to end blackout, Sony unveils PlayStation Vita TV, Yahoo launches Screen video app for iOS with emphasis on comedy clips, and more.

Frame Rate 138: What You Want, When You Want

Kevin Spacey Goes All House of Cards on Hollywood, Maker Studios Buys Blip, and a Home Outside of YouTube, and more.

Frame Rate 137: Is This the Revolution?

Sony and Viacom agree in principle to stream cable TV, Barnes & Noble releases video apps, a baffling trailer from J.J. Abrams, and more.

Frame Rate 136: Cord-cutting Gets Real

Pace of Cord Cutting Quickens, Dish reports decline in pay-TV subscribers, New 'Breaking Bad' episode now available on Netflix UK just hours after US premiere, and more.

Frame Rate 135: Scott Johnson's Last Show

Time Warner Cable gives CBS two options to end blackout, YouTube opens up live streaming to anyone with 100 or more subscribers, and more!

Frame Rate 134: Gran-Churrizo

Why Chromecast is such a big deal for Google, and a threat to Apple, Dish's Hopper holds onto legal win against Fox, and more.

Frame Rate 133: Speaking for the Common Man

Appeals court refuses to rehear Aereo case, Netflix's Q2 Misses, Google in talks to create its own streaming live TV service, and more.

Frame Rate 132: Hulu Gives no Rose

Is Hulu lost?, TV still first for news, Aereo sued by Boston TV station, and more.

Frame Rate 131: Punk Rock or Crazy Talk

DirecTV Makes Hulu Bid as Time Warner Cable Seeks Stake, YouTube Pro, and more.

Frame Rate 129: Chase That Dragon

Sony and Disney begin streaming movies still in theaters, YouTube will bring advertisers into its Partner Program, John Hodgman's 'Ragnarok' to stream on Netflix, and more.

Frame Rate 130: The Chicken Challenge

Intel's new CEO cautious on TV, Air attack Aereo, Netflix gets 'New Girl', and more!

Frame Rate 128: Double-Dinged

Pay TV goading media companies , Time Warner and Web TV, is 3D TV dead,and more.

Frame Rate 127: He Meant Niggly

Intel offers dollars for Internet TV programming deals, AT&T might bid for Hulu, HBO's next big TV series is about aliens, and more.

Frame Rate 126: Hulurious Fashion

DirecTV, two others bid over $1 billion for Hulu, Matt Smith to leave Doctor Who, major spoiler alert, and more.

Frame Rate 125: You're Watching it Wrong

Who will buy Hulu, Apple TV adds more content, Star Wars Rebels TV series, and more.

Frame Rate 124: Herky Jerk, the Fancy Dancer

Commander Chris Hadfield wins all the internets, ABC streaming plans, Yahoo meets Hulu, and more.