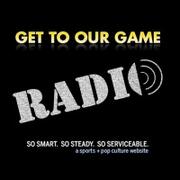 9-1-14 GTOG Podcast: Steelers preview

It's our official 2014 Pittsburgh Steelers preview. We go through the schedule and tell you what will happen in every game. We also discuss whether anything makes Ben happier than going out onto the field for the coin toss alone, whether any team has ever had an easier schedule than the Steelers, and whether Mike Tomlin is a good coach. All that and more on the only Steelers preview podcast you will ever need (or want). It's the GTOG Podcast.

8-6-14 GTOG Podcast

7-9-14 GTOG Podcast

6-25-14: Pens hire coach; NHL draft & FA

5-20-14: Shero out; Do Pens have Plan B?

We talk about the Ray Shero firing, the David Morehouse Show, Dan Bylsma's future, Crosby's game, and what the Pens should do with guys like Letang, Fleury, Sutter, and Neal. It's the GTOG Podcast.

5-13-14 Pens blow it. Eliminated.

5-11-14 Pens lose Game 6, 3-1

5-11-14 Pens drop Game 6, 3-1

5-9-14 Game 5 Recap

5-7-14 Pens dominate Game 4, win 4-2

Breaking down the Pens' Game 4 win over the Rangers.

5-5-14 Pens shutout Rangers, 2-0

Pens win, 2-0. Lead series 2-1.

5-4-14 Pens win 3-0, even series

Pens dominate Game 2, tie series at 1-1.

5-2-14 Pens lose to Rangers, 3-2

Breaking down the Pens OT loss in Game 1.

4-28-14: Pens eliminate CBJ in 6

4-23-14: Pens lose, 4-3

Devastating 4-3 loss in OT.

4-21-14: Pens win Game 3, 4-3

4-16-14 Game 1: Pens Win, 4-3

Pens win Game 1 over Columbus 4-3.

4-15-14 Pens Playoff Preview

Preview and predictions for Pens-Blue Jackets.

3-25-14 Penguins Podcast

3-5-14 GTOG Podcast: Trade Deadline

3-3-14 Podcast: Mike Colligan talks Pens

Mike Colligan from The Hockey Writers joins us to discuss the state of the Pens at the deadline, including rumors that the Pens are very interested in bringing in Ryan Kesler. We discuss whether that deal makes sense, the value (or lack thereof) of Brandon Sutter, whether there's any chance of a big shakeup, why Taylor Pyatt is on the Penguins, whether Sidney Crosby is a good leader, and so much more. Everything you need to know heading into trade deadline day. It's the GTOG Podcast.

2-23-14 LIVE Podcast: Olympic Recap

2-5-14 Podcast: Adam Gretz talking Pens

Adam Gretz from SB Nation joins us to talk Pens. We discuss the bottom 6 vs. top 6, how the Pens can upgrade at the deadline, what's going on with Orpik and Scuderi, and whether the Pens are the favorites in the East. And we even save time at the end to talk about the Capitals.

12-29-13: Steelers done; Pens halfway

The Steelers were officially eliminated from the playoffs in a painful and awkward way while the Pens reach the season's half way point with a win over Columbus and a huge lead in the division. A little Sunday night chat about it all. It's the GTOG Podcast.

12-18-13 Podcast: Pens beat Rangers

12-3-13 Podcast: Pens over Isles; Tomlin

Talking the Pens' big OT win over the Isles and the Mike Tomlin incident. It's the GTOG Podcast.

11-13-13 GTOG Podcast: Pens-Flyers

We discuss the positives from the Pens loss to the Flyers, and Artistry baits Finesse into a rant about Brandon Sutter. Then we talk about the Steelers for a few minutes. It's the GTOG Podcast.

11-6-13 Podcast: Pens/Rangers, Steelers

10-27-13 Podcast: Pens, Steelers, Etc...

We discuss the Pens' 3-game losing streak, what to expect from Kris Letang, more reasons Brandon Sutter isn't good, and the Islanders trading for Tomas Vanek. We also discuss the Steelers' loss in Oakland and whether there is anything redeemable about this team.

10-13-13 Podcast: Pens and Steelers

We discuss the Steelers win over the lowly Jets, plus the Pens' road trip to Florida.

10-2-13 GTOG Podcast

In the middle of Buctober, the Pens decide to start their season, so we preview it all. We start with about 20 minutes of Pirates, then break down the upcoming Pens season. What will happen with Fleury? Is the season too long? Can anything happen during the regular season that will change your expectation for the playoffs? All that, and so much more. It's the GTOG Podcast.

9-12-13 GTOG Podcast: Steelers and Pens

We mourn the end of the Steelers' season and react to the Pens' intra-squad scrimmage. Some unreal segues in here.

9-2-13: GTOG Podcast about whatever

GTOG Podcast: So much sports to discuss

Talking Pens, Pirates, Steelers, and tons of other stuff

7-10-13: Mike Colligan talking Pens

Mike Colligan of The Hockey Writers joins the podcast for an in-depth discussion of the Pens' offseason. We touch on everything -- the Boston series, Rob Scuderi, Matt D'Agostini, Dan Bylsma, Letang/Kunitz/Dupuis/Adams signings, Fleury, and what moves are still left to make. Plus so much else. It's a can't miss GTOG Podcast.

6-12-13 Pens season recap podcast

Now that Ray Shero has spoken and the Pens have signed Dan Bylsma to a 2-year contract extension, the change that's coming to this team is in personnel only. On GTOG's official season wrap-up podcast, we talk about Shero's press conference, his support of Bylsma and Fleury, what the Pens should and will do this summer with Malkin and Letang, and all the other choices -- some easy, some hard -- that the team will have to make this offseason. It's the GTOG Podcast.

6-7-13 Game 4: The end. Pens lose, 1-0

6-5-13 Game 3: Pens fall, 2-1

Pens fall 2-1 in double OT. A heartbreaker.

6-3-13 Game 2: Pens lose, 6-1

Well that was terrible. The Pens were completely dominated by a terrific game from Boston and then compounded it with an all-time stink-show. We chronicle it all, LIVE on the GTOG Podcast.

6-1-13 Game 1: Pens lose, 3-0

5-29-13: Pens-Bruins Preview Podcast

5-22-13 Game 4: Pens dominate, 7-3

5-19-13 Game 3: Pens lose 2-1 in OT

5-17-13 Game 2: Pens win, 4-3

5-14-13 Game 1: Pens win, 4-1

5-11-13 Game 6: Pens win, 4-3 in OT

5-9-13 Game 5: Pens Win, 4-0

5-7-13 Game 4: Pens Lose, 6-4

How much is on Fleury? How much is on Bylsma? How much is on Malkin? Is there enough blame to go around? Is it possible that every player is more than 100% responsible for this loss? It's an emotional time to be a Pens fan. Experience it with the GTOG Podcast, recorded live in the wake of the Pens' terrible 6-4 loss.

5-5-13 Game 3: Pens win in OT, 5-4

Recapping the Pens 5-4 overtime win in Game 3. Should we be anything but discouraged? Is this the worst we've ever felt after a win? Spoiler alert: No and Yes.

5-3-13 Game 2: Pens Lose 4-3

Dissecting the Pens 4-3 loss to the Islanders. How bad was Fleury? How rusty was Sid? What's the outlook going forward?

5-1-13 Game 1: Pens erode Islanders, 5-0

4-30-13 Pens preview with an Isles fan

A big Isles fan named Eric joins the podcast to discuss the Pens-Isles series, how the Isles can win the series, the lingering impact of the brawl, and our predictions. It's the GTOG podcast.