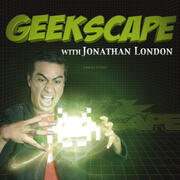 Geekscape 312: Marisha Ray Gets Stalked!

Actress and host Marisha Ray makes her much deserved Geekscape debut! She talks about her projects 'Super Power Beat Down' and 'Batgirl: Spoiled'! And of course, because drama should follow any good actress, this could be the end of 'Batgirl: Spoiled' since Warner Bros just sent them a cease and desist! What are they going to do now!?! Also, how wearing a spirit hood absolutely makes you less of a man and Marisha and I review 'Thor 2: The Dark World'!

Geekscape 311: Jon Schnepp Meets My Parents!

Hot off the heels of Stan Lee's Comikaze, Jon Schnepp drops in to Geekscape to talk about the status of his Kickstarted documentary 'The Death of Superman Lives: What Happened?' and his new project 'Unicrom: The Unicorn Barbarian', which is a project so amazing you'll just have to check it out for yourself! Also, my parents sit in as guest co-hosts and we talk about writing, how video games as a kid almost drove them crazy and what comic books to read. PLUS! Jon and I talk about the amazing possibilities of Marvel's newly announced Netflix series based on Daredevil, Iron Fist, Luke Cage, Jessica Jones and The Defenders!

Comikaze 2013: Talking Miami Vice On The Lion Forge Panel!

Here's a clip from the Lion Forge Comics panel at the 2013 Stan Lee's Comikaze Expo in which my editor Shannon Denton and I talk a bit more about what's coming up in our Miami Vice comic book series! Is it in continuity? What characters will be included? What's being changed and what's staying the same? And of course, will there be any sex? Rampage Jackson himself (who was sitting next to me during the panel) chimes in on that one!

Comikaze 2013: The Zombies! Everything You Wanted To Know But Were Too Alive To Ask Panel!

From The Walking Dead to Left 4 Dead and World War Z to Rob Zombie,Zombies are everywhere these days (well, at least in pop culture). But could they actually make the transition from fictional monsters to fact? In this panel, we sit down with Matt Mogk, Zombie specialist and head of The Zombie Research Society, Gavin Hignight from FEARnet and Shawn Kirkham from Skybound Entertainment (The Walking Dead) to talk about the science, history and social ramifications behind our biggest undead sensations, all in the hopes of separating the zombie facts from the zombie fiction (before it's too late)!

Comikaze 2013: The Giant Kaiju Monsters VS Men In Suits Attack Japan Panel!

Everyone loves Godzilla, Power Rangers, Ultra-Man, Rodan, Kamen Rider and Giant Robots! And recently, Hollywood has gotten in on the act with Kaiju and Giant Robot films like Pacific Rim and next summer's Godzilla film. Are these Japanese mainstays the next big thing in American pop-culture (or is it just another Hollywood trend)? I'm joined by working Hollywood professionals like F.J. DeSanto (Cyborg 009), Tommy Yune (Robotech), George Krstic (Star Wars: The Clone Wars) and Gregory Snegoff (Robotech) for an in-depth discussion on the past, present, future and Americanization of Kaiju and Japanese Men in Suit properties. These properties have long since taken over Japan. Are we next!?!

Comikaze 2013: Jonathan Hosts Edward James Olmos And Michael Hogan!

On the main stage at the 2013 Comikaze Expo, I got a chance to sit down with actor and director Edward James Olmos and talk about Battlestar Gallactica, Miami Vice, Blade Runner and more! As a surprise addition, actor Michael Hogan joins us to talk about playing Colonel Tigh to Olmos' Captain Adama and doing voice work on Skyrim and Mass Effect!

Geekscape 310: The Cast of Fangasm!

Comikaze is this weekend! It's been a long time coming… and nobody knows Comikaze better than the cast of Syfy's 'Fangasm', who served as Comikaze interns this past spring! This is a really solid episode as we discuss issues like Cosplay is not Consent with Molly McIsaac, what got us into being geeks with Kristin Hackett and Paul Perkins and Marvel VS DC with Mike Reed! Also, what REALLY went down between Sal and Dani when the cameras weren't rolling? Plus! Guest co-host Andrew Duvall brings his girlfriend Lisa Best by the show to talk about their new web series 'The Apartment'! And I definitely have a Fangasm!

Geekscape 309: 2 Guys And A Film!

Longtime friend Canyon Prince returns to Geekscape, hot off the heels of finishing his first two films as part of '2 Guys And A Film'! This time he brings along fellow filmmaker James Thomas and actor J Michael Briggs! They break down the successful productions of 'Hard Sun', which I loved, and 'Run Like Hell' and talk about the next step… a slate of FIVE back to back productions! If you're an indie filmmaker, and even if you're not, this is a pretty interesting conversation about just going out and doing it!

Geekscape 308: 'Batman: Arkham Origins' Actor Roger Craig Smith!

The next game in the Batman Arkham series hits next week with 'Batman: Arkham Origins'! But this time there are some changes! Developer Rocksteady Games has given way to Warner Brothers Montreal and both Kevin Conroy and Mark Hamill have been replaced as Batman and The Joker! Luckily, I think we're in really good hands, as new Batman voice actor Roger Craig Smith can attest to on this episode as he talks about becoming the Dark Knight, the difference in playing him as opposed to Captain America on Disney's 'Avengers Assemble' and how he got into voice over work to begin with! There's also a ton more, include a call from 'Airwolf' writer David Gorden to talk about the new comic's release and ...

Geekscape 307: The 'Bitter Party of Five' Cast And 'Zero Charisma' Creative Team!

A packed episode! In the first half hour, we have the cast of the hilarious 'Bitter Party of Five'! If you haven't watched an episode yet, go to Blip.tv and check it out. They are amazing! Mary Birdsong, Greg Cromer, Tricia O'Kelley and Romy Rosemont talk failed pilots, the ups and down of being a Hollywood actor and spider impregnation… don't worry… it makes perfect sense! Then, in the second half of the show, 'Zero Charisma' directors Katie Graham and Andrew Matthews drop by with star Sam Eidson to talk role playing games, finally having the movie released and the sincerity of being a geek! I would say that's a pretty action packed episode right there!

Geekscape 306: 'Mortal Kombat: Legacy' Director Kevin Tancharoen Gets Over Here!

Last week, Brian Tee got us rooting for 'Mortal Kombat: Legacy 2' as Liu Kang! Now, on the day of the new series' release on Machinima, director Kevin Tancharoen joins us in the studio to talk video games, Mortal Kombat and Hollywood adaptations! On top of that, our friend Andrew Duvall from SyFy's 'Fangasm' joins me as as co-host to talk about Geek Sincerity VS Reality TV! This is a great episode, which includes talk of video game adaptations we'd love to see, the best parts of GTA 5 and giant Kaiju monsters! PLUS! The challenge of bringing Mortal Kombat to screen (of course)!

Geekscape 305: Kicking Back With 'Mortal Kombat Legacy' Star Brian Tee!

Actor Brian Tee is the latest actor to take on the role of Liu Kang in Machinima's 'Mortal Kombat: Legacy' Season 2. And this summer, we saw Brian get tossed out a window by Hugh Jackman in 'The Wolverine'. So of course I jumped at the chance to have him on the show to talk comics and video games! In this episode, we talk about how his character D.K. in 'Fast and the Furious: Tokyo Drift' was actually a good guy, growing up as a football player and discovering your inner theater geek and how Brian used to play Mortal Kombat in the pizza shop where he worked. And of course, what is it like to step into the shoes of a beloved video game character? PLUS! I talk some GTA V! How is it already the...

Geekscape 304: Talking Geek Style With Destin Pfaff and Rachel Federoff!

Destin Pfeff and Rachel Federoff are best known as castmembers of the reality show 'Millionaire Matchmaker', but they're actually huge, passionate geeks. This episode, they bring to Geekscape their specific sense of style, educate me on the ins and outs of Cyberlesque and talk about growing up geeks. Destin gives his opinions on the new Robocop trailer and we discuss the plus and minuses of Hollywood remakes. Also, what advice would they give to geeks out there, searching for some love? Plus! Ben Dunn hangs out in the studio to find out if he and I can pull off some new style accessories. I bet you can bet the answers to that one!

Geekscape 303: Wrapping Up PAX Prime With Noah, Garrett and Ash!

PAX Prime is over and it's time to sift through the ashes! The brain trust of Noah Roman, Garrett Medina and Ash Paulsen join me this week to discuss everything that they witnessed in Seattle! What were the highlights from the weekend? How is PAX different than E3? Is the 2DS still a joke? What games are we looking forward to the most? Were there any indies that jumped out? Does Garrett play too much Pokémon? And Ash and Garrett talk about meeting Mega Man creator Keiji Inafune! It's a packed episode of video game talk so you're not going to want to miss it!

Geekscape 302: It's All About Videogames With Jake108!

Jacob Lopez is Geekscape's longest running videogame writer! Six years ago, Jacob (known as Jake108 around these parts) asked to do a preview of Halo 3 for the site and the rest is history. Now on the verge of GTA 5, Batman Arkham Origins and the rest of the Fall releases, Jake and I sit down to talk about what's exciting and not so exciting. We also provide an update on the PS4 vs XBox One debate and discuss the drawbacks of buying on Day 1 Also, Josh Jackson calls in to offer his 2 cents on the debate and talk about why he's not going to replay Wind Waker and a familiar Geekscapist calls in to talk about removing my skin! Yippee!

Geekscape 301: Talking Comics And Manga With F.J. DeSanto!

F.J. DeSanto is a film producer whose credits include 'The Grey', 'The A-Team' and Frank Miller's 'The Spirit' (but I love him for producing the animate 'Turok: Son of Stone')! But he's also a comic book writer! Now he's on Geekscape talking about his new Archaia comic book 'Cyborg 009', based on the classic manga from legendary creator Shotaro Ishinomori! I also talk some Turok (because Turok is awesome) and F.J. helps to explain the new climate of creator ownership in comics, including the BOOM! and Archaia acquisition! PLUS! Ian Kerner calls up to talk about Ben Affleck being cast as Batman in Man of Steel 2!

Geekscape 300: The Super Giant Geekscape 300 Spectacular!

This is it! Geekscape 300! Joining us for this super-sized Geekscape spectacular is Clerks star Marilyn Ghigiotti, who not only brings us lasagna (which made my head explode), but also catches us up on her post-Clerks work and talks about the process of finding out she's going to be in 'Clerks 3'! Gilmore, Ben Dunn and Ian Kerner appear to reenact the first Geekscape! Witney Siebold and Jason Trost talk 'Elysium', with Ian Kerner and Jon Schnepp (who gives us an updated on 'The Death of Superman Lives' documentary)! Stan Lee's Comikaze organizer Regina Carpinelli previews what's in store for this year's Comikaze and Geekscape writers Juan Carlos Marquez and Josh Jackson tell us why 'Pikmin 3...

Geekscape 299: 'Sharknado' Writer Thunder Levin!

It's Shark Week! So of course we have to have 'Sharknado' writer Thunder Levin on the show to talk about the biggest TV hit of the summer! Among the things we'll be covering: where did the idea come from, why writer Sharknado but not 'Shark Storm' and the revelation of Ian Ziering as a big time action hero! Was anyone prepared for the Sharknado craze (could they ever be!?!)? Also, what's with all of the remakes and comic book adaptations and it is killing the movie going experience? Is VOD the new VHS? What's the story behind 'Mutant Vampire Zombies in the Hood' and how can we bring it back?!?

Geekscape - Ian Kerner Slices And Dices 'The Wolverine'

This is it, the best breakdown of 'The Wolverine' that you're going to get from the best source around. X-Pert Ian Kerner cuts through The Wolverine and dissects what works and doesn't work in this fun entry in the X-Men saga. Did they have to deviate from the comics? How did the movie have more in common with the X-Men storyline than the Claremont and Miller mini-series? Were the Silver Samurai or Viper depictions up to snuff? How does The Wolverine fit in and rank with the rest of the X-Men films? What's coming up in Days of Future Past? Here are all the answers, in complete Ian Kerner glory!

Geekscape 298: The 2013 San Diego Comic Con Recap Spectacular!

That's all she wrote for the 2013 San Diego Comic Con, Geekscape's 4th as exhibitors and 8th in a row! Now it's time to recap the misadventures with first time attendees Johnny Ice and Crippled Kenny with running commentary by my wife Laura! Was Johnny's mind completely blown? What were the must things that he discovered? What did he take away from it the most? Kenny fills us in on just how far Comic Con has to go to make things better for their handicapped attendees! Shane O'Hare calls in to recap a drunken night of horror during Geek Spring Break! Were all the parties worth it? Matt Kelly calls up to tell us about his new 2-part podcast conversation with his brother about addiction and Der...

Geekscape 297: The 2013 San Diego Comic Con Preview Episode!

The 2013 San Diego Comic Con is right around the corner! We're old veterans here at Geekscape, but that doesn't mean we're any less excited when Comic Con rolls around each year! To help us prep, 20 year SDCC veteran Matt Raub is in the studio breaking down the Must Dos and Must Avoids, as well as sharing some of his greatest, and worst, Comic Con memories! Also joining us is Nick Gregorio, longtime Geekscape friend but first time Comic Con attendee! Plus! Sci Fi master Marc Zicree calls in to give us an update on Space Command and give some great Comic Con advice and author Marcus Sakey calls in to geek out with us, talk about his new book 'Brilliance' and discuss his insane job hosting The...

Geekscape 296: 'Pacific Rim' Screenwriter Travis Beacham!

It's time to talk giant robots fighting Kaiju monsters! 'Pacific Rim' is two weeks away from hitting theaters and this week we've got 'Pacific Rim's screenwriter Travis Beacham in studio to talk about the upcoming film, working with Guillermo Del Toro and the comic book hardback prequel 'Pacific Rim: Tales From Year Zero'! Travis and I talk about the bringing Pacific Rim to theaters, the joy of creating the comic book and the current trend of remakes versus original ideas. Does Pacific Rim feel like a breathe of fresh air or a Hollywood risk? Also, what was it like growing up as a geek and probably the best Star Wars Episode 1 story of all time! Plus! We say goodbye to Richard Matheson, one ...

Geekscape 295: 'The Man of Steel' Review And Analysis With Ian Kerner!

The 'Man of Steel' has flown into theaters and geeks are as divided about it as two halves of an exploding Krypton! What was there to love? What was there to hate? How did it compare to the comics or earlier depictions of Superman? There is a ton to talk about! Luckily, our resident comics expert, Ian Kerner, is here to help us navigate all of the issues? Does 'Man of Steel' do a good job of setting up the future of the DC cinematic universe? If you listen to one assessment of 'Man of Steel', this one should be it! PLUS: We say a sad goodbye to James Gandolfini, beloved among TV and film geeks everywhere.

Geekscape 294: Talking E3 With 'Assassin's Creed: Revelations' Actor Cas Anvar!

E3 is over and it's time to pick our way through the fallout! Luckily, actor Cas Anvar, the voice of Altair in 'Assassin's Creed: Revelations' is here to help out! Cas also lended his talents to Halo 4, Black Ops 2, Command and Conquer, Clone Wars and can be seen in Argo, Source Code and the upcoming Diana! Along for the ride is EJ De la Pena, writer and producer on their new project 'CAS: Nobility' which needs your Indiegogo love! Also, Tommy Avallone calls up to talk about his documentary 'I Am Santa Claus' with wrestling superstar Mick Foley and we break down the XBox One vs PS4 battle!

Geekscape 293: 'Warehouse 13' and 'Grimm's David Simkins and 'Lily's Lynn Ayala!

After 3 weeks, Lynn Ayala returns to Geekscape towards the end of her successful Kickstarter campaign for 'Lily'! This time she brings along Lily creator David Simkins, who just so happens to also be an Executive Producer on 'Warehouse 13' and 'Grimm'! We talk a little about Lily and moving forward into production, where David got the inspiration for the character and how it has developed over the past year. We also talk about his career, which started with writing 'Adventures in Baby Sitting' and carried through stints on 'The Adventures of Brisco County Jr.', 'Lois and Clark', 'Blade' and more! We get some writing talk going! Plus! 6-Time Top Fuel champion racer Clay Millican calls in to t...

Geekscape 292: Talking Blood Kiss With Leah Cevoli and Daniela Di Mase!

'Blood Kiss' is an upcoming Vampire Noire film from television writer Michael Reaves, that stars Neil Gaiman and Amber Benson! Yes, Neil Gaiman is acting in it! After successfully hitting their Kickstarter goals, producers Daniela Di Mase and Leah Cevoli arrive on Geekscape to talk about the project's stretch goals as well as what a "Vampire Noire" is in the first place! Daniela talks about getting Neil involved in the project and Leah shares her love of all things vampires! Oh, and I kind of give Leah a hard time about her vampire teeth while asking if I can have a special role in the film!

Geekscape 291: Orlando Jones, The XBox One and The Night Stalker!

We run from tipoff to buzzer on this episode of Geekscape! Kenny is back in the studio and we kick off a discussion about how much fun 'Star Trek into Darkness' is and what everyone's worries are about the newly announced XBox One! Actor and producer Orlando Jones calls in to talk about his new Machinima Prime series 'Tainted Love' and its comic book origins (really, you should be watching it)! We also talk about the upcoming show 'Sleepy Hollow' and how it really is a geek labor of love for show runners Roberto Orci and Alex Kurtzman! Also, how is the new digital distribution age giving new opportunities to creators to finally be the geeks they truly are?!? PLUS! Geekscape friend Leah Cevol...

Geekscape 290: 'Lily' Actress Lynn Ayala and Murder Detective Sal LaBarbera!

We first met actress Lynn Ayala last year at San Diego Comic Con when she helped promote 'Space Command' at the Geekscape booth! Now, she's back with 'Lily', a brand new project written by Warehouse 13 and Grimm show runner David Simkins and directed by Battlestar Gallactica and Defiance director Michael Nankin. The Lily just launched a Kickstarter campaign and needs your help! Also in the studio is LA murder detective Sal LaBarbera, a 27 year big city detective. The two of them talk about the research for Lily, Lynn's first experience seeing a dead body and the level of detail present in the show. Sal also tells us about the different actors and actresses that he's shown the nastier side of...

Geekscape 289: Comic Book and TV Writer Brandon Easton!

Brandon Easton is a comic book and TV writer who has been a friend of Geekscape for a while now! In TV, Brandon wrote on the most recent Thundercats series and in comics, Brandon started out by writing his original graphic novel 'Shadowlaw'. Now, Brandon arrives to talk about 'Joshua Run', a brand new digital comic he has coming out soon from Lion Forge Comics. We take this opportunity to talk about the future of comics and digital comics and what Brandon is reading right now. Is Transformers one of the best Sci-Fi books on the shelves right now? Yes, it is. Also, how has Brandon dealt with the issues of prejudice in the comic book industry? Plus! We say goodbye to the legendary Ray Harryhau...

Geekscape 288: 'Hitman' and 'Deus Ex' Movie Producer Adrian Askarieh!

This week on the show we've got Adrian Askarieh, producer of the film versions of 'Hitman' and the upcoming 'Deus Ex'! We'll talk about returning to the Hitman franchise, what it takes to make a solid adaptation and whether or not the future of Hollywood lies in video game properties! We'll also discuss 'Iron Man 3' and what films this summer look to be the biggest at the Box Office! Ian Kerner also calls in to opine the destruction (or lack thereof of Krypton! Plus, are comic book adaptations drying up the source material and how is the landscape of Hollywood becoming more homogenized? PLUS! I revisit memories from my earliest days in broadcasting!

Geekscape 287: The Roger Corman 'Fantastic Four' Reunion!

Almost 20 years ago, one of the most notorious comic book films of all time was produced: Roger Corman's 'The Fantastic Four'! For most of its existence, this unreleased gem, which fans either loved or bemoaned, was only available through bootleg fan copies at comic book conventions. A VHS or DVD copy was the Holy Grail of Geekdom! Now, on the eve of production on the documentary 'Doomed: The Untold Story of Roger Corman's "Fantastic Four" Movie', original cast members Rebecca Staab, Joseph Culp, Carl Ciarfalio and documentary producer Mark Sikes (who was a casting assistant on the film) talk about what it was like making the film, being in the film and looking back 20 years later! Geekscapi...

Geekscape 286: Rabid Love with Paul J. Porter and Hayley Derryberry!

It's time to talk about the horror movie 'Rabid Love' with writer director Paul J. Porter and star Hayley Derryberry! What 80s horror films did they use as inspiration and what were the challenges in putting together this small budget, indie horror film? Paul and Hayley's friend Kimberly Wong comes on to talk about Coachella, take a few Instagrams and share in the passion! Matt Kelly rings up to talk the best death's in the Friday the 13th movies and how Prophecy still rules supreme and Allie Hanley tells everyone to go see 'Oblivion', 'Defiance' and 'DaVinci's Demons'! We talk the awesome new 'Man of Steel' trailer and Shawn Madden makes sure to put all rumors about an expanded DC cinematic...

Geekscape 285: It's a Disaster With Todd Berger and Jeff Grace!

This weekend, 'It's a Disaster' opens, from the comedy troupe The Vacationeers and starring Julia Styles, David Cross and America Ferrara. Director Todd Berger and star Jeff Grace guest to talk about putting together the film about the worst couples brunch of all time! But could it be any worse than me retelling my memories of watching 'Faces of Death' at an early age? Todd and I also talk about the resurgence of Alpha Flight, Matt Kelly calls in to offer some Chords for a Cure and Jeff explains how being dropped off at the comic book store as a kid actually scarred the hell out of him! Plus! Con Shoulder Stank and why it stops here!

Geekscape 284: Talking Evil Dead, Roger Ebert and LucasArts With Grae Drake!

Rotten Tomatoes radio host Grae Drake joins me this week to wrap up WonderCon and talk about the brand new 'Evil Dead' remake! Does it do justice to the original? Is it too much fan service? Is the tree rape scene necessary? Also, a heavy hearted goodbye to Roger Ebert and a farewell to LucasArts! Is Eli Roth's 'Hemlock Grove' worth watching and will my French Bulldog kill me in my sleep? And what's the consensus on The Walking Dead's Season 3 finale? Plus! Sorry, Shane, but 'Ingress' is a disappointment!

Geekscape 283: The WonderCon Preview, GI Joe, Luigi's Mansion and More!

I go a bit nuts on the show this time around, letting everyone know who is Number 1 or will be very soon! Geekscape has an agenda and we're going to play it to the end! WonderCon is this weekend and you know we'll be representing on the floor at Booth 953! I talk comics books and what DC books you can afford to drop from your pull lists! 'Luigi's Mansion: Dark Moon' on the 3DS brings me tons of ghostly fun! Shawn Madden drops by to say that 'GI Joe: Retaliation' is Triple A Plus Plus! My wife calls up to calm me down and Linder, our new British listener, calls in to talk gardening… and I roll with it! Because gardening rules! PLUS! It's horn-blowing time!

Geekscape 282: Paul London talks Avengers, Jean Claude Van Damme and Stone Cold!

Former WWE Superstar (and my brother) Paul London guests on Geekscape to talk wrestling, Marvel movies and Gauntlet cinema! We discuss inbred wrestling fans getting out of control, Japanese gifts and the current state of wrestling! Our friend Stone Cold Steve Austin maybe even calls in to drop a big piece of news on us! We discuss the idea of Jean Claude Van Damme being in a Marvel movie and Shane O'Hare calls in to let us know that the Android virtual reality game Ingress has taken over his life! Plus! Kenny, Paul and I give you our votes for top summer movies!

Geekscape 280: Actor and Filmmaker Mark Webber!

Most geeks will remember Mark Webber as playing Stephen Stills in Edgar Wright's 'Scott Pilgrim VS The World', but on this episode we barely talk Scott Pilgrim at all (sorry)! We spend most of it talking about Mark's career, his new movie 'The End of Love' and his life before acting. How did he avoid becoming a Hollywood jerk? How has raising a child changed his view of video games and Star Wars? Plus, would he ever turn down a superhero or Star Wars movie? This interview rolls deep so get ready for it! And of course, my wife Laura calls in to give me some grief!

Geekscape 279: The PS4, Dying Hard, Miss December and Christian Singles!

This one is fired off like a rocket! 'A Good Day to Die Hard' takes me hostage and beats me up! Orson Scott Card is a massive dickhead! 'Miss December' director Derek Lindeman calls in! Saint Mort drops the bomb that his mom signed him up for a dating service for Valentine's Day and Shane O'Hare calls up to discuss the PS4 announcements! Plus! Some comic book talk!

Geekscape 278: The Valentine's Day Special with Laura London

My wife Laura joins us on a Valentine's themed Geekscape episode! We talk geek marriage… and geek divorce, the dangers of The Man Cave and being married to a geek! Geekscapist Big Yanks calls in to keep me on my toes! Shawn Madden gives his opinion of the new 'Die Hard' film and Laura and I talk about how great Soderbergh's 'Side Effects' is! Superdeformed calls in for the first time! Plus! I give Laura a John Carter inspired Valentine's Day gift!

Geekscape 277: Ken Kristensen, Zero Charisma and Vigilante Ex-Cops!

Writer Ken Kristensen drops by to talk about his Image book 'Todd: The Ugliest Kid on Earth'… and he brings gifts! Jonathan talks 'Warm Bodies'! Star Wars spin off movies! The Luna Brother's 'Sword' is getting made! The filmmakers behind 'Zero Charisma' call in to talk geek cred! Paul Walker is the new Agent 47! There's a vigilante cop loose in Los Angeles… is it Frank Castle? Plus! Can you be a hero after smashing someone in the head with a hatchet?

Geekscape 276: Yuri Lowenthal and Seth Gabel!

Yuri Lowenthal drops by to talk about how things are going with his series 'Shelf Life' and the new 'Ben 10: Omniverse' DVD coming out next week! He also reads some audition lines for Nightwing in Injustice: Gods Among Us! 'Fringe' and 'Arrow' star Seth Gabel calls in to talk about his new movie 'Allegiance' and tells us a bit about trying to score an audition for SHIELD and his Arrow character based on Count Vertigo! Also! We play some chiptunes music from our very own Geekscapist Charlie Armour! Plus much more! This episode is packed!

Geekscape 275: Stan Lee's Comikaze Expo's Regina Carpinelli and Lisa Foiles!

Super Geekscape friend Regina Carpinelli, founder of Stan Lee's Comikaze Expo, finally visits Geekscape to talk conventions and Magic the Gathering! Joining Reggie is Lisa Foiles, who many of you might remember from Nickelodeon's 'All That', but who is also one of the best gamers we've ever had on the show! We talk the new Devil May Cry, JJ Abrams doing Star Wars and internet stalkers! Plus! Jon Schnepp calls in to talk about his new Kickstarter for 'The Death of Superman Lives! What Happened?' and we get his take on the Justice League movie!

Geekscape Jokes With 'Movie 43's Peter Farrelly!

Peter Farrelly is a comedy legend. He and his brother Bobby brought us 'Dumb and Dumber', 'There's Something About Mary', 'Kingpin' and a ton of other modern comedy classics. In this mini-sode, I got a chance to talk to Peter about his upcoming 'Movie 43' and how they put together the star studded cast. Also, we talk about the sequel to 'Dumb and Dumber' and I reveal to Peter what a major influence he has been in my life! Enjoy!

Geekscape 274: Uncanny X-Force Writer Sam Humphries!

Longtime Geekscape friend Sam Humphries drops by Geekscape to talk about his upcoming Marvel book 'Uncanny X-Force' and the return of his creator owned book 'Sacrifice'! Plus! We talk about his work in the Marvel Ultimate Universe and the make up of his X-Force team! That's right! Puck returns! Also, 'Todd: The Ugliest Kid On Earth' writer Ken Kristensen calls in to talk about his new Image book and we preview 'Movie 43' with director Peter Farrelly! It's just another packed episode of Geekscape! No big!

Geekscape 273: Oscar Noms, CES, Superior Spider-Man and Nonstop Calls!

This week the Geekscapists are the stars of the show as I take on an avalanche of nonstop phone calls from the audience! I also respond to last week's feedback on the brand new format! Who got snubbed in today's Oscar nominations? Who should have been? Superior Spider-Man swings onto shelves and already seems like he doesn't want to stick around! Gunman Clive is the coolest, and cheapest, videogame around! Goodbye to the PS2! The changing trends and news from CES! PLUS! TV's Chris Gore calls in to talk Star Wars!