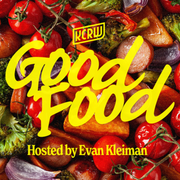 ICYMI: Restaurant Acoustics, Fry Sauce, Quentin Tarantino on Food

?In case you missed it? is the theme of today?s show - food stories produced at KCRW that have never aired on Good Food. Hear from Quentin Tarantino about food and power in his films, sound design from Jonathan Gold and much more.

The Best Restaurants in America, Pizza Box Design, The Secret World of Bees

Grand Central Market was declared the 10th best new restaurant in America by Bon Appetit Magazine, a pizza box connoisseur talks about why pizza box design is better overseas and an artist uncovers the unseen world of pollinators.

Pizza MREs, Tech on the Farm, Lamb Barbacoa

We discuss the challenge of making ready-to-eat pizzas for the army and hear about how tech is transforming agriculture. Plus, Jonathan Gold reviews a new restaurant in the City of Commerce that specializes in lamb barbacoa.

Burrito Bracket, Kosher Restaurant Roundup, Chad Robertson

Shrimp, Restaurant Pricing, The Science of Umami

Paul Greenberg provides an in-depth look at how Americans get their shrimp, Amanda Cohen explores what goes into a restaurant?s prices. Plus, Ole G. Hourtisen discusses the science behind umami.

Food Trends, Quinoa, Drinking on the Cheap in Vietnam

What makes an effective food trend? Lisa Hamilton tells us about the fight over quinoa in Bolivia. Plus, Jonathan Gold tries a new great spot for paella in L.A.

Cooking in Prison, The Art of the Work Lunch, Wild Food Lab

Daniel Genis spent 10 years in prison, and tells us about his experience cooking and eating behind bars. We also hear about the deluge of free food in Hollywood writers? rooms. Plus, we talk to LA?s premier foragers about how they extract the flavors of California.

Architectural Ice Cream, Pigs Blood, American Catch

The ladies behind Coolhaus talk about how they went from working out of a dilapidated food truck to reaching success and Jonathan Gold tries pigs blood. Plus, why do we import our seafood?

A Hidden Kitchens Special with the Kitchen Sisters

The Kitchen Sisters, Davia Nelson and Nikki Silva, are the team behind the Hidden Kitchens series on NPR?s Morning Edition. This week they join us in the studio to discuss four of their most recent stories.

Alcohol, Caffeine and the Death of the Microwave

Besha Rodell talks about her award-winning article on the cultural significance of the 40 oz, and we hear about Blue Bottle Coffee?s acquisition of Handsome Coffee Roasters. Plus, is the microwave era over?

Artisanal Toast, Blood Clams, Is Fat our Friend?

We talk about the bread that?s helped launch the nationwide toast trend and how a newly lifted ban on some Mexican clams will change L.A. menus; plus, is fat our friend after all?

Is Fusion a Bad Word?, The Food in "Game of Thrones," Hot Pot

Jonathan Gold explains why the term "fusion" is no longer useful. Plus, he reviews a hot pot restaurant in the SGV. Elina Shatkin explores the food scenes in GOT.

UpClose: Dan Barber in Conversation with Evan Kleiman

Dan Barber is the award winning chef of Blue Hill and Blue Hill at Stone Barns. His new book is "The Third Plate: Field Notes on the Future of Food."

A Vegetarian Poet, Eating Wild Foods, the Best Fries in LA

Dan Barber tells us how farm-to-table missed the mark. A 12-year-old shares his poem to vegan meat. Plus, a look at wild foods and urban foraging.

What Is Authentic Cuisine? The SGV, Cheese Mites

From Paris to Japan, we explore the shifting notion of authenticity. A San Gabriel Valley native revisits her hometown. Plus, are cheese mites a nuisance or a boon?

The Baja Show: Javier Plascencia, Baja Craft Beer and Wine

Good Food goes to Baja: Javier Plascencia gives us a tour of a Tijuana market. Plus, we travel to Ensenada for tostadas and the Valle de Guadalupe for wine.

Weight, Fat Shaming, Fed Up the Movie, Jonathan Gold's 101

Is fat shaming worse in LA than in other cities? Plus, we discuss the new documentary Fed Up with its creators and Jonathan Gold previews his 101 best restaurants.

Jon Favreau and Roy Choi Talk Chef, Ruth Reichl on Fiction

Jon Favreau and Roy Choi detail the making of the new film Chef. Ruth Reichl discusses her new novel and punk rocker turned chef Terri Wahl offers brunch ideas.

Wine Fraud, What to Do with Masa, J Gold Revisits the Derby

We explore a riveting case of wine fraud, a masa master in Boyle Heights tells us how it's done and Jonathan Gold takes us to The Derby for bacon-wrapped steak.

Can French Food Be Saved?, Grilled Cheese, Farm-to-Toaster

David Lebovitz takes us on a culinary tour of Paris, Eric Greenspan talks grilled cheese, and we look at the farm-to-toaster movement.

Eggs Galore, Easter Candy, and the Sriracha Plot Thickens

From eggs to candy, we cover all things Easter. Plus, we head to Little Saigon for nem nuong and hear an update on the status of the Sriracha factory in Irwindale.

Vegan for Passover, the Perfect Apron, Buttermilk Drops

Actor/bakery owner Dwight Henry tells us about his popular spot, The Buttermilk Drop. We meet the designer behind some of LA's aprons and we cover all things Passover.

Tiki Mania, Lime Shortage, a Taste of the South

We hear about tiki bars and cocktails past and present, Matt Biancaniello tells us how he's making margaritas sans limes and Donald Link gives us a taste of the South.

Orthorexia, Going Paleo, the Industrialized Meat Conundrum

The folks from Nom Nom Paleo talk about the paleo diet, Hank Shaw celebrates a hunting revival, and a new book reveals conditions in slaughterhouses across the US.

Stays in Vegas: Water, Restaurant Unions and Off Strip Eats

In part two of Good Food's Vegas special, we focus on life off the strip through food, culture and water conservation efforts in one of the US's labor strongholds.

What Happens in Vegas: From Buffets to Mind-Bending Mixology

Good Food heads to the strip to explore the evolution of Vegas dining, all you can eat buffets, luxury fine dining and the city's most mind-bending cocktail.

Guerrilla Tacos, Avocado Gangs, Cooking for Persian New Year

Jonathan Gold reviews an unusual taco truck, David Mills details the avocado cartels in Mexico and Louisa Shafia shares updated recipes for Persian cooking.

East LA's Donut Man, Wolfgang Puck's Oscar Menu, Hops Tea

Carolina Miranda meets a donut-slinging luchador, Wolfgang Puck tells us what's on the Oscars menu and we learn about a hops tea that's brewing at Grand Central Market.

Soylent, Cricket Protein Bars, Beef Tongue Sashimi

Evan Kleiman tries Soylent, Greg Sewitz discusses a protein bar made of crickets and Jonathan Gold reviews what he says is LA's first true offal restaurant.

Sitting in Bars with Cake, Russian Tailgating, Chipotle's New TV Show

Can you find love in a bar if you bring cake? Anya von Bremzen tells us how to drink vodka like a Russian, and Chipotle announces a TV show aimed at industrial farming.

Savory Soufflé, CA Drought Means Few Porcinis and Fewer Jobs

Prolific baker Greg Patent demystifies a cheese soufflé, Amelia Saltsman shares a cauliflower recipe and we hear how the drought is may affect California?s economy.

Cooking with Pine, Curtis Stone in the Kitchen, Tex-Mex Dip

Chef CJ Jacobson talks about cooking with pine, KCRW's Saul Gonzalez investigates beekeeping in Los Angeles and Lisa Fain gets to the bottom of a popular Tex-Mex dip.

The History of the Square Meal, Beets, Community Seafood

Abigail Carroll talks about the history of the square meal in the US, Mark Bittman breaks down beet salad, and Community Seafood discusses its Santa Barbara fishery.

Butter Aerobics, The Creative Process of Bartenders, CA Drought

A butter aerobics class enlivens the Santa Monica Pier, Christiaan Rollich talks about his innovative cocktails and a look at the drought that is threatening farmers.

Inside Tsukiji Market; Ivan Ramen; Japanese Soul Food

From the Tsukiji Market's tuna auction, to Japanese soul food and dashi, we take a look at Japanese cuisine.

Breakfast: the Most Important Meal of the Day

Evan celebrates porridge, coffee, pancakes and all things breakfast with René Redzepi, Jonathan Gold and other guests who share her passion for the first meal of the day.

The Best of 'Good Food,' 2013 Edition

The Good Food Team selects their favorite segments of 2013.

Christmas means KFC in Japan, Cooking Goose, Pig Ear Cheetos

Hank Shaw explains why we don?t eat goose more, Tracy Slater discusses the KFC Christmas tradition in Japan and Jonathan Gold tries The Church Key?s pig ear cheetos.

The Best Cookbooks and Food Literature of 2013

Evan discusses the holiday season cookbook avalanche, including some of the best books of the year.

Daniel Boulud, Remembering Judy Rogers, Scratch and Sniff Wine

Evan talks to Daniel Boulud about his new book, Joyce Goldstein reflects on Judy Rogers' life, and Richard Betts talks about his scratch and sniff wine guide.

Rene Redzepi, Making Latkes with Leftovers, Schmaltz

Evan talks to René Redzepi of NOMA about his new book, Mark Bittman wants you to overcome the fear of fried food, and Michael Ruhlman talks about schmaltz.

Thanksgivukkah, Thanksgiving Cocktails, Buttermilk Pie

In a special edition of "Good Food," Russ Parsons and Evan Kleiman guide you through the year's most important meal.

Soviet Food Memories, Salt Block Cooking, Deborah Madison

Anya Von Bremsen longs for Soviet cuisine, Mark Bitterman talks about salt block cooking, and Deborah Madison talks about what it means to be vegetable literate.

The Future of Agave, The A.O.C. Cookbook, and Trans Fats

Is an agave shortage threatening tequila? How many Americans will go hungry as a result of food stamp cuts? And the FDA's proposal to ban trans fats.

Roy Choi, Ethnic Cuisine in LA, and Ottolenghi

Roy Choi reflects on his LA upbringing; is food better in LA's Koreatown or in Korea?

Candy Corn, Fear of Food, the Magic Restroom Cafe

Candy corn and a history of candy. Plus, a trip to the Magic Restroom Cafe.

LA Sriracha Festival, Coffee Beers, Lifesaving Condiments

A quick history of sriracha with the founder of the first annual LA Sriracha Festival; plus, how brewers are experimenting with coffee in their beers.

Chinese Breakfast in LA, Mollie Katzen, The Best Roti in NYC

In an unsuspecting part of Monterey Park, Jonathan Gold finds the best Hong Kong style breakfast in Los Angeles. Plus, a trip to Ozone Park, Queens for roti.

Remembering Marcella Hazan, Cooking on a Food Stamp Budget

We remember the Italian cookbook author Marcella Hazan. Plus, could you create three meals a day with a budget of $4.50? A chef takes the food stamp challenge.

A Vegan Strip Club, Shucking Oysters with Liquid Nitrogen

This week, we take a roadtrip through the Pacific Northwest where we find a vegan strip club, sea urchin ice cream and a new technique for shucking oysters.

The Origins of Tuna Tartare, Basque Style Wines, Fresh Udon

Did you know that tuna tartare was invented in Los Angeles? Plus, a new udon restaurant in Little Tokyo is wowing diners with fresh, made-to-order noodles.

Why We Tip, Using Drones to Hunt Wild Boars, Kefir

Wild boars wreak havoc on farms all over the country; two brothers in Louisiana have built a pig-spotting drone that helps them hunt the pesky pigs.

How to Write a Better Yelp Review, Clam Chowder Three Ways

A professional food writer offers writing advice to so-called Yelpers; plus, Jonathan Gold finds chowder three ways at Connie & Ted's.

Piecast: What Does David Sedaris Want in a Dessert?

David Sedaris doesn't think much of tarts. Plus, judging an Amish pie contest.

Building a Bakery at Burning Man

What is there to eat at Burning Man? One ambitious crew is building a fully functioning bakery in the middle of the Black Rock Desert.

Piecast: Tweaking Your Baking, Flower Pastry, Hair Pie

Getting bored in the kitchen? Try adding hibiscus petals or kudzu starch to your pie. Plus, desserts on Antarctica.

The Art of Kaiseki, Lobster Economics, Best Brunches In LA

Wholesale lobster prices are at an all time low, so why are restaurants still charging high prices? Plus, Niki Nakayama showcases Japanese kaiseki dining in LA.

Ruth Bourdain, Deviled Eggs, Vietnamese Home Cooking

Russ Parsons wonders why deviled eggs ever fell out of fashion and botanist Mary Roach breaks down the shrubs and berries that flavor a gin and tonic.

In-Vitro Beef; Sichuan Peppercorns; Mr. Breakfast; Bucato

Scientists unveiled the first ever in-vitro beef product and one vegetarian philosopher is willing to try it. Plus, Mr. Breakfast schools us on pancakes.

Coffee Culture in Japan, The Freezer Cookbook, Sandor Katz

Move over green tea, Japan has one of the largest coffee cultures in the world and they take their caffeine very seriously. Plus, Sandor Katz on fermented meat.

Vodka; Drinking Vinegars; Should Vegans Eat Oysters?

Vodka is the most consumed alcohol in the US, but it?s rarely consumed neat. One bartender wants to change that. Plus, the origins of the Moscow Mule.

Piecast: Meat Pies, Cream Pies, and Tips for Pie Beginners

If you've never baked a pie, the winner of last year's Good Food Pie Contest gets you started. Plus, one of Michael Jackson's favorite desserts.

Rose, Sour Cherries, Gluten-Free Girl, Preserving with Booze

Could rosé be the perfect wine? It's food-friendly, affordable and pairs well with our hot summer weather. Plus, Kevin West says you can add it to preserves.

The Source Restaurant; Cooking for Michael Jackson; Burgers

Akasha Richmond dishes on what it was like to cook for Michael Jackson. Plus, a former member of the Source Family reminisces about the Source restaurant.

A Pie Champ Shares Her Tips; California Wheat; Wet Burritos

A pie pro shares her tips for bakers looking to enter this year?s Good Food Pie Contest. Plus, Gustavo Arellano finds historic Cal-Mex in Orange County.

Modernist Drinks, Geology and 'Terroir,' Margarita Dermatitis

Today, the intersection of science and alcohol: a geologist explains "terroir" and how a chemist turned bartender uses a medical centrifuge to perfect a cocktail.

The Baja Show: Javier Plascencia, Baja Craft Beer and Wine

Good Food goes to Baja: Javier Plascencia gives us a tour of a Tijuana market. Plus, we travel to Ensenada for tostadas and the Valle de Guadalupe for wine.

Texas BBQ; Homemade Hot Sauce; The World's Hottest Pepper

Texas Monthly recently hired their first ever BBQ Editor. We asked him to explain the regional differences in Texas barbecue. Plus, the best BBQ brisket in LA.

A Dosa Hunt; 3-D Printed Food; Jonathan Gold on Chego

A filmmaker follows seven first-generation American musicians on a dosa hunt through New York City. Plus, Jonathan Gold reviews Roy Choi's Chego in Chinatown.

Oysters 101; A Food Stylist's Secrets; Eating in Ventura

Why do east coast and west coast oysters taste different? A seafood obsessed chef explains what influences the flavor, texture and size of oysters.

Oysters 101; A Food Stylist's Secrets; Eating in Ventura

Why do east coast and west coast oysters taste different? A seafood obsessed chef explains what influences the flavor, texture and size of oysters.

Hidden Kitchens: A Memorial Day Special from the Kitchen Sisters

This week we feature stories from the Kitchen Sisters. It's an hour-long journey into the world of unexpected kitchens and unlikely cooking traditions.

Roy Choi on SPAM; Filipino Food in LA; Sushi Etiquette

Roy Choi of Kogi fame talks about growing up with SPAM and his decision to endorse ham in a can. Plus, why hasn't Filipino food caught on in LA?

Mother's Day; Cooking with Flowers; Korean Chili Paste

If you've eaten Brussels sprouts or broccoli you've eaten flowers. So why not eat tulips and nasturtiums too? Plus, heartwarming stories about mothers and food.

Michael Pollan; Sangrita; Inside a Fancy Chicken Show

Food writer Michael Pollan turns his attention to cooking in his latest book Cooked. Plus, a snapshot of the competitors and exotic poultry at a chicken show.

The Vegetarian Show: J Gold Goes Raw, Vegan Beer, Juicing

Is it possible to make curds and whey from almond milk? What makes some beer not vegan? Plus, Jonathan Gold gains a new appreciation of raw food.

The Restaurant Show: Trois Mec, Kitchen Culture, chi SPACCA

Los Angeles restaurant Trois Mec is causing a stir by selling tickets rather than taking reservations. Plus, a psychologist profiles "the back of the house."

Perfect Picnic Food; Foodopoly; Fracking Our Food Supply

Are we living in a "foodopoly?" A journalist unveils how one company took control of 90 percent of the soy milk market and 40 percent of the milk market.

GMO Salmon; What Causes Bad Breath; Recipe Algorithms

Find out what causes chronic bad breath. Christopher Kimball on the perfect omelet; plus, the debate over genetically engineered salmon.

Nam Prik; Vegan Celebrities; Molecular Gastronomy at Home

What do Anne Hathaway, Jessica Chastain and Morrissey have in common? They are all vegetarians. We investigate the link between celebrities and vegetarianism.

Butter Carving; The Last Supper; Sizzurp; Cheftestants

An art historian decodes the unusual meal depicted in Leonardo da Vinci's 15th Century painting, The Last Supper. Plus, market inspired Passover sides.

Butter Carving; The Last Supper; Sizzurp; Cheftestants

An art historian decodes the unusual meal depicted in Leonardo da Vinci's 15th Century painting, The Last Supper. Plus, market inspired Passover sides.

Baking with Beer; Cooking with Liquid Nitrogen; Eddie Huang

It's St. Patty's Day on Sunday. How about adding Guinness to your cupcakes? Plus, "cooking" with cold. Chef Sang Yoon blanches vegetables with liquid nitrogen.

Mac and Cheese; Food Additives; A Farewell to Bahooka

There are over 5,000 food additives but less than half have been through toxicology testing. A journalist uncovers shocking details about processed food.

Pressure Cookers; Girl Scout Cookies; Kale Pesto

Find out why some young girls are conflicted about selling Girl Scout cookies. Plus, Chris Kimball of America's Test Kitchen celebrates the pressure cooker.

Horse Meat Scandal; Canal House Cooks; History of the A'P

How did horse meat end up in frozen beef burgers in the UK? A journalist untangles the EU's complicated food web to find out. Plus, a history of the A&P.

Gail Simmons; Soul Food; the Flavors of Trinidad

"Top Chef" judge Gail Simmons talks about the food of her native Canada. Plus, a documentary filmmaker looks at the relationship between Soul Food and health.

Chinese New Year; Edible Aphrodisiacs; Eating Snake

Three food lovers share their ideas for celebrating Valentine?s Day. One chooses chocolate roses from the 99¢ Store, another opts for beef heart tartare.

Eastside v. Westside Eats; How to Order in Thai Restaurants

Are you an Eastsider or Westsider? Jonathan Gold dissects the dining culture on both sides of the LA River and highlights several restaurants worth driving for.

Power Lunching; Super Bowl Snacks; The CA Homemade Food Act

A health department inspector decodes the California Homemade Food Act. Plus, recipes for homemade Super Bowl snacks, and the art of the Hollywood power lunch.

Decoding the Japanese Supermarket, Zinfandel 101, Queso

A food writer and cookbook author explains how to shop for pantry staples in a Japanese supermarket. Plus, a short history and beginner?s guide to Zinfandel.

Hot Buttered Rum, A History of Peanut Butter, New FDA Rules

Mark Bittman; Domestic Truffles; the Legacy of Cesar Chavez

How California truffle foragers use squirrels to help them find the prized mushrooms. Mark Bittman visits the Central Valley. Plus, the legacy of Cesar Chavez.

The Best of 'Good Food,' 2012 Edition

Highlights from this year including: the Google food program, barrel aged cocktails, the story of Dr. Kellogg, heritage grains and mint juleps.

Hangover Cures; Porchetta; Gluten-Free Holiday Baking

A scientist explains what food you should eat and what drinks you should avoid to lessen your chance of a hangover. Plus, a porchetta truck hits LA.

Best Cookbooks of 2012: Jerusalem, Burma, Faviken

A selection of the best cookbooks of 2012 including Yotam Ottolenghi's "Jerusalem," Naomi Duguid's "Burma: River of Flavors" and Susan Feniger's "Street Food."

Jelly Doughnuts, Cambodian Food, The Peruvian Pantry

A writer and comedian invents a hilarious Jewish Deli Zodiac inspired by the Chinese Zodiac. Instead of the Year of the Ox he creates the Year of the Lox.

April Bloomfield; Beer Week; Tex-Mex Comes to LA

Chef April Bloomfield defines the gastropub. Michael Ruhlman muses on professional cooking and Chef Josef Centeno previews his next restaurant concept, Tex-Mex.

The Science Show: Calories, Fermentation and Meat Patents

Why do onions make us cry? What causes a brain-freeze? Why is it harder to lose weight then gain weight? Food scientists weigh in on these vexing questions.

The Future of Street Food; Vegan Twinkies; Date History

Sidewalk food vendors are a mainstay in Los Angeles, but their operations are illegal. Now vendors are fighting to legalize and legitimize real street food.

Thanksgiving Edition: BBQ Turkey, Thomas Keller on Leftovers

This year why not cook your Thanksgiving turkey on the grill? A BBQ expert explains how. Chef Thomas Keller looks forward to Thanksgiving leftovers.

Gin; California's Foie Gras Ban; The Flavor of Cannabis

As California's foie gras ban nears, chefs and foie lovers wonder how it will be enforced. Plus, one chef infuses haute cuisine with the flavor of cannabis.

LA's Best Breakfast; Kellogg's Test Kitchen, The Spurtle

A reporter gets a glimpse of Kellogg's test kitchen. Jonathan Gold tells us his favorite breakfast haunts in Los Angeles; plus, find out what a spurtle is.

Restaurant Camp, Hoosier Pie, LA?s Best Soup Dumpling

Visit a summer camp where kids create their very own restaurant. A pie-lover discovers the regionality of American pie. Plus, LA?s best soup dumpling.

Matzoh Ball Gumbo, Kosher Prison Food, Copyrighting Recipes

Can you copyright a recipe? Plus, more and more inmates are requesting kosher meals in prison and a Southerner melds regional cooking with her Jewish heritage.

Breakfast Sandwiches; Scandia's Apple Cake; Oyster Tecture

Could oyster reefs ease flooding during the next hurricane? A landscape architect shares her vision. Plus, the breakfast sandwich gets a makeover.

Celebrating 15 Years of Evan Kleiman and 'Good Food'

Fifteen years ago this month, Evan Kleiman recorded her first interview as host of Good Food. Hear classic segments like Julia Child, Anthony Bourdain and Ruth Reichl.

Food Trucks in Paris; A New Dumpling Trend; Italian Salumi

Americans are taking over the Parisian food scene with food trucks serving hamburgers and casual restaurants where the highest compliment is "très Brooklyn."

Automats; The Seltzer Man; Food on the Next Mission to Mars

Revisit the bygone days of the automat and home seltzer delivery. Plus, find out what's on the menu for the next mission to Mars.

Haunted Restaurants; Foodie Halloween Costumes; Orange Wine

It's not too late to make your Halloween costume. A costume designer shares DIY food inspired costume ideas. Plus, discover LA's haunted restaurants and bars.

Proposition 37; Vandana Shiva; Agritourism in Hawaii

Proposition 37 would require the labeling of genetically modified food in California. Hear from those for and against Prop 37. Plus, can GMO's end world hunger?

Diet Fads; Seed Saving in the American South; Five Second Rule

Chef Sean Brock discusses his quest to revitalize heirloom varieties of rice and grain from the American South. Harold McGee dissects the five second rule.

California Homemade Food Act; Yerba Mate; Coffee Geeks

California home cooks can now launch a food business from their own home. Plus, a Paraguayan explains how to drink yerba maté like a local.

How to Shop at a Korean Grocery Store; Modern Gefilte Fish

Two chefs are giving gefilte fish a makeover this Passover. We decode the aisles of chile paste in a Korean grocery store. Plus, why this year's Farm Bill matters to you.

A Food Forest; Perfect Fondue; Nitrates in the Water

We know what a food desert is, but what about a food forest? Plus, tips on how to nail perfectly melted cheese, and a look at water contamination in Central California.

Oreo Turns 100; Irish Breakfast; History of the Tomato

Is the tomato a fruit or a vegetable? According to the Supreme Court, it's both. Plus, how to cook an Irish breakfast and a salute to the cookies you twist, lick and dunk.

The Secret Life of Lobsters; Finger Limes; Perfect Potato Chips

The secret life of lobsters is filled with soap opera worthy tales of sex and violence. Jonathan Gold finds his platonic ideal of a potato chip.

Brainaise; Irradiated Food; Eating in Boyle Heights

What happens when you mix brains and mayonnaise? Yup...brainaise! Could irradiation be the key to food safety? Plus, a walking food tour of Boyle Heights.

The Lunch Show: Dim Sum, Artful Bento Boxes, School Lunch

Japanese charaben - the art of the bento box. A school teacher eats school lunch for a year. Plus, discover the greatest deals for top notch lunch in LA.

Picky Eaters; LA's Best Eats, Should We Label GMO's?

Picky eaters rejoice, there is hope for overcoming your food phobias. Plus, should we label GMO's? Hear both sides of the debate on California's Proposition 37.