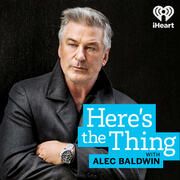 Jerry Seinfeld

Alec Baldwin sits down with comedian Jerry Seinfeld who debuted on HBO in 1981, the same year he first appeared on Johnny Carson. Jerry Seinfeld was 27 years old. Seinfeld's material stood out. It wasn't about his upbringing or personal relationships. It was about our universal experience of small things. Eight years after his HBO debut, he and Larry David created a weekly series that changed both their lives. After Seinfeld ran for nine seasons, Seinfeld went back to stand-up, and to his audience. As he explains to Alec, Seinfeld feels uniquely connected to his fans: "You have this relationship with the audience that is private between you and them. Critics want to write, people want to tal...

Debbie Reynolds and Robert Osborne

Alec Baldwin revisits "The Golden Age of Hollywood" with one person who was at the heart of it, and another who keeps it alive today. Alec talks with Debbie Reynolds about "Singin' in the Rain" – her co-stars, the rehearsal process, the whirlwind of excitement the movie generated. Debbie describes the slow death of the studio system. "Everything was done for us, the makeup, the hair. They'd send cars for us. We were very spoiled. We didn't know what to do when they dropped everybody when television came." Debbie talks frankly about her relationships with men and money. Alec also visits film historian and host of Turner Classic Movies, Robert Osborne. Osborne details the unlikely adventure in...

Fred Armisen and Paula Pell

Alec Baldwin sits down with two veterans of Saturday Night Live— an actor and a writer. First, he talks with Fred Armisen, a former punk rock drummer and cast member on Saturday Night Live for 11 years. Currently, he is the co-creator and co-star of IFC's Portlandia. Armisen tells Alec what might come next: "I want to invent a type of entertainment that is really blurry between comedy and something else. That doesn't have a name yet ... another level of fooling people as opposed to just doing a character." Paula Pell landed her dream job at Saturday Night Live after working at a nighttime Florida theme park. She has stayed at Saturday Night Live for the last 18 years – and she's seen a lot. ...