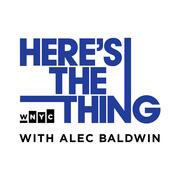 Robert Lustig and Martin Horn

Alec Baldwin talks with two people on the frontlines of two of society's most serious challenges: obesity and prison reform. Robert Lustig, a pediatric endocrinologist at UC San Francisco, talks with Alec about our country's addiction to sugar. Today, children are expected to have a shorter life expectancy than their parents, in large part due to obesity. According to Lustig, the obesity epidemic is the result of eating too much sugar. He shares with Alec the science behind sugar addiction, the policies that support it, and the single best thing a person can do to improve "quality-of-life." Martin Horn, former New York City Commissioner of Correction and Probation tells Alec about the major ...

Rosie O'Donnell

Alec Baldwin talks with Rosie O'Donnell about being a standup comic, a Star Search contestant, an actress, a talk show host, and a mom to five. Rosie grew up in Comack, Long Island and says she never expected to be a talk show host. Rosie says she wanted to be on Broadway, "a Bette Midler backup singer, one of the Harlettes." Rosie revels in the enormous change in attitude toward gay performers in show business today and shares what it's like to have a new baby in her fifties: "It rebirthed me in a way that I was not expecting."

Andrew Luck and Dwight Gooden

Alec Baldwin talks with two athletes who achieved enormous success in their rookie years. First Alec visits with Andrew Luck, quarterback for the Indianapolis Colts, who set a record for the most passing yards by any rookie. He talks about the transitions from high school to college to pro football and shares what he most admires about Peyton Manning, the quarterback he replaced. Alec also talks with Dwight "Doc" Gooden about his first few years pitching pro baseball and the tumultuous ones that followed as he struggled with his addiction to drugs and alcohol. Gooden discusses his troubled relationship with his father and why he thinks living in Florida added to his problems.

Patti LuPone and Jon Robin Baitz and Stacy Keach

Alec Baldwin talks with three major theater artists who have had different influences, obstacles, and career experiences. Patti LuPone – who has 26 Broadway credits and two Tonys, one for "Evita" and one for "Gypsy" is known for her opinions; she's passionate. "I love what I do," LuPone tells Alec, "I love the audience, and I love the fact that I get to do it . . . I love our craft very, very, much, and it's a noble craft." Playwright Jon Robin Baitz grew up in Brazil and South Africa -- transferring to Beverly Hills High School for his senior year where he says he "became friends ... with fellow freaks." He's been writing ever since -- even though he admits that "writing plays has always be...