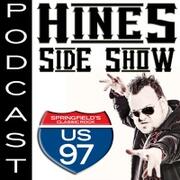 Grant Wistrom 3-7-14

Former NFL star Grant Wistrom tells Hines some lesser-known stories from his career like pranking QBs Hasselbeck & Dilfer, epic BBQ meals, & a MINI-KISS show that almost never happened.

Meet The 60-Year-Old Girl 12/15/13

The couple responsible for the "60-Year-Old Girl" meme talk about their experience. Other topics: Christmas party hookups, James Bond was an alcoholic, and Mike's Hard Lemonade: Pedophile Drink?

Director Denny Tedesco

Denny Tedesco, director of the documentary film about The Wrecking Crew, who recorded for The Beach Boys, Sonny & Cher, The Monkees, Elvis, and MANY more, talks with Hines about the film and the screening coming up at the Gillioz Theater in Springfield, MO on Thursday, Oct. 24.

Check Your Bags...

Check Your Bags! It's Jeremy from BallCancerSucks.com! Jeremy Pinegar from Ball Cancer Sucks is in to talk about something that will save lives...plus it's kinda fun.

Toys In The Attic...and Office 9-20-13

Hines talks about a promise he made to himself as a kid, to have toys in his office when he grew up. He & Hot Donna talk about which toys he needs for his office and what their favorite toys were when they were kids. Also, the Inappropriate Love Doctor (ILD) makes his second...and probably final appearance on the show.

The Inappropriate Love Doctor - 9/5/13

Hot Donna gets roommate advice from the inappropriate love doctor. "Morgan Freeman" shares an important message. Plus, we go over things guys should stop saying, Fall drinks, and a few fashion tips.

Jeff Jenkins from The Skinny Improv

Jeff Jenkins from The Skinny Improv is in to crack wise, talk about getting naked in front of strangers, discuss his upcoming rold in Spam-A-Lot, and help us chase raccoons from the studio (should the need arise)

In Case Of Zombies...Drink Orange Soda

Raven Interviews Kool-Aid Man and Hines & Raven discuss what the hope the zombie apocalypse will be like. (original posting 4/12/13)

Mastru-Month?

Raven informs Hines that May is National Mastrubation Month. Hines informs Raven that Kenny Rogers was a phone sex freak. Other topics include: Chinese "lamb" and stoned 911 calls. (original posting 5/3/13)

Jim Gaffigan

This is the entire interview with Jim Gaffigan (aprox 15 min). We did a phone interview back in January to coencide with the on-sale date for his show in Springfield

What's Hot Donna Scared Of?

Hot Donna is afraid of pretty much everything. Hines puts that to the test. We also play a round of "What's In Hot Donna's Purse?" and everything devolves into total immaturity...like normal. (original posting 5/10/13)

Meet The Canote Brothers

YouTube sensations Chris & Justin Canote of Canote Films are in the studio with Hines & Hot Donna to talk about their latest projects and have some fun.

How To Date Hot Donna

Hot Donna has some dating tips...sort of. (original posting 6/14/13)

Patti from Insane In The Mom-Brain

Patti, writer of Insane in the Mom Brain, is in studio with Hines & Hot Donna to talk about life, road trips, stunt camel-toes, and make fart noises. Pure awesomeness! (original posting 6/26/13)

Ye Royal KFC

Hines & Hot Donna talk several topics including: Sex & Time Travel Don't Mix, No One Cares About The Royal Baby, & The New Fancy KFC

The BlackMoods 7-1-13

The Black Moods are back in the studio to tell more stories about waking up Gene Simmons, drink beer, & hit on Hot Donna.