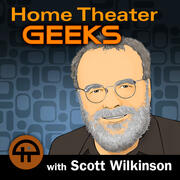 HTG 202: Getting ImmersAV

POV binaural audio recording with High-Definition video.

HTG 201: NAB 2014 Wrap up

The best of NAB 2014

HTG 200: Days of Future Past

Scott talks about the past and the future of home theater with Gene Dolgoff, Robert Heron and Tyll Hertsens on our 200th episode!

HTG 199: Digital Audio and Analog Speakers

Scott and Allen Sides discuss his philosophy of speaker design.

HTG 198: Dolby's Vision

Scott and Roland Vlaicu discuss Dolby Vision high dynamic range.

HTG 197: How low can you go?

Scott and Keith Yates discuss the best placement for your subwoofers.

HTG 196: What's new from Hollywood

Scott and Ron Williams discuss the newest trend from the Hollywood Post Alliance Tech Retreat.

HTG 195: Movie Sound Then and now

Scott and Brian McCarty talks about sound for movies.

HTG 194: Ultra-D Glasses-Free 3D

Scott and Walther discuss the technology behind Ultra-D Glasses-free 3D

HTG 193: Who Wants More Resolution and Color?

Panamorph's new technology to encode more resolution and color onto Blu-rays and future 4K formats

HTG 192: Aspect Ratio Explained

Scott chats with John Schuermann about aspect ratios and anamorphic lenses.

HTG 191: The Past, Present, and Future of Movies

Scott chats with Jeremy Kipnis about the past, present, and future of movies.

HTG 190: CES 2014 Wrap up

CES 2014 wrap up with Brent Butterworth, David Katzmaier, and Mark Henninger

HTG 189: Live From CES 2014

Scott presents the best and newest technology in tv from CES 2014

HTG 188: 2013 and Beyond

Scott chats with Barb Gonzalez, Geoffrey Morrison, and Michael Heiss about the biggest stories of 2013 and what to expect from CES 2014.

HTG 187: The Projectionist's Perspective

Scott chats with Thomas Larson about the changing world of commercial movie projection.

HTG 186: Speakers, Measurements, and DIY

Scott chats with Mark Seaton about speakers, measurements, and his involvement with the DIY community.

HTG 185: Stereo VS Surround

Scott chats with Steve Guttenberg about the difference between audio systems for music and movies.

HTG 184: Aura-3D Audio

Scott chats with Marti Humphrey and Chris Jacobson about re-recording mixers and Aura-3D audio.

HTG 183: HDMI Helpers

Scott Wilkinson talks with C H Chee of DVDO about wireless HDMI and HDMI switching.

HTG 182: The Room is a Video Component

Scott Wilkinson talks with CinemaQuest founder Alan Brown about the importance of the room when viewing video.

HTG 157: The New Fidelity

Scott talks with recording engineer Bill Schnee about his quest to bring high resolution audio to the masses.

HTG 181: Getting the Most From Your Monitor

Derek Smith reveals the importance of computer monitor calibration.

HTG 180: Ultimate Ultra High Definition

Video guru Joe Kane tells us what's really important in ultra high definition.

HTG 179: Don't Call it HDMI 2.0

Michael Heiss talks about HDMI 2.0 and UHD tv.

HTG 178: Acoustics 102

Anthony Grimani shares many tips about seating and speaker placement.

HTG 177: Acoustic 101

Scott and Anthony talks about the importance of room acoustics.

HTG 176: CEDIA 2013 Wrap-Up

Scott Wilkinson, Brent Butterworth, Mark Henninger, and Geoffrey Morrison talk about the CEDIA 2013 Expo.

HTG 175: Calibrating Leo's OLED

Scott and Robert Heron calibrates Leo's OLED!

HTG 174: 4K or Not 4k?

Scott chats with CNET's David Katzmaier about reviewing HDTVs and the state of the television industry.